MDK KTM's Justin Brayton might be one of the most underrated guys out there on the circuit today. The soft-spoken Iowan just seems to be getting better and better.
MDK KTM's Justin Brayton might be one of the most underrated guys out there on the circuit today. The soft-spoken Iowan just seems to be getting better and better.
He's off the 250's now and that's a good thing as he's too big for that class. Also, he's coming off a fourth OA at Washougal and looking next year to make the jump to a new 450 only ride. I called him up to talk to him as I don't think many people know what he's been up to and I think he's a real solid rider. Check out my podcast with JB on Racer X as well, some good listening in there.
Me: Brayton, thanks for doing this. I appreciate it. It's going to be on Pulpmx.com which I'm sure you've never been to before.
Justin Brayton: I've heard of it, I've never been there. I'll go there now.
Well maybe Racer X will run this and lots of people will read it.
Cool.
Well, talk about X-Games for you. You did pretty well with silver and you did good at that Moto-X ESPN event in San Diego last year also.
X went well for me, the track was really good and we got to practice on Thursday for a while. The dirt was awesome and for me, I've been riding the 450 all outdoors so it wasn't anything to get used to. The transition was easier than last year. It was good and I was super stoked all week, I thought I was going to win. Obviously with James being there, he was the favorite because he's just such a talented rider but when he went out, I thought I could do well. Even before that I thought I could get second right behind him. Like a repeat of Bercy. The same guys were there also.
Once he got hurt it was a bummer but I felt the gold was mine. I got a good start but got pinched off on the inside. Then took me a while to get around Kevin (Windham) and once I did, Josh (Hansen) was gone. Hansen had a good lead but it was still good, getting silver was fine and I think if I could've got up there I could've raced with Hansen but it was still good for me.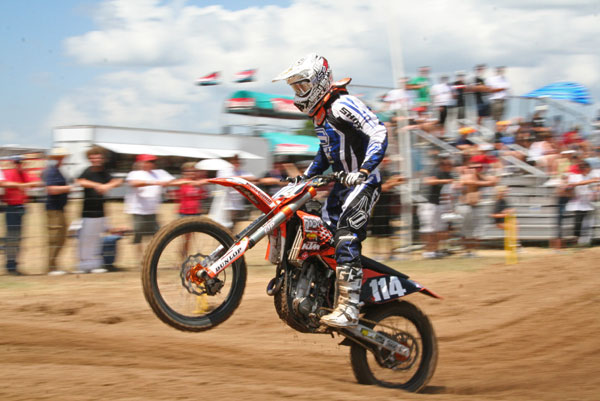 Brayton last year at Texas, just wringing the life out of the little KTM. Photo by me!
Hansen just killed it there, there was no stopping him.
Yeah, he was good. He was on it and riding well, you can't take anything away from him. He's good at those X-Games things, he had a good bike and things clicked for him.
Looked like KW got tired, I don't believe the sentence "Josh Hansen ran down Kevin Windham and won the race" has ever been used before.
Yeah, Kevin told me and that's what he said, that he wasn't prepared. In the practices he was riding good and was like the old Kevin Windham out there but if you don't ride that much it's tough. Especially for twenty laps, this year they made it twenty and that's a long time. The track was tough also…
Yeah, talk about the track. That thing looked big and like a lot of fun.
I loved it, if you couldn't go three in, you blew the whole section. In supercross you can go screw something up, case a jump and still go almost as fast, you can figure it out. At X, you would have to make a different rhythm completely to do something if you made a mistake and I liked that, it was real slow if you made a mistake. It was a real bummer that we had to race at 4 O'clock in the afternoon when the sun comes down and the track gets baked bad. It was one blue grove line around the whole track.
To me it looked like the amount of dirt they used at X would be equal to about four complete supercross tracks.
Yeah for sure, that finish table-top was o much dirt it was probably equal to about half a supercross track. That jump was so much fun and great for the spectators to watch also, you just got huge air. It was safe and fun.
I always hear from the rider about how pampered you guys are at the X-Games, do you agree with that?
Yeah, it's pretty nice. It's unbelievable with the athlete lounge and the riders are the number one priority. You don't have to pay to race there and they take good care of the teams as well. Before practice they will ask you your opinion and if you want to do starts or not. How much time you want for practice and if an hour is enough.
Before the main event, we had like 12 minutes because Jamie Bestwick was on the vert. We had downtime so they were like 'how much riding do you want, you want to do two parade laps?' and we were all sure, so they gave us that. Plus we were live on TV and that's awesome for the sport. The whole staff is treated real well.
Where's your silver medal right now?
It's in my backpack..
Awww man, c'mon.
(Laughs)No, I took it home to Iowa to show my family and I just got back this morning and haven't pulled it out yet.
What about your outdoor season? You happy with the way it's going right now?
I've been ok, been the 6th, 7th place guy every weekend and am just outside of the guys that get noticed. Its ok, I've been happy with the ride and it's only my second year of riding nationals so I'm doing pretty good I think. I feel like I've made a lot of gains and I'm only going to get better from here on out. These last four should be good and I'll continue that onto the off-season. I had a great race going at Millville and think I could've made the podium. I made some mistakes and tightened up. First (Davi) Millsaps got by me, then there was a freight train of guys that gobbled me up I just felt like I had third in the bag at Millville but I stayed right with them and I'll figure it out. I'm happy, I'm seventh or eighth in the points right now and I need to get more confident and it's a good start for me. Next year will be even better I think.
What's up with you for next year, anything done?
Nope, nothing yet.
Yeah, it's been a crazy year for sure, you're talking to some people I assume?
Yeah, it's wild for sure. I've got some stuff brewing and we'll see how that goes.
Do you think you'll be back with KTM next year, there's now a rumored 450 two man supercross team going around.
I don't know, it seems to change every day. I've heard that, I've heard they're not having a team, I've heard there might be a 250F only team. As of right now, no one from KTM has told me anything and it doesn't look like I'm going to be with them next year.
I think you've might've changed some people's minds about that bike and how it works in supercross.
Yeah, I hope so. I think I've done the best on it in supercross out of anybody in recent years. I know Mike Alessi ran strong in the outdoors a couple years ago but the bike is good. There's no problems with it.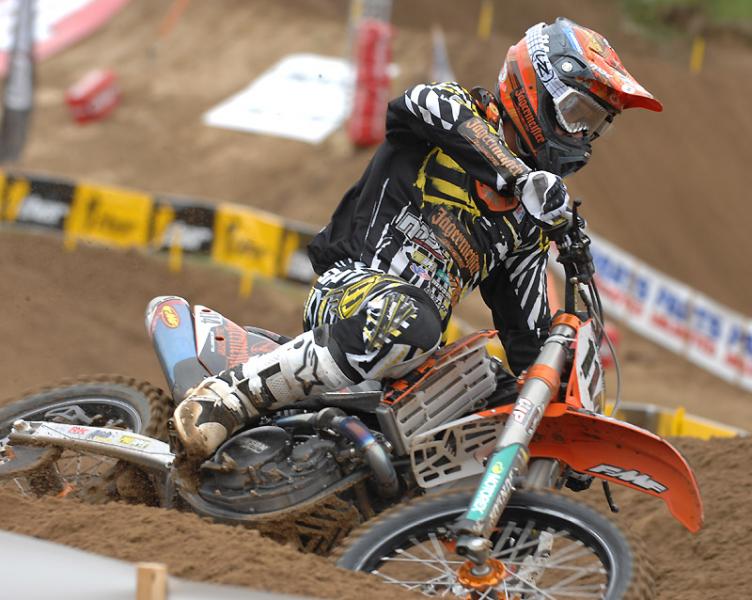 This year Justin has been putting in solid races in the 450 class. He's on his way up. Stone shot.
You're going to be full-time 450's next year right?
Yep, I'm done with the 250 class for now and going to be full-time 450 guy, I can't wait actually. It's going to be exciting and it's been a long time coming for me.
I've heard the Brayton to JGR stuff and I spoke to Coy Gibbs at Washougal about you and he had nothing but good things to say about you, am I on the right track for who you've been talking to?
Yeah, I would say you're travelling down the right road there. That would be a dream come true to ride for a team of that caliber. I hope it happens and it would be a great thing. Who knows if it will happen, I've talked to them but I'm sure they're talking to five other guys but it would be a dream come true for me.
I feel like no one knows you, including myself, there aren't a lot of Justin Brayton stories floating around out there and you're a pretty quiet guy. Is that a correct assumption?
Yeah I think so. I don't know, I've felt that before and some weekends I'll do really well and no one will mention it. But in another way, I feel like that is what has gotten me to where I am now. I'm behind the scenes a bit just working away and being the underdog. I just do my job, go home and work my butt of during the week to get better.
I think that Ricky Johnson and Sebastian Tortelli helped me out with that last year a bit, they made me loosen up a bit. I've always put so much pressure on myself to do good that I wouldn't have fun. Fun other than racing I mean, I would always go to the gym and then watch a video of me racing to try and get better. That's what I did. I've gotten better though recently, I've loosened up a bit and that's why my results have gotten better…
I've heard that about you that no one can get you to go out, you just want to go to the gym and ride your bike.
Yeah that's it but everybody says I need to have more fun but I have o much fun riding and training every day. I feel like I'm living a dream, I know it sounds stupid but I just finished training and I can't wait to go riding tomorrow. It gets a bit old but I just got away for three days in Iowa hanging with my family and I took a step back and went golfing. I enjoying golfing and don't forget, I won the Surfercross so now I'm a surfer!
Yeah, I heard that, how did you do on the board portion?
Yeah, decent I guess. I had never stood up before on one but my teammate was a good guy and an awesome surfer so I got there early and he taught me the basics. I was pumped, I was on a nine-foot longboard and ended up riding her in and got some good scores.
Surfercross, X-Games, Moto-X Championships- you're like the one-off race specialist!
(Laughs) Totally, I hear you.
What about Tortelli, still working with him?
Yeah, not as much though, he's busy with a bunch of kids and lives down in La Jolla now so for him to make the drive up is tough. Everything he has done for me has been awesome and he helped me step up to the next level.
Thanks Justin.
Thank you, I appreciate it.