Nick Wey's a guy that is quietly behind the scenes working hard and placing just outside the top five most times. He's been on three different brands in the last three years and is looking for a ride for 2010. I think he'll end up right back on his same team that he was on but I guess we'll see. I really didn't edit this thing at all, thought I'd give it to people raw.
Nick Wey's a guy that is quietly behind the scenes working hard and placing just outside the top five most times. He's been on three different brands in the last three years and is looking for a ride for 2010. I think he'll end up right back on his same team that he was on but I guess we'll see. I really didn't edit this thing at all, thought I'd give it to people raw.
Me: Thanks for doing this Nick, do you ever check out Pulpmx.com?
Nick Wey: No, well one time I did because you told me to check out the (Michael) Byrne interview.
I did? When did I say that?
I don't know, we were talking about something and you said I should read it. So I did. Oh I know, I said he was riding for Suzuki again and you said "No, no-check out the interview."
Ah yes, I remember that. So anyways…
Is this the start of our interview?
Yeah, it is. We'll start with the part where I'm asking you if you have ever read Pulpmx.com.
Then the whole Byrne talk?
Yeah.
Are you serious? You tricked me.
No, I didn't, you said turn it (the recorder) on right now, so I did. That's what you said bro.
Whatever.
Ok, talk about your season for you.
It was definitely frustrating for sure. I've had better and I'm going to focus on my riding and hopefully everything else will fall into place. I just have to get a way to be more competitive and I hope to come into the season more prepared than this past year.
Why do you have on your interview voice on right now?
I flipped the switch when you said it's on.
So you have no contract right now?
No I don't but I'm assuming I'm racing the US Open for my old team.
So what's going on with you and teams next year? Have there been talks?
Yeah, I have to figure things out like everyone else out there. Obviously my old team is in the running and if I can go back with them, that would be ok. The AM/PM guy has been a huge help to me over ther years, first with Unbound Energy in the MDK days and now with this team. I'm going to be back with MSR next year and I'm pumped about that. Their gear is super sick, I'm not sure if you have checked it out on msracing.com but you should.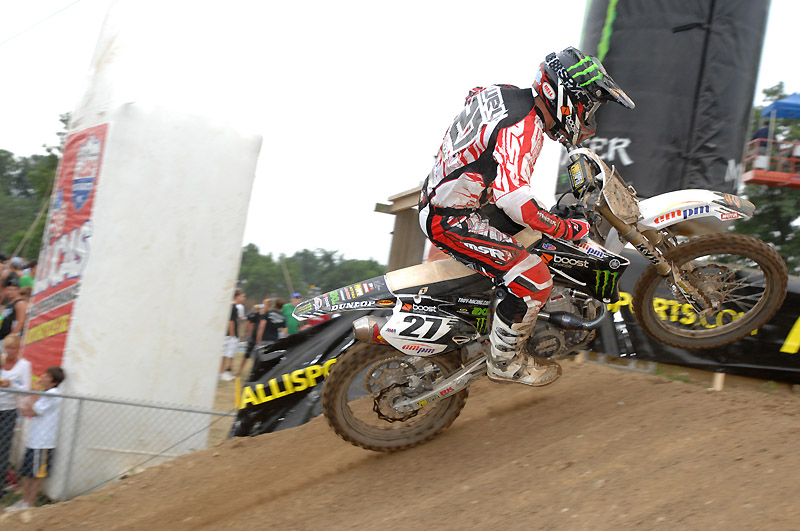 This year Wey was troubled by a knee injury early on but fought through that for some good finishes. Photo by CStone
Remember last year when you didn't know who you were riding for so you went and bought a Honda, got the suspension done, threw some bars on and started practicing?
Yeah.
Well, I'm wondering if you're going to do that again, you know, be pro-active and all that.
No, I'm going to keep riding my Yamaha.
What if someone comes and takes it away from you?
Well, right now I'm in my final stages of getting my supercross track done here in Michigan. In the past I've been in California riding the same track and it's always so hard packed that my east coast supercross skills fell by the wayside. Plus you ride the same track over and over and over, it gets a little boring. So, I'm going to spend some time here in Michigan and stay here as long as I can, weather permitting. Unless I'm summoned away to do some testing for somebody in California, I'm going to stay here and ride in some rutty and wet conditions out here at my track at the farm.
So I think that will be smart and then for a month and a half before Anaheim I can come out there and ride the hard pack. Then when the series switches east, I can put my rut skills on display. As far as the bike taking thing, I'm good with the Yamaha. I own a Yamaha motorcycle. Not the one here in Michigan but another one. I just don't see anyone coming out here to pick it up.
Ok, just checking. I admire that you went out and did that last year. A lot of riders would just sit there on the couch and wait for a team to call them.
Well, this year I'm going to be pro-active again. I'm going to get some supercross suspension done, fix up my track and build a small technical supercross track that I can ride when it's really wet here. That way I can work on my skills. I think last year I was really worried about everything around me and making sure everything fell into place just perfectly and I wasn't that pumped with everything. It took so long to get things into place and for me to get a bike that I got a late start. Then I was thinking about things and trying to organize team type stuff. My riding came a bit second for me unfortunately. I was just trying to make sure I had the best opportunity that I could to do well. This year I'm letting things just happen and I know that I'll be ready come January. That's all I can really control anyways.
If you do ride for J-Law Racing again, you have a set-up and you'll be ahead of the game right?
Well, I'm not sure really. At the beginning of the year with the team I'm on now, my mechanic and the communication with him was a huge hurdle. Having the trust in Massa that I do now will be a step in the right direction. If we continue to ride Yamaha's, or I sign with a team on Yamaha's, the bike will be all new so the things I learned won't really help. I'll just make sure I'm ready, like I was saying it's the only thing I can control.
That being said, if this bike blows up or something happens to it, I'll send it back and go buy a new one. Since you're so pumped on me buying bikes.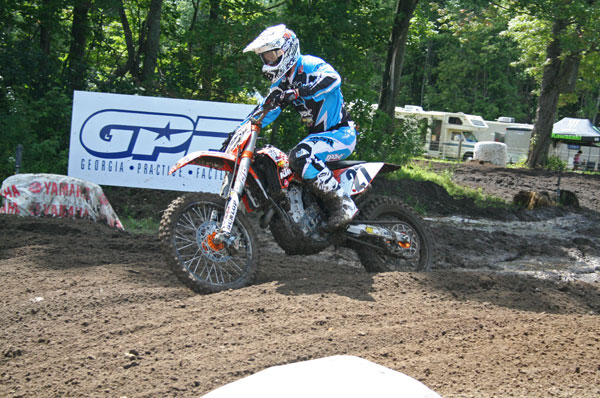 Wey's season didn't go so well last year. He and the KTM never really bonded.
Thanks, what about the outdoor nationals for you?
I think that in the past the Lites class was pretty stacked and maybe a little deeper but this year the 450 class in supercross and motocross was deeper. Add in some new guys for next year and it's going to be tough. Everyone wants to race with the best in the world and that's what we're doing now. It's unfortunate that so many of us are going to be paid like mechanics next year.
It's a toss-up right now, what job you want-rider or mechanic?
I know which one I'd pick. I'll take the rider.
Yeah, yeah for sure. I'm just kidding.
What's it like being on Team J-Law? That must be incredibly cool and frustrating at the same time.
I said this before, it's definitely an exercise in focus.
Is it exciting?
Yeah, for sure. I don't know if it's always the type of excitement you want when you show up at a truck to race but I'm definitely appreciative of the help I got this year. I know that Scott's (Sepkovic) working on some new sponsors for next year and the AM/PM guy's been behind the program for quite a few years and it's good to have his support. Times are tough all around and if we can make something work there, then that's cool
Would you like to comment on Jason going away for a little bit?
It's obviously unfortunate. I don't think anyone really wants to go to jail.
Yeah, true. I don't think anyone really wants to go to jail. Good one.
I don't want to speak for him at all but I'm sure he didn't want to go there and that wasn't his intention. I would see him in the truck and the races and stuff but I don't know him really well to say anything about his situation. I don't know if he got the short end of the stick or what the real details are with the case or anything. Like I said, with you asking me these questions-it's a real exercise in keeping control of things that I can control. Everyone asks me about it.
Watching him ride is cool though, don't you think?
Uhhhh, usually I'm riding when he's riding so I don't check him out.
Fine, be like that. What do you think about the supercross format changing last year? I know we've talked about it before-with no semi's you have to be on your game.
Yeah it's a bit different. A bunch of guys missed the mains and I think it would be better if the semi's came back. If I was in qualifying spot in my heat, I found myself just riding around so I wouldn't do anything stupid. If you do have to go to the LCQ, there are almost always some real good guys that usually make mains in there with you. It's tough in the LCQ. Then there are 3-4 guys in the main that just got good starts and you're looking at them like "Are you serious?"
What about the 2010 tracks? The maps were released the other day. Thoughts on those?
They look real similar to last year, short lanes and lots of turns. You have to get a good start.
It doesn't look like any riders designed them this year huh?
Yeah, they don't say. Not sure if that happened or not.
You should design a track…
I tried that last year at San Francisco and it didn't work out so well.
What did they say?
Remember I was on the podium and they wanted to give me the gas card money and I said they could keep it and use the money to build more jumps.
What would your ideal track be?
You can take any track map from 2000-2004 and re-do it. The whoops were big and there were berms. The tracks were a little more normal. It was a lot more busy. It seems like some lanes have a single jump or they will have a wall of death in a lane. They try to slow it down with more turns but then it seems other sections aren't nearly as busy and it's not as physically demanding as it could be.
I think it's a lack of dirt. I've been saying that and know from talking to some track guys…
I don't know the other side like you do. You're in tight with everyone.
Yeah, whatever. Is that a compliment or are you making fun of me?
(Laughs)
When do you think you'll have everything settled?
Hard to say. I don't really know.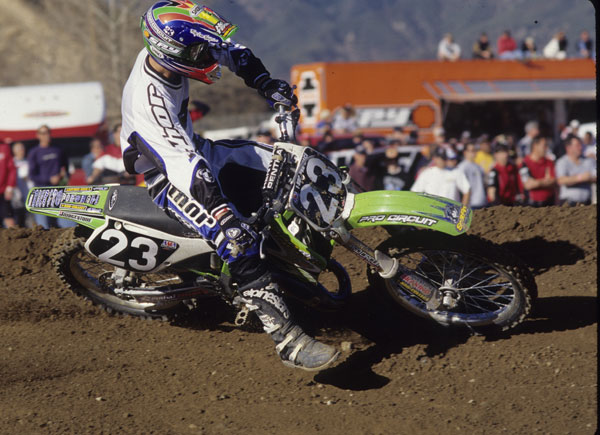 We're going old-school here with this shot. Wey at a pre-season race on Pro Circuit. Photo courtesy of RXI archives
What else can we talk about? What's going on out there in rider-land?
I don't have anything for you but I'm pretty pumped that I get to race dirt bikes another year, with MSR's support it's going to happen. I'm looking forward to that. I'm definitely racing next year, not that I ever wasn't going to but you never know. It seems like to get a ride, get competitive equipment and go to the races is harder than ever before. With my contracts all being up and the team coming together so late, I learned a lot and it will help me.
When you were my mechanic at Moto XXX, we thought that we got a late start on the year but this year was way worse. We were ahead of the game compared to where I started this year. I think it's going to be tougher for everybody but with everyone's deal coming together so late maybe that will help even things out for me a bit. Not only that but I'm going to work on my skills, it's time to re-build. I'm working on that.
Do you feel like one of the old guys now?
I don't feel that way but obviously when I'm racing guys like Kyle Regal in the outdoors, sometimes I do. Me being 29, I probably have like ten years on him. I feel like my best races are still in me, in '06 and '07 I felt like I was improving and getting to where I need to be but then some injuries happened and some unfortunate contract things happened and I'm where I am now. I'm fortunate to do what I love for a living. If I just keep focusing on myself and keep improving then come Anaheim, I'll be where I want to be. I will be back to where I need to be, regardless of the team I'm on. I need to step away from what's going on around me, what team I'm on, what bike I'm on and focus on just riding. I think that will help me. Then I can reach some of the goals I set for myself.
You seem like one of the old guys to me but you're really not.
Is that because we're old buddies, is that maybe why Steven?
Yeah maybe. We've known each other for seven years now.
Yeah, time flies.
How's your mechanic Massa? Is his English getting better?
Massa is here on a student visa so he has to go to school and learn things. He's been going to English classes once a week and I've noticed a big difference in him. He's improving, he's setting the standard for me. Once a week he goes and gets better-bam-there he is getting better. He's always asking me how to say this or how to say that. Anyways, I need to get better like him.
What about…
Hey, do people like go to your website and read it and stuff? Can you figure out how many people go there a day and all that?
Yeah, I can do that. I look at it now and then. When I first got the site I was obsessed with the numbers and wanted to see them every day and where the hits were coming from but I'm better now.
Where are you most popular?
Los Angeles is the city that clicks on it the most. It's the biggest city that's into dirt bikes and they don't narrow it down at all. Winnipeg is up on the list, you know my brother and mom are big fans.
Yeah, like 5 people click from LA and 2 from Winnipeg. They are neck and neck.
Yeah that's it. I get good hits, it's getting better all the time.
What about DeWitt? Anybody from there?
I'm not sure, who would look? You brother L-Dub?
No, Nicole's (his wife) brother would probably check it out. The guy who called you lunchbox all the time.
Yeah, I'd prefer if he didn't look at it actually.
He plays football now for varsity or grade ten as you Canadians would call it and he asked for 27. That was nice to see. He just made fun of you because everyone else was and he wanted to get in on the bandwagon.
He seemed like a nice kid but he laughed and laughed at me and there wasn't much I could do about it. He was like ten…
I probably told him to call you that. So what's the numbers for Pulp? You can inflate it a bit because there's going to be so many people reading this Nick Wey interview that people will come onboard and advertise.
I'm not going to do that but it's about 40,000 people a month with a high of like 60,000 one time.
What do you think when Nick Wey goes up, like 80K?
Yeah for sure. Without a doubt.