Twenty-year old Ryan Dungey from Belle Plaine Minnesota was certainly never a child motocross prodigy. Dungey was picked from the "B" class and put straight into the factory Suzuki truck to which many eyebrows raised among motocross insiders.
Twenty-year old Ryan Dungey from Belle Plaine Minnesota was certainly never a child motocross prodigy. Dungey was picked from the "B" class and put straight into the factory Suzuki truck to which many eyebrows raised among motocross insiders.
You couldn't blame them either as past Suzuki youngsters like Shane Bess, Ben Riddle and Brian Grey have all been put into the truck and then proved that they weren't ready for the big time.
This time, Suzuki got it right. The friendly, grounded and polished Dungey arrived onto the scene and immediately posted decent results. In his first full year on the circuit there were more than a few great results and everything seemed to be on track for a successful 2008. Last year a late season collapse cost Ryan the supercross title and although he wasn't equal to Ryan Villopoto in the 250 nationals, he managed to win three nationals. With RV leaving for the 450's, RD set himself up to be the man this season. And in a true measure of coming up big while under pressure, Ryan won both the 250 supercross and motocross titles. So, like so many before him it's now onto the 450's and against the best of the best.
Somehow I don't think he's worried.
Me: Ryan, we're a little over a week from your title clinching ride at Steel City. Has it sunk in yet that you're the 250 national champion?
Ryan Dungey: Well it feels good, I think being the first outdoor title for me it's awesome. Just kind of looking back on it, it was a long, hard fought season and a lot of tough times. It's cool because in the end when we won it, it made everything worth it. All those tough times and long days were all worth it. It feels good
Can you compare the national title to the supercross title? Is there one that feels better?
Well, they're both special but I feel like the outdoor title means more to me. It's not that supercross wasn't tough to win or anything like that, it's just that this year in the nationals there were a few races where everything was spot-on and then some that we had to work at it. I went through a little rough spot there in the middle and as the season went on it was tough. It's twelve races with weekends off to give you lots of time to think about things. It was a lot of fun and I looked forward to it every weekend. Every race I had to be in the points and finish well to keep me close and in the hunt. I do think the outdoor meant more.
Was there a point in the season where you thought you lost it, that the points were too great to make up?
No, there wasn't ever a point like that. The whole time I felt like we were in it and it was possible to win. At Budds Creek I struggled a bit there and we lost some points but at Southwick, I recovered. I think at every point it seemed like it was anyone's game and would come down to who wanted it the most. I just kept my head down, went to work and just take it one race at a time. If it wasn't meant to be, it wasn't meant to be. I'm really pumped and it was really cool to pull it off.
Did you under or overestimate Christophe Pourcel? Did he force you to train a different way or anything like that?
No, not really. Going into the outdoors this year, I didn't know what to expect. I knew that getting a couple of wins under my belt was going to help me and that was good. That was a step in the right direction for me and the team. I knew who was there last year but there was also going to be some new faces as well. I kind of knew the class was going to be deep and full of talented riders. I knew Pourcel was going to be fast and I didn't underestimate him. I was right, he was good. I don't think I downplayed it at all.
It's kind of sad that after things were all said and done, he had to put in his two cents by saying that he didn't try and give it his all. Then he said that I was a pussy. Hey, I went through a lot of ups and downs like he did, I pushed hard and never gave up. It came down to the wire and I won.
Yeah, that was one of my questions, so I take it that it did disappoint you when he said that in the Racer X interview? Did you lose some respect for him?
To be honest, all season long I respected people and I respect who they are and if I went and won a race, I acknowledge them that they rode good and gave me a run. With him, all season long there was nothing there. Just no respect for me from him, he wouldn't look at me, wouldn't say a word. That's fine, I'm going to go out and race my race and don't need to be friends with him or anything. It's unfortunate that he has to put his excuses out there for everyone. If I had any respect for him before- it's gone now.
Yeah he wasn't shy about saying what he thought held him back from winning and almost every time he lost, it seemed like it was something or somebody else's fault. Although he did have some bad luck as well.

Yeah, he did, exactly. When I was growing up and I had things that weren't right. Like the bike wasn't good, the suspension wasn't right and the bike didn't handle right, I'm not going to say anything, it's just time to go y'know? Time to suck it up. And if I didn't win the race, I wasn't going to blame it on anyone or anything. There were lots of things with me that went on that some people knew about but I wasn't going to go and tell everyone. I just tried to do my best, I had some problems just like he did. You just have to move on and deal with it.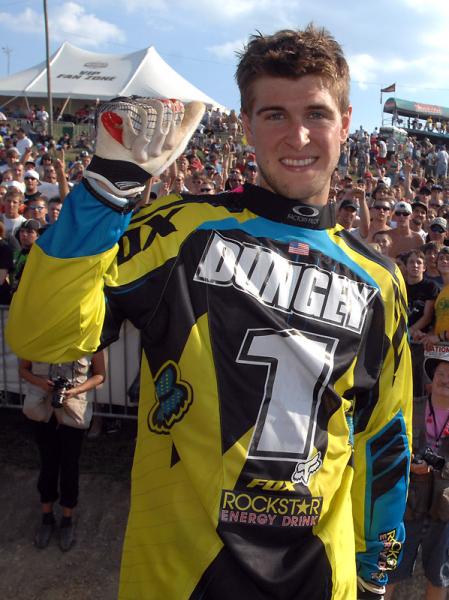 Two championships in a year, Ryan couldn't have asked for more. Both titles came down to the wire. Photo by Stone
I can't remember another year where the guy who won the title had so many hard crashes. You took a few diggers out there.
Yeah, I did for sure. Everybody says that I did a front flip at Redbud and that one was good…
Washougal also, that was a pretty good one.
Yeah, there also. But thankfully I was ok and was able to get up and work my way up. I just never gave up.
What was the worst race for you this year?
Probably Colorado. Just because I fought hard and felt like I rode so hard, only to find out that I only got seventh place! The second moto also, I rode hard and thought I was doing well but could only get a fourth in that race. Being up in the altitude is tough and I didn't get the best of starts so I put myself in that position so I don't have anyone else to blame for that. I was able to recover somewhat. The track there didn't help me out either as it was so smooth that everyone could go really fast on it. They were trying to keep it safe for the night time races. That's what really made it tough, it was kind of one line as well so trying to pass some guys was tough.
I'm not even sure if I should ask this but I take it that your best race was in your home state of Minnesota when you went 1-1 at Millville?
Yeah for sure, without a doubt. It was my best one of the year.
Did the fact that you knew you were going to the 450 class next year put more pressure on you to make sure you won this title? Like it was your last chance, did that go through your mind at all?
For sure it did. I mean I definitely did because I've been working hard and came so close to supercross last year that I knew I had to win this year. I was able to capture the supercross championship and knew that going into outdoors, I had to make it count. I had to put it together every race and take what I learned from every race in my career and apply it. I knew I was going to go 450's, that was the plan and before I left I knew that I had to win it. It just wouldn't feel right to not have won it. It would be something where I would think about it the rest of my life. If I go on to win every title in the sport, I need to have that 250 one as well. Not too many guys drop down to win. This was my only chance and I wanted to get it on the way out of the class.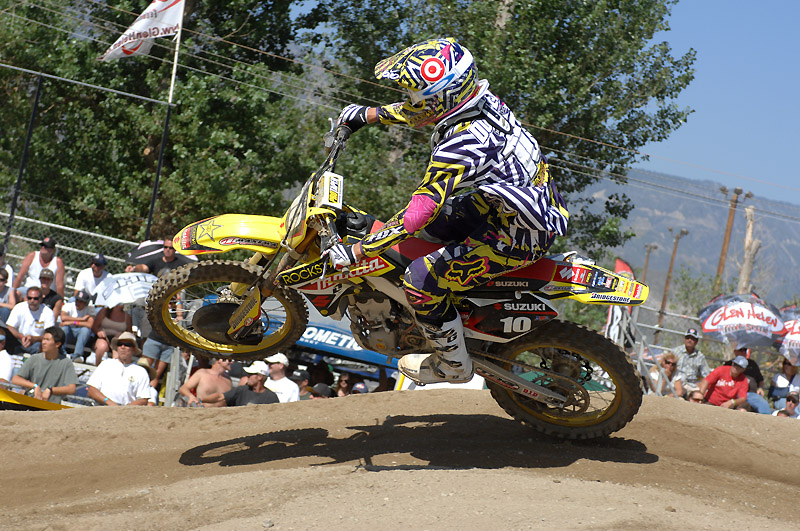 Dungey at Glen Helen, he won the overall here but it wasn't easy. Come to think of it, no part of the season was. Photo by Carl "Carsten is God" Stone
What about this year compared to last? How was the pace for yourself and then what about Ryan Villopoto vs Pourcel?
I think the speed was the same, I think we were both right there. It was crazy because I would be nine points down and he'd crash which would make me two points ahead. Then the next moto something would happen to me and he'd be back up. It was a crazy year and it was something telling me that this thing (the title) wasn't going to be easy for me. It was cool though, because it's like a test. It knocked me down and I had to get back up and fight. As far as Pourcel vs Ryan, it was different and hard to compare really.
So the Motocross des Nations is next for you, have you been on the 450 since Steel City and getting ready?
Yeah, I'm out here (Southern California) testing and getting ready on that. Going to try and get a good setting on it. It's all good, I got to get some time on it. I raced it a couple times in supercross and going into this MXDN, I feel like I'm ready for it. It's a great opportunity and I think we have a good bike. I'm looking forward to it, it's going to be an experience that I'll never forget. I think we've got some good people around on the team, from Roger (DeCoster) to Ivan (Tedesco) to Jake (Weimer) and I think we'll do just fine. We have to go there and ride like we can and bring it home.
It kind of reminds me a bit of 1992 when the top guys didn't want to go only this time they're all injured. All things considered, you should be on the 250.
Yeah it definintely does. If you had told me a year ago that I would be in this position I would've said that I would be there on the 250.
You're kind of the leader of the team now with the number 1 and in the MX1 class.
Yeah, in a way. And it feels good to be the guy. It's a team deal and with Ivan, he's been there and won it so he's going to help a whole bunch. Jake's been riding real well and he'll be ready. We just have to stick to our plan, have fun and do what we know we can do.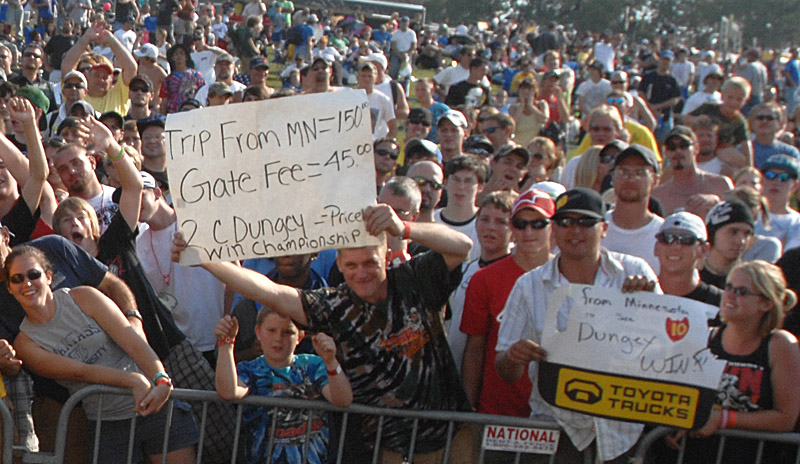 This fan was at Salt Lake City and got his wish when Ryan clinched the 250 West title.
What about the US Open, will you be there on a 450?
Yep, on a 450 that's the plan.
What have you bought with your no doubt massive championship bonus?
(Laughs) Nothing yet, I haven't thought about it. I'm going to go on vacation in a bit and just get away after this is all over. I'll think about it then.
You re-signed with Suzuki for 2010 as a full-time 450 guy, did you come close to leaving?
You know it was hard because all year no one knew what they wanted to do, as far as the teams. I know that Suzuki has been there from the beginning. We have a good relationship and as far as jumping up a class, I believe that those relationships will help me with the transition. We'll just keep continuing to be together and hopefully achieve what we want.
Yeah, but you didn't answer the question- how close did you come to leaving?
To be honest, not really sure because I never thought about switching. I never questioned about what it would be like here or there because everything was up in air with the economy. I just rode the season out and the deal was done around the end. When it came time to figure everything out, it was there and that was the direction that we decided to go.
Talk about having Tony Gardea as your agent?
It's great, he's been there since the beginning of my pro career. It's hard to make the bond and that connection with someone. He's at the races and we share ideas and things like that and we have fun. It's good to have a person that works hard and care about what you do and looks out for you. It's good to have a guy like that. We're friends as well as in business together.
It seems like you're surrounding yourself with a trusted group of people, ala RC. Is that on purpose?
Yeah, definitely. I think a lot of people would tell you this but in my career I try to surround myself with the best group of people. I think as we work with the team going forward we can make good decisions and it will work out.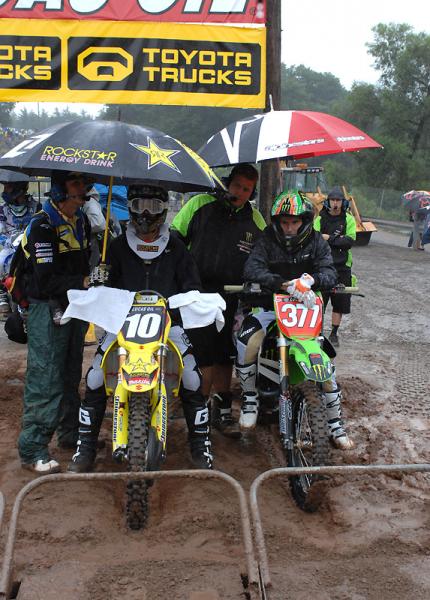 In the mud, sand and rain of Southwick, the championship was decided. Photo by Stone