In a twelve round series that criss-crosses America, you're bound to get some memories in the old cranium that just won't leave you. Y'know the thoughts I'm talking about, the kind that when you put your head down on the pillow at night and start counting cheeseburgers jumping over a grill (what, that's just me?) they just won't leave?
In a twelve round series that criss-crosses America, you're bound to get some memories in the old cranium that just won't leave you. Y'know the thoughts I'm talking about, the kind that when you put your head down on the pillow at night and start counting cheeseburgers jumping over a grill (what, that's just me?) they just won't leave?
The excitement and adrenalin that pumps through you right as the 30 second board goes sideways is only matched by that feeling of excitement when your TIVO records a bunch of classic hockey games and you have nothing to do on that day. Is that just me once again?
I went to ten of the twelve nationals this year, I missed Millville (wife out of town) and Unadilla (Canadian national) but I've been to most of the races since 1996. I've attended Redbud every year since '96 and a few more tracks I have the same kind of streak running so I can speak about things that went on there in the present and past with a teeny tiny bit of knowledge. I thought that it would be fun to run down the highlights (and lowlights) of each round of the nationals and as well, give you readers some of my favorite things to do at each track/town. As a little bonus, I got The Weege to give us his thoughts as well.
Glen Helen
Each year at Glen Helen (and it doesn't matter if the race is the first one or the last one of the year) you get to walk in and experience what it's like being in Southern California for a national. Everyone there knows someone who knows someone and probably got in for free. The pits are packed wall to wall and this race is always the craziest. The track owners also kind of want to do things their way and don't really seem to like the AMA or whoever is running the show. For more on this, just read Motocross Action. Each and every week on-line and each and every issue.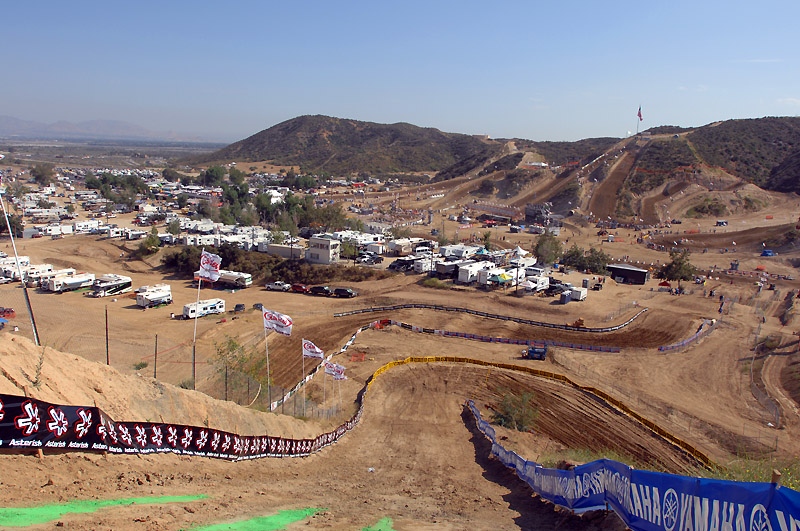 I've raced up this hill at the World Vets and it's steep. Then it gets rough and then you get arm pump and almost fall off the back going up. Glen Helen is not for the timid. CStone pic
Everyone's favorite curmudgeon, Jody Weisel, designs the track and does a good job with it (he does it for free y'know. Just ask him.) Over the years it's been refined and no longer has chain link fences lining the track or monster jumps where a guy can die if his bike blows up on the face. Fair warning though, if you complain about anything on the track, you will just get told that Rocket Rex would've rode it and loved it and maybe you should shut your pie-hole.
My Favorite Things
-Is the networking that goes on there. Practically every agent, industry guy and tattooed black sock wearing member of the motocross community is there so, as a writer, I can get a lot done there as opposed to Unadilla where no one really wants to go.
-I used to really not enjoy the three-hour wait to get out of there but that has improved over the years.
-I like the cold lemonade stand right outside the pits and the track is pretty cool to watch but I wouldn't want to ride it when it's bombed out like Baghdad after the first moto.
-The fact that Glen Helen sells EVERY single good spot to watch from to VIP's and kicks you out of everywhere isn't cool.
Favorite Racing Memory: Probably when Kevin Windham made his return after a year and a half and grabbed the lead in his first moto back. The crowd went nuts and it was cool to know that KW was back. Another would be the absolute domination by Sebastian Tortelli in 1999. Still one of the top three best rides I have ever seen. Watching him down the hills took my breath away. Serious.
One not so favorite moment was when Ferry was in third and my oil filler cap o-ring decided to bust and spew oil everywhere leading me to start digging a hole to be buried into once the bike seized. It made it though and the podium was ours…when I'm your mechanic, the excitement never ends!
Weege's Memories "One day back in 2002, DC yelled down the stairs at our old office. "Hey Weege, you ever been to California before?" A guy had called the office offering a free trip for someone who could write a story on his new business, "Motocross Vacation," where you fly out and get to ride all of the famous SoCal tracks. I got the nod to go, my first trip ever with the company. I didn't know how to hand in expense reports, so I rented a truck, and it was like $800 because I was under 25 and thought I had to buy the full insurance. I paid for it myself, because, no way someone would pay my expenses to go ride in California, right? Anyway, we rode for a few days and it was awesome. I'm still friends with the guys from South Carolina who were also on Vacation. At the end of the week, we went to Glen Helen for the national. DC had decided to get out of his TV stuff so he could spend more time at home with his new son, Vance, and Glen Helen marked the first race in like 15 years that he voluntarily didn't go to. He was blowing up my cell phone all day, calling for updates every three minutes. Bubba won his first 125 National there, and for some reason everyone was surprised. I mean, have you not watched the dude ride?
While roaming the infield all day in between calls from DC, the NPG's John Ayers spotted me and put me to work. Back in those days, the TV crew would hold a cardboard sign with sponsor logos behind the riders during their interviews. I got enlisted to hold the sign, meaning I was just inches away from being on TV! Yeah! A few weeks later, at High Point, I took the sign again, because I was "so experienced" now. I remember Chad Reed doing his interview, and Mike Brown was standing behind us waiting and waiting for his turn, and he says to me, "What's he doing, reading a f***in' novel?" But that's High Point so let's move on."
Hangtown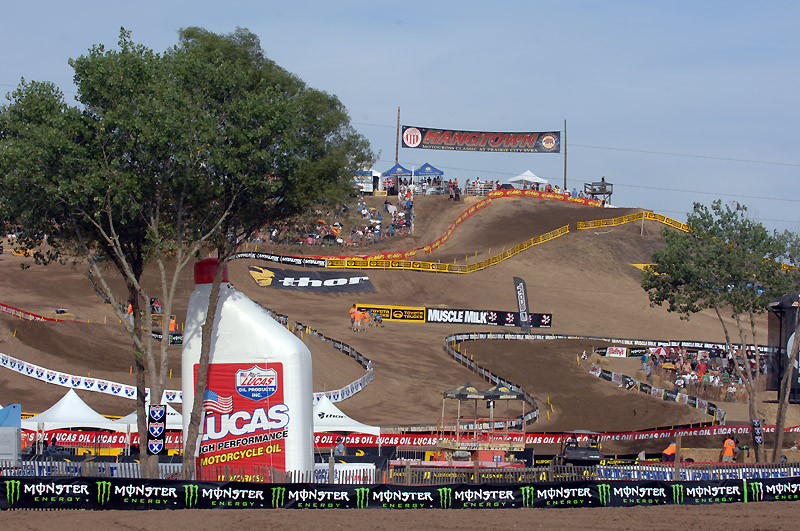 Look at the giant bottle of oil! That's the amount that my van leaks from the main seal every day. Anyways, Hangtown is cool to watch and wins the award for most improved track since I started in '96. CStone shot
The longest running national track has come a long way since I first started going there. In my early years, and the races I have on VHS, the track is hard packed, blue groove and dusty. So dusty, it looks like a giant hurricane is just hovering over the track at all times. There's a story that says a track worker once asked Damon Bradshaw how to improve the track and he said "Put a closed sign out front." But nowadays, it's pretty good, they mix in a lot of sawdust and rip it. The track is on the side of a hill so it provides good viewing. Hangtown is also close to the hotels and there are a couple of Starbucks on the way so all is good there. They have done some funky routing over the years that went over about as good as New Coke but in the last couple years, everything has been good. Like Washougal, I've seen three different starts there over the years and like the old fast right-hander.
My Favorite Things
-The fact that it IS the longest running national track is cool. Some of the greats in the sport once touched knobbies down there. It's also good viewing from the stands.
-There was a good hot dog stand right outside the pits by the main grandstand this year. Respect.
-The uphill double is cool and is totally do-able by the thumpers of today but at one time, it was gnarly to do it on a 125. The line selection at the top provides good racing. Outside and rail or inside and go slow is always cool to watch.
-The Dirt Diggers, which is the club that runs the track, must be comprised of dudes that couldn't get into the police force…in the prohibition years. They are a little past their prime and can be tricky to deal with. I remember they would ban mechanics from going onto the track if they didn't have their credential out and showing it. Despite the mechanic wearing headphones, a team shirt and looking like a pack mule. The Dirt Diggers are not always nice people. They seem to think it's Germany and the year is 1934.
-Something about the Northern California fans makes them pretty laid back and cool. They aren't as gnarly as the Socal gangs that roam around looking to steal stuff and they don't seem to pester the riders like some of the east coasters. They are really into the sport and are polite for the most part. Man, the native son Brad Lackey used to ride around with a plastic dove on his handlebars…how nasty could they be?
Favorite Racing Memory: Watching Grant Langston get jacked around by an exhausted Bobby Bonds and then taking matters into his own hands two straight-aways later. The take-out was followed by us having to listen to his mechanic yelling into the headset "YOU MESS WITH THE BULL, YOU GET THE HORNS" over and over. Also Tallon Vohland and RC in 99 was pretty good. One not so great moment was seeing Steve Lamson on a 125 a few years ago, ahhhh Lammy-you had good intentions. It was like watching an Edsel line up in F1.
Weege's Memories "If you're a motocross fan, you HAD to go to Hangtown in 2005. This was to be the REAL Carmichael vs. Stewart showdown, because their first SX season was washed out due to James' broken arm. I didn't have a job at the nationals back then, but GNCC photographer Ray Gundy and I bought plane tickets to the race anyway because you HAD to be there for the showdown of showdowns. We stayed at GNCC Champ Rodney Smith's house to cut back on the expenses. Anyway, I was really sick before this race. 2005 was my first season of the Supercross Live! Webcast, and my boss, Carrie Coombs, wasn't super pumped on me leaving every Thursday to go to the supercross races. To make it up to her, I worked every single day from January through May, flying to GNCCs on Sunday morning after supercross. I was smoked by the time Hangtown came around. And then the race turned out to be a dud. James pulled off and disappeared, leaving his woe begotten Kawi PR man John Ewert to stand in front of the firing squad and say "James was lightheaded and pulled off, that's all we have to report." Anyway, I was feeling really, really sick after flying back home, and then we partied all night every night the following weekend at High Point, and I ended up with pneumonia. But that's High Point so let's move on."
Freestone National
A new track on the circuit and one that the owner, Tony Miller, has put a lot of cash into to make it better and better. He's to be admired for working hard and making the best out of what he's got. Which is a flat piece of land in Texas where it's hotter than balls. The facilities have improved every year and although nobody is ready to call it a moto classic anytime soon, it's got its charms. The trucked in sand whoops always provide entertainment. The pits are nicely laid out and the vendor row is huge. There are all kinds of dead animals on a stick to buy. Some of them smell pretty tasty as well. The scary looking haunted house by the starting gate kind freaks me out though. So what if I can see my dog run away for miles, it's still a nice race.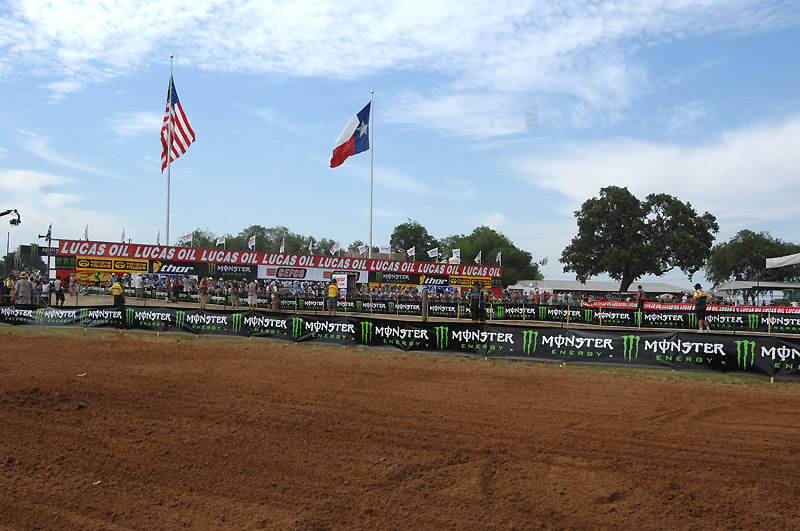 God bless Texas. The flag says it all. The Freestone track is flat but the promoter works hard at his national. Photo-CStone.
My Favorite Things
-I like that there is a race in Texas. I don't know, call me old-fashioned but with the thriving amateur moto circuit that's there and all the tracks to ride at, I think Texas should be represented on the nationals. Danny Storbeck would be proud.
-If you're a cool guy like me and have the right pass (although this year I didn't have the cool guy pass) you can go into the announcers tower. It's air conditioned and three stories high so you can actually see other parts of the track. Unlike those suckers on the ground.
-The drive to the track is not cool. Like 45 min from the hotels and once you get back to your hotel, there isn't really anything to do but eat at the Chili's. Which isn't THAT bad but you know what I mean.
-Picking the owners kid, Clayton Miller, in fantasy moto figuring he had the track dialed and then having him not do very well and hurt your team isn't my favorite thing.
-It's hard to pass on and oftentimes, there isn't that much actual racing going on. That and the dudes are trying not to pass out in the heat so they may not actually exert much energy.
Favorite Racing Memory: Not too many at this new facility but probably seeing James Stewart go WFO into the sand rollers and the wind hitting me 3 seconds after passing me. Maybe the heroic ride by Brett Metcalfe a few years ago as he just fell over from heat exhaustion once he crossed the finish line.
Weege's Memories "Last year my buddy Kevin Kelly from DMXSRadio.com came to the race, and we teamed up to do a funny video about entering a Yamaha Zuma scooter in the national. We had interviews with Yamaha Team Manager Jim Perry, even got mechanics working on the bike under the Yamaha tent. Dunlop's Broc Glover was a comic genius, we got sound tested by the AMA, it was good. And then our video man "Teen Wolf" forgot to download most of the footage, so we were stuck with a video of Kevin and I riding around double on the scooter. That was the least funny part of the whole deal and we probably look like egomaniacs now. "Hey, just film us riding double and post it, we are so hilarious!"
Mt Morris
Another classic motocross track, the Mt Morris/High Point track is one of the few on the circuit that I've never ridden on. (Freestone, Lakewood being the others) This track has history on its side and they are constantly re-working it the past few years. I love that some things, like naming a section Bradshaw Boulevard and the triple behind the start line have been mostly left untouched. The pits could use a lot of work because of the tiers and the fact that water runs downhill into the privateer teams parked at the bottom. It's like a metaphor for life, the rich peeing on the poor. The track is pretty good to watch from and again, if you're cool like me, watching from the top of the Kawasaki semi is a real treat.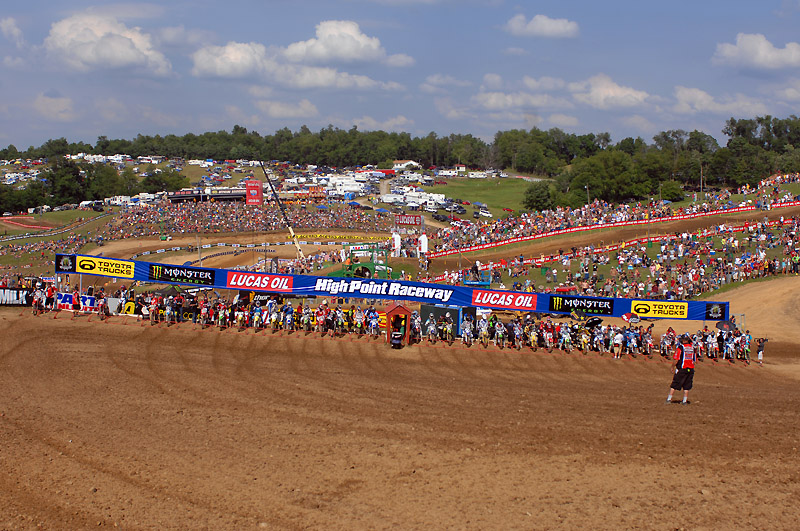 The famous up-hill start at High Point. I remember the far inside gate was the hot ticket because the tilling tractor would never go that far inside and a rider could get up on the hard stuff. That's not an option anymore. I've seen dudes pull starts from almost any position. CStone pushed the button on this one.
I am not a fan of the boulders that they put down in the pits a few years ago but I suppose it's better than having to tow the semi's out when the rains come. Just watch where you're walking as a high-ankle sprain is seconds away at any time.
My Favorite Things
-The crowd at High Point is gnarly. Although tamed down the last few years for some reason (back in the day, you only ventured out at night if you absolutely HAD to) I would guesstimate that maybe 40% of the people there are into motocross. The other 60 just want to get obliterated and cheer on whomever is riding the bike that's the same color as their favorite beer. It is truly a party national.
-Over the years it hasn't gotten as much hype but for a long time, Team Green made all their stars ride amateur days there. You could go early and watch RC or Stewart on 80's and 125's there. For the racers there, they got an early look at the back of those two guys.
-Again, it's different now but the uphill triple behind the start wasn't a jump that was always so easy. When there was such a machine as a 125, only the best would be able to jump all three. It was interesting to watch.
-The big-ass double that Reed turned into a triple this year was rad. That was an awesome sight for sure.
-Morgantown is a cool little town and close to the track. The Racer X party was always a good time if you were a mechanic and wanted to drink away the fact that you're job satisfaction was dependant on a rider that, if the sun was in the wrong position, hated everything.
-I don't like that they took out the plywood turn but I'm sure the tracks insurance agents like it. You used to come across the start and make a hard left back to the top of the track. Well for years and years, there was a piece of wood there and the riders eventually pushed the berm right out into the board. The guys would literally bounce off the plywood and rocket back out. It was cool and added character to the track.
Favorite Racing Memory: Well there's a few. One is when my rider Kelly Smith won in the mud in 2000. My only national win of my career. KTM's first ever North American win also which got me a hug from president Rod Bush later that week. Anytime a man hugs another man he really doesn't know, well that's something folks! There's also Bradshaw's win in '97. I can picture him passing Larry Ward right before the up-hill triple like it was yesterday. I can also remember getting nailed with giant mud chunks from the Beast's rental car as he tried to get unstuck afterwards. What was I going to do, it was the Beast from the East!
Weege's Memories "Bradshaw in the mud in '97. Is there anything else to even talk about?"
Lakewood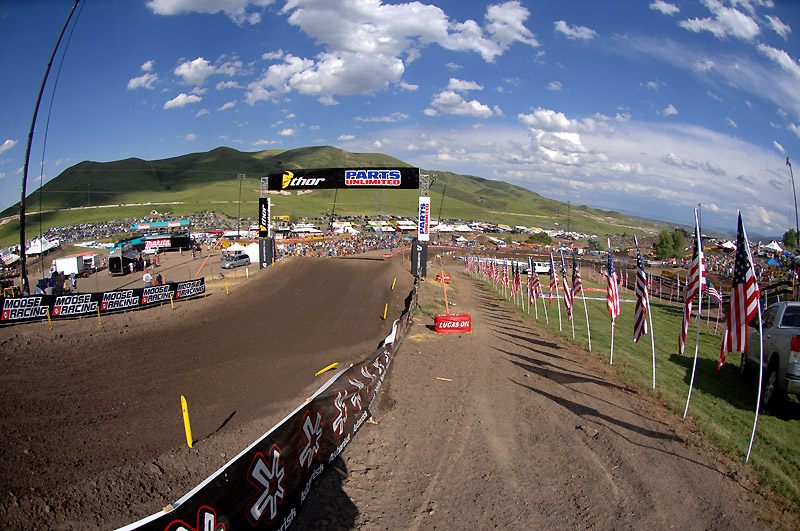 Lakewood has elevation, nice soil but is a bit narrow and follow the leader in spots. It's also the spot of the 2010 MXDN. Hee hee hee, those Euros have no idea what they're getting into. Photo-Carl Stone
Like Texas, Lakewood is a relatively new track located not far from Denver. In fact, it's surrounding amenities might be the best on the circuit. Lots of shopping malls, restaurants and Starbucks abound maybe ten minutes from the track and I'm told from the people that rode Lakewood back in the day, the track is 1000 times better. Which shows the promoter puts in a lot of work for the national. The first few years we went there, the elevation and heat would really affect the bikes. The race gas is actually not equipped to handle the lack of oxygen and oftentimes, late in the motos, the bikes would run really bad. Pump gas was the name of the game early on there. Now with EFI, there doesn't seem to be as much of a problem and everyone's figured it out.
The track is laid out in front of you and easy to see, you can follow the action around the mountainside. Of course, the last couple of years the lights have been brought in and we've had night action. It's been good, the first year there was non-stop bitching but this year no one mentioned anything about the light. It's a little tight and kind of follow the leader in sections and to be honest, there are definitely better tracks than this one to host a MXDN but the closeness to the city plus the amenities at the track make it understandable.
Favorite Things
-Have I mentioned the surrounding areas? Let me say it again, it's nice to have civilization close to the national track. The 45 minute drive from the airport isn't the coolest but you can't have it all.
-Feeling like you're going to pass out at any moment isn't very good but perhaps I should worry about getting myself into some sort of shape? Bitching about how the promoter should move his track away from the sun to accommodate me seems rather shallow.
-But seriously, the vendor row is super far from the pits and it must suck for the spectators to have to go from the pits and back.
-If there is one track that could benefit from a bunch of bleachers, it's this one. I would bet you will see those at the MXDN.
-Having an outdoor race under the lights is cool. The whole vibe there has been better since they did it. The crowd is more into the party atmosphere at night and the bikes and gear look cool at night.
Favorite Racing Memory: Probably Ivan Tedesco's ride this past year-just perfection personified. A great day and the type that riders dream about. Maybe Shorty's 250 wins? How about every other factory bike burbling and farting the first year they held the race BUT the factory Yamaha's were running strong. Thanks to our manager Jim Perry telling us to put low octane pump gas into the bikes, we were good the whole moto. That Jimmy, he's one smart dude.
Weege's Memories "I first went there in 2006, and fellow Racer X staffer Jason Hooper and I had just completed this fitness boot camp thing. We had also run a few distance races that spring, we thought we were in super shape and wanted to show the altitude what was up. We shot some video there in the pits and I remember purposely wearing a medium shirt so everyone could see how fit I was on the video. Later, we ran a race up the steps at the Red Rocks amphitheater and hurt ourselves pretty bad. Altitude won.
The race was similar, though. Guys would go fast for a few laps and then their bikes would start sputtering, and they would slow down. Led to fantastic racing that day, actually."
Redbud
Some might say this race is the crown jewel of the AMA series. With a few of the tracks taking a bullet and moving long standing dates in order to accommodate the travel schedule, it was nice to see the Ritchie family able to stay on their traditional July 4th spot. The resulting long weekend and party that accompanies the race is legendary. So legendary that there are separate fenced in pits for the people that want to drink alcohol. So they can't get out but around three in the morning, if you shine a light into that compound, you'll see a bunch of people that look like zombies just saying "Brains, brains…we want your brain."
The track itself is a favorite among the riders, its fast, has big jumps and nice soil. Some of the guys say it's a little one-lined on the back side of the track but if you ask 100 riders, you'll never get a general consensus that the sun is good so I don't worry about that.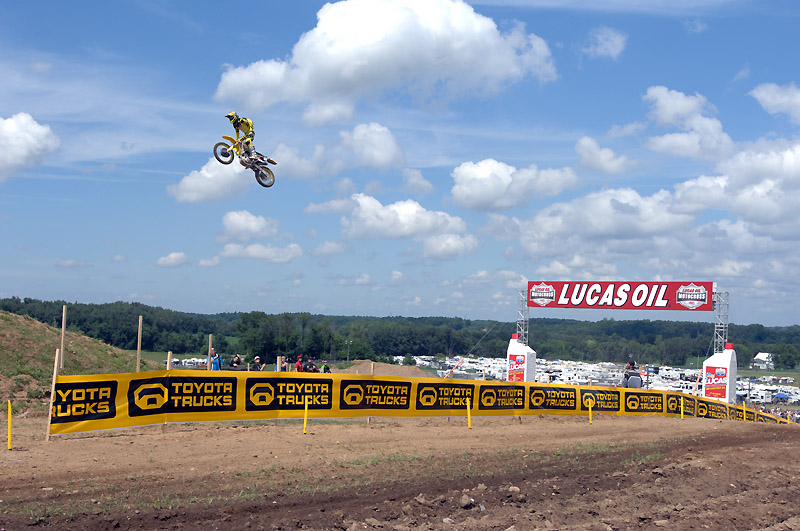 The signature jump at Redbud, here's Dungey leaping Larocco's Leap or The Parking Lot jump or the Lucas Oil leap. I just threw up in my mouth. It's a must see for anyone at the track, you HAVE to walk over there and see it. Stone shot
Favorite Things
-The crowd is massive and for the most part, they know their racing. They cheer the right guys for the right reasons and boo the ones they don't like. Ask James Stewart sometime about that.
-The track is challenging yet somewhat spectator friendly. Go stand by Larocco's Leap and watch the guys jump that, it will take your breath away the first time.
-The town of South Bend is where everyone stays and it has everything you need. Nice quiet town with some sort of big Irish school in it. Glad they recently added a Hampton Inn there as well, you can never go wrong with staying at a Hampton. Although The Inn at St Mary's is high quality and has nice beds to boot.
-Again, if you're cool like me you can stand in the announcer's tower and see both sides of the track but if you're a spectator; you can only see one side and miss a lot of the good stuff. For the first few laps, there is nothing but dust clouds on your side while the guys go to the other side.
Favorite Racing Memories:
Well there was the time that Ferry broke his wheel on Larocco's Leap and I spent all night lacing up some new ones. There was the time that James Dobb won the first moto, admitted on the podium that he didn't have anything left for the second moto and then promptly pulled out of the second moto. Emig coming out of NOWHERE in '98 to go 1-1 and start his championship charge that ended when he got hurt. RC and Stewart battling it out in '07 come to mind. Tortelli in '01 running out of gas within feet of the finish line and trying unsuccessfully to drag it up the finish line tabletop. Some things that aren't so awesome to remember would be pretty much every year that I was there with a rider-I never got a good finish at The Bud. Something always seemed to happen…like me working on the bike.
Weege's Memories "One year I broke my wrist riding on a Wednesday, and I was pissed that I couldn't race at High Point that weekend. So I tagged along went to Red Bud instead. It was a fun weekend. We were partying on Saturday night, and people were throwing cans of gasoline onto campfires to create explosions. Crazy stuff. We ended up getting pepper sprayed by security. On the drive home on Monday, the staff decided to visit the Cedar Point amusement park. On the roller coasters, we would take our hands off the bar, and my cast would end up smacking everyone in the head. Good times."
If you made it this far down, look for part two next week sometime! Thanks for reading.