Take a look at the stories of 1984 through Motocross Magazine's eyes. If anyone has the missing issues, lemme know and I'll get them up here.
Take a look at the stories of 1984 through Motocross Magazine's eyes. If anyone has the missing issues, lemme know and I'll get them up here.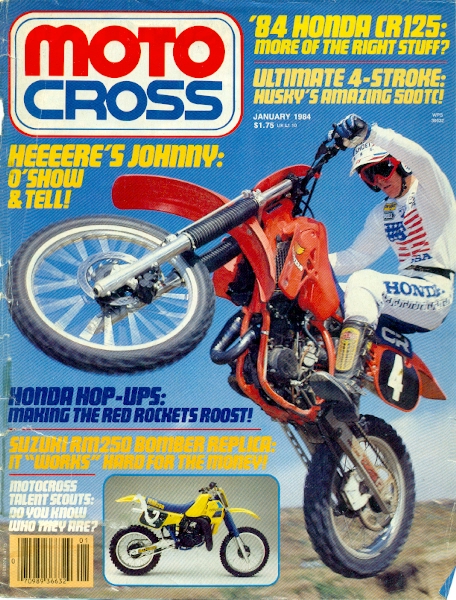 The first issue of the year kicks off with O'Show testing the new CR125. That '84 "Bomber" replica is proven later to just be a bomb and Husky's "Amazing" 500TC is probably many things but amazing is not one of them.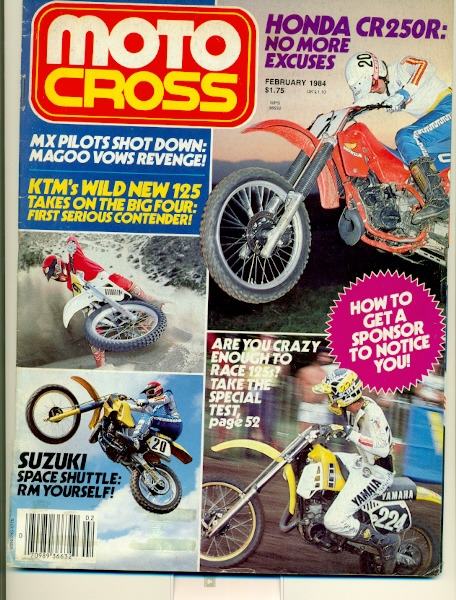 Look at Ron Lechien here on the Feb issue of Motocross Magazine. That's on the rotary-valved OW 125 and he was a rookie the previous year. That earned him a Honda factory ride and he just lost out on the 250 national title to RJ.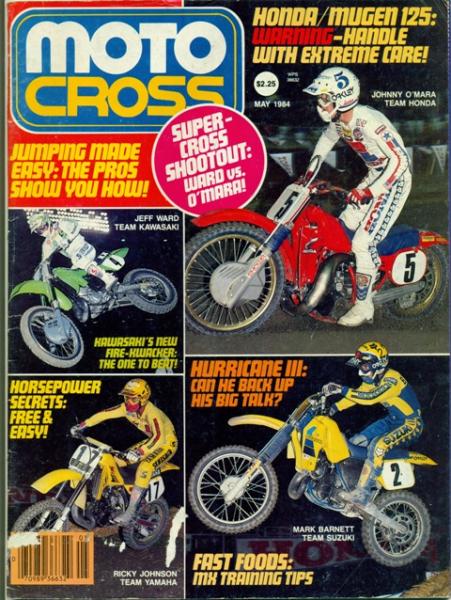 When I got a tour of Oakley a few years ago, a massive copy of this cover was hanging in the hallways there. I guess the owner thought that he was big-time when this came out as all four riders are wearing Oakley goggles and facemasks. This is a cool cover for sure. All the heavy hitters featured here would go on to win nineteen AMA championships. The owner of Oakley, Jim Jannard, would go on to make enough money to buy all four of these guys and install them as slaves if he wanted to.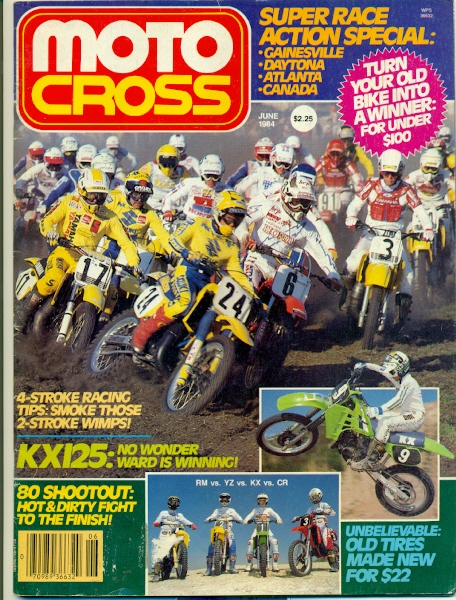 Look at little Ricky Ryan here pulling the holie in the Daytona supercross! Nice momento for someone to have years later. This is a "super-race action special" and I do love the fact they put Canada in there. Makes me feel good. The test here of the '84 KX125 probably goes something like "&@$)-ing fast bike!!"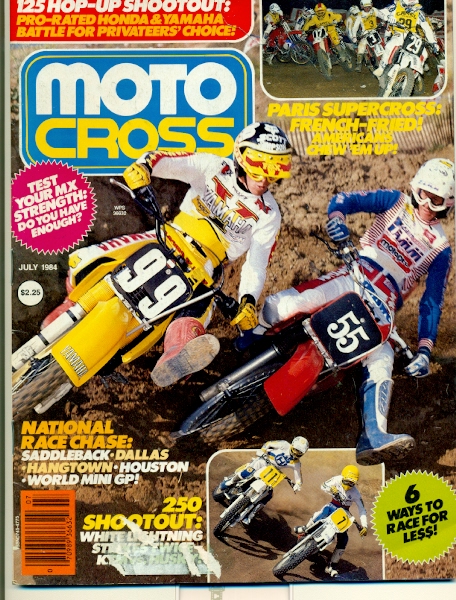 Mike Bier and AJ Whiting make the cover here and if you remember, this was the year that these two went tooth and nail for third OA in the '84 125 nationals. Yeah, sure they were a minute behind Wardy and O'Show but still. Bier eventually got it and what makes it even better for him was he was on a dog-slow YZ125. Remember when production bikes weren't that good and different years produced different crappy bike? Yeah me too. That doesn't happen anymore.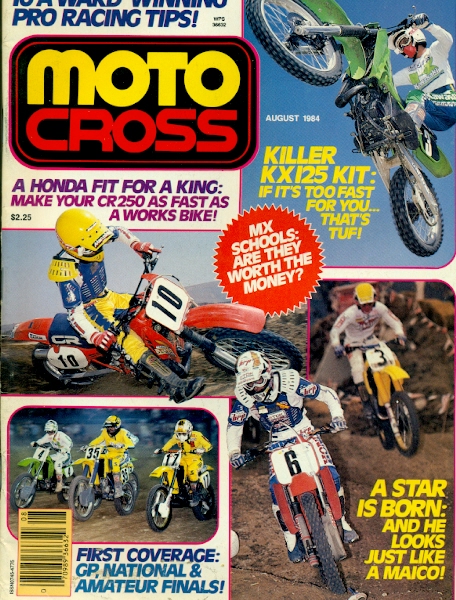 August 84 has more race action and a headline that "A star is born and he looks just like a Maico" which means that the M-Star is tested in here. A Maico by a new name just means another crappy bike from the Germans. They should've stopped with the Sand Spider, it was all down-hill from there.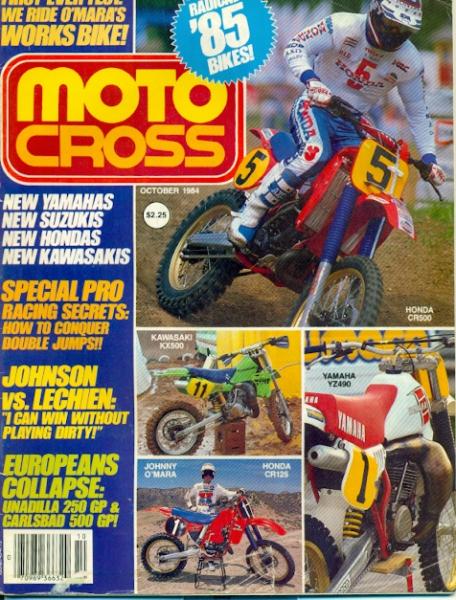 Another cool cover with features on the works bikes in Europe and an actual test on O'Mara's 125. Johnson vs Lechien was very appropriate for this time. They hated each other but part of the problem that the magazines didn't report back then was that Ronnie had hooked up with RJ's ex-girlfriend. Good times.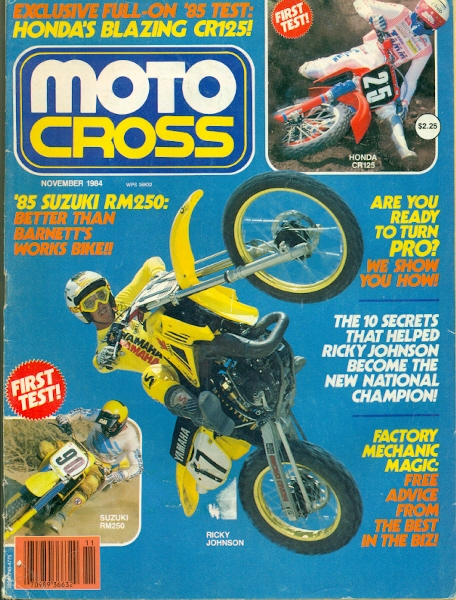 RJ airs out his production based YZ250 on this cover and if you look close, he's got a sweet mustache growing right here. The next years '85 models are coming out and started to be tested. The 1985 CR125 was indeed very blazing. Good bike.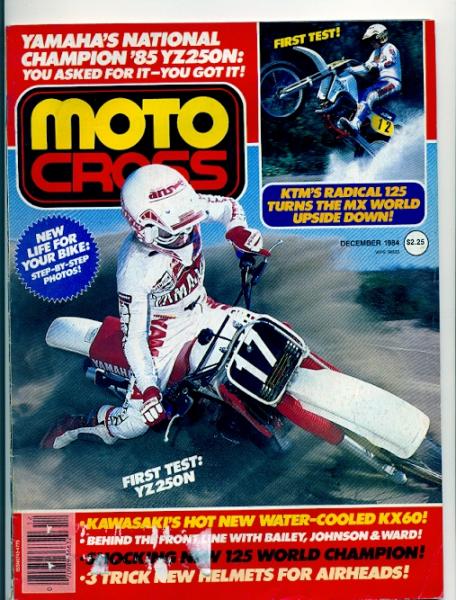 More tests here in the December issue. Yamaha turned their bikes white/red for you Americans and immediatley made everyone with a 1984 seem like they were riding a doo-doo bird. The '85 YZ250 was a good bike once you unhooked the BASS rear suspension deal and this machine propelled my brother to the '85 250 Novice title in Manitoba. For more on this, check out "Old Ass Photos of You."