Check it out. Part one is right HERE. Some of your stuff is right HERE.
Check it out. Part one is right HERE. Some of your stuff is right HERE.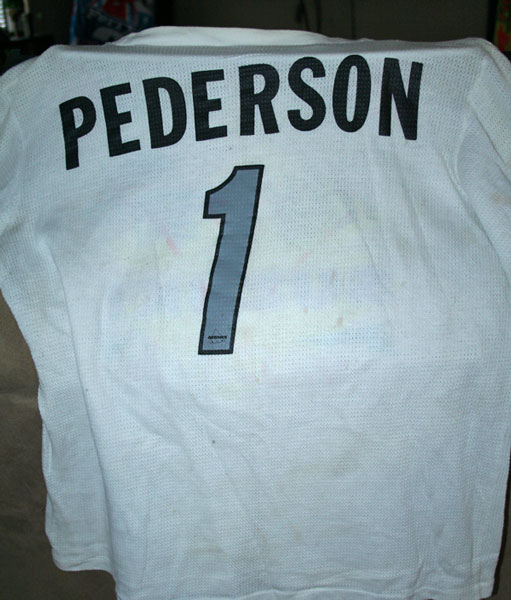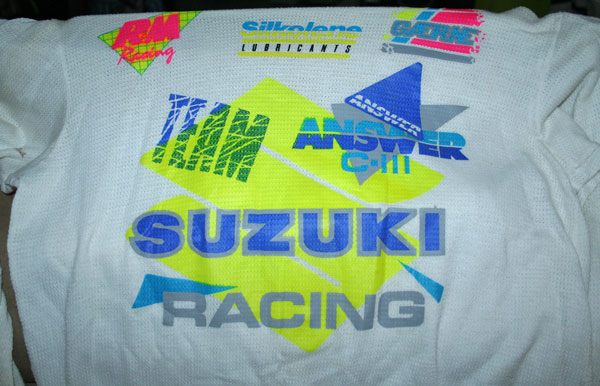 This is an actual jersey of The Rollerball. I traded a signed James Stewart jersey for this off some guy named Cal I used to race against. I think that Cal might have taken me as this thing is real small and Roller was a big man. I'm kidding…kind of. Anyways, if it really is THE Ross's, then I am honored as it has his dirty neck sweat on it.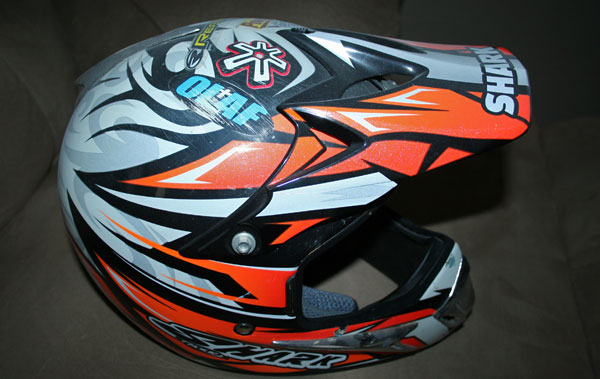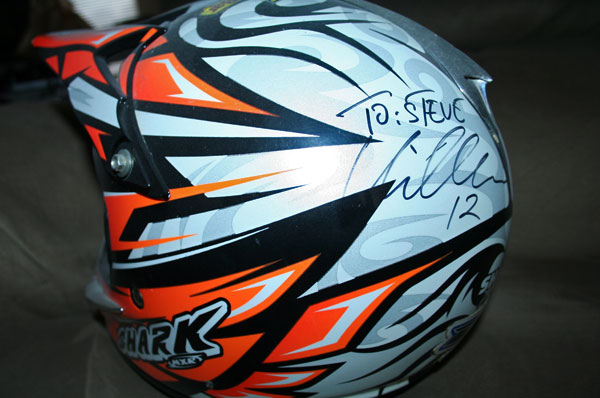 I showed you guys Reed's helmet last time, here's one of DV's. It's an older helmet that he crashed on (as you can see) and I remember I asked David for a helmet sometime and not really thinking that he would remember or care but he went to his locker upstairs and came down with this. He signed it and everything! That DV, good guy.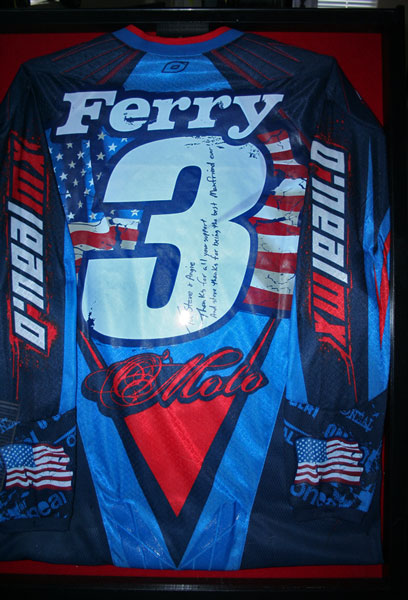 Here's one of Ferry's 2007 MXDN jerseys that he signed to me and Angie…oh wait, he forgot to actually sign it! Goofball, I keep meaning to get him to do it when I see him. He signed it "To Steve and Angie (my wife btw) thanks for all the support and Steve, thanks for being the best man-friend ever." Excuse me, my eyes are watering up a bit right now.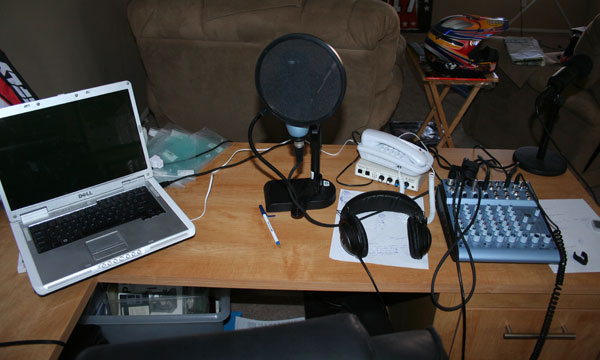 Here's where the magic happens people! My podcast set-up in the den upstairs. I bought a desk when me moved in but found that I didn't really ever sit in it and work much so I moved the podcast stuff out of the spare room and out here so that I used the desk a bit more. The only problem is the dogs come up and bark once in a while but I like to think that adds to the amateur hour feel. This is where we'll be doing the Motoworldracing.com Moto Show from.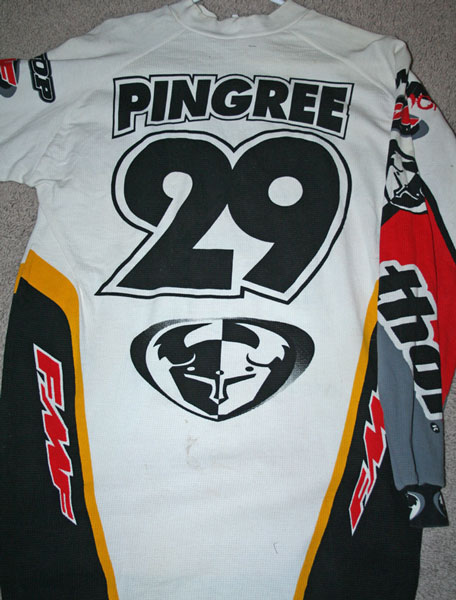 Ping may not remmber me being on his team in 1998, I have his jersey that I took from his locker to prove it! I have all the guys on the team (McCormick, Sellards, Smith, Sheak and Ping) and am amazed at how effing hot they must have been with the 100% cotton and being silk-screened full of logos.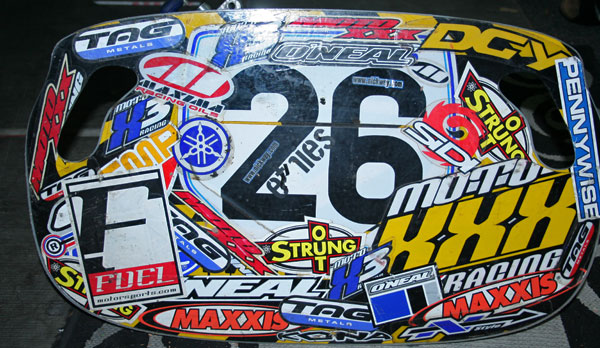 This is my pit-board that I used all year at Moto XXX in 2002 when I worked for Nick Wey. It started the season out as a Mechanix Wear board but we just kept adding stickers. Then it became the "XXX Crazy Board" and took on a life of it's own. The other side is so black from marker residue that Nick probably couldn't see anything but there was no way that we could get a new one. This thing saw the entire sx and mx season. This is actually one of my favorite things just because…well I don't really know.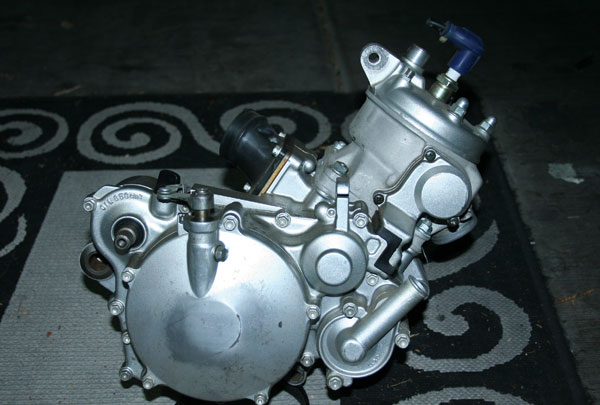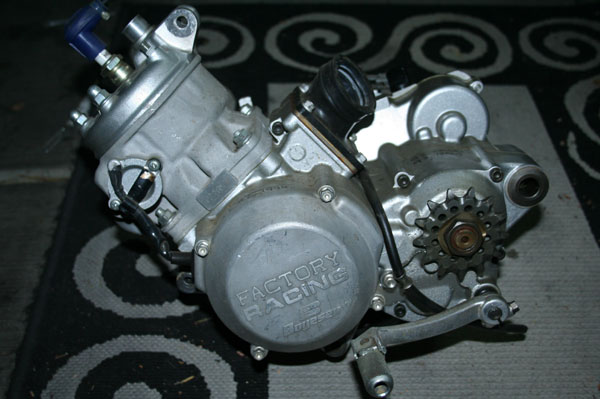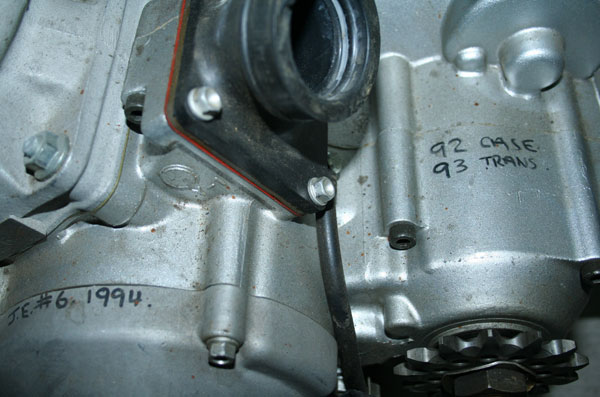 I've been telling people that I have Jeff Emig's YZ125 moto from 1991 but clearly, I'm an idiot because it's from1994. No matter, it's still sweet I think. When I was at Yamaha, we were wrecking things and going through our storage locker and my bosses let us each keep a motor. There was KW's 125 motors, a bunch of MC's 250 ones but I went for the oldest one they had there which was this one. No there wasn't a Bradshaw one otherwise that would be in my garage.
Anyways, it's just cool to have this but what in the hell can I do with it? My wife doesn't want it inside just sitting there, I need to make a little display thing for it. My buddy, Rocket Rob Buydos says I need to get a 1994 YZ125 off of Craigslist and drop this thing into it. I'm going to Tweet Emig and tell him to check this out and maybe he can leave a comment about how fast it was or wasn't.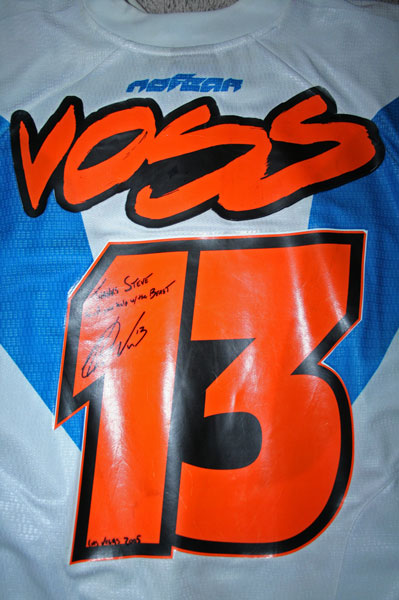 When Ferry was injured I had some time on my hands and was now the test guy. Heath Voss was riding a full-factory bike for Mach 1 and having a hell of a time with the carboration of it. So myself and Bob Oliver went out with him for three or four days to try and figure out why it would hesitate under load up the face of jumps. We tried just about everything we could think of (floats, needles, carbs etc, etc) and fixed it for him finally. As a show of appreciation, Voss gave me this jersey that says "To Steve, thanks for your help with the beast."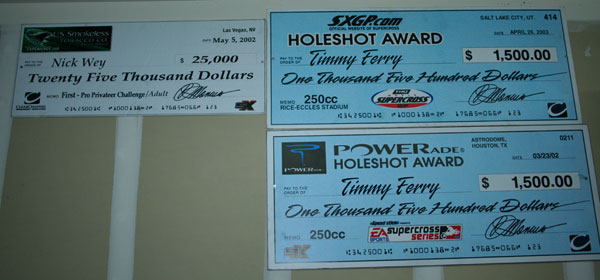 First of all, yes I should've painted my garage when I moved in. Too late now. Here are some checks that, unfortunately, are fake. A couple of holeshot awards for Ferry and the top privateer check for Wey from the awards banquet. I tried to take these things to the big check department at my bank but no luck.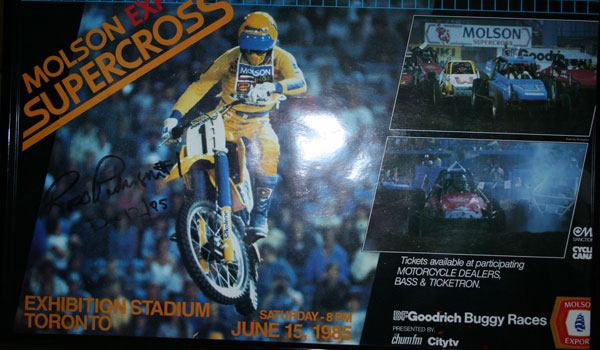 I just got this gem the other day from Will De Clercq. It's an original Toronto SX poster from 1985 signed by Ross Pederson. Yes, I know it's incredible and I'm the luckiest guy on earth. Pretty sweet I must say.
Below is a jersey from Retro night 2008 that James wore. I always loved the Micky Dymond gear from this era and I love the whole re-creation that Answer did for him. James signed it for me after some race later on. Thanks to Roger Larsen for getting this rare item to me and I was actually going to give it to my brother but then thought better and it's now mine.