How much of this stuff did you own?
How much of this stuff did you own?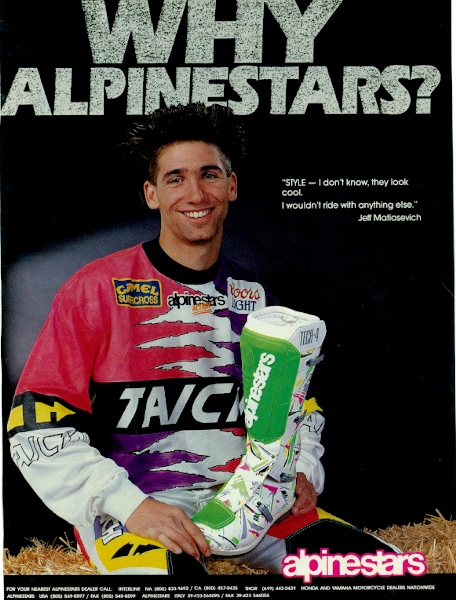 Here's Kid of 'Kid n Play' hawking Alpinestars boots. Just kidding, it's Jeff Matiasevich with an awful haircut. After Chicken almost won the 2000 SX title, he switched from Fox to Taichi and his resulte plummeted.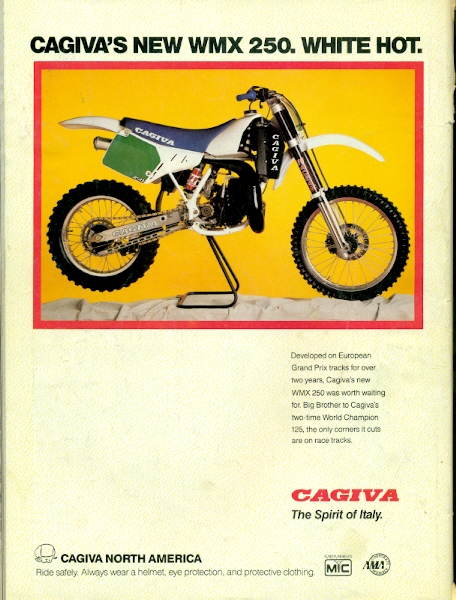 The new 1987 Cagiva 250 which was definitely not 'white-hot.' I think this is the year though that Mike Healey rode them and won a moto at Steel City. Did anyone actually buy these things that wasn't sponsored by them?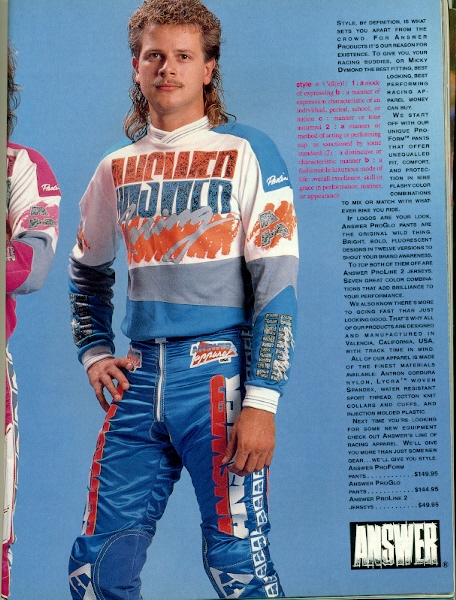 Nice. Hair.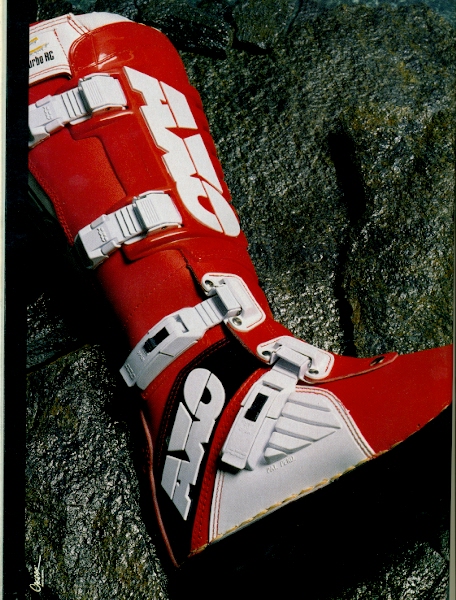 These boots were the bomb back in the day. I had a pair and loved them. The buckles did break though.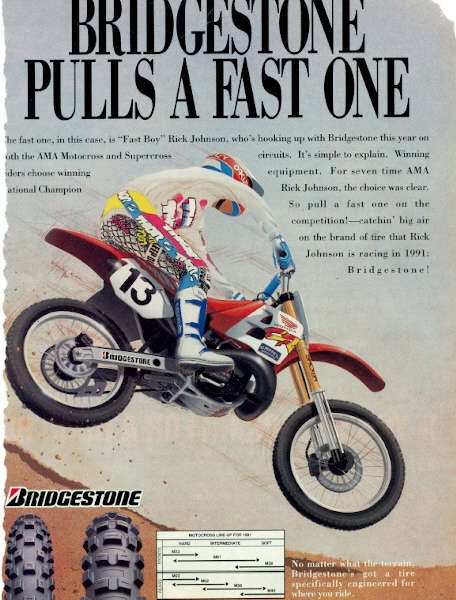 In probably one of the uglier ads ever made, here's Bridgestone touting the signing of RJ for the '91 season. This was when the riders could go out and make their own deals for tires. The rest of the Honda team ran Dunlops and history would show that JMB and Stanton's tires were much better.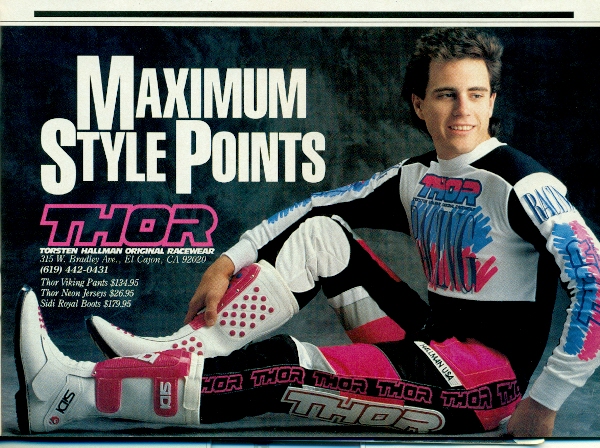 Here's Larry Brooks looking good in the new THOR gear. Or Hallman or whatever they called it. I had a pair of those pink SIDI's and they were great if you loved your boots to have the worn-out tennis shoe feel.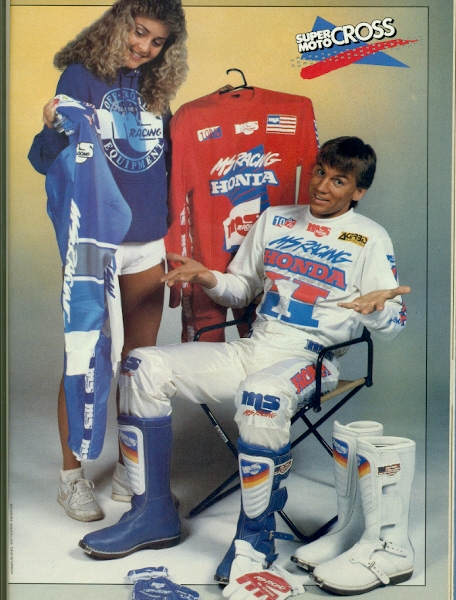 Here's an ad for MSR with Guy Cooper and his then-wife Jayna. Coop and her would travel around the circuit together and she was a big part of his career. Then he got a factory ride and rumors are she slept with another rider (a friend of Coop's) and they broke up. Then Jayna married the other rider and Coop lost his wife and his friend. Anyways, MS gear? Not very sharp.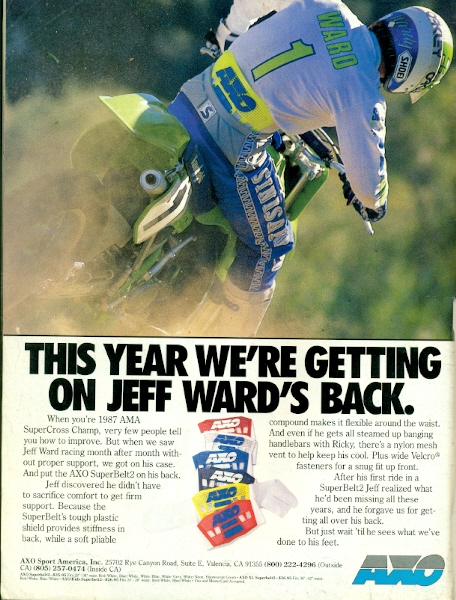 This was a weird deal, Wardy wore Sinisalo forever and then somehow the two companies merged and Wardy started wearing AXO boots and kidney belts. It was a good look and I had one of these kidney belts. I remember the plastic was so hard, it would slice your lower back all up.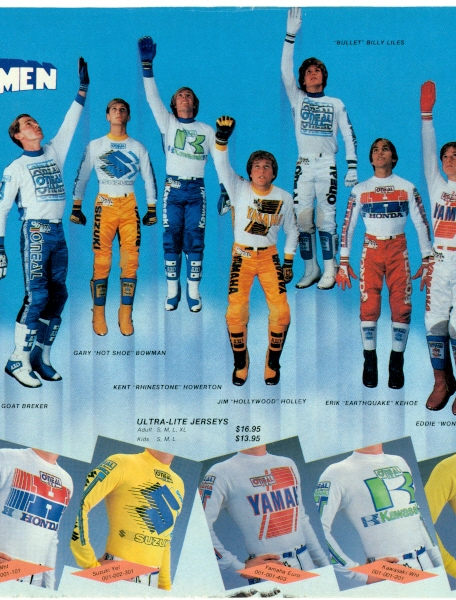 Old-school O'Neal ad with the 'Earthquake' Eric Kehoe and all the other O'neal riders. JIm Holley still wears the stuff today.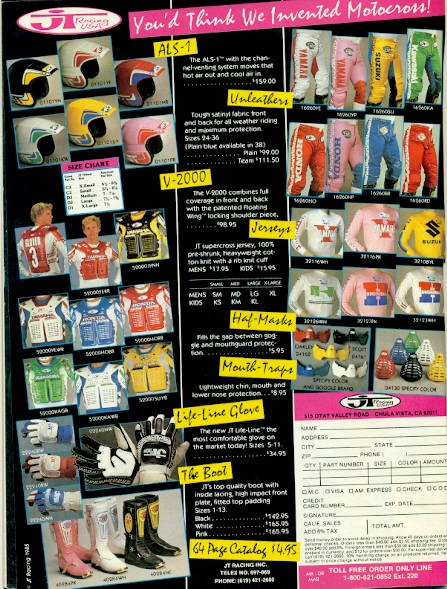 I forgot about JT making pink boots! Anyways, did any of you guys have the pink gear or know anyone that had it?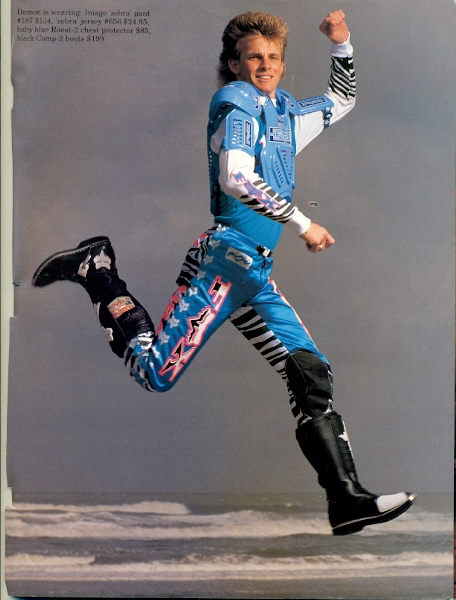 The Beast from the East probably wishes he could burn this ad. Not exactly a picture that Damon wants his competition to see. I had this look also on my Kawi's and it was sweet. I always thought this stuff was underrated on the scale of all-time cool gear.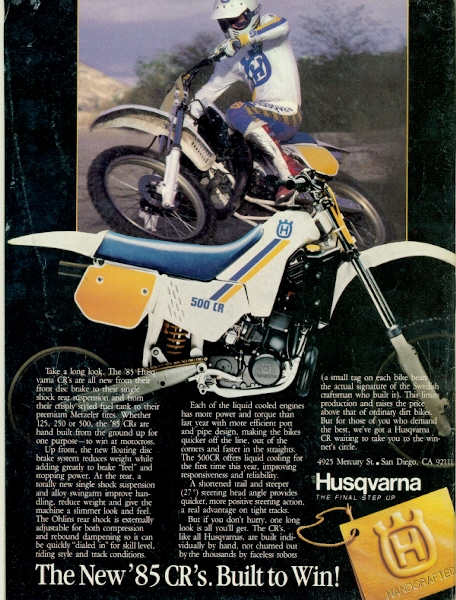 Yes, they are right. The new '85 CR's were built to win. The only thing that they forgot was that it was the Honda CR's and not the Husky CR's. This was about the last year that Husky's were really around and I remember Tony D rode them.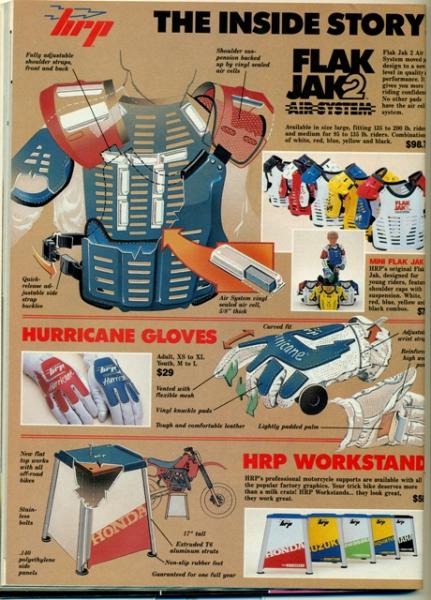 These were great chest protectors and not so good stands. Hurricane Hannah was onto something with this thing.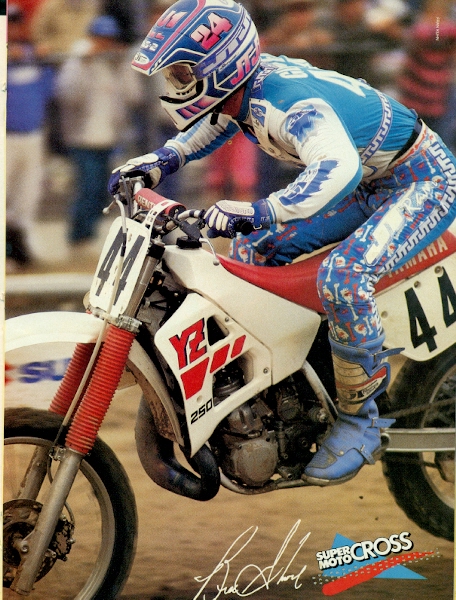 Thought I'd throw this cool shot of Glover in there. I never remember him rocking the Bad Bones motif but here he is. That helmet is one of the all time best and this must be a CMC Golden State pre-season race or something like that. Broc had a real comeback year in '88 and then Yamaha let him go.