The scene? Perris GFI Invitational 1998. The rider? Nick Wey. The manager? Mitch Payton. One photo, two stories.
The scene? Perris GFI Invitational 1998. The rider? Nick Wey. The manager? Mitch Payton. One photo, two stories.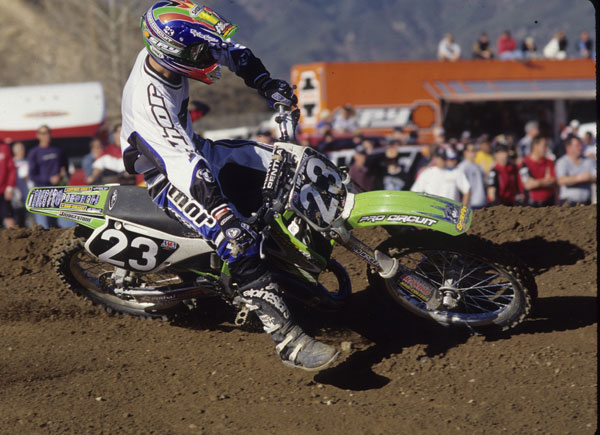 N Wey in '98. Photo by Chris Hultner

Nick Wey- "This was 1998 and it was the pre-season race at Perris. They had a little supercross track there and I was not of the understanding that the Michael Brandes and Casey Johnson's of the world rode there every Tuesday and had the place wired. This was not something that I realized at the time but when I went there, I was feeling like I was ready for the season. It was a little outdoors-ish feeling out there. I was riding east coast that year and this was before the west coast even started so I wasn't too worried about my speed but nevertheless, I felt good.
The locals at Perris had one up on all of us and I wasn't doing as well as I would've liked to so I was all frustrated at that. Then they had a little intermission deal where all of us stopped and lined up for another start in the order we were in when the flag flew. So I knew I had to catch up to the front although I think there were 250's with the 125's and it was hard to tell how I was really doing but I figured I needed to do better anyways!
So for the re-start, no one told me what was going on and a guy came ripping by you on a quad and as he went past you, you could go. So I'm seeing all these guys going and I just take off and I about got killed by the guy on the quad. Then I went five more feet, tried to tuck inside of a guy and ate it. Needless to say, my day wasn't that good. It didn't end there either.
I don't think anyone on the team did well that day and Mitch (Payton) was not happy as it was right before the west coast started. I think it was basically one of my first years of racing and I was guilty by association because I was with all the west coast guys. So Mitch said we're loading up and going to the Kawi track to keep riding. But we ate lunch first and my day got worse when I backed into Casey Johnson's mechanic Dave Feeney's truck with my van when I was leaving after lunch.
So then we went out to the track and did some motos. We basically did another race in our sweaty gear. Good times."
So I then went over to Mitch Payton and got his take on this day:
Mitch Payton-"I remember that we went there for a pre-season race and we thought we were in good shape. We had done all the testing on the bikes and all the guys were happy with what the final product was. We always did our testing at the Kawasaki track and the guys said the bikes were perfect. One thing with 125's that not many people know but you probably know is that when you go somewhere that has a lot of traction, the bikes never have enough bottom end. So we got to Perris, the track was wet, it was ripped up and the complaints started. This was the first race on their race bikes and the guys all thought that something was different from their test bikes. They were all saying "This can't be the same, there's no way" and on and on.
We also didn't do good at all, we all struggled and that might have been the time that Ricky (Carmichael) got kicked in the head by (Michael) Brandes but anyways, it wasn't good.
So they were all bitching and everything and I thought it was the track but really, there was only one way to find out for sure. We had to go back to the Kawi track and see how they were. The guys didn't think I was serious but the race at Perris was over at like one o'clock and let's go. And I caught a little resistance from a few of the guys but I thought it was the best thing. If the guys said that the bikes still sucked, then we would get back to work.
Of course, once we got back to the Kawi track, the dirt was a little harder and they had more bottom and were all happy. It was really just to verify that we had done the right work. Truthfully it was to just check on the bike and do it back to back. I think they all felt better after we did it but it was probably a pain in the ass to the riders."