Swing by if you're in the area…
Swing by if you're in the area…
Steve,
I read your stuff and listen to everything, and it is good stuff. I have been around motorcycles since 1981. I was more of an off-road guy towards the end of my career and made a decent living racing. I live in Utah, and still race every couple of years locally. So the reason I am sending this email is because I still watch every race on I can on TV. So for A1 this year we tried someting different and had a party in my garage (yes my garage) and called it Stripper Cross. We watched the race on TV and after it was over we had some Strippers show up. I even put a pole in my garage. It was a co-ed party, and the women got more wild than the men. Definitely a good time.
So now the supercross season is coming to an end, we (my wife and I) decided to host the 2nd Stripper Cross. We made flyers for both, and I think I am really onto something, and thought you could spread the idea of Stripper Cross on a national level. Attached is my flyer (short and simple) so if you want to post on Pulp, it would make my year. I think I would get more of a kick out of it than anything. There isn't any addresses, or phone number listed on the flyer so it would be more anonymous.
I wrote this before St. Louis, so there is a paragraph in there about Dungey and Villopoto battling for the title.
Thanks and take care,
Dustin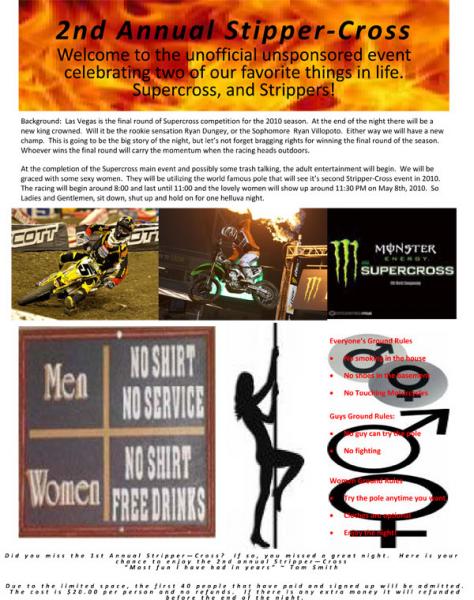 Sounds like a good night!