Vintage Corner gets serious with its test of the Race Tech suspension mods.

Vintage Corner gets serious with its test of the Race Tech suspension mods.
Welcome to the Vintage Corner Pulp YZ test of Race Tech suspension!! Let's start with that back in the day most suspension stank. I know we put extra oil in the forks, (sometimes air!), stiffer springs in front, and if you were lucky, stiffer in the rear also. I was never that lucky. The most I got was stiffer front springs with a boatload of oil poured in. Perhaps the massive amounts of arm pump I got just looking at whoops was maybe linked to this, methinks.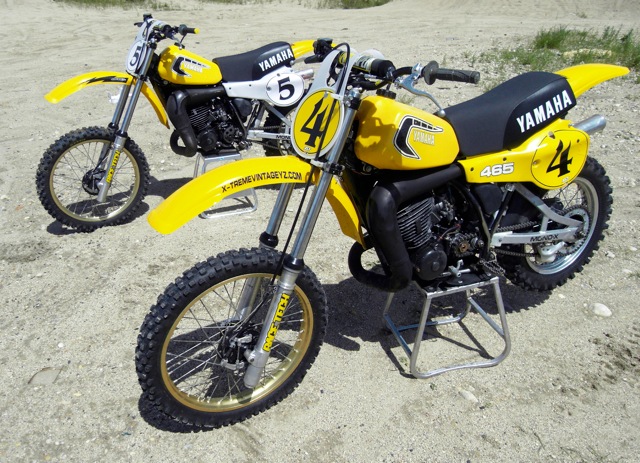 Here are the test subjects. A 1981 YZ 250 and 465 or in other words, some 1981 YZ Moneypits!
So The Pulpmx Northern wing 5, (that's me) decided to go for broke with vintage YZ #1 (1981 YZ 250) AND vintage YZ #2(1981 yz 465) and really do up the suspension on these old bad boys like never before. With the secret insider industry connections that superwrench Steve Matthes (my brother) can only possess, RACETECH was called in to fix us up!! After reading the whole internet and emailing some of the dudes on the MX sites(newman ), that have had their vintage mxers redone, Race Tech seemed like a great choice. So let me first say I'm in Canada, and Race Tech main office is in California, so that meant packing up and shipping our suspension (two sets) through the good hands of Canada Post and praying it would someday return. Weeks later it did! And it was good.
I know there are local suspension guys that could've worked on this but I think Race Tech is onto something with their specialization of the vintage stuff. Also as a Canadian growing up in the 80's sending your stuff to California was just something only the most privileged got to do. So there. We did it.
The YZ's received the full meal deal (don't say that around my brother, as you're likely to see drool instantaneously coming from his mouth) . We had Emulators, stiffer springs, new bushings, seals, and preload spacers installed in the forks. The rear received a gold valve setup, new seal head, shock shaft seals, and heavy springs. Yep I said springs. Race Tech uses two different springs separated by a spacer to as closely as possible replicate the old YZ progressive rate springs. From what I hear, you can't get progressive wound rear springs any more so that's why they use this setup. Basically brand new, better then factory suspension, that Bob Hannah would have chewed his hand off for. This shit is trick people. Race Tech did a lot of testing for the vintage crowd, and hit one out of the park.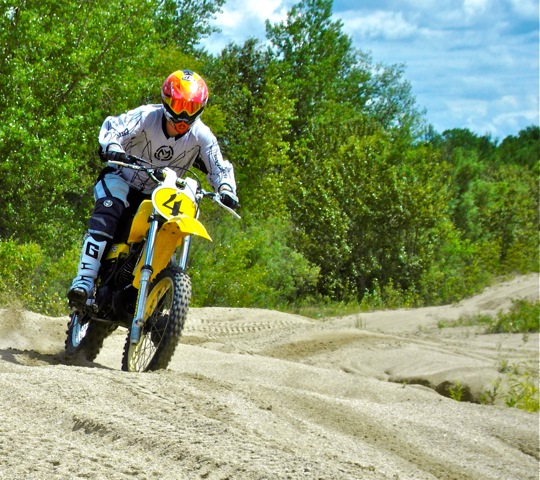 The total overhaul of the front forks and shock made a massive difference in the way the bike handles.
With my fat ass (190lbs) on the YZ 250, I could tell the suspension was drastically better. Better balance between the fork and shock. Plushness on small chop, and great bottoming resistance. After getting used to this transformation i started pounding through the deepest sand whoops I could find. No problem. Wheeling through and over the whoops was great. Taking off the jumps it never kicked me and resisted bottoming well. The last modern bike I owned was a 1994 KX 250, and I can say without doubt, this suspension is way better than that. I've ridden new four strokes with stock suspension and springs, and this YZ is better balanced.
My testing partner is crime is a little more svelte than I, but we made no adjustments as he took off on the 250 to pound out the laps. The bike tracked absolutely straight with him aboard and soaked up the roughest whoops with ease. Turning was noted to be effortless and no head-shake was noticed down the fast straights.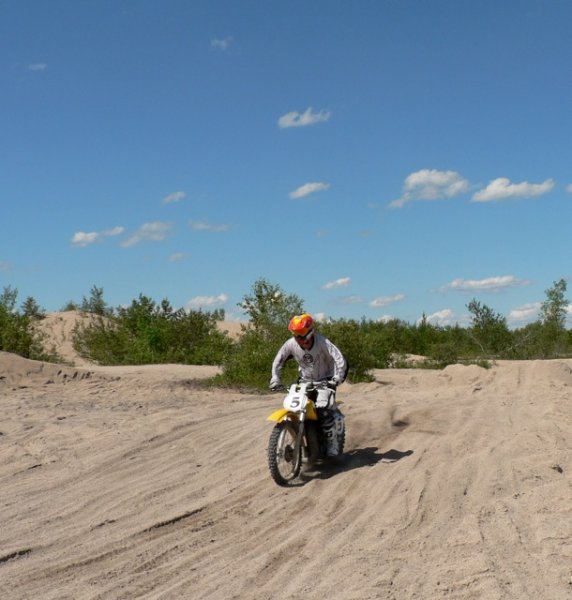 Jason Matthes tests the limits of the Race Tech suspension.
Next up was the beast, the YZ465. The bike really isn't that bad as long as you don't ride it like the 250. Short shifting is the order of the day here. Usually going through the deep sections of this track with the beast, you brace yourself and wait for impact. It just wasn't there anymore. Gone, like my brothers view of his feet in the shower gone. It was kind of weird actually, because you had to believe that the old suspension wasn't going to jump in for a surprise appearance and through me over the bars. The suspension made the bike way less scary and a lot more manageable around the whole track. Jumping was much improved as well. On our vintage sized tabletop (roughly 30 feet) , the bike used up most of the suspension and gave me a soft landing without totally bottoming.
Next up on the 465 was my partner in crime in all this, Mike Beaudry. He took off on the 465 and never let off. It never pitched him off. It never crossed up. It had no Yamahahop. Coming into the corner Mike was able to stay straight and on the exit bumps it never gave him that jolt to the spine that you sometimes expect. Lap after lap until he could feel his hand no more, the bikes suspension never let up. He was all smiles and amazed at the transformation that had taken place. And really, if you can just get off a YZ 465, and not have skidmarks in your gitch, thats a good day.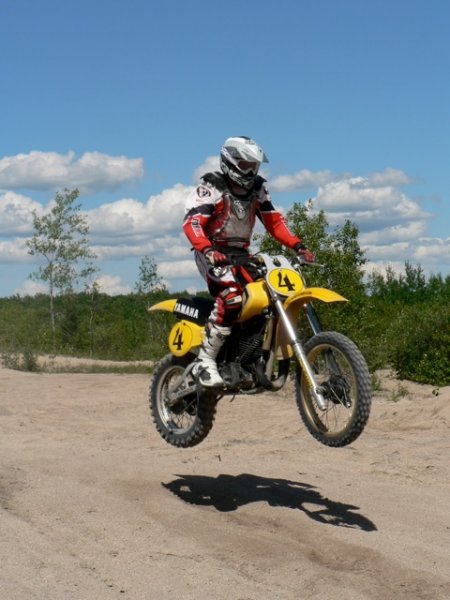 Mike catches air on the 465.
Now seriously, both of these bikes are now totally capable of doing things that myself and Mike as a rider would not attempt. Really I feel they are that good. There is no excuse why we now can't beat any modern bike on a suitable track. Your full potential comes out with good suspension, and Race Tech gives you that potential.
Now obviously those guys at Race Tech do all the modern bikes but I feel they are really onto something with this specialized Vintage thing they have going on. That crowd is desperately trying to get the weakest link of those old bikes (suspension) up to par and there is a market there for this kind of work. I feel like Race Tech transformed our two bikes greatly and more than anything made them more fun to ride and that's the bottom line whether it comes to riding dirt bikes or playing tiddlywinks- to have more fun right?
Thanks Race Tech for allowing me to have more fun! Check them out on the web HERE or if you're more interested in the vintage end of things like me, check THIS part of their site out.
For my other Pulpmx Vintage Corner story, click HERE.
Thanks for reading and as soon as I drop my brothers name and website again to get some more stuff to try, I'll be back!
Jason Matthes, intermediate vet
Mike Beaudry, novice vet.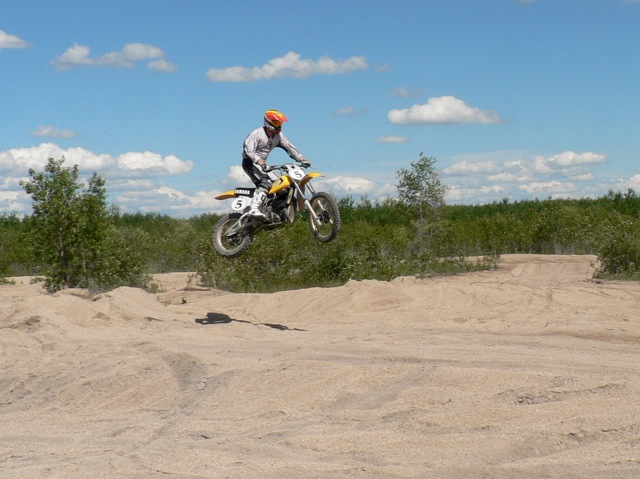 My brother channels his inner Broc Glover here.