Listen in as Andrew talks to me about his day at Millville. And then, amazingly enough, Tim Ferry walks by and gets into it.

Listen in as Andrew talks to me about his day at Millville. And then, amazingly enough, Tim Ferry walks by and gets into it.
Me: Second overall today Shorty, talk about your day.
Andrew Short: I guess it went pretty well on the scoresheet, second moto I was disappointed that I got overheated and went backwards but that's something that everyone had to deal with. Dungey was just dominating today, he was on another level, and it's disappointing to see that if you're me but I'll recover here and be back at it at Washougal.
This might be a dumb question and obvious to some people, but what is Dungey doing that makes him so good in your opinion? Is it fitness, bike, speed, corners- what is it?
Well I have a great bike so I don't think it's that and I wouldn't throw that one in there but him as a rider he's doing a lot of things right. It seems that early on in this series, he wasn't that special but since the halfway point, he's stay right where he was in times and I would fall off, blow turns, struggle here and there and he would just keep on motoring. Today he was great, he rode fast, he was fit and it was his day. It's hard to pinpoint one thing really and that's what makes our sport so hard. It takes a bunch of things to come together and he's got it going on right now.
Ok how about just t-boning him?
(Laughs) No, I'm not going to do that. Actually me and Townley were going at it pretty good at one point and rubbing each other back and forth. No, I'm not going to do that but have you seen the new Transworld Motocross magazine where I'm voted by the riders as being the dirtiest rider on the track?
Yeah, I saw that.
Yeah, 44% of people voted me in there but I'm still not going to T-bone him.
In the second moto Kyle Regal came up and passed you, did you have any chance to retaliate?
No, I had five laps in me at that point. I didn't want him to pass me and made it as hard as possible but yeah, I was done at that point. I gave it my best shot but he blew by me in the sand whoops. I think he had a good line in those, (Kevin) Windham was telling me that he was jumping that Wall of Death. No wonder why he blew by me, that took some balls to do and obviously he didn't care what happened to him if he didn't make it. More props to him for that. He seems to come through when it's hot and in the second motos. Tommy Hahn's like that also.
Now this guy here (I point to Tim Ferry) got really stressed out when it was contract time and turned grumpy sometimes, so being a contract year for you, how are you holding up?
I'm doing alright, I would love to stay at Honda for sure but it's still early and the talking hasn't even begun yet. I know the process, I've signed three of those things before and they take a long time to get done and we haven't even started talking yet. I think I have a lot to offer and I know I'll get a ride with someone and be able to continue on having this awesome job.
You know how we saw Jake Weimer earlier wandering around by himself?
Yeah.
That's the wander of a rider looking for someone to talk to about a contract for next year. I've seen it before. Do you agree?
I don't know, I'm not going to say. It's not my thing to call it like that. You can call it.
I just did.
For me, I've been around, I work hard, I think I have a lot to offer a team and obviously I want to stay at Honda.
Are you worried about your mechanic, he got taken out at Cahullia Creek and hurt himself and went back to confront the guy. He was talking about some revenge…
I was worried but I guess he went and met the guy and had a pow-wow with him and it turned out to be just a kid. It's all good but I was worried about him.
You tweeted that you didn't think the supercross obstacles on the track were all that good but now, after a day of racing, what do you think?
The jumps were really steep, the track is really fun to ride on or practice on but for racing, it's kind of one-lined. It was good for the second moto because the main lines got really rough and you were forced to switch to the secondary lines but it was tough in that first moto.
(Tim Ferry wanders by…)
Timmy, it's that time of the year that's commonly called silly season. Andrew's up for a contract and you've been there a bunch. Looking back on it, any advice for him?
Timmy Ferry: Well, I was a freak about it. He shouldn't be stressed about it because I heard he signed with Honda Red Bull again…
Short: No, I didn't. I don't know where people get that from, we haven't even talked yet…
Ferry: Well, to ease his mind he needs to get one more spot up on the podium and it would be a whole lot easier on him but (thinks)… I'm out on this one.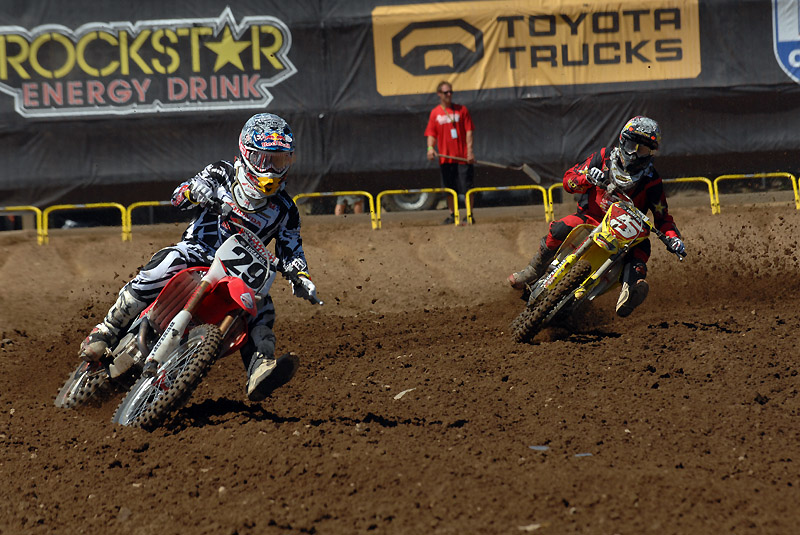 Shorty has been the holeshot master this year and is now second in the points after getting in a hole early. Photo by Carl Stone
Me: If you were racing right now, how bad would you be beating Dungey right now?
Ferry: Dungey who? (Laughs)
Short: Hey, if he were racing right now, this is how the typical race would be for him. I'd get a better start than him and be beating him for about 15-20 min and then he would get behind me and I'd get all pissed off and emotional about it that he would blow by me…
(much laughter from Ferry and myself)
Short: No, I'd be trying so hard to beat him, that's what I'm talking about being emotional. I'd be going wide open everywhere…
Me: Was it like that for anyone or was it just with Ferry?
Short: No, just with him. It was only him and never anyone else. That's what pissed me off…
Ferry: Well I was pissed off also because I got a bad start and put myself in that position in the first place so I'd be all mad out there. I was mad in the beginning and Shorty was mad at the end.
Me: TWMX had a poll with riders and such and Short won the poll for dirtiest rider with a whopping 44%. Do you agree with that?
Ferry: Not any more. I don't believe it.
Me: But at one time, he was?
Ferry: No, I wouldn't say dirty, I would say really aggressive…
Short: Yeah! Exactly.
Ferry: I would be considered in that category also if I was racing.
Me: I was going to say that also…
Ferry: I think that's a good reputation to have, nothing wrong with that.
Short: It's like the intimidator, you know Dale Earnhardt. When he was behind you, you knew that you were in for a race. Ricky Carmichael always calls me out on TV for being dirty and I don't get it.
Me: Well, he is the greatest of all time…
Ferry: Ricky calls Matthes out on TV also and me also. What was that thing?
Me: The Four Legends thing. Anyways, I definitely think Ferry, you could've been the dirtiest rider out there but you Shorty, I don't really see it. Does it bum you out?
Short: No man, it's like the intimidator man. They are scared when I'm behind him.
Me: Did you get scared when Ferry was coming up from behind?
Short: I didn't have that, I got emotional remember? (Laughs)
Ferry: Nice to know I had that on a few guys.
Me: How bad you want to go to MXDN?
Short: I want to go bad but I don't think it's going to happen. I think it's going to be Dungey, Stewie and Trey Canard. Obviously I'm too old to race the MX2 class and Canard deserves to go. So…
Me: You don't think they're going to wait to see how Stewie does?
Short: I think they've made up their mind already that he's going to go and besides, he'll be fine.
Me: What do you think Captain America?
Ferry: Well let me tell you that when I went… (laughs)
Me: Remember when Stewie crashed and you saved the country?
Ferry: So what you're saying is that because he crashed last time, he shouldn't go and it should be Short?
Me: I didn't say that…
Ferry: I'm going to be there anyways so it doesn't matter to me.
Short: I'm going to be there also.