The next one didn't have a great week down at the ranch but no matter, I sent a guy named Bigwave to get the scoop.

The next one didn't have a great week down at the ranch but no matter, I sent a guy named Bigwave to get the scoop.
By Billy Rainford
Ed Note: There's a Canadian guy by the name of BigWave Billy down at Loretta Lynn's covering the week long amateur championships and I sent him out to get a word or three with Team Green Kawasaki's Adam Cianciarulo who you'll be reading quite a bit about in the next few years. Thanks for reading-Matthes
Adam 'AC' Cianciarulo isn't having the Loretta's finishes I'm sure he was expecting. Going into this year's championships, the seemed an almost shoe-in for the two titles. First-turn falls have hampered his finishes so far this week but you would never know it talking to the upbeat 13 year-old from Port Orange Florida. Matthes mentioned some sort of Twitter bet thing, so I got to the bottom of it for us.
Bigwave: For starters, how many times have you been to Loretta's?
AC: I've been coming to Loretta's since '02, so eight years.
Being Canadian, I thought I'd set him up for some future racing in our country by asking, what do you think of the new rule that you have to be 18 to race pro at the American Pro Nationals?
AC: I think the 18 year-old rule is going to change, actually. Hopefully it does but if it doesn't maybe I'll do some races in Europe to get some experience and to get some new challenges. I think that would really help me a lot going into the AMA series. I'm really looking forward to it. The sooner I get there the better.
So, what about maybe going to do the Canadian series?
AC: I could go do a couple races in Canada. I mean, I've watched some races on tv on Speed—I don't know why it got cancelled but—I used to always watch them and it was cool.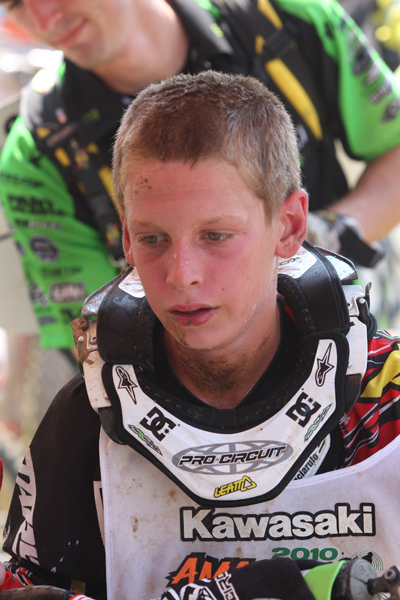 Between crashing, bike problems and bad starts, AC92 hasn't been having much fun as a normal 13-year old should. Photo by Bigwave Billy
Ok, so what's all this nonsense about a Twitter bet between you and Matthes?
AC: Steve and I are betting on who will have more Twitter followers at the end of the year. Of course, I've only had Twitter since January and Steve has had one for almost a year. If I have more followers he has to call his Pulp MX Radio Show the Adam Cianiarulo Show but if he has more than I have to run a Pulp MX sticker somewhere on my bike or helmet.
Who's winning so far?
AC: I'm not sure. I haven't had internet service for a couple weeks and my tweeting is off so I'm going to have to put on a late-year charge. It's going to be close.
How often are you tweeting?
AC: I try to tweet about 4 or 5 times per day but it just hasn't been happening for me lately so it's only been about one every other day right now.
What do you tweet about?
AC: I usually tweet something bagging on some pro or maybe Matthes or just what I'm doing at the time. That's what it's set up for but I don't really ever say what I'm doing.
How many followers do you each have right now?
AC: I think I have around 1400 and he has about 1700 followers. It's going to be close.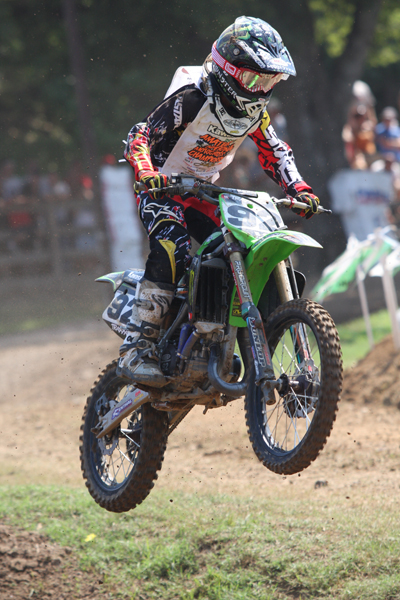 It's not a matter of if, it's a matter of when Adam gets on the Pro Circuit Kawasaki team at a stadium near you. Photo by Bigwave Billy
So where do you go from Loretta's?
AC: I'm going to go home. I've been training hard a long time for this so I'm going to Bahamas with my buddy Zach and my family. Then, we'll get back to training for Mini O's in November.
Have you gone up to see Loretta's actual ranch?
AC: No, I have not. I went up to that supposed haunted house.
Are you afraid of snakes?
AC: I'm VERY afraid of snakes! They terrify both me and my dad, both. I don't even care if its mouth is super glued shut, I can't go near one. Snakes are not good. I'm also afraid of the dark. I have to sleep with a light on. I don't care who reads this…I'm afraid of the dark.
So how do you pronounce your name? Is it A-d-a-m?
AC: Haha, actually, fun fact: My first name is actually Michael but I don't go by that because my dad and my grandfather are both Michaels.
How would you describe Steve?
AC: Crazy, outspoken, I don't know, this is going on his site so I don't want to bag on him. I'm not going to trash talk a guy who runs a website as important as his.
Do you know how many damn dogs he has?
AC: Yeah, he's got 4 Bassett Hounds. I love Bassetts.
How about giving your sponsors some recognition?
AC: Ok, thanks to Kawasaki, Monster Energy, DC, Dunlop, Alpinestars, Pro Circuit, Asterisks, Bell Helmets and Scott Goggles.
Ok, well thanks Adam and good luck.
AC: No problem, thanks.