RT tells us a little diddy about this photo right here. He's just not quite sure where it's from.

RT tells us a little diddy about this photo right here. He's just not quite sure where it's from.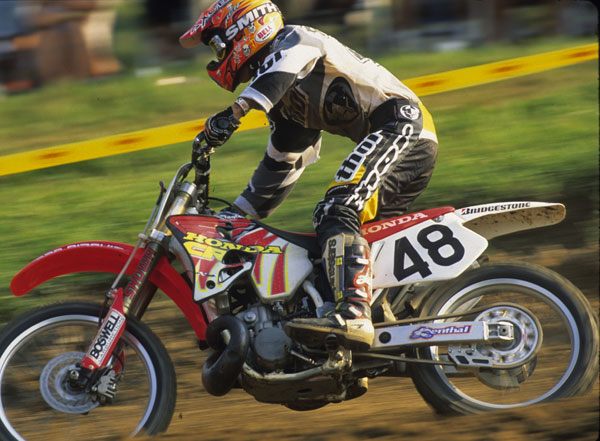 Rich was a long time privateer on the circuit and tested for Honda R&D as well.
"What a "bad-ass" photo! (laughs)
If I had to guess this is at Binghamton, or Washougal. I guess it could have been Steel City?? The gear is new Thor gear so it had to be at the end of the 96 season. That bike was the fastest bike on the circuit that season. I swear it was faster than any of the works bikes. The Boysen reed cage along with the Boswell carb was unbeatable to the first turn. The motor was actually bone stock with a Pro Circuit pipe and silencer. Actually I was testing for Honda at this point and loved the stock pipe, it was really good so I had PC make me a pipe that was almost exact to the stock pipe. That bike ripped!
I also had a works linkage and shock on the bike. That helped for sure! I would get insane traction coming out of the gate and pulled starts all year long.
If this is Washougal, then this is the year I holeshot the second moto. I remember whipping it as hard as I could over the big table in the middle of the track… I could hear the crowd going crazy! Larry Ward was right behind me and then he fell. I looked back after the whoops and there was no one there, I was pulling away! Then I missed a rut out of a simple turn and the front end washed. It happened so quick that I couldn't even get my hands out. My chin actually hit a rock laying on the track. I didn't even hit my head but I was out! I guess I have a glass chin like some boxers. I woke up with two laps to go and I talked to Larry after the race and he said I was so whipped I scared the crap out of him. It was funny because I had been up there the week before doing a photo shoot for the new bikes and I must have hit that jump 100 times. I had it so wired, so I just threw the biggest hardest whip I could (laughs)! I was laughing inside my helmet, I will never forget that!
But then again, this could be the next week in Binghamton where I was going into the first turn first and fell. I think all 39 of the other riders ran me over….."