While looking through some old MXA's, I found this sweet photo of O'Show. Then I decided to call him up and get the story behind the shot for this edition of "Tell Us a Story".

While looking through some old MXA's, I found this sweet photo of O'Show. Then I decided to call him up and get the story behind the shot for this edition of "Tell Us a Story".
For more of these 'Tell Us a Stories", check THIS out.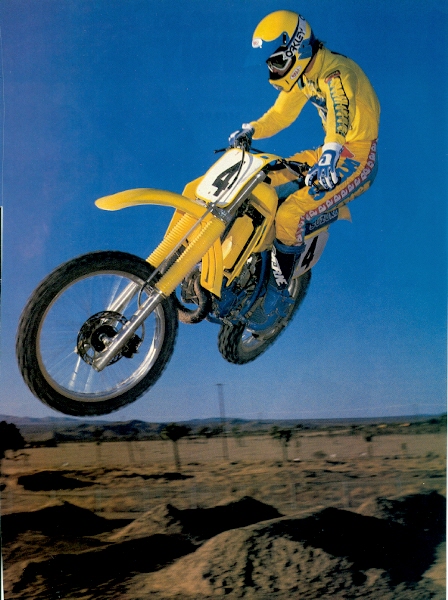 Johnny O looking good on yellow!
"This picture is from 1987 and I had just switched from Honda to Suzuki. I had a great year in '86 and this was bittersweet for me, I didn't think I would ever leave Honda and I would ride there forever. In '86, Ricky Johnson, David Bailey and I had pretty much went 1-2-3 the whole year and unfortunately, I was the third guy. My contract was up at Honda and my timing was bad! I did get an offer from Honda but it was really low-ball and I was pretty insulted because of all the things that I had done in my career.
Suzuki was looking for a top rider and on a business standpoint it was a great move for me to go there but coming from the team that had the best bikes to something that I knew that was going to be a project wasn't the best move race results wise. And what a project this thing turned out to be! They also put a lot of pressure on me to get them some results. I think by the end, the bikes got pretty good but I wasn't able to continue winning on them.
Back in our day we didn't do a lot of "Hey let me ride your bike" type of stuff so I never had a chance to ride a Suzuki before I signed with them. The whole thing where you get to try the bike beforehand didn't happen back then. I did have some other offers for '87, some big offers from Europe because I was coming off the MXDN win. Some 125 GP stuff but my heart wasn't into it back then. The Suzuki offer was a fit for me, we all have to make it a business and with the money involved, I went for it. It probably wasn't the best place for me to go but my hands were tied. I knew it was going to be a big change for me. I probably thought the bikes would be better than they were and my job was to make them better and get great going into the '90's.
My deal with Suzuki was for three years and for a million dollars total over the length of the contract. So it was 333,000 each year. It was pretty good money in those days and would be pretty good money these days (laughs). Like I said it was a good business decision for me and I feel like I helped the company out but we weren't able to win on the bike. I came close but it didn't happen.
This bike here wasn't too bad, I don't want to be too harsh on it. Also what happens and I think this is true of the guys nowadays is that you switch and you're forced to adapt and make the best of it. Looking back now, 20 years later, there was nothing better than the Honda back then. If you're really good on a motorcycle, you can win on anything and I was planning on m making the difference up from the bike in my style and skill on a bike. I know that was my mindset back then anyways. The best guys always win and it's true in our sport.
I also had some injuries in '87, my knee was pretty banged up and I think Honda knew that as well. Everyone kind of knew I was battling with the knee. I was already on the downside of my career and we all know that day is coming. I tried to do it as graceful as I could, I didn't want to be the guy that hangs around too long to where people are asking "What's O'Show doing?" and I think I did that. That gives me credibility with people I think.
I never switched any of my gear though, you can see in this photo I've got Oakley, Answer and Bell helmets which I wore when I was at Honda. I was pretty loyal to all those guys, I feel like I still have a good relationship with all those companies today. The only move I made in my career was going from JT to Answer back in the day, I grew up with JT and we all wore it but it was appealing to me to have my own line of gear which I had with Answer. Back in the day, I was a trend setter and I wanted to be different from other guys so I went to Answer.
My teammates were Bob Hannah, Eric Kehoe, George Holland and Donny Schmidt. Hannah was my teammate at Honda and was kind of a hero to me so it was good to be back with him. George was a great guy and so was Eric. I actually got along with Donny really good and we did a lot together back then."