Some random thoughts about Anaheim right here.
Some random thoughts about Anaheim right here.
Photos by James Lissimore
In an effort to continue to bring a wide array of viewpoints and content here on Pulp, I present to you the first of a new feature, Swizcorner(thanks for that catchy title Pookie).
The internet is strained at the seams with Anaheim 1 overviews and interpretations, here's another but it's not going to be calculated or proofread but rather a stream of conscious so-as-to be as unfiltered as possible. Don't misconstrue honesty with blatant disrespectful douchebaggery which many on the internet like to call "keeping it real", eff you, you're just trying to get a reaction and Im not interested in the flame war.
Track
First is the track, the dirt was changing rapidly throughout the night due to the storm it had weathered(yup, cheesy) leading up to A1. The layout looked pretty cool but the reality was, it didn't seem to have any flow in racing, everyone seemed to bounce around and never look real comfortable. That may have been a good thing, a track which challenged everyone, leaving all a little tepid in their confidence to get overly aggressive. After-all, it is just A1, you know, the race everyone uses as a yardstick to survive and build from.
Supercross Class
Every fan of the sport, myself included, expected the perfect storm to break out at A1 and in many ways it did. Anyone who thinks for a second that James Stewart isn't still capable of going faster on a SX track than every other racer out there is delusional. The thing that has changed this season though is the margin by which he can go faster has shrunk, greatly. You can thank Ryan Dungey for that. Not because RD5 is in his head or due to Ryan's pace but rather Ryan's conditioning level shown throughout the 2010 season. It was a wake up call to everyone who believes they have a chance at race wins and titles. James made more moves toward the front than any other rider, which is evidence of his superiority; lessened yes, but still true.
Ryan Villopoto's blood boiled all through the Nationals last season as he watched RD5 decimate the series; and when RV2 decides it's time to shed some pounds and really put a charge into his preparation for the next season, you bet your ass the other contenders are following suit. They know a plump, under-conditioned RV2 is dangerous enough, so when he decides that its time for the bullshit to stop, it systematically decides the other contenders focus as well. Ryan is ready and as bad as he wants to prove HE is the guy, you bet your ass, he's equally focused on finishing the season healthy and minimizing damage when shit happens.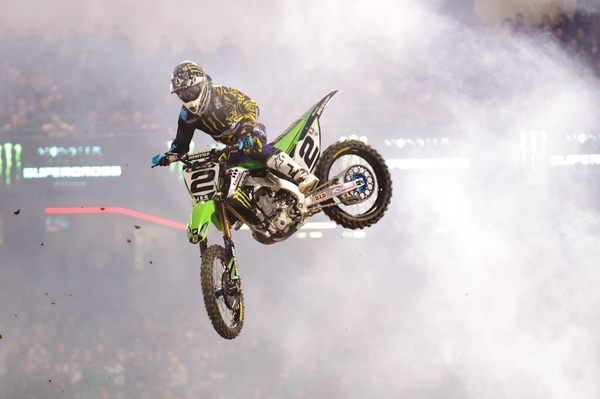 RV was the big winner this weekend.
I don't get all the criticism of Dungey from A1, where did he finish A1 in 2010? Second, same as this year. He had a good get off early in the day and looked about as comfortable as everyone else out there. Just like everyone else, I bet RD5 will look much more comfortable in Phoenix. No first round jitters, more predictable dirt, better setup and that yardstick will have a reference point on it.
Canard did a stellar job, no not in the main but on that air wheelie in the LCQ, bravo Trey! Kidding aside, Trey did an amazing job of regrouping from a dismal heat race and subsequently less than optimal gate in the main. Level heads do well when faced with adversity and Trey proved it. Hell of a result for his first meaningful 450 race.
Reedy got a bad start like Stewart, and also like Stewart made his way forward pretty well. He was shown for exactly .014 seconds of the broadcast during the main event but from shots of Chad during the heat, his timing looked to be a tic off. Blame it on the dirt, blame it on setup, whatever, its all speculation and the TwoTwo is better than this. Don't be the idiot that counts him out year after year, learn from the past and you'll look smart with your predictions this season, stacked class or not.
Grizzly Adams, though not the fastest, did what he always does and made riding a dirt bike look a lot more like surfing than bull riding. Poetry on a bike, still going at it with gray in his beard. Good job Mr.Adams.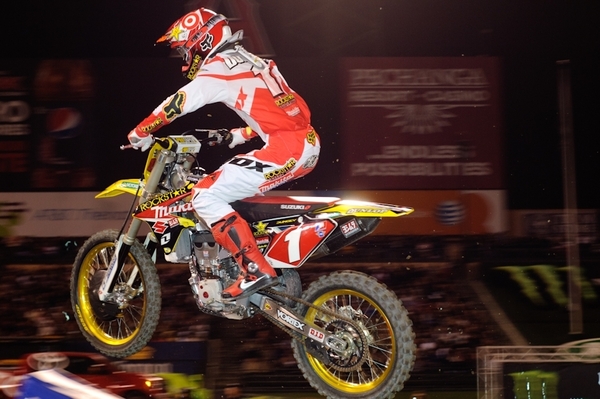 Dungey rode a good race to get second. He got better each time he went out on the track.
Man, Tedesco really likes that Dodge, setup was a little off causing arm-pump but man, as good as I thought Ivan looked on his Valli Yamaha last year, he looks even better(not surprisingly) on essentially a Pro Circuit Dodge motorcycle. Im not even going to get into the contact with Stewart. It's racing, give me a fucking break if you're one of the people complaining about that shit.
Just to quickly touch on a few surprises from deeper in the results.
Josh Grant went down good on press day after only being back on the bike for a little over a week, just getting into and through the main is a win for JG right now. He's capable of much better, but I'm happy with him finishing races and the series for now.
Very surprised to see Shorty so far back and I know he was as well. Chalk it up to first race, new bike, new program; call it a mulligan. Shorty will be better.
Very happy to see Nyk in 12th, Im one of those that cringes when I hear of a rider moving to a Yamaha from any other brand. Its got a steep learning curve in terms of comfort and familiar feel but I think a 12th is a respectable start for such a big change for Wey.
Let's hear it for Jason Thomas, guy advances from the heat. Im a big fan of JT$ for being such a trooper over the years. I honestly didn't see him qualifying from a heat all year but Im stoked that he did, if for no other reason to tell all his haters to eff themselves.
Supercross Lites Class
Wow quite a few surprises here.
First, the event which has serious title ramifications, Wil Hahn's practice crash which sideline's him for the series. Many were picking Wil as the favorite for the title and to not even start the series is such a bummer. Wilbur will be back with the same work ethic and desire. Heal up.
The German Wonderboy, Ken Roczen left people reeling after practice, he looked fast and aggressive. The real deal if you will. He had his bell rung in a practice spill as well so look for him to be much improved for round 2.
Aside from K-Dub, Hanny may have been the only rider to look comfortable and flow around the track, they can't help it, it's what they do. We'll see if he can keep his head on square and bring this title home, he's got the skills no doubt, always has.
Anyone surprised by Broc Tickles performance hasn't been paying attention. Two years ago, he was challenging a blazing fast Austin Stroupe for the second podium spot(on a Yamaha which, lets face it, isn't a PC Kawi), landing him in third for his infamous podium interview. Then last year he finally pulled off a victory, again, on a comparatively inferior Yamaha. He's always started from the back, working his way forward, quietly finishing around 5th place on average. Put him on a PC Kawi where he can pull holeshots and work out front from the start and yes, he's going to podium and/or win. Many people still think it's comical to bag on his podium presence, sure he's subdued, some would say a bore or a robot but trust me, this guy is as focused and determined as it gets. Honestly, even if he won a title, I think going through his head on the podium would be how to improve for next season. Broc's a genuinely good dude and not going to pretend to be someone he's not. No apologies.
Very impressed with Tyla, Martin Davalos and Cole Seely. Tyla's maiden SX voyage and he podiums. Davalos, someone who has always been very fast but when the checkers fly usually somehow has made his way toward the rear, usually by way of a crash, pulled in a 4th. Something I wouldn't be surprised to see him do more of, like I said, he's really fast. A very quiet 5th place for Cole Seely, glad to see he stayed with the TLD team and that he is building on some of his good finishes from last year.
Lastly, I was very shocked to see Eli Tomac in 10th and Moe in 6th. I'm reserving judgement from this race for those guys, they will do much better.
Hopefully I've introduced a point of view which is at least mildly original if not completely based off of unsubstantiated opinion and it was worth your time to read it.
Thanks for reading.
Kevin