We see it every season, shit every week for that matter. The practice time masturbation session.

We see it every season, shit every week for that matter. The practice time masturbation session.
Photos by James Lissimore
For All You "I Told You So's"
When the first practice session begins Twitter and the message boards come alive with conjecture of who's going to be the guy in the mains and in the championship points.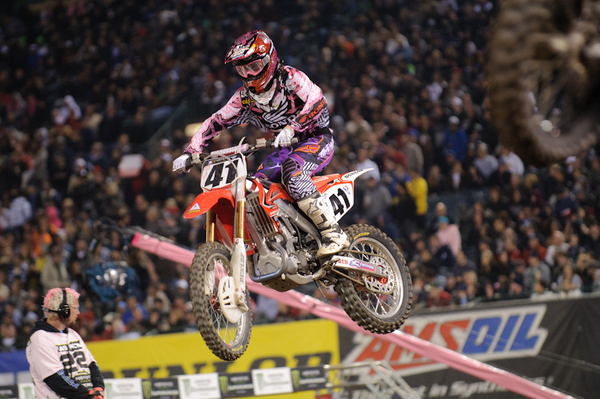 Trey won his first one which is exactly what Swiz predicted would happen a few weeks back.
"Stewart's going to walk away with this one", "if Stewart gets the start, this is gonna' be a snoozer", "I told you, Stewart's the man"… repeat ad nausea. You know what, all those things may very well be true in a world where everything happens in a logical, predictable manner but the last time I checked, racing is completely unpredictable and therefore logic is out the window as well.
Example A, Houston SX. Judging from practice times, Stewart had everyone handled. Looking at the heat race times, the main even was shaping up to be a battle for second place and beyond. And then it happened, the first corner chaos which, as it always teases and sporadically delivers on, makes a mockery of all the pre-race smack talk. Man do I love it when it happens too. For some reason it's human nature for people to predict the results setting themselves up for post-race grandstanding about how they were right. I've been guilty of it myself( though honestly Im just trying to forge a karma check to hopefully be cashed in the night show) and when I have, I later curse myself for neglecting my tried and true rule of bench racing. The one rule you can always rely on which never lets you down, "that's why they race every lap of every race".
Racing has shown us time and time again that this is the only reliable theory to exercise, and that's what makes this sport so great in my eyes. Yet for some reason, it's just a more sexy proposition to make a specific prediction and later gloat if by some stroke of luck your prediction rings true.
A few specific examples of "sure things" gone awry?
1. Christophe Pourcel '10 National MX Champ(and '09 for that matter)
2. Brett Metcalfe winner '10 Southwick MX
3. Bradshaw '92 Coliseum SX (and title)
4. Saturday night in Houston where Stewarts times all but sealed the win in pre-race bench racing sessions.
You see, we are shown time and time again that practice and even heat races are a world away from the race that counts, the main event. A first turn pile-up, a bent shifter, pressure, track surface; just a fraction of the details which can make all the bullshit talked before the main irrelevant.
Of course, pre-race predictions will never cease but just realize more often than not your going to be left eating some rather obvious crow.
Houston Lites SX
After the first wave of west coast Lites action we are infused with some fresh blood, the east coast troop of young guns are hungry and agitated.
From the start of the heats you could smell the intensity and how bad these guys wanted to assert themselves as alpha racer in the east coast series.
Barcia now looks just as wild and exciting without his helmet as he does on the track with those new locks and haggard goatee. Im a fan of that throwback look.
He was exciting on the track as you'd expect, he was aggressive moving forward, also as you would expect. He's still got that eff you Im moving to the front attitude, glad to see it. The sport needs more no apologies guys and Barcia isn't afraid to underscore his alpha-male-ness on the track and off.
I don't think Dean-O was expecting the battle between him and the other obvious pre-season title hopeful, Barcia, to be as fever pitch as it was from the first round. I liken these two to firecrackers. Barcia is like a bottle rocket, light that bitch and its immediately go time. Sometimes it may go astray but regardless of the outcome its always exciting to watch. DeanFifteen is more like a grand finale cake. He's got a safety-wick which takes a touch longer to get to the goods but in the end the payoff is there.
Dean didn't feel the contact initiated by Barcia was clean racing. I disagree, Barcia was riding aggressively but safely, every aggressive move he made was counter-able as long as your mindset is aggressive as well. I think the issue here was more Dean not anticipating Barcia's intensity level at round one being where it was. I'd bet round two will see a more prepared and aggressive Wilson.
DoubleB brought home a quiet though impressive 3rd. He came from quite a ways back. Sure he was helped by Sipes taking out Wharton on the last lap but you know what they say, "preparation + opportunity = luck". I don't think Sipes' move was as dirty as some believe. It was the last lap and he made a smart, aggressive line choice. Wharton knew he was there and gambled with a handful off throttle. May the strongest man with the best balance and karma saved up win. In this case it was neither, they both went down. A racing incident and the kind of racing that interests me. It was that same corner where Malcolm Stewart and PJ Larson came together on lap 1, again a racing incident.
BUMMED that Durham couldn't line up for the main, I hope he is ok to go at round two, He's a game changer without question.
Check out Ian Trettle quietly in 5th in his first SX ever. Not one second of tv time, shocking. Great ride Ian.
Houston SX
On to the class which inspired my intro diatribe.
Even CBS couldn't screw up the reality of a noticeably vocal Reliant stadium when K-Dub came out in the lead of them main.
How about Milsaps holding down second for a quarter of the main event?
All bets were off on this race from the moment they reached the first corner. A race where Stewart starts in 16th always means excitement for the fans because that means the number 7 is going to throw the hammer down and move forward fast.
Enter: The Houston track. All the riders hated it, dry slick surface, chicanes and multiple (yes I said multiple) race lines. Scratch those ingredients off the list of a track that makes for good racing. Not because the racing wasn't good but because unpredictable racing at the expense of rider safety isn't an option and this track was clearly too dry and slick.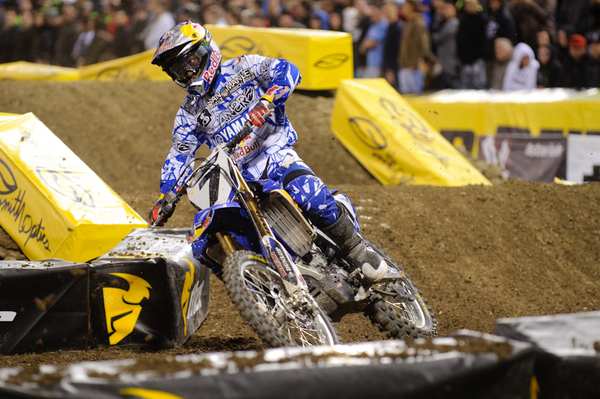 Stewie had a rough Houston no doubt about it.
Bubba while making his way forward finds himself inline with JT$ on the same timing section which would later claim K-Dub. JT shorted his landing to table and James came right down into the back of him in a fashion similar to the Nicoletti/Morais crash last season. The Stewart haters are quick to claim that Bubba is dangerous in the pack and needs to be more aware of the racers around him when coming through the pack. That is all a matter of opinion and while history may indicate that it rings pretty true I don't see it in this case. JT shorted a standard single to table, James had no reason to think JT wouldn't execute it as simply as he would any other lap. A simple case of right place wrong time. James lucked out by flipping and landing blind into that tough-block, JT was VERY lucky he didn't catch that handlebar in his chest. With that forward momentum and his bar pointing straight up, it could have been catastrophic.
K-Dub was clicking off laps in his typical fashion until an instance of slight oversteer and wheel-spin resulted in a shorted single to table, foot pulled off peg and DNF. Super bummed for Kevin as all of the stadium was. He looked shook up on his exit from the stadium, hope he's not concussed heading into next week.
So happy for Trey(and that has absolutely nothing to do with the fact that two weeks ago in Point Counterpoint I said he would be the next winner). We've been over this, everyone is a fan of Trey, if he paid everyone that said nice things about him, people still couldn't like him more than they already do.
Dungey kept him honest and it was nice to see Ryan show some fire. Some more of that coupled with more unpredictability could see him right back in the title hunt.
RV2 had a quiet night garnering a third and moving into the points lead again.
What a race, points chase shaken up, riders shaken up, confidence shaken, confidence built but in the end its a wash. A race where an unpredictable track and first turn carnage resulted in a race where the inexplicable occurred and unpredictability was the rule, wait where have I heard that before?
Oh yeah, that's racing.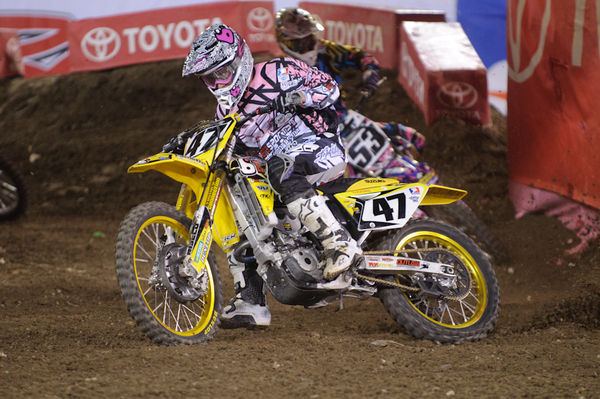 JT could be out for a while, a nation mourns.