Let's take a look at German Ken Roczen and his upcoming schedule, it doesn't make a lot of sense to me.

Let's take a look at German Ken Roczen and his upcoming schedule, it doesn't make a lot of sense to me.
Photos by James Lissimore
editor note- since this column came out, I have learned that Ken is not going to ride the seattle sx.
A few weeks ago on the Pulpmx Show, my esteemed colleague Tits Legendary (can you be anything but esteemed with a handle like that?) was reading the news to myself and Kenny Watson when he said the hot rumor was that KTM's 16-year old Lites rider Ken Roczen was going to race a 450 at that coming weekend's Houston Supercross.
I immediately derided Tits for bringing that up and there is no way that that the orange team would let their best hope for a MX2 World Championship jump into the 450 class with just a grand total of five supercrosses under their belt. I summarized that Roczen, although very talented, was a bit sketchy out there on the track and moving him to the big class could result in a disaster for the team and rider. In my eyes, the KTM guys had already risked injury by allowing Ken to race the opening rounds of the series when he's got this World Title to win. And make no mistake about it, KTM very much cares about the World Championships.
2012 would be the year Roczen moves to America full-time and attacks the scene, which would be when you would unleash the kid but I was wrong in so many ways about KTM's plans for the kid. Not only did they enter him into Houston, they also announced plans for Roczen to race Daytona on the 350 and then come back to contest the end of the west series which include Seattle, Salt Lake City and Las Vegas!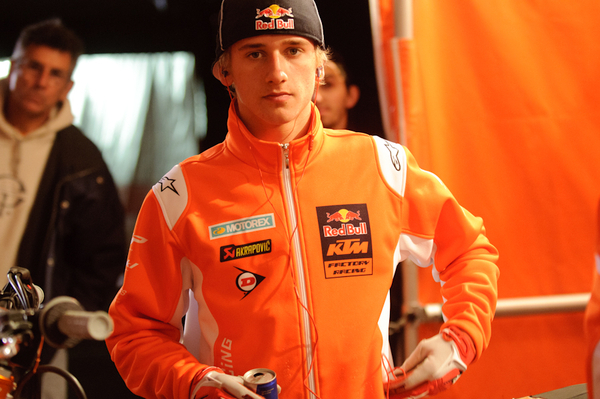 Kenny Roczen has impressed with his 250 (and 350) rides this year!
Thanks to all of you for the lovely tweets, emails and calls saying I'm an idiot and all that. I can't believe KTM is doing this and when I do some searching and digging, it seems that that the blame lies where it does in so many cases involving a young motocrosser- with the father. I guess Kenny's dad is a big believer in getting on this program and KTM's brain trust of Roger DeCoster, Stefan Everts and Pit Beirer is going right along with this. In fact here is the release on it:
There has been a lot of press circulating around the 16 year-old German Red Bull/KTM Factory Team rider, Ken Roczen, after earning his first U.S. podium in the AMA West Lites Supercross class at Anaheim 2 and breaking into the top ten in the premiere class the following weekend. The question now, is what lies ahead for this young superstar?
To start, Roczen spent the majority of the morning riding around for the news cameras to promote this weekend's San Diego Supercross where he will return to his KTM 250 SX-F in the West Lites SX class before he begins preparation for the MX2 World Championship back in Europe.
Following the San Diego Supercross Roczen will juggle both U.S. racing and the World Championship as he will meet up with his European mechanic in Murrieta, CA to begin testing for the motocross series in Europe. While getting his feet wet with some outdoor riding he will continue to train in SX racing to return in the big bike class aboard the KTM 350 SX-F at the Daytona Supercross.
"I have always wanted to race at the Daytona track," commented Roczen. "I had a lot of fun racing the 350 SX-F at Houston and wanted to get one more ride in before I left for Europe."
Immediately following the Daytona Supercross, Roczen will fly to Europe where he will remain until the start of the MX2 World Championship in April. Roczen will begin the series in Europe before returning in mid-April for the last few rounds of the West SX Lites Championship.
For the latest news on Roczen please visit www.ktmusa.com or follow Roczen on his twitter at @kenroczen94.
I was speaking to a member of the KTM team in Houston about Ken racing the 450 class (on a 350) and was expressing my disbelief at the idea and he told me what many people were thinking when he told me "it's either going to be really good or really bad."
Well it actually ended up being really good as Roczen went out there and scored a seventh which was definitely pretty good although with James Stewart, Justin Brayton and a few others on the ground, he probably would be knocked back a few spots but a seventh is a seventh one supposes. Also, Ken seemed to be having a ton of fun out there as he got sideways every chance he got out there. I've interviewed Ken a few times and had him on the Pulpmx Show, he's a really cool kid and loves and embraces the American culture. I also spoke to him (briefly) when I travelled over to Germany a couple of years ago to watch him win a moto at the GP there.
I'm sure that Ken, if you asked him would race every single weekend with maybe a Vegas to Reno race thrown in there sometime on a random Wednesday but that's not the point. Look at this schedule for a sixteen year old:
He arrives here sometime in November and gets to work getting ready for supercross which starts Jan 8th in Anaheim California. He races until February 19th which is this weekend in San Diego.
Roczen then, according to the PR above, starts getting ready for his MX2 season in California but then has to jump back onto a 350F for the Daytona SX 5th.
After Daytona wraps up (hopefully stays healthy on a race track that develops some serious kickers and even though it's not your dad's Daytona, still gets plenty rough and taxes you like no other sx) he will get back on the 250F for a month because the first GP is April 10th in Spain. Right after that race, he'll get on a flight and head back to America because six days after Spain, he'll line-up with his fellow 250 west competitors in Seattle.
Hopefully everything goes well because he has the second round of the World Championship that next weekend in the deep sands of Valkenswaard which is located in Holland. And right from there, it's right back to Salt Lake City April 30th for the next round of the west series. Roczen does catch a break and he can stay stateside for the next little while because the next week is Las Vegas which is the final round of the supercross series but then the week after that it's the Glen Helen USGP.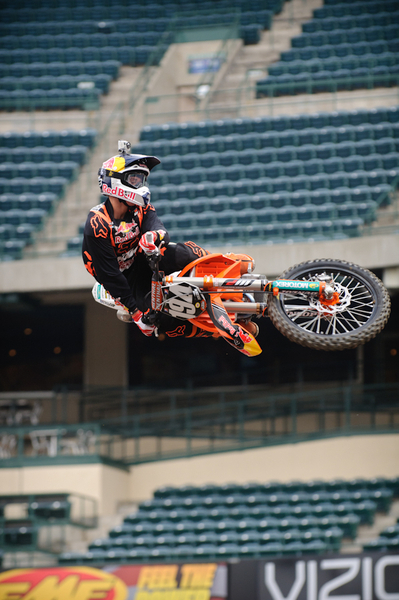 Roczen would definitely win a king of getting flat contest, hands down.
That's four cross Atlantic flights in the span of one month which would be taxing for anyone, never mind a 16-year old still maturing and not entirely sure of how to take care of himself.
I don't get it, if I was someone at KTM I would definitely stop the madness of chasing a supercross title that he's out of. I wouldn't let him ride the big bike class either, there is plenty of time to do that later on- why make the choice now to do all of this 250 and 450 supercross and 250 Grand Prix racing? This kid is going to be a star in the sport, you won't find too many people who would dispute that but I just wonder if the short term gains of all this racing is going to cost him this years MX2 title or worse, an injury?
Let's all relax and let a kid be a kid.
For at least a little while.