The Georgia Dome delivers what it always does, great dirt and a great race.
The Georgia Dome delivers what it always does, great dirt and a great race.
Photos: James Lissimore
(I swear I really do just forget James, sorry.)
The racing action was phenomenal considering the track was about as tight as an Arenacross. The whoops were gnarly, more due to breaking down and their variable pitch and height than their size, and they were the primary section where most of the nights excitement was focused.
Lites Class
Lets get to a major factor in Atlanta, lappers. Whether it was the 450 class or the Lites, lappers played a large role. Sometimes it was the lappers fault and others it was the lappee just closing at a rate that didn't allow for the slower rider to vacate the race line in time for the leaders to pass by uncontested. Were the flaggers asleep at the wheel or were the lappers just not paying attention, as usual?
The primary example of this was toward the end of the Lites main when Sean Lipanovich inconcievably remained in the race line in front of the freight train of Justin Barcia, Blake Baggett and Ryan Sipes. I couldnt believe my eyes, I was actually yelling at the tv. When Lipanovich did finally exit the race line, it was to enter the mechanics area where he actually cut along the side of Barcia. Bad idea. Im not sure if your aware but when Barcia's racing, he's like a rabid dog and the only thing he wants is blood and victory. When you make a boneheaded move which affects him, you may get lucky if he forgets about it quickly but when you hold him up for a quarter of a lap and then make contact as you move over, have mercy on you. After the race Barcia made it absolutely clear how serious he is about that not happening again. The dude is 18 and I was back pedaling in my living room. Intense!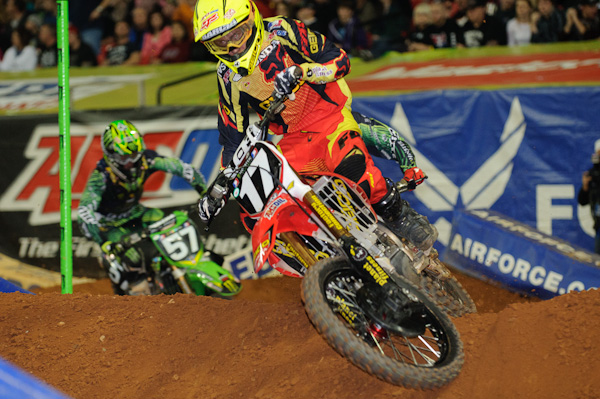 Barcia was electric as usual, even with a suspect wrist.
Barcia's wrist was certainly affecting him, he used much less body english on the bike than usual and did an amazing job pulling in second for a guy riding more conservative than ever. I hope that wrist gets better quick, I love watching his aggressive style.
I did some research and it turns out Blake Baggett adds about as much weight to a 250f as upgrading to a tall seat foam. The kid is pint size and just works that bike. It should result in hole-shots at will but hasn't yet. He's super solid though and could absolutely win a race or more.
Blake Wharton had a rough time getting into the main but looked like it was all going to be worthwhile in the race that counts until a couple tip overs. He still managed a 4th which is a nice recovery but Blake's got race winning speed, he's shown it before and if he can keep it up he'll show it again.
Sipes seemed a tic off in the race. Coming from a heat race win I expected him to make passes and get in front in the main but he stuck with the tail end of the lead group until he found himself on the ground.
Scotsman, Dean-O came from a poor start, through the pack to bring home the win for Mitch's team. We didn't see much of him during the main as he was not riding a red bike sporting the number 17(where the camera was seemingly fixated) but suddenly, when Barcia had his lapper run-in Wilson was in frame and had his sights set on first place. A win from the back of the pack has to be a big confidence boost and the most gratifying type of W.
This series is going to be damn good going into Daytona with Wilson and Barcia tied in title points. As we see every year, anything can and usually does happen in Daytona.
SX Class
Im not going to waste time mentioning anything other than the pinnacle of the 450 title thus far. Chad Reed has been saying for a couple years now that he wants to make that next step to battle with James and give him a run. We've seen Reed's speed increase over those years but when James would make a pass, Reed would react the same way while the lip service was hinting toward something changing.
Well, it changed.
Something that has kept me frustrated for the last few years is how James always seems to be treated with golden gloves by his competitors when it comes to a pass being made on or by James. James may be the fastest rider but that doesn't mean that he should be given the position when he makes a move. Make him fight for that shit just like you would make Dungey, Brayton, Villopoto or any other rider. I'm happy to see a fire in Reed's eye but even happier to see that there's at least one rider on the track to treat James just like they do every other competitor. As cool as it is to see Chad's aggression, it's equally cool that he doesn't make any apologies for it.
This wasn't a dirty move. Chad didn't aim for Bubba's body or bike, he didn't T-bone him, he didn't land on him, he didn't cross jump or cut across the track. He executed an inside point and shoot block pass. It didn't work. James called Reeds bluff with a handful of throttle. Fair game.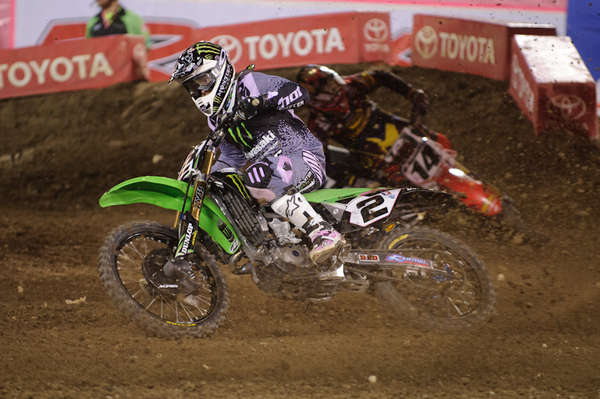 RV put himself in a good position and capitalized on some last lap insanity.
You don't get to this level of racing and not know that on the last lap, with 2nd place RIGHT behind you, that he's going to be running it in on the inside. James knew it and he knew his options- 1. Check up and lose the position, or 2. WFO and see what happens. They both went down and James actually got going first and had the podium spot after RV and RD went by. James' mistake was worrying about blocking Reed for the last few corners and it cost him the podium. Another racing cliche' comes to mind, "race forward". The thing about cliche's is, they're usually true. Weird.
Maybe James didn't expect Reed to be gunning for him in that corner? What would cause him to think that way? I know what would, a history of having your competition lay up when you pass them.
If you think that was dirty, your either a blindly devoted Stewart fan, you know little about the aggressive history of the sport or you want the sport to be something it isn't.
Reed took the gloves off in Atlanta, I just hope he keeps that fire burning as well as every other rider on the track when they are battling for position.
Oh yeah, congratulations RV, we barely saw ya.