As I've always said, this site is as much yours as mine. Now saying that, here is some guy named Moser and his look at the 250 standings.

As I've always said, this site is as much yours as mine. Now saying that, here is some guy named Moser and his look at the 250 standings.
Moservations
The Deuce
250F Mid Season Review
Author: Moser
Photos by Matt Wallace
Unlike every other moto related reporter on the circuit, I have not flooded you with my opinions each and every week I'm more of a quality over quantity man. Mr. Matthes forwarded along all the kind words, emails and requests for more Moser after my 250F preseason review. So here I am with an honest look at the 250F classes halfway through the season. Someone has to carry this site. Swizcore hasn't contributed anything lately; I haven't seen his midseason review of the 450 class yet, but I hear he's busy "plowing" his way thru Detroit.
I wanted to step up the quality of my article this time around: the writing, flow and format obviously couldn't be improved. I've always believed the phrase a photo tells a 1,000 words. I needed a photographer who made their own beef jerky, went on riverboat gambling trips, and talked about p***y. After a lot of searching and interviewing, I found a like minded and like handsome individual that is also quick on the trigger, if you know what I mean, by the name of Wallace, or on twitter @Wallace109
Mr. Wallace has a gift of capturing not just a snapshot of a moment but also the emotion behind it. I'm a big fan of his blog, second only to (www.andrewshort.com) it has some lots of amazing photos and some insight from the back country, check it out at www.myfavoritewallace.blogspot.com Wallace thanks for collaborating/sword fighting with me.
250F West
1st Josh Hansen
I was confident he was going to ride east coast but I may have been drinking when I wrote my last Moservations column. Hansen has been as fast as he is sexy to an 18yr old chick. He's proven to be the veteran of the class and I think that racing and "relaxing" in OZ must have helped, even if it was on a 450. He has looked great on the track, smooth, fast and confident. I was bummed to see him pound himself into the ground in the whoops harder than he pounds…..nevermind, but then much like Rocky he manned the F up and proved that he has the heart that everyone knew he was capable of having. Talent and hair can only take you so far but without a doubt Hanny has shown he wants to win the championship this season. I've broken my fair share of bones and I never attempted riding in that condition, it's nothing short of amazing that he rode that night and again two weeks later. Hanny rebuilt a lot of bridges and gained a lot of fans, my hats off to him. Mattthes has stated that some of the takeouts Hanny has been involved with may cum back to bite him, I think rubbing is racing and I don't think any of it's been out of line. You lie in the bed you make, which for Hanny likely involves a Monster girl.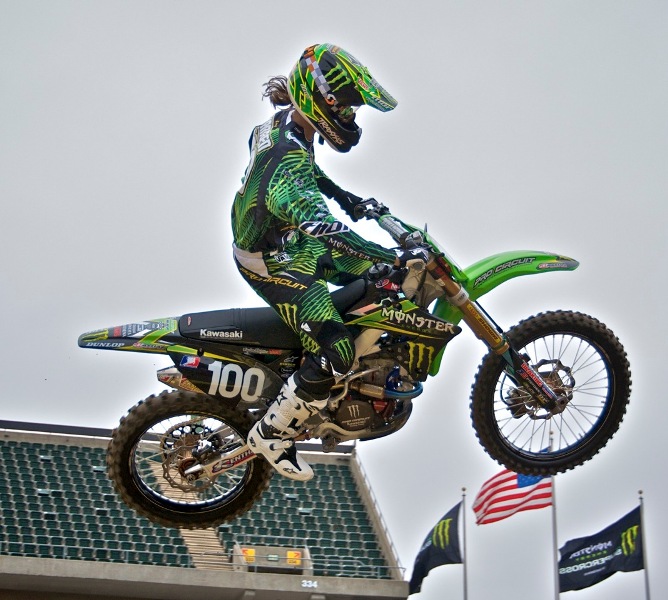 Hanny's hair is on point in this photo. It reminds me of the good ol'days. He's got style also.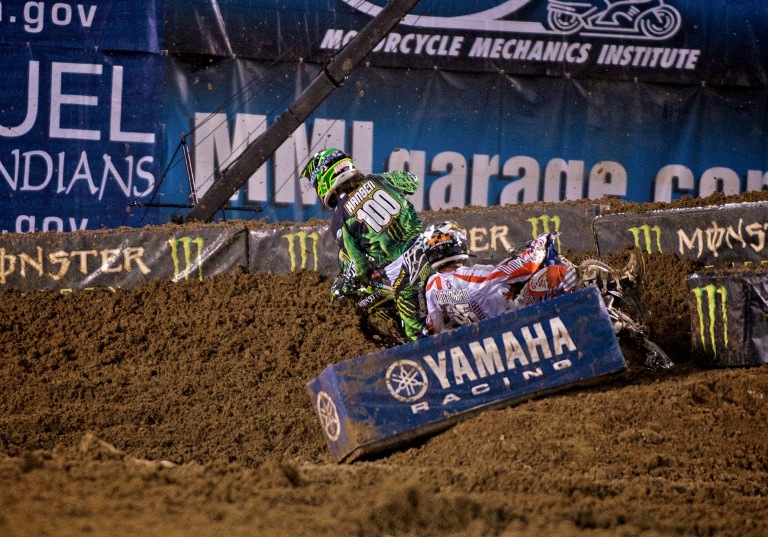 Rubbing is racing in the Moser handbook
2nd Broc Tickle
Just like I called it Broc is riding the West Coast. My biggest disappointment in Broc hasn't been his riding but his podium speeches, I'm not trying to beat a dead horse here and you don't have to tell me your family secrets but he seems like a genuinely nice guy and I wish he'd loosen up a bit, I'm sure it will cum with time. He's had a very solid season thus far, some say a few missed opportunities but consistency gets you the big check in Vegas and he's in a great spot. Carrying the points lead is a lot of work mentally and the pressure is wearing on Hanny a little bit. Canard won the MX championship last year and was way way further out of the points lead. I guess what I'm saying is that consistency wins championships just ask Red Dog. I think Broc, Hanson or Tomac could easily win this championship, time will tell. It was great to hear that Broc's lovely girlfriend Chickle helped him with some goal setting before the season started. Sometimes it's the little things that make the difference, they didn't rush or force anything, took it nice and slow, then he eased right in, to his first win of the season.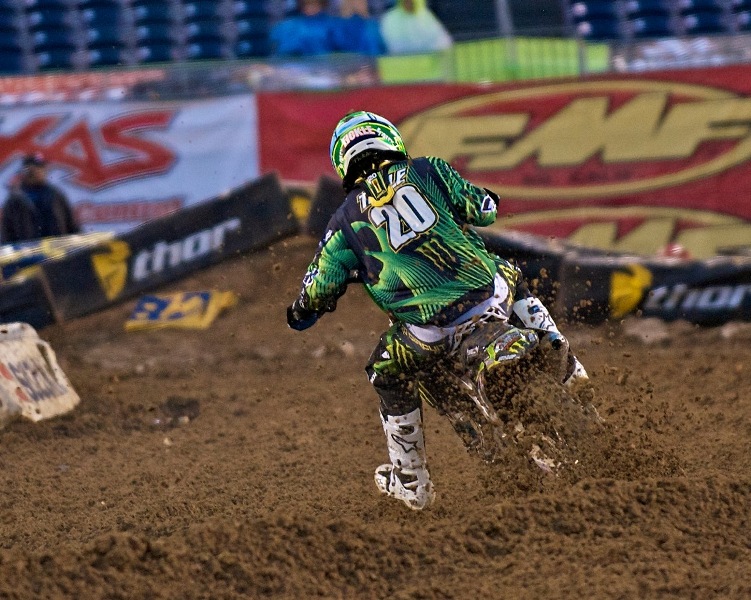 Smooth and steady, Tickle's racing to the goal.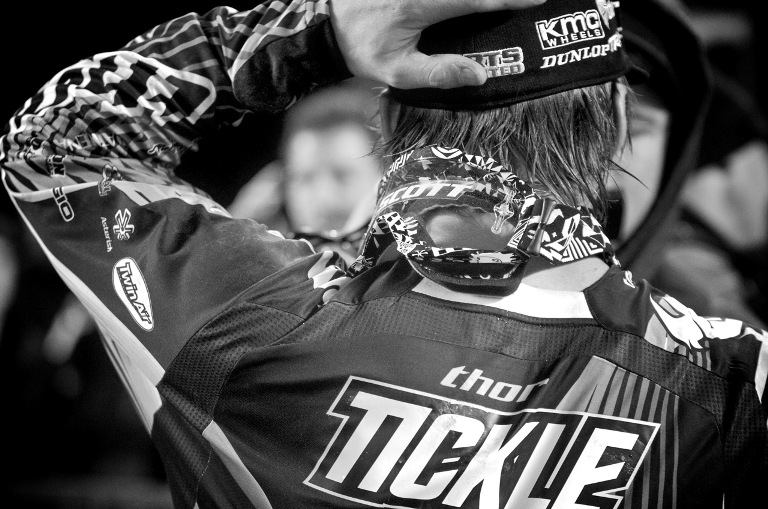 Tickle looks comfortable from the back side.
3rd Eli Tomac
West Coast just like I said. What a cool kid and family, I was stoked to see him get his first win in the Whales Vagina. Everyone raves about what a nice kid/boy/man he is and how great his parents are and from my couch, I totally agree. He started off a bit of the pace but caught on really fast and you could see each race he was getting faster and more comfortable. Am I the only one that notices how high his elbows are. I know that's how every riding coach I ever had told me to ride (Waunch, Whipple, Hanson, Etc) but really it amazes me he can ride like that all the time, obviously it's works for him. Mrs. Tomac cracks me up when she is always clowning on Donn from Transworld for being Mexican, funny stuff. Tomac has a solid shot at this championship and he's been gaining confidence the most important ingredient I'm aware of when it comes to winning.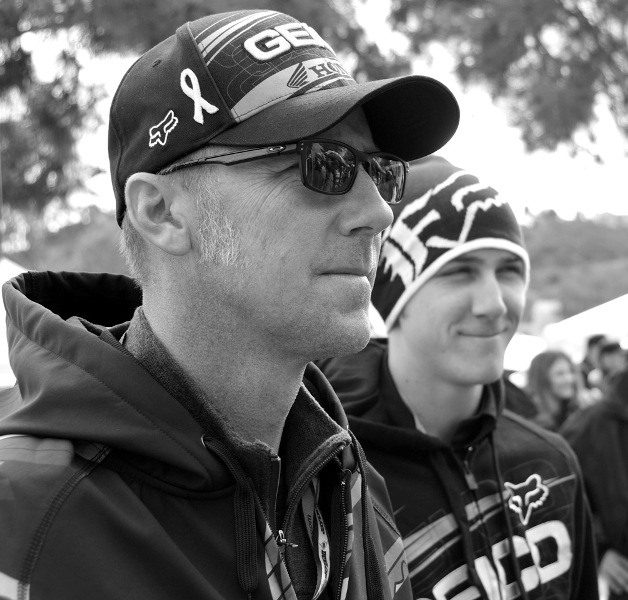 Some of the fastest DNA on the circuit.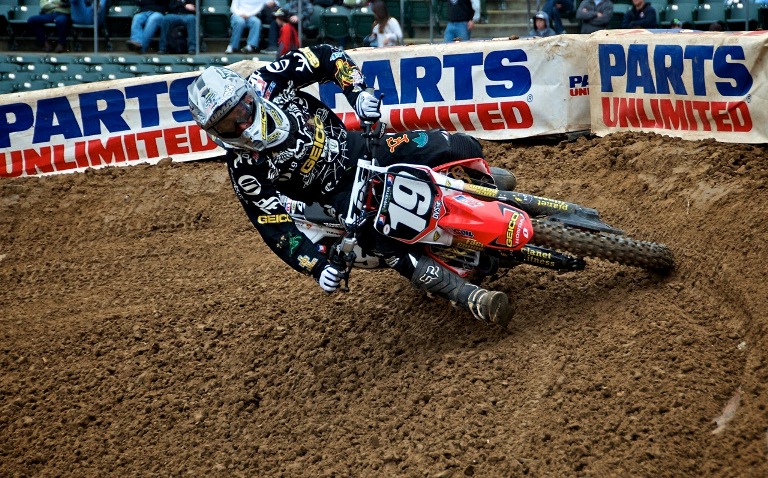 Picture perfect technique.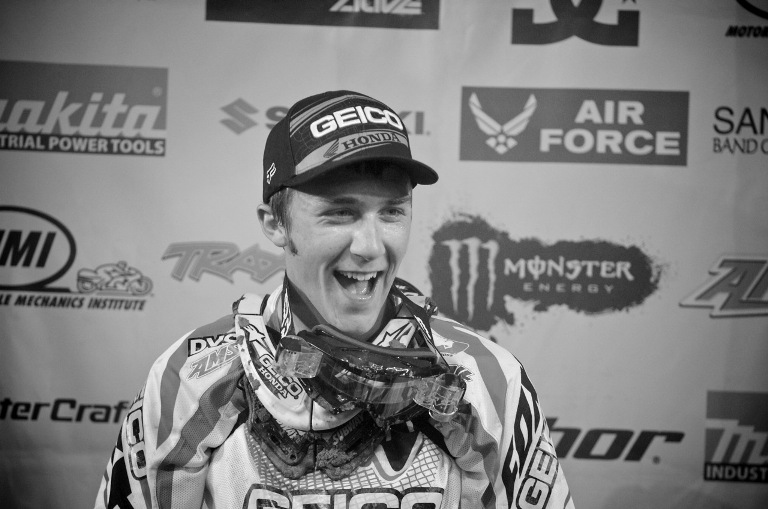 A winning smile.
4th Ryan Morais
Fourth in the series? That's awesome, better than I thought when I started writing this 10 minutes ago because Mo has had a rough year. As a @promotofan player it would have been helpful to know that Mo had a bad crash before the season started and just recently started riding/practicing during the week. With the long break for the West coast riders Mo will have some time to get back up to speed and I hope to see him get that coveted first win this season, I have no doubt it's tangible if he pulls the holeshot and/or a top 5 start. It was also announced on twitter that Ryan and Hannah are going to be parents, CONGRATS, this also means that Andrew and Jacki Short will be uncle/aunt. It wood also be great to see Morais riding an outdoor season. Let's hope he can stay healthy.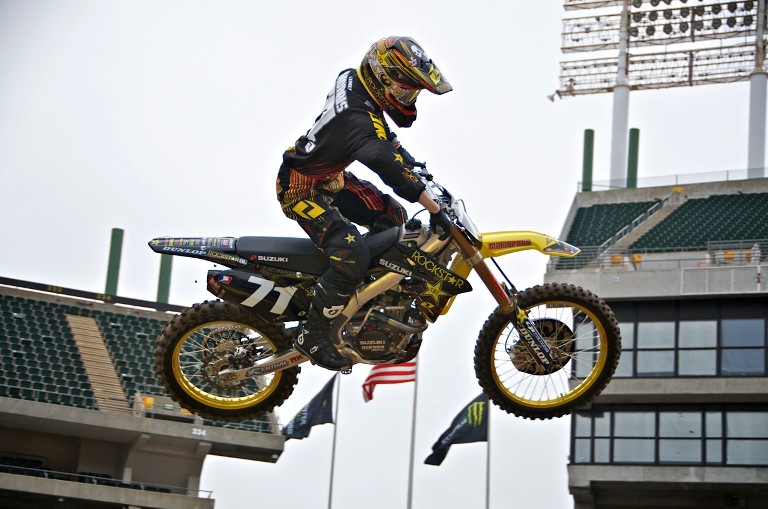 Mo's season hasn't gone as well as he looks in this photo.
5th Cole Seely
Again West Coast just like I said I'm batting 500 at this point. Cole got his first career win this year, awesome for Cole and for the TLD team. A little bad luck after his win but you take the good with the bad and at press time Cole just signed a 2 year deal with TLD and is riding Josh Grants bike as a fill in for the 450, that worked great for Canard last year. I wish him the best of luck. I read somewhere Cole quit racing for a short while a couple years ago which is wild to think he almost walked away because he has some sweet moves on a motorcycle for sure. The Adidas seat covers the TLD team rocks in the pits are very cool. It's great to see Troy bring some new sponsors to the sport, I'd drink tequila with that guy any day.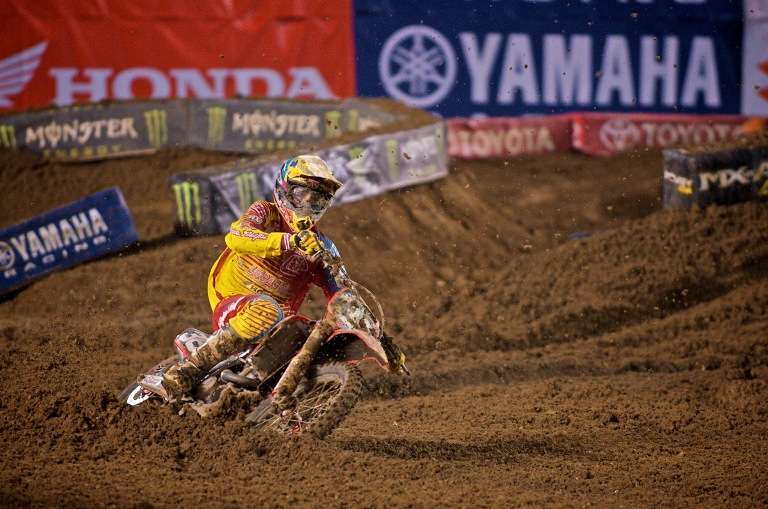 Seely has plenty of speed this year
6th Ken Roczen
The phenom, West Coast like I said AGAIN, Kenny has been nothing less of very, very entertaining to watch, the kid can scrub it as hard or harder than Stewey, it really defies gravity. It's obvious he has the speed to win a main if he can get a start and keep in on two wheels. I haven't seen a rider drink their energy drink sponsor ever, except for Kenny, he drinks them A LOT it's really amazing how much Red Bull or "holidays" he can put away each day. Kenny has hit the deck a lot this year and it's been impressive and I'm glad to see he hasn't gotten seriously hurt. Kenny has smoothed out his riding style a bit over the season and although it's not as exciting to watch it's probably for the better and just the progression of becoming comfortable with supercross. There is no doubt that Andrew Short has influenced Kenny's riding and racing for the better, as a Grand National Champion Shorty's photo is next to "consistent" in the dictionary. I hope that Jacki Short beating Kenny at ping pong wasn't a blow to his confidence, but rumor has it she dominated. The 350 experiment couldn't have gone much better, I was excited to see them pull the trigger on racing the 350 without hesitation, too many politics, if/and/buts are involved when it's really just about racing. Windham I believe has had the best lites class to big class expedition race with a win. I think it's too bad that more riders don't take advantage of gaining a bit of experience in the big bike class. I wood be lying if I didn't mention that I'm a little jealous of the bromance between Shorty and Kenny.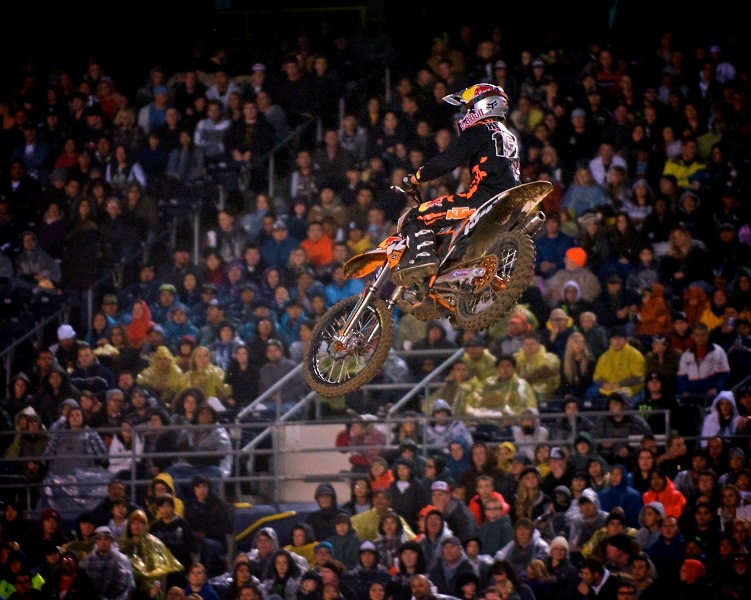 Roczen is one of the most entertaining riders to watch this year.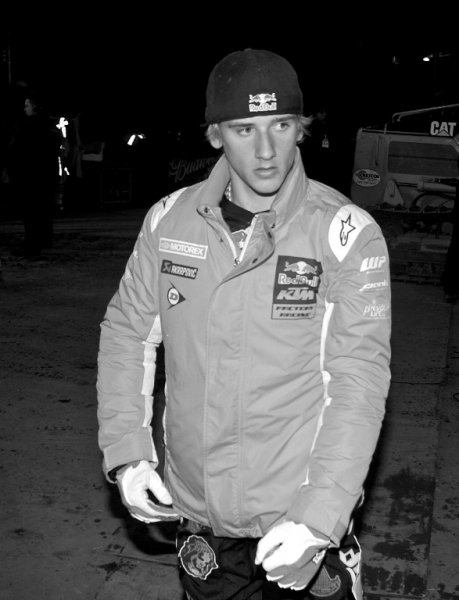 Kenny doing his best Andrew Short impression. It's not as good.
7th Tyla Rattray
West Coast, have I gotten any of these riders' coasts wrong yet? Tyla has been consistent and fast. If anyone expected more of him this season they need to check into Rehab and I'm not referring to the pool at the Hard Rock. Too bad Tyla missed a race after pretzeling himself on press day. He came back wide open at the Whales Vagina with a solid 2nd which was very impressive. It's no secret everyone wants Tyla to get thru supercross without injury and he's a favorite for the MX Nationals title. Tyla exceeded my expectations for a first year supercross rider.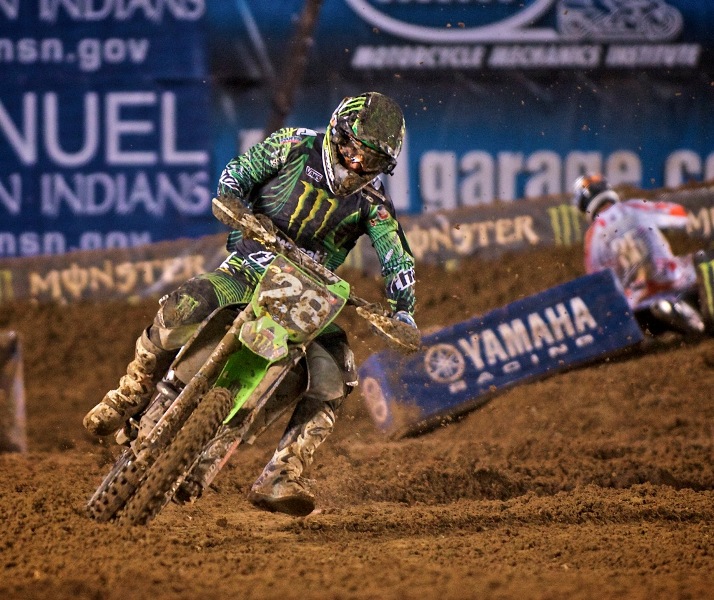 Tyla is just an animal and is always attacking the track.
8th Martin Davalos
I thought Martin was going to race East Coast. It's the first rider I guessed the wrong coast with. This guy was on rails at the beginning of the season and it's too bad that practice only equates to starting gate position and not a trophy because Davalos was the winner of practice more than once. I don't think anyone knows what the missing piece to the Davalos puzzle is, at this point I'm not sure even Indiana Jones could find it. It's always tough to watch a rider struggle that has that kind of speed and talent but the season isn't over yet.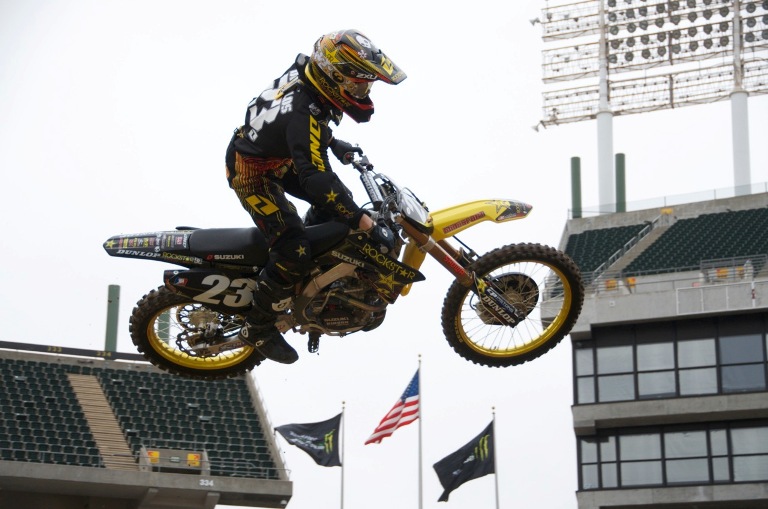 What's the missing piece to the Davalos puzzle?
9th James Decotis
There is not a "shortage" of things to say about Decotis, as a fill in rider for Wil Hahn he's really "stepped up" to the opportunity. After "rising" to fame in the original 125 two stroke youtube video, he's had some very solid result for filling in some "large" boots. All joking aside he's been fast and consistent which can't be easy when you fill in for a rider that was a favorite for the title. I hope this turns into an outdoor ride for him, also I was really impressed with his handstand walking in the Transworld pit pass video.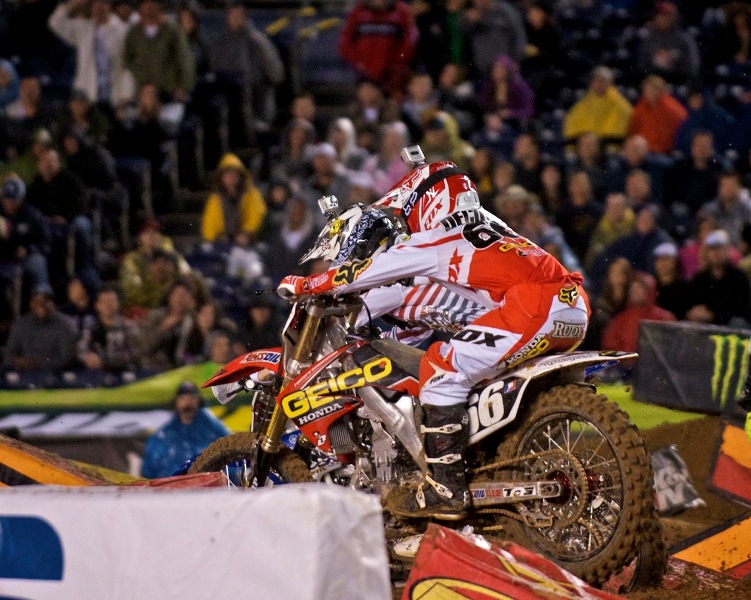 The butt patch says it all.
10th Kyle Cunningham
Kyle is riding the West Coast just like I thought he wood. You can't say "flashes" of speed when a guy is consistently fast and Cunningham is just that consistently fast but this guy can't stay off the ground, maybe he's related to an ostrich or some other animal that sticks his head in the ground but he's got to figure this out. I can't imagine how many bars and levers he's gone through so far this season.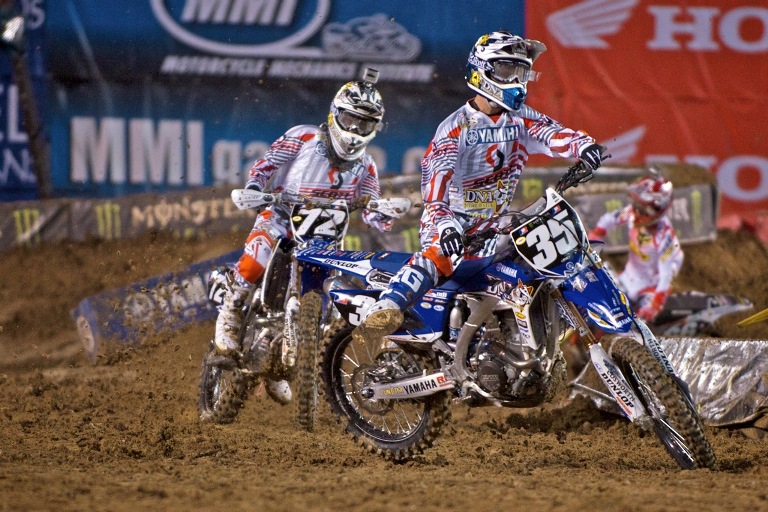 Poor Kyle has been trying to save a lot of crashes this year but it doesn't always work out so good.
11th Antonio Balbi
Balbi has had a decent season so far, consistently making main events is nothing to shake a stick at, as we all know.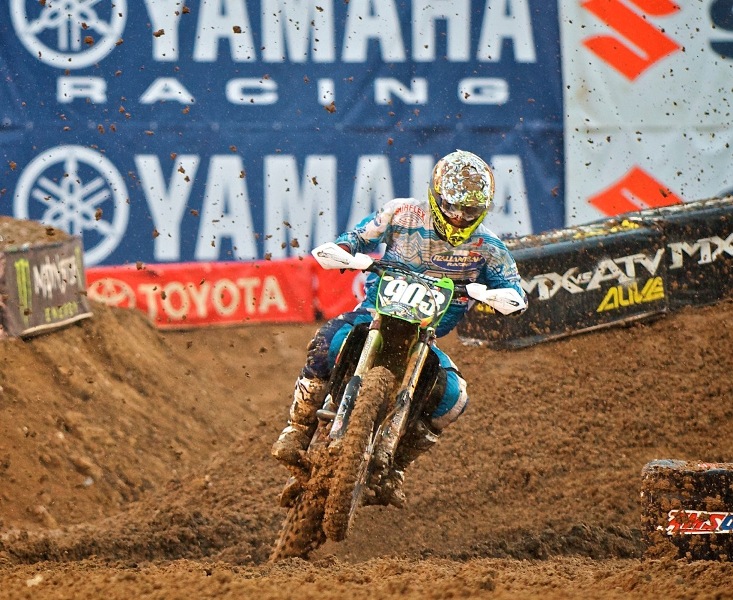 Balbi's retro style jersey is awesome, I'm feeling it.
12th Ryan Marmont
I think Marmont must be related to Justin Brayton because I haven't even noticed him on the track, but obviously he's gotten some decent results.
13th Ben Evans
I was hoping Evans wood have been better this season, if I lose my fantasy league I'll be blaming him.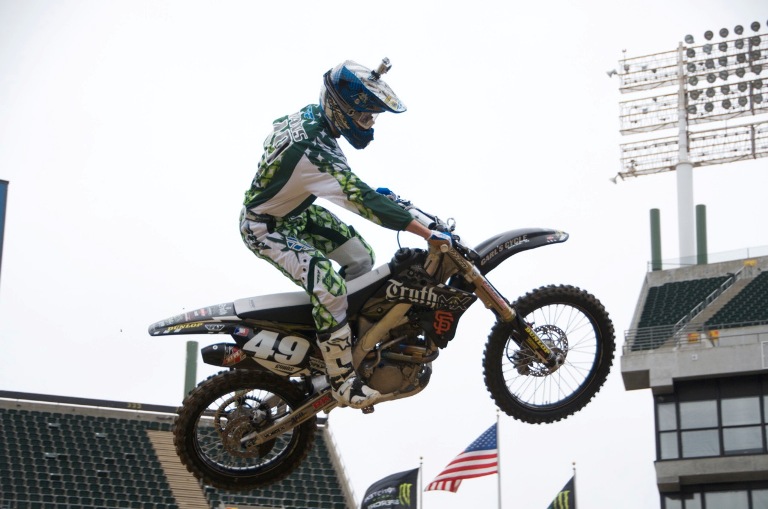 Evans is a big dude.
14th Nick Paluzzi
I think Snookie Paluzzi can do better, he just needs a bit of consistency he's shown "flashes of speed." I really hope he empresses the nickname Snookie it's brilliant.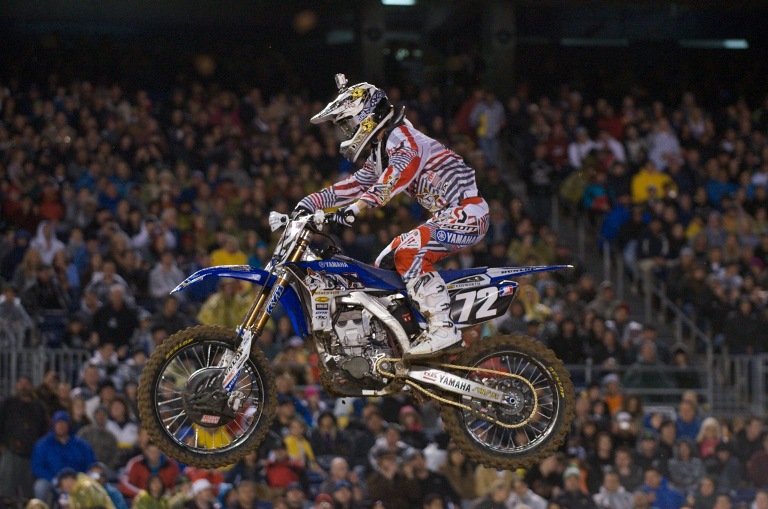 I'd sooner grab Nick's ass than the real Snookie's. (no homo)
15th Bruce Rutherford
The surprise of the year, I still have no idea who this guy is but he's had several decent rides.
16th Travis Baker
I think everyone is a fan of the over under bridge, well, everyone except Travis Baker. I guess we'll change the analogy between a rock and a hard spot too between an over/under bridge and a Baker, after his fingers ended up in-between and broke. Baker had an average season up to that point with some good races and some bad races. Having his teammate Cole pull off a win has to be a motivator for everyone on the team and I think we'll see some better results out of Baker when we get back to the West Coast in Seattle.
17th Jake Canada
At press time, Jake has 29 points that has to be good luck, as we all know it's the luckiest number in the world. Anytime Canada does is on track, whether it practice, heat race, lcq, main event or even an outhouse sighting Matthes mentions is so the kids getting some PR at least.
18th Casey Hinson
19th Scott Champion
I heard his girl friend is in the market for a new ankle, it's a good thing I'm married or else my new name wood be peg leg. Besides that Scotty has a decent year, it's what I expected from him, made some mains, missed some mains, baby steps.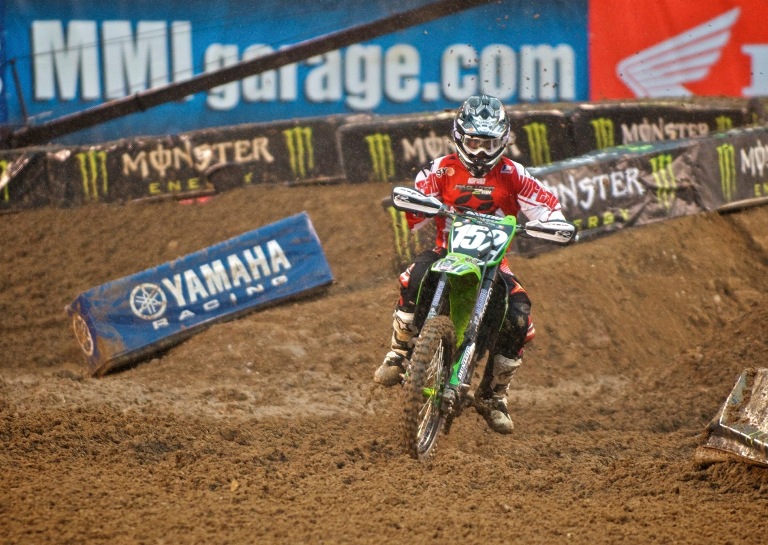 Scotty, are you going to propose already? Or at least pull the goalie?
20th Travis Bright
Bright hasn't exactly lit up the season thus far.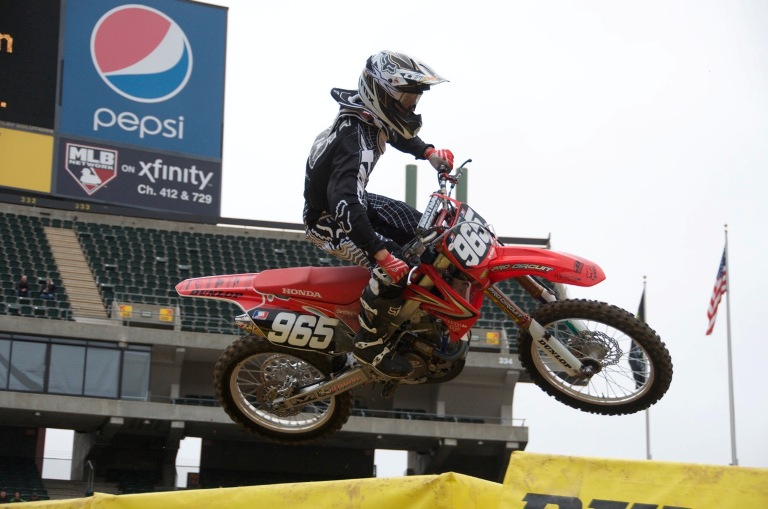 Travis is looking rather bright in this photo.
** Wil Hahn
One of my pre season favorites for the West Coast title. I wasn't at A1 to watch live because of a bar mitzvah but the highlights of his practice crashes were brutal. I'm not sure if he was just over anxious for the season to start or what happened but it didn't go as planned. Wil is one of the nicest riders in the pits (not as nice as Andrew Short but nice) and both him and his brother Tommy are having a rough start to the season. I hope they both get back on track soon and in the mean time I've cum to find that Wil has a beautiful singing voice that you can listen too weekly on dmxs radio.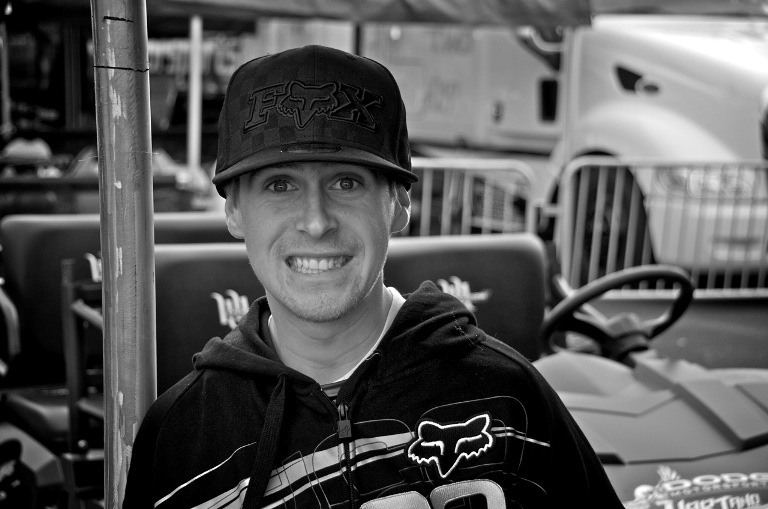 Either Wil is really uncomfortable because of his broken back or he really needs to poop in this photo.
** Christian Craig
I'd like to take Christian to Vegas with me and just have him bet on any game first and then I'll bet the opposite because it wood be a guarantied win this poor kid has no luck at all. He pulled a holeshot and lead for a really, really short while that was the highlight of his season so far. He took a couple races to get up to speed understandably and once he started getting comfortable he's out with injury again. This kid is tough and last I heard from my "source" we'll likely see him when we get to Seattle which is great. Amazing what Christian has overcome, and I hope he keeps it on two wheels for outdoors.
** Tommy Searle
What ever happened to riding the West Coast supercross before riding the GP's like Roczen did? I must have got some bad intel because I thought Searle and Anstie whom are riding for the Pro Circuit support team in the GP's this year where all signed up for the West Coast supercross also.
250F East
(Do to contractual obligations with my photographer Wallace, and out of respect, I refuse to degrade this article and use another photographers photos, unfortunately do to budget constraints we were unable to get Wallace to any East coast rounds. We're looking to bring on sponsors for 2012, preferably alcohol related, whiskey wood be ideal. The point being, I don't have photos of the East coast riders so I filled in some of the empty space with the prettiest rider on the circuit-Moser)
1st Justin Barcia
Racing East Coast, I was right again. Glad to see that he hasn't stopped riding aggressive, he's got ½ the class scared of him before the gate even drops. Everyone keeps saying this type of riding will catch up with him eventually but I haven't seen any "pay backs" yet. I honestly thought Barcia was going to struggle with consistency this season and I couldn't have been more wrong, he's been the picture of consistency which has him leading the series. Breaking some bones in his hand/wrist in practice and racing every weekend, without anytime to recover is right up there with Hanny in terms of true grit. I've wondered if that brace he's been wearing is really the arm from the terminator, it doesn't seem to be bothering him much. You can see he's timid in places, timid might be the wrong word, less wild in places is more appropriate. In the very important hair race in the pits Barcia has made himself a niche, rocking the long Beiber hair and some pubes on his chin.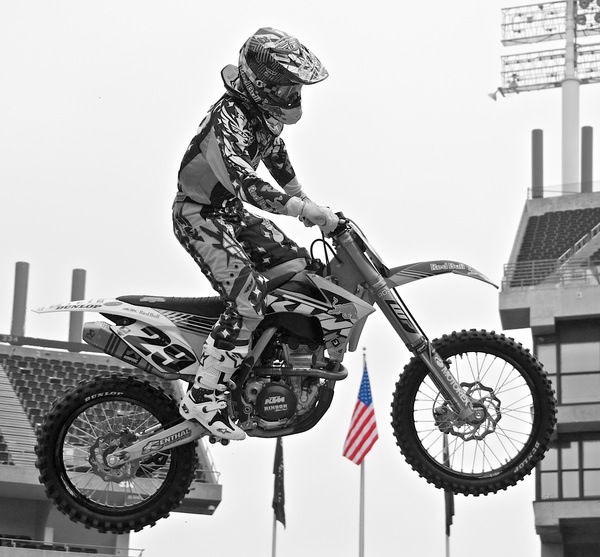 You can't tell me that you're not proud to be an American after looking at this.
2nd Blake Baggett
As you can see he's racing East Coast, per my preseason review. A tough first race of the season, he turned into one of his best rides of the season. Cumming from nearly dead last, all the way to a podium spot. It's cool to see him pull off a win already this season as they say the first win is hard, but the second win is harder. Blake seems really confident this season and one wood have to assume some of that cums from riding for Mitch at Pro Circuit. By winning Dayton he proved to everyone he's in the best shape of any rider in the class. I think he's faster then Barcia right now, he just needs to stay off the ground and get some decent starts and he could easily win his first title.
3rd Ryan Sipes
His first career win has to be a great feeling, and I hope it shuts up some of the haters about staying in the 250F class another year. Nobody can take that win away from him now. A 250F supercross win is nice to have on your resume and hopefully it helps him land a 450F ride next year. Sipes has been on the gas since the first race: fast, determined, aggressive, well maybe a bit too aggressive with Warton. You can tell when a rider believes he can win races and you can see that in Sipes this year. I was a little disappointed to see him fall off the pace at Daytona, but it was a gnarly track and landing on the podium is never a bad place to be. After you get a taste of the sweet victory you can bet he's going to want some more and he's well within striking distance of this championship.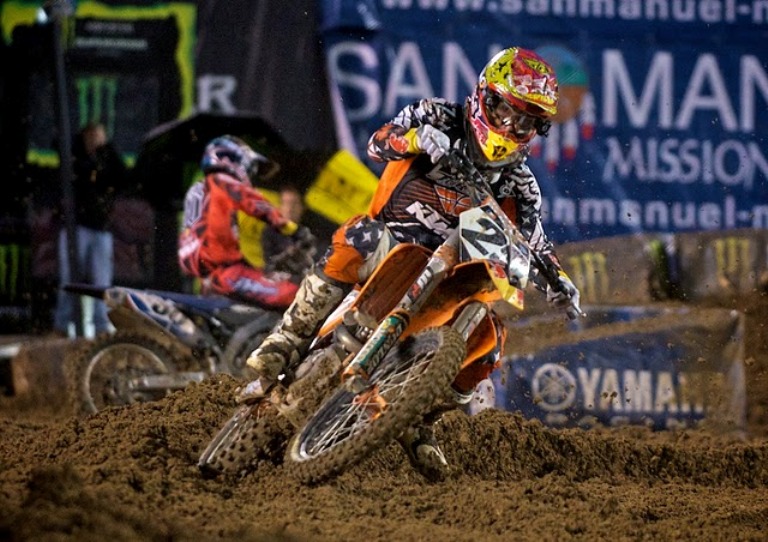 If you ask me, Shorty looks good on the 350F so far this season.
4th Dean Wilson
I had him slated to ride the East Coast, but if not for a shoulder injury before the season started it was looking like he was headed West. I hope he's got his VISA dialed in for the Canadian round. Deano came out swinging this season, had some great races, was tied for the points lead going into Daytona and then I don't know what happened. Maybe he kicked a cat or broke a mirror, because nothing has gone right since, except that with all the wrecks he hasn't been seriously hurt yet. I've never lost my swagger before so I'm not sure how to help him out, he'll rebound though. He's given up quite a few points and it's going to be difficult to try and make those back up. A rider in his situation is more likely to hang it out, knowing he's got nothing to lose going for the win every race and that is his one advantage.
5th Blake Wharton
Warton is on the East Coast (told you so). His riding style is more suited for the soft dirt and ruts. We've seen more of the same from purple rain, he's got the hair, speed and starts to pull off a win, but can never seem to put them all together in the same night. He had his first win in the bag, the bonus check was cashed but it wasn't meant to be, with a small tip over it all vanished. Having cum so close, I think we'll see his first SX win this season. Leading a race and knowing it was yours to win, only to fall short, can only help motivate him, just ask Sipes.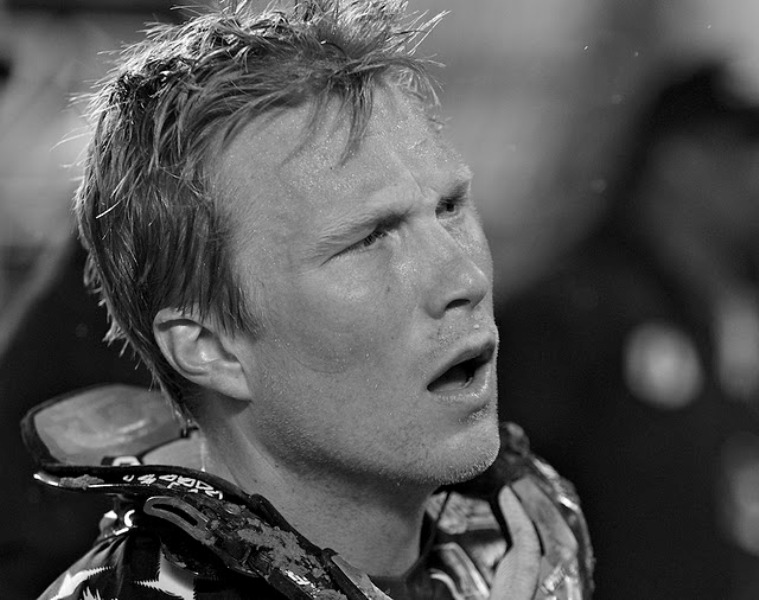 "Is that Moser over there?"
6th Malcolm Stewart
Little Stew has impressed just about everyone this season. Nobody knew what to expect from him and he's shown lots of speed and is slowly turning those into race results. He's a big kid which makes it even more impressive that he's riding so fast. Once he stays off the ground in a main event he can easily find his way onto to podium. What's with this Mookie nickname? Who came up with it? It's kind of catchy I'm not going to lie.
7th Matt Lemoine
I felt Matt was a top 5 guy coming into the season and he's starting to show that speed but it started off a bit rough. I think Matt will continue to improve and consistently finish in the top 5 where he belongs. Running the "Jenga" butt patch was classic.
8th PJ Larsen
Larsen won the Oz 250F SX championship prior to the USA season starting, congrats on the title down under. Cumming off the win I thought he was going to be: race ready, have the bugs worked out, cum out of the gate swinging, and catch everyone on there heels so to speak. I was wrong. PJ struggled at the first few races but has since started to find his groove.
9th Jason Anderson
A quite top ten guy thus far. He hasn't gotten a lot of press or had that break through ride yet, I lost $1 betting on him in my fantasy league last weekend when he DNF. So you could say I'm not on the Anderson bandwagon at the moment. As a rookie the goal is to put in the laps get used to the racing and try not to get hurt before outdoors, so I guess it's going to plan so far.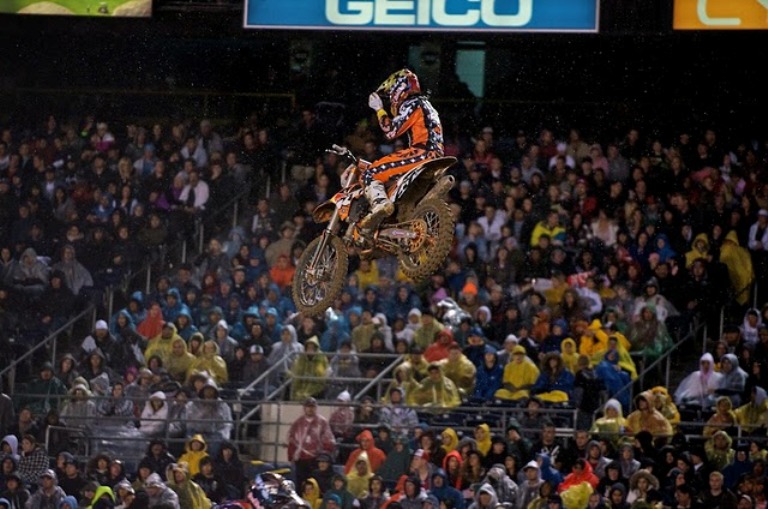 I love this Evil Knievel gear that Shorty wears. It's my favorite…
10th Alex Martin
Right on that top ten bubble, he's having a consistent season and making all the night shows, I have to imagine he's pretty happy with how it's gone so far. I believe it's his first full SX season, but I could be wrong. He's also Darryn Durham's teammate which has to be constant entertainment.
12th Les Smith
13th Taylor Futrell
14th Hunter Hewitt
The name Hunter is great, limitless jokes cum to mind.
15th Gannon Audette
Making the night show and getting experience. Another successful rookie season.
16th Ian Trettel
Had a big get off, lets all hope he makes a 100% recovery, get well soon.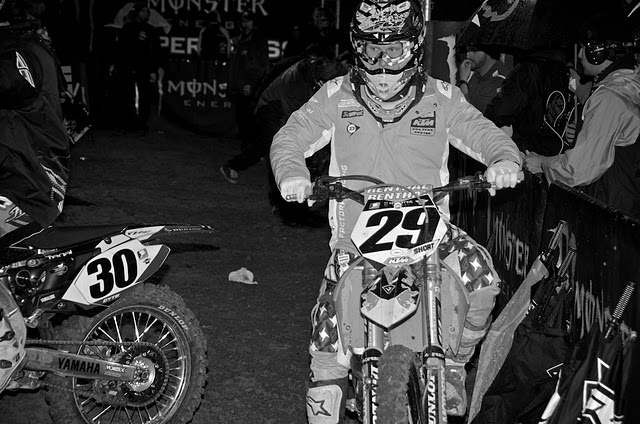 Calm+cool+collected= Shorty
17th Levi Kilbarger
Making the main events is a good stepping stone for Levi. I was glad to see that although Honda of Troy closed their doors, Kilbarger stepped up and still put a race team together. I haven't seen there pit setup in person yet but the bikes look cool and fast on the TV. Joe Gibbs is probably the only one spending more money then Levi's dad when it cums to SX father/son racing teams at the moment.
18th Bradley Ripple
This name reminds me of Bed Riddle he was a cool cat.
19th Nico Izzi
Thought Nico was riding West Coast, oops. He's looked great in practice and I was really surprised to see him so far down in the points. He's been riding better then his results are showing but that's hard to plead cum contract time. His Volcom helmets are some of the coolest lids in the sport.
20th Shawn Rife
** Darryn Durham
The ups and downs of racing. After putting in one of his best rides ever, he ends it with a broken foot. He was riding on the edge while leading his heat race but it was great to watch, and that was one of the best saves thought he whoops that I've ever seen. He should be back soon from his foot injury. I know I'm not the only one looking forward to having him back on the track with his great riding style. DD had been laying pretty low on twitter but recently broke his silence with a classic "cock pushups" line.
That's my ten cents with how the season has played out thus far. With both championships coming down to Vegas this year it's going to make for some great racing. Vegas is really dry, really hard packed, and will play a big part in who wins the titles, mark my words "stamp it". If you don't see the humor in what I write please don't bother to read it, and send any complaints to me at jasonw@racerxill.com
Moser