A guy named O'Rourke went to a round of the Aussie nationals and got all of you lucky jerkies this report. Good job O'Rourke!

A guy named O'Rourke went to a round of the Aussie nationals and got all of you lucky jerkies this report. Good job O'Rourke!
OZervations – A View from the Fence
Rockstar Australian MX Nationals Round 2 – Appin, New South Wales.
The Australian Motocross Nationals has been building a steady momentum over the past few years and I've got to say that it is paying dividends big time. Not only are the pits looking bigger and better than ever with almost every factory team having a semi truck, the team presentation is professional and as slick as just about any other national series around the world. This is my take of the 2nd round from the 3 foot high fences of the Bellbird Circuit.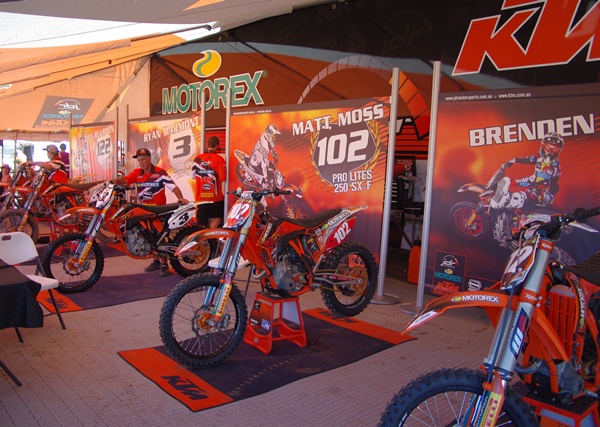 The JDR Motorex KTM team has stepped up the professionalism and appearance in the Aussie pits.
We like to do things differently down here in Australia, like eating vegemite , driving cars on the wrong side of the road while filling them with petrol instead of gas. So it should make perfect sense that our national MX series like our Super-X series runs a completely different format to anywhere else in the world. This includes running four motos instead of two and including an Under 19's development series into the mix. The Rockstar MX Nationals have definitely become an international one with riders from the USA, Scotland and New Zealand lining up every week next to our regular Australian riders, many of whom have returned from rides in the US. This diversity has definitely had an impact on the pace of the local boys with many of the podium regulars relegated to being top ten riders and having to step up their game to be competitive.
Pro Open Class
This weekend saw the Pro Open (450) class run four motos in total. Two twenty minute motos back to back with this format repeated again at the end of the day. Whether this format is popular is debatable, especially amongst the riders, what I can vouch for as a spectator is that it makes for some very interesting racing. As a matter of fact former World Motocross number 2 Josh Coppins (CDR Rockstar Yamaha) won the overall without ever winning a moto. His 2 – 3 – 4 – 3 results giving the Lizard the top step of the podium after what was a disappointing showing in the mud in round one where he got a 7th.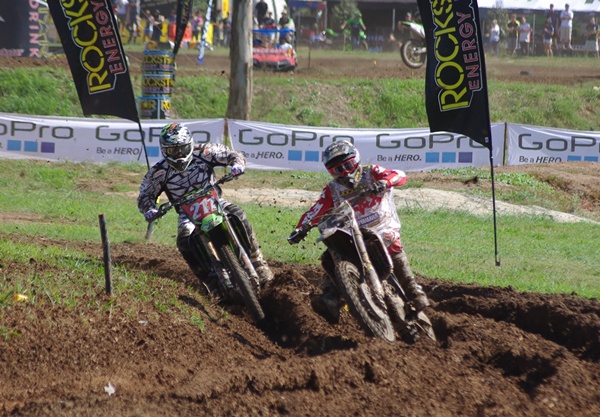 Coppins pulls away from former points leader Billy Mackenzie. All Fox riders ran Steves' favourite Red / White Daytona Retro Gear.
Taking over the points lead from another former World Motocross Competitor Scotsman Billy Mackenzie was his team mate on the Monster Energy Kawasaki Team young Aussie Dean Ferris. His 10-6-1-1 moto scores were good enough to give him a second overall on the day. This is where the four moto format can really make things interesting. His first two moto scores wood have most probably put him out of the top five, but the second two really put him not only back into the race but into the championship points lead.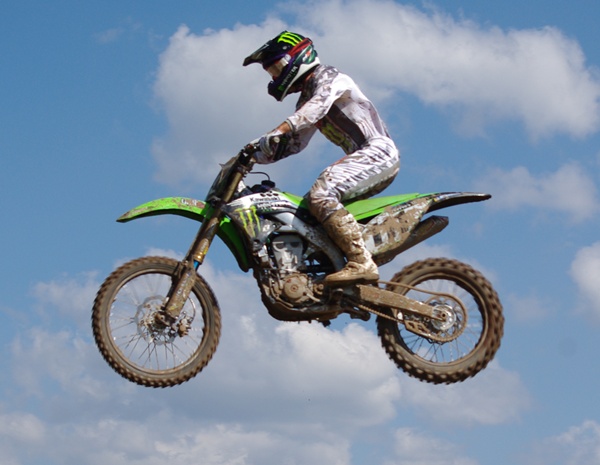 Dean Ferris airing it out over the big double double up hill jump on the brand new Appin track.
Taking the final step of the podium is defending champ Jay Marmont. The 27 year old local has won this championship for the last three years and was one of the favourites going into this season. His 4 – 4 – 2 – 8 moto scores where probably not what the Yamaha rider had in mind for this weekend but this is a stacked class. New Zealand import Michael Phillips (Carlton Dry Honda Thor Racing) and Marmont's younger brother Ryan Marmont (JDR Motorex KTM) rounded out the top five. Basically any of the top ten Pro Open riders could win this championship, so the eventual winner of this class may not be the fastest rider but the most consistent.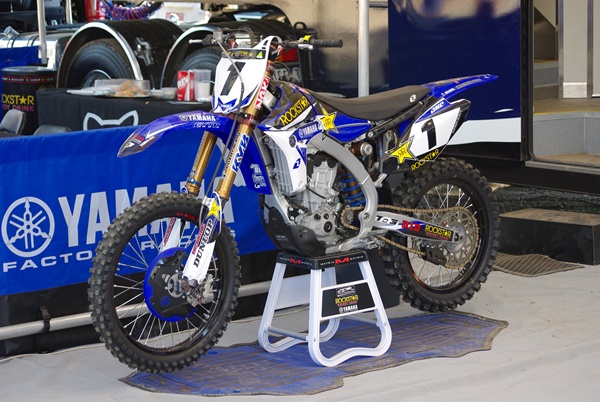 The Number 1 plate is starting to get very heavy on Jay Marmonts bike as he sits 7th in the Championship after two rounds.
Pro Lites Class
What else can I say but Matt Moss is back!! After being the invisible factory Suzuki rider in the US last year and then winning and losing the Australian Super-X Championship all within a matter of weeks he is on a roll in this series. The JDR Motorex KTM riders' moto scores were 1 – 1 – 5 – 3 and although not consistent it was enough to take this round and give himself a healthy 47 point lead over his nearest rival. Matt has made no excuses in saying that his goal this year is to win the Australian Motocross and Supercross titles then head back across the pond to have another go in the US. With his current results and his JDR KTM team already being setup in the US, it's as certain as Matthes eating bear claws at Bercy.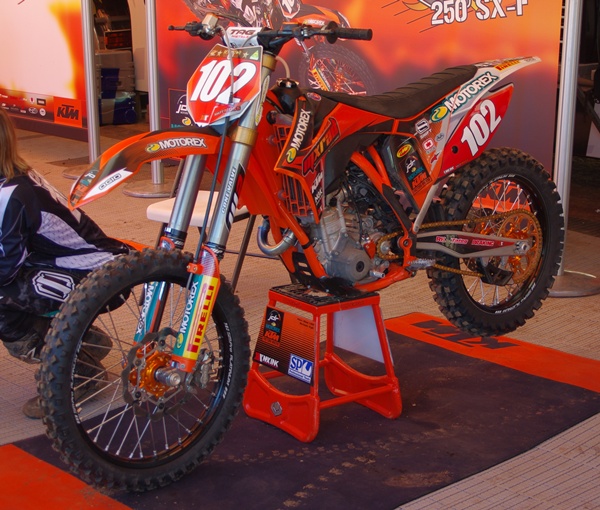 The factory JDR Motorex KTM of Matt Moss is one trick bit of gear.
Second on the day was Serco Yoshimura Yamaha rider 22 year old Kirk Gibbs. He finished 2 – 2 – 4 – 5 on the day and this put him into second in the championship also. I'll be honest and say Kirk is not the flashiest or well known rider on the track but he placed second in the Pro Lites championship last year and is well on the way to doing the same or better this year. I think he is possibly the Justin Brayton of Australian motocross, always doing what he is doing with very little recognition.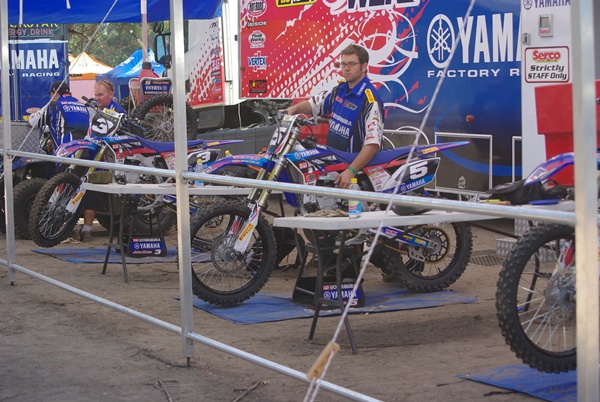 Where's Gibbsy? The unknown man of the Pro Lites Class.
Grabbing the third place trophy at Appin was American import "Filthy" Phil Nicoletti. He rides for the newly formed Monster Energy Kawasaki team. Monster has poured a ton of money into this team, no doubt helping to secure the services of Nicoletti. Phil was so close to winning the over all, but it was a costly DNF that did not help his cause. His moto results were 8 – DNF – 1 – 1. I saw Phil find his speed in those final two motos and he was flying. I think that if he manages to settle in a bit more and become accustomed to the Australian culture of eating meat pies and drinking VB Beer he could find success and possibly relaunch his US career much like PJ Larsen has.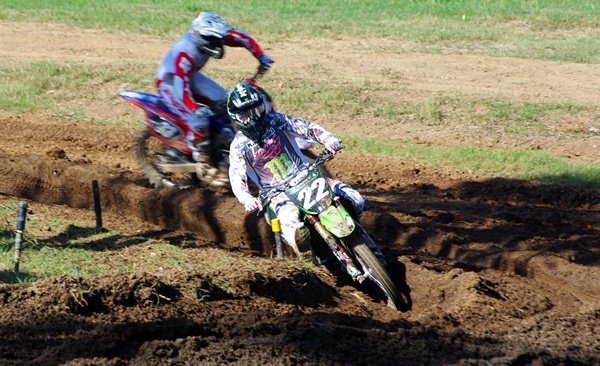 It's Chad Reed in 2010 – No its Filthy Phil Nicoletti running the Double Deuce.
Under 19's Championship
A couple of years ago the promoter of the Rockstar Australian MX Nationals introduced a class for riders between 16 and 19 years old to get their feet wet in the world of professional motocross racing. It has been a success with most satellite teams fielding an Under 19's rider beside their Pro Open or Pro Lites regulars. This round it was the story of one rider and that is the Pirelli Raceline Suzuki rider of Errol Willis. I have watched Errol come up through the amateur ranks and while he was not a pheNOM, he has definitely found some amazing speed in the last 2 years. He went 1 – 1 – 1 – 1 clean sweeping the class and rocketing himself into the championship points lead. Watch for some big things out of Errol in the next few years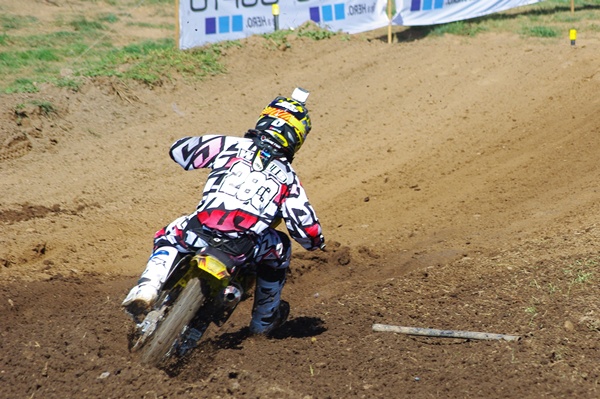 Willis was dominating with 1 – 1 – 1 – 1 moto scores on his Pirelli Raceline Suzuki.
Bits and Pieces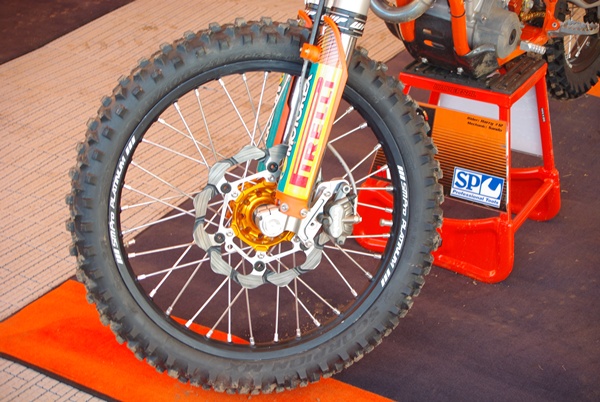 Unlike the US Motocross scene Pirelli is making a big impact in Australian Motocross taking 2 out of 3 class wins.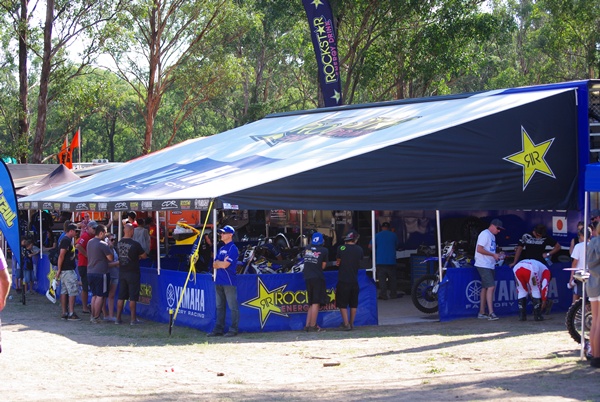 Just like in the US its Rockstar…..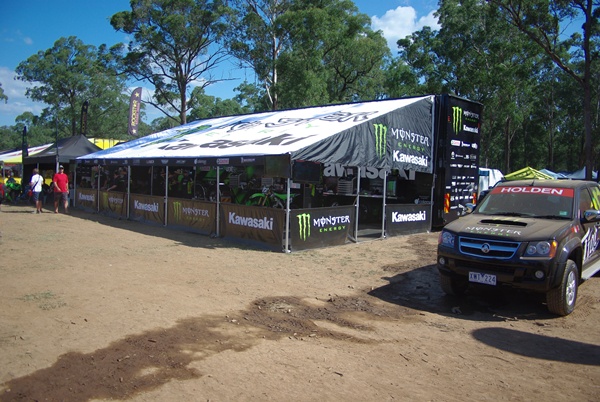 VS Monster in the energy drink wars!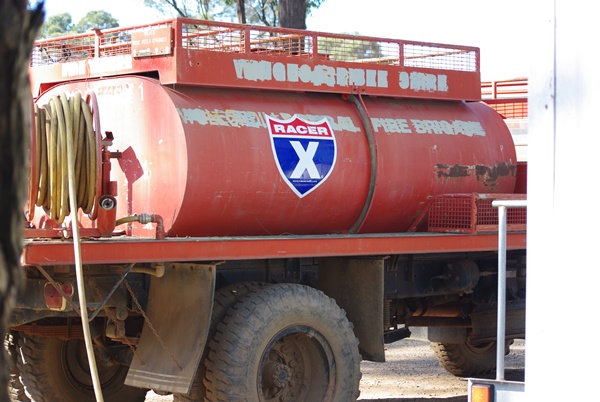 Racer X getting love from the Land Down Under!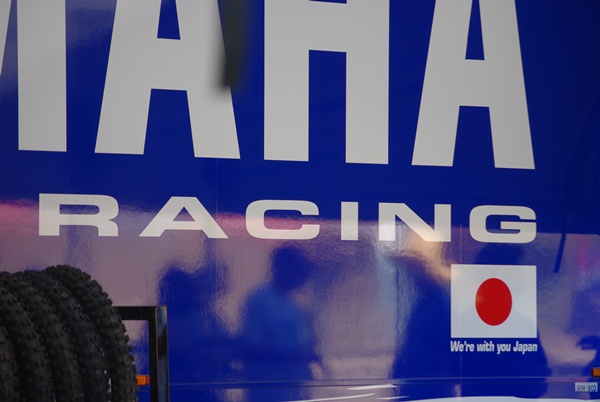 The Japanese disaster has affected all forms of our sport worldwide. CDR Rockstar Yamaha show their support.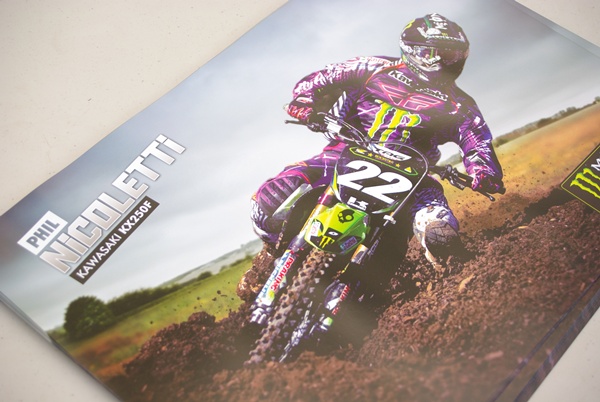 Who'd have thought this time last year Phil Nicoletti would have be a Factory Kawasaki rider?
Well this is my first ever column for pulpmx.com and I'd like to thank Matthes and Swizcore for the opportunity to contribute to the ever burgeoning pulp community. I hope you've enjoyed the first (and possibly only) instalment of OZervations. @itsORourke