It takes a pretty negligent act to trump a red number plate background.
It takes a pretty negligent act to trump a red number plate background.
Photos by James Lissimore
Crazy Elephant Balls
So the saying goes "everything's bigger in Texas". True that. Example 1a is James Stewart. Dude was suffering from a case of elephantiasis* of Crazy Balls. 7 got buck wild time after time in the Dallas whoops and true to form, he saved a few of them but even Bubba couldn't corral the "condition" on lap 9.
(Check this out; I , like many of you I'm sure, have always thought the term was actually "Elephantitis". Nope, it's "Elephantiasis"- I know, it blew my mind a little, here's the definition: "condition in which a limb or other part of the body becomes grossly enlarged".)
I got a kick out of Fro's mention of James hanging off the back with the front end in the air as being an example of his confidence. Now, I fully realize I'm just a shlub with an opinion who's never won a SX title but I do realize the difference between awe-inspiring confidence and a look of "help me Jesus".
Following the race Chad admitted he had made a mistake in the rhythm section preceding the whoops which allowed him to slip into Crazy Balls target path. Don't get it twisted, Im not saying James targeted Reed, that was clearly an "oh shit" moment caused by a whoop section which gave just about everybody fits.
Every rider lining up for SX races should be thanking Chad after that altercation. This season we have started to see the reintroduction of bowled turns. Matt Goerke's bowl launching into stands excursion from 2005 brought upon primarily flat turns for years. Flat turns reduce the risk of fans eating dirt bikes but the racers don't exactly enjoy flat tracking around corners into steep triple faces. This is why they should all be thanking Chad. By intercepting a rogue Bubba, the bowl turns were saved. How ironic, it seems like only yesterday James and Chad were talking about putting one another in row F and in Dallas, Chad actually stopped James from landing in said row.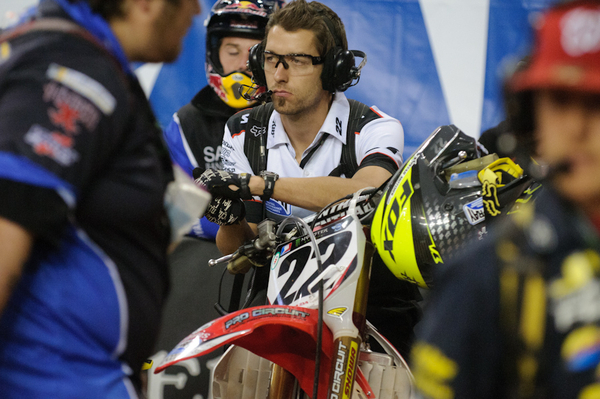 Lars had his hands full following Dallas.
It may be more fitting to say the Dallas whoops were the element suffering from elephantiasis. Most riders struggled or approached them with caution while James either chose, or couldn't help but let Crazy Balls have his way with his right hand.
James had an opportunity to really give it to Reed earlier in the race, like on lap 1 when Reed squared up a right hander and James was charging on the inside. When Reed squared off, James had to shut off and get on the binders, and he did, to keep from straight T-boning Chad. Honestly I don't think it was a case of James deciding to hit or not hit Chad Reed, as much as it was a decision to avoid contact and get in some trouble-free laps, regardless of the would-be recipient.
TwoTwo Tests my Objectivity
Chad was surprisingly composed and optimistic only minutes after finishing the race. It blows my mind how content Chad is this year. Maybe it's being a Dad, maybe it's the personnel he's CHOSEN to surround himself with on his new team, maybe it's simply getting older or maybe it was just his approach to the season? It's pretty remarkable how he comes across so genuinely optimistic 10 minutes after justifiably infuriating events. It's been repeated ad-nauseum how much Chad has changed his attitude over a few year period but it's undeniable that he has altered fan perception of him as a racer, person and representative of moto and that says a lot because moto fans are quite reluctant to abandon their opinions.
After Reedy's CRF450 force-fed him the floor of Cowboys Stadium, he remounted, rode a little, slowed to double-checked his initial bike check, took one last soil sample and finished just behind an impressive Tommy Hahn. Chad entered the night with a 3 point title lead and ended 6 down but as he quickly noted on the broadcast, that's a hell of a lot better then where he sat prior to Toronto. Always a glass half full, that 22. I like his style.
Few in sports can reverse their fan perception the way Reed has.
For Couch Surfers
The CBS coverage FROM MY COUCH(well, my condo in Florida- :-P) was abysmal. It is truly a talent to run the main event commercial free and miss so much of the action on the track. It's almost as if they have a formula of running x seconds of x camera each race and the only thought that enters the equation is being sure to intersperse a lead change or the single gnarliest crash. Run it! I'm not going to dwell on the tv coverage, it is what it is.
CBS Periphery
Trey has quietly put himself into 3rd most wins this season, his rookie year, a year he was speculated to "be strong" and arguably the best SX season ever. When Trey looks like he looked in Dallas, it's hard to imagine him losing. He was rock solid; hole-shot, lay down consistent error-free laps and finish.
It blows me away that Trey's confidence is still shakeable. I know that's just the way this sport is but seriously, the statute of limitations on race wins and no longer unstable confidence needs to be set at 2. When you win 2 races, that's it, you're a bad dude who never doubts himself again. I mean, the races Trey has won haven't been thin on fast guys, or rare circumstance's where luck was given the nod.
Let's go Trey, like a visit with the hypnotist, this is Swizzle clapping my hands after a session of repeating, "I'm a bad dude, I belong here, lets dance". Everybody knows your bad Trey, only you seem to question it. Stop it.
RV has worked his way back into the points lead after two terrible weeks. He hasn't cashed that "little ball of hate" check I wrote out to him a few weeks back, so I expect it to come in St.Louis. He looked good in Dallas so it just makes sense that St.Louis brings the next step back toward establishing a commanding lead again. Baby steps…
The Dunge made a late race charge for RV but it wasn't to be. Either RV matched the charge or #1 just didn't have it in him. Regardless, yet again RD battled to end up on the podium and even with a DNF, he finds himself with an absolutely realistic shot at repeating as series Champ.
It's unbelievable how week after week this season, we are reminded that anything can and will happen. I know I feel a little spoiled and hope it continues.
SX Lites
The Lites really had trouble with the whoops in Dally. You could see more than ever in Dallas, the Lites racers would make absolutely certain they were squared up with the whoop faces before entering. Usually they can get away with hitting them off-square but in Dallas you could see they weren't going to even risk it with those massive whoops. The chance for failure when hitting them precisely was high enough, to hit them imperfectly would and did spell doom many times.
Poor Ryan Sipes. Clearly the fastest guy in the east but when you cant make it happen in the main, it's irrelevant. Sometimes its getting into someone else, or someone else getting into you. Then of course there is pushing it too hard and the track pushing back, or simple mistakes. Whatever the instance, Sipes' speed is not in question, his consistency is. Pull back early, push hard later when you've developed a rhythm with the track.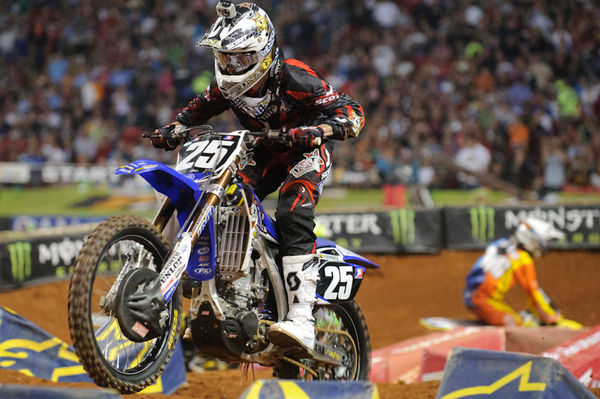 Hard-luck racer of the East(Baggett gets honorable mention).
The good season gone wrong for Blake Baggett continues. Such a bummer and really indescribable how his season has gone from ultra-consistent to a roller coaster with more highs than lows.
Double-D must be having issues with fatigue in that foot or maybe it doesn't allow him to ride much during the week but he's a tick off of where many, including me had expected. props to him though, finishing 6th with a busted hoof has to be some kind of victory.
@mattlemoine48 pulled off 2nd in his heat setting me up to claim "karma check cashed" from the Pulp interview last week. Well, the podium didn't happen for Matt but again he got a terrible start and went down pretty hard late in the race and still pulled off 5th. As you know from the interview, Matt is driving an Econoline to each race which makes him easily top Privateer.
The fact that Mookie finished 4th is pretty amazing. He started dead last in his heat and came back to a qualifying position even after going down again. Each race Malcolm has extreme highs and extreme lows, of late the highs outweigh the lows. Pretty successful rookie year by all accounts.
I've been singing Blake Wharton's praises for a while now and seeing what he does for the kids in his community makes me an even bigger fan. The guy is just himself, very unique personality and genuine good guy. Another 3rd for Blake in Dallas with a shoulder that is still boogered. It's a strange situation he's in now; two consecutive podiums make it difficult to step away from the series to get that shoulder fixered but on the flip side, it has to be done so he isn't limping through a grueling outdoor series. I hate to say it, but I almost hope he gets a "Shorty moto 1 ala Texas 2010" which makes the decision to pull out of the series to get fixed, a no-brainer.
Chris Cornell, Slash, Prince… take your pick.
As we've seen lately, the two hottest finishers found themselves trading block passes and look-backs late in the main event. Where earlier this season Wilson felt Barcia was dirty, Wilson has realized with Barcia, that is the status-quo and has fallen in line. We often are treated to very defensive riding when 17 and 15 find each other at the front together. It's usually a sure fire recipe to slip into the clutches of third place but that's just another win for the fans.
I didn't think Wilson had it in him in Dallas. Barcia looked to have it in hand but Wilson smelled blood(perhaps Wilson had Dirt Shark take a little nip of Barcia in the pits?).
The closer these two get in points, the quicker these look backs and block passes will be replaced with T-bones and deliberate sending of one another over berms. Is it clean? Is it dirty? We'll have to wait and see but when its for a title, it takes a pretty negligent act to trump a red number plate background.