I wanted to try to bring Matt some hometown karma this week…
I wanted to try to bring Matt some hometown karma this week…
Photos by: James Lissimore
Matt Lemoine has been in the pro ranks a few years now and after a rough 2010 season, he's come back in 2011 as a full fledged privateer in the classic sense of the term. Matt is driving to each race in a van and looking better than he has in years aside from some unfortunate tip-overs and poor starts. His speed is there and I figured what better way to get him some karma before his home race in Dallas, than to throw him some PulpMX love. I give you, Matt "Jenga" Lemoine.
Swizcore: Your speed is obviously there, what are you gonna do to curb the tip overs and get better starts?
Matt Lemoine: Yeah, like you said, it's definitely just holeshots for me and not getting tangled up with other people. Riding smart and smooth. This past weekend I had a rough go. I got a bad start, got tangled with a rider or two, tipped over and then with a couple laps to go I tipped over again. It's like I just need to ride smoother and smarter pretty much. Just need to get those starts and I think everything will definitely come together because I have the speed for sure.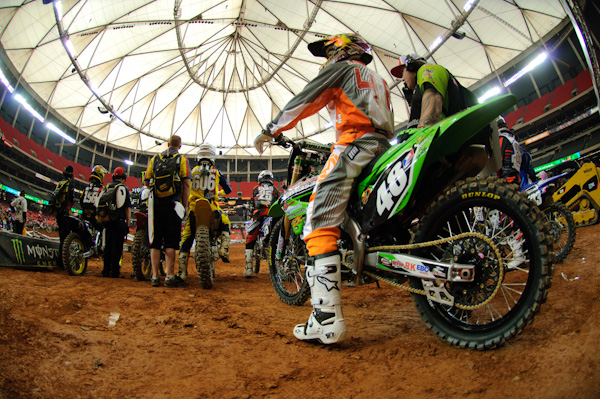 Jenga Fisheye.
How many starts do you typically practice during the week?
Well this week with the rain we've been unable to ride but we're gonna ride tomorrow so I'm definitely going to do as many as I can. I don't think it's so much my reaction time, it's more about getting a good line coming out, and when you get too much wheel spin everyone is pretty much all ready gone and you can't make it back up. I just need to focus on getting out of the gate, staying straight and staying solid all the way down the straight.
You came up through the amateur ranks on Kawi's. It's been a few years but do you feel like you're back at home this year on the Kawi?
Yeah I love my Kawi, especially this year with the fuel injection, it's awesome. It's definitely a step in the right direction being back on a bike that I love. The guys at Kawi have always helped me out so I'm pumped to be back on it. The Yamaha's and Suzuki were awesome but like you said, I feel way more at home, definitely more confident and comfortable on the bike I'm on this year.
How do you feel your career has gone since your pro debut?
It's definitely had it's ups and downs. I don't think it's as good as it should be or as good as I can be, that's for sure. You know, you can't go back. You live and learn and I'm making steps in the right direction now and I just need to get some holeshots and put in some good results, that's the main thing. It's not like it's over, you can always take steps forward and keep progressing.
Do you feel there was any point since turning pro that you took racing for granted?
Yeah, there's always that point in someones career when they feel like they're riding too much, they wanna take a break and you know, I think last year was one of those kinds of deals for me where I just wasn't really that happy. You know, I kept having bike problems just about every weekend and it pretty much sucked. I was really down on myself the whole year and this year I'm definitely back to enjoying what Im doing. I love riding dirt bikes and I love working out and everything that goes with it. This year I feel like I'm just having way more fun doing it, like going riding and having fun instead of just going riding and feeling like, ok this is what I have to do. I'm doing it because I enjoy it and it's showing because my results are a lot better than last year.
But to answer your question, definitely. I think one time or another everyone takes it for granted but you shouldn't. If you don't like doing it, then don't do it.
What's been the hardest part of moving from the rig last year, to the old school van this year?
Uh, nothing really. Pretty much the only thing that sucks is driving to the races. I never really used it much, I would just sit up in the lounge the whole time. I don't miss it, if I could fly to the races now I'd be set to jet.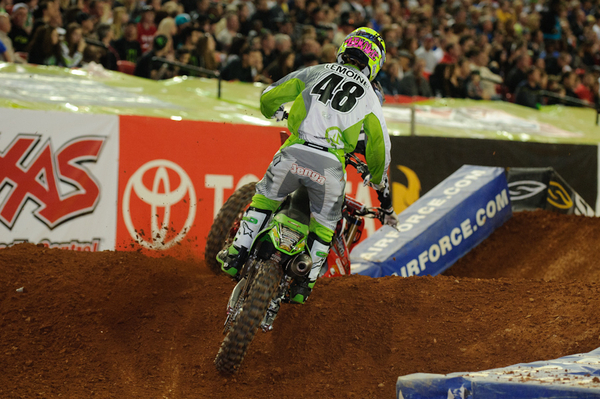 Is Jenga on your butt obscene?
Would you be disappointed if you had to attack the series in the van again next year?
Yes and no. The thing thats good about doing it in the van is you get to ride a lot of different tracks cause you stay in different places and it's always fun to ride with different people. But at the same time its really tiring because your taking a lot of your days out that you should be riding and training, and instead, traveling. I don't think I deserve to be riding around in a van next year, that's for sure but if it comes to that, I guess we'll find out(laughs) but hopefully we don't go there.
Some people who finish behind you regularly get more press than you. Does that motivate you?
Yeah it does, it kind of upsets me. Most of the time you see homeboy in 20th place getting more tv time or all the stuff online or anywhere you want to look at. Honestly, I just laugh because it's so funny that just because your this guy or that guy, everyone wants to kiss your ass. Of course, I want to be up in there to but I just keep my mouth shut and do my work.
I don't think people realize how much of a privateer you are in the classic sense of a privateer. Give the readers an idea of what your support level is.
All of our bikes are pretty much taken care of, we have to pay for seat covers, hotels, gas and we drive everywhere. Terry Derr at Moto Extreme Kawasaki helps us out a lot. As far as getting around to the races, we take care of that all by ourselves. We definitely have a lot of support with people helping us but as far as privateer goes, we're as privateer as it gets. I definitely don't have Factory Kawi giving me parts out the back door or anything. All that we can do, or any other normal person can do, that's what's being done.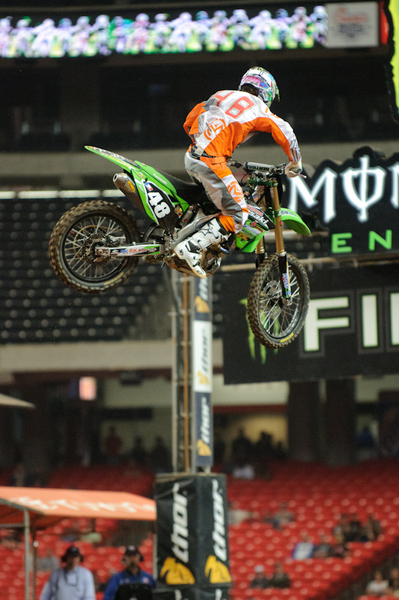 Back at home on green.
Do you feel the hometown motivation heading into Dallas?
Yeah I enjoy it. Being home this week, sleeping in my own bed. Being able to hang out with my friends, my girlfriend, my parents and my brothers is definitely awesome. I haven't had that for a few weeks now but I should have a lot of friends and family there this weekend that should be definitely motivating and exciting. It should be awesome, I'm ready.
Who would you like to thank for making this season possible for you?
Terry Derr at Moto Extreme Kawasaki, JM Racing, Novik Gloves, Ride Engineering, Shoei, Skullcandy, Moose Racing, Smith Optics, Renthal, Dunlop, QTM Wheels, Todd Hansen & Associates, Concept2, FMF, Silkolene, Speed Graphics.
Thanks for the time Matt. Hopefully this gets you a little karma in the form of a holeshot or a tip-over free main event.