Things are getting exciting as the 377 is out shopping for a ride!

Things are getting exciting as the 377 is out shopping for a ride!
There is one thing that you cannot tamper with and that is time. The saying is that time waits for no man, having not enough time or too much time makes people do things they normally don't want to or have to do. Time can be your friend or your enemy but no matter what, under no circumstances- can you stop it.
It just marches on.
Christophe Pourcel is in that situation right now, time is his enemy and he has to get going soon if he wants to find a home for this summer's nationals. We know the story, the two-time 250 sx champion who was about as close as one could be to winning two outdoor titles without actually winning it was left on the sidelines to start 2011. Pourcel, dealing with some injuries and wanting to sign a big-bucks contract struggled to find a deal to his liking for this supercross season so he chose to sit out. Having been through a near paralyzing crash himself while racing the GP's, Pourcel knows the risk that he takes each time he throws his leg over a bike. Always marching to the beat of his own drummer, Pourcel simply said no thanks to anyone who wouldn't meet his financial goals, got shoulder surgery and took some time off.
Remember that in his first year over here, he told everyone at the press conference at Lakewood that he was done with the 250 class and would "for sure" be in the 450's in 2009. Pourcel shopped hard that off-season but couldn't find an offer for his liking. So it was back to the Pro Circuit team for one year and another championship indoors and almost another, again, in the outdoors.
There is no doubt that the series, as dynamic as it has been, misses a talent like Christophe's. The Frenchman makes riding effortless and is a very smart rider out on the track. His speed and potential make him one of the top riders in the sport and if he was racing this supercross season, there's no doubt he would be in the top five and maybe even gunning for a win like his rival last summer, Trey Canard is each and every week.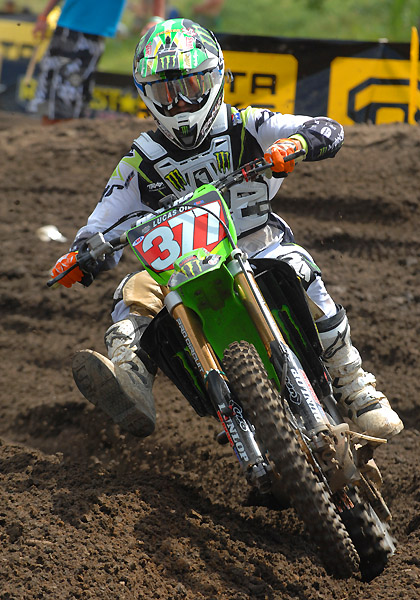 The silky smooth Frenchman looks to be back this summer. Photo by C Stone
But now, the time has come for the outdoor series and Pourcel does not want to take this series off. He's healthy and ready to race. The only problem for the 377 is the same problem that was there before in that he doesn't have a team. With his dreams of a big payday dashed due to the economy, Pourcel is by all accounts talking about an incentive-laden deal with teams for this summers nationals,
First up was a test ride with the GEICO Honda team to ride the 450 similar to what Brett Metcalfe did last summer (to great success I might add, he beat the factory Honda team) and then the day after that was with the Valli Yamaha team. One person who has been there for Pourcel is Pro Circuit's Mitch Payton who has told me that if Pourcel had absolutely nothing, he would step up and fund Pourcel's efforts this summer.
Payton is a great admirer of Pourcel and stood behind the Frenchman when it seemed he might never walk again, never mind race dirt bikes. No matter what bike Pourcel chooses this summer, trust me when I say it will be adorned with the Pro Circuit insignia.
There are a few things to think about as to what Pourcel was thinking when he finally makes up his mind as to what team he wants. After talking to a couple of people close to the situation, here's what I can deduce.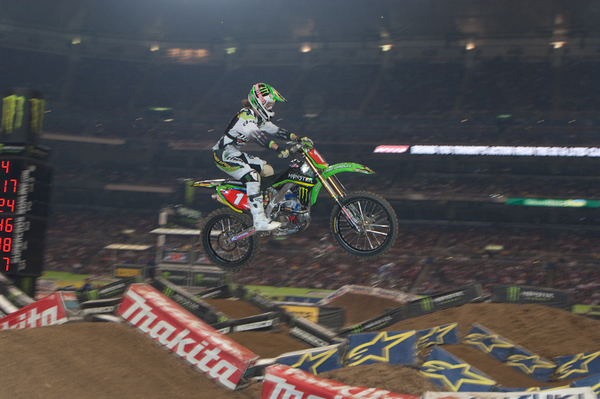 Pourcel is a two-time 250 sx champion and will be a front runner this summer. Photo by Lissimore
Let's look at the money first:
No matter what team he picks, he will be able to keep his gear money so that's not an issue. Most likely, in talking to people at the company, I would think it will be Fox. The energy drink Monster has a deal with Christophe to run a Monster helmet and if he went with Valli, he would lose this, as that team is a Rockstar Energy Drink team. As is the case with other riders, a new deal can be struck with Rockstar to put that logo on the helmet or if Pourcel feels loyalty to Monster, he can ask Valli to pick up that part of the money lost and not run a Rockstar helmet.
The deal with GEICO is no salary, expenses covered and bonuses only so Pourcel, it appears, has decided that he would reduce his demands for compensation. The Valli Yamaha team is well-funded and could come in with an actual salary if needed from either Rockstar or the team itself.
The word from some of the sources I have is that Valli Yamaha's bonuses are indeed bigger than the GEICO ones offered. So all in all, it seems like the money would be better on the Valli Yamaha team but probably not a massive amount.
Now onto the machine:
The GEICO team runs suspension done by the teams owner Factory Connection so Pourcel has to stray away from the Pro Circuit settings that has worked so well for him in the past. They do run Pro Circuit hard parts that are installed/modified by the in-house motor guy Kristian Kibby. The team runs Pro Circuit exhausts. We know the GEICO guys can run a solid 450 program, of this there is no doubt.
The Valli Yamaha team is a complete Pro Circuit team through and through. The team does have an in-house suspension guy Todd Brown but they ditch the stock Kayaba components and run the Pro Circuit Showa forks, clamps and shocks on the Yamaha. The motor is a bolt together Pro Circuit operation with all internals provided by Pro Circuit. If Pourcel wants to stay with Mitch 100%, then this team gives him the best chance to do that. There's no doubt that in the pro pits, if you have a team that runs Pro Circuit, you pay for just about everything but your exhausts. Some teams have some budget for smaller things but the rule is, you want it- you pay for it.
I would think that if a rider that is near and dear to Payton like Pourcel is, the allotment of gratis Pro Circuit parts might be increased because, like I stated above, Mitch is committed to helping out the Frenchman. There's no doubt that Mitch feels bad for the mechanical DNF in 2009 that held back CP from the title and it's heartbreaking to see him injure himself with only fifteen minutes to go until the title.
So really Christophe Pourcel has to ask himself if he wants to run Pro Circuit suspension or not, if he can live with the Factory Connection stuff, then maybe he can go to GEICO. He will no doubt lean on Mitch Payton to help him make a decision and maybe Payton steers him towards the team that he has more direct control on, which is Valli Yamaha.
Or maybe Pourcel, after riding both bikes, prefers one over the other so much that he'll go with the best bike. After all, the Yamaha has a different feel than the other machines and it may or may not suit Pourcel. The GEICO team has a bit more of a "known" quantity as Metcalfe, Kevin Windham have all done very well on it while the Valli team is solid, they haven't had the kind of results that GEICO have.
Whichever one he chooses (and who knows, he's been on the Kawasaki 450 for so long, maybe he likes that and gets Payton to help him out in a total one man team deal) it's going to be exciting to see the fast Frenchman on the line in a stacked 450 field.
I can't wait!