Here's a report by Jonathan McCready who is our European correspondant. Well, he at least watches these things on TV and knows what's going on.

Here's a report by Jonathan McCready who is our European correspondant. Well, he at least watches these things on TV and knows what's going on.
A look back at the Dutch GP…
Photos by Youthstream
What a weekend of racing in Holland! 35,000 rabid spectators crammed into the Valkensward track to cheer on home hero Jeffrey Herlings under sunny skies and blistering temperatures. It was an idyllic weekend of motocross on a brutal track and all the fans needed was a home win to make their Easter weekend complete. However, coming into the event 16 year old Herlings was under immense pressure. He rode badly in Bulgaria( by his standards) yet the crowd were expecting another double win like he did last year when he was just 15 years old. Ken Roczen had demolished the competition at the first round and he was desperate to beat Herlings in the sand, and many thought had that it was very possible -until they went out on the track.
Herlings dominated timed practice and the qualifying heat winning by over 20 seconds, Roczen blamed the result on a bad start and vowed to go for the win the following day. They gated one and two in the first moto, with Roczen in second and putting the pressure on Herlings, and they were both leaving the field way behind. It should have been Herlings making the mistake but it was Roczen who washed the front wheel and went down. He got up 9 seconds back but Herlings pulled the pin and won by 35 seconds! One down, one to go, but Roczen wasn't too down saying he was conserving energy for the second moto and wanted to win.
This time Roczen got the holeshot with Herlings second and it was on! Then amazingly Roczen slowed down on lap one and let Herlings through, maybe hoping to put the pressure on – it worked! Herlings went down hard later in the lap remounting in third. But Roczen had a four second lead at the end of lap one, his plan was working and this was his chance… then the unbeliebable happened. Herlings unleashed speed that blew everyone's mind and caught Roczen in just one single lap! He passed immediately and put 25 seconds on the much hyped German Wunderkid. It was an unbelievable display of mental strength and phenomenal speed by the 16 year old, and may have been one of, if not the fastest display of sand riding ever seen. Commentator Paul Malin said he was in awe of what Herlings had just accomplish. Ken Roczen had just got a sand riding lesson and even the normally composed German admitted, "I didn't expect that." Just to put it in perspective- Roczen was flying, he was two seconds a lap quicker than the rest of the field, but Herlings was running 3 seconds faster than that, his best time was 1 min 50sec on lap three– that is four seconds quicker than Cairoli's best time in the first MX1 moto! Yes, he was going that fast!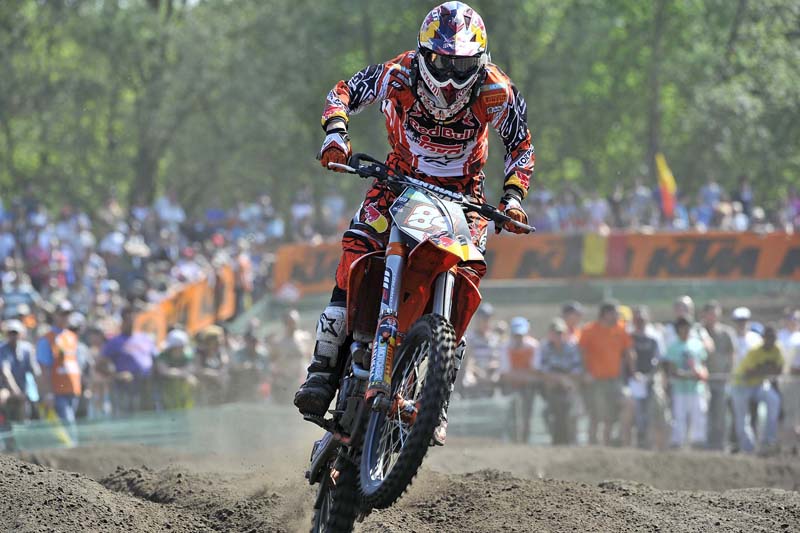 The KTM Kid, Jeffrey Herlings was the man in the sand.
Well behind the fleeing teenagers were Tommy Searle and Arnaud Tonus, who were locked in a day long battle for third. Searle got bad starts in both races and pulled through well to third both times. He kept himself in championship contention and only ten points seperate the top three in the championship. Tonus' smooth and technical style suited the treacherous sand track perfectly and he was on course for a podium until he made a mistake and allowed Searle passed in the closing stages of race two.
Gautier Paulin nursed an abominal injury to fifth and sixth places. while Joel Roelants who would have been looking for a podium in his beloved sand could only manage sixth overall and is having a slow start to the season just like 2010. Zach Osborne is not on the same level as his championship rivals in sand but he rode steady and safe for eighth but lost a lot of points on his rivals.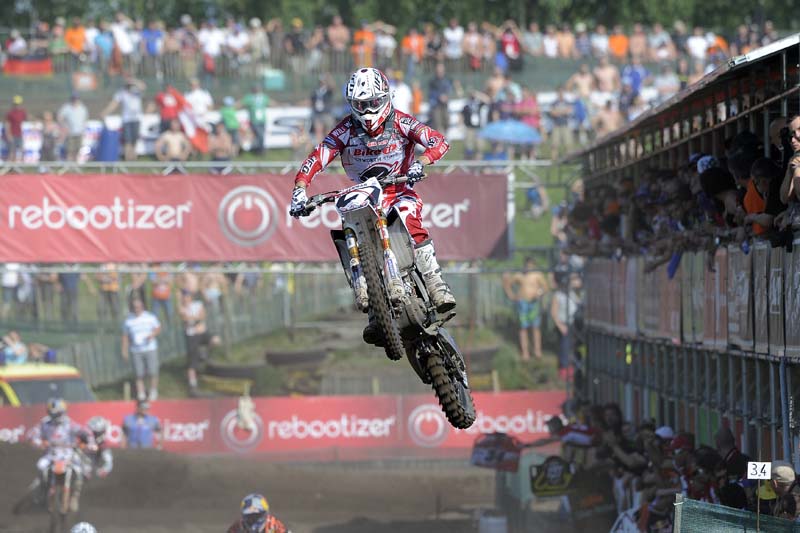 Arnaud Tonus and Tommy Searle battled all day for third with Searle coming out on top.
The always cheery Max Anstie was only ninth after crashes but more was expected of the Brit who spent his youth riding in Holland competitively against Herlings. Anstie is still trying to get to grips with GP motocross and still trying to stop crashing. Having to unlap himself on his 18th birthday as Herlings drastically slowed the pace at the end had to be a little embarassing. He will be looking forward to setting the record straight at Glen Helen, which is as good as his home track. Danish youngster Nikolaj Larson was very impressive in Holland and deserves a full time GP ride for tenth overall.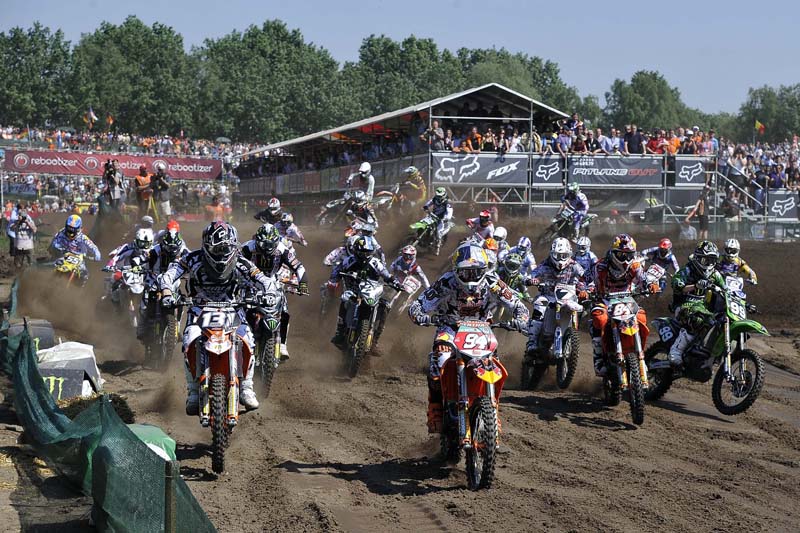 Ken Roczen limited the damage on this day as he did pretty well with a 2-2 score.
MX2 GP overall:
1. Jeffrey Herlings (Ned, KTM) 50pts
2. Ken Roczen (Ger, KTM) 44pts
3. Tommy Searle (GBR, Kawasaki) 40pts
4. Arnaud Tonus (Sui, Yamaha) 36pts
5. Gautier Paulin (Fra,Yamaha) 31pts
6. Joel Roelants (Bel, KTM) 29pts
7. Harri Kullas (Fin, Yamaha) 28pts
8. Zach Osborne (USA, Yamaha) 28pts
9. Max Anstie (GBR, Kawasaki) 23pts
10. Nikolaj Larson (Den, KTM) 19pts
MX2 World Championship after two rounds:
1. Ken Roczen (GER, KTM), 94 points; 2. Jeffrey Herlings (NED, KTM), 86 p.; 3. Tommy Searle (GBR, Kawasaki), 84 p.; 4. Arnaud Tonus (SUI, Yamaha), 67 p.; 5. Gautier Paulin (FRA, Yamaha), 65 p.; 6. Zachary Osborne (USA, Yamaha), 60 p.; 7. Max Anstie (GBR, Kawasaki), 51 p.; 8. Joel Roelants (BEL, KTM), 48 p.; 9. Harri Kullas (FIN, Yamaha), 46 p.; 10. Nicolas Aubin (FRA, KTM), 36 p.;
MX1
On to the premier class and MX1 was anyone's race. After qualifying French rider Steven Frossard had proven that he was going to be a threat in the sand as well as the hard pack. While Antonio Cairoli was nursing a small fracture in his knee and stretched ligamants, he needed a month off the bike but only got two weeks, but Cairoli loves the sand and loves Valkensward.
The first moto a turned into a three way battle with Cairoli, Nagl and leader Frossard. But Nagl never made an aggressive move for the lead. Cairoli doesn't have the same problem and the little terrier promptly went from third to first to take a very impressive victory given his knee injury on such a rough track.
Nagl didn't make the same mistake in moto two taking the lead early and going on to win by ten seconds from Cairoli. It was Cairoli though who took a fantastic overall victory to catapult himself back into the title chase. Steven Frossard was the big winner on the day and his impressive rides in the sand despite an injured shoulder have given him the red plate, so he leads the title chase going to Glen Helen! What of Clemant Desalle? The first round winner and Belgain native should have been a threat in the sand at Valkensward- but he wasn't. A fifth and a sixth with two top ten starts were not what a lot of people expected, but at least he has left the track in one piece after dislocating his shoulder at the same venue last season and scoring no points.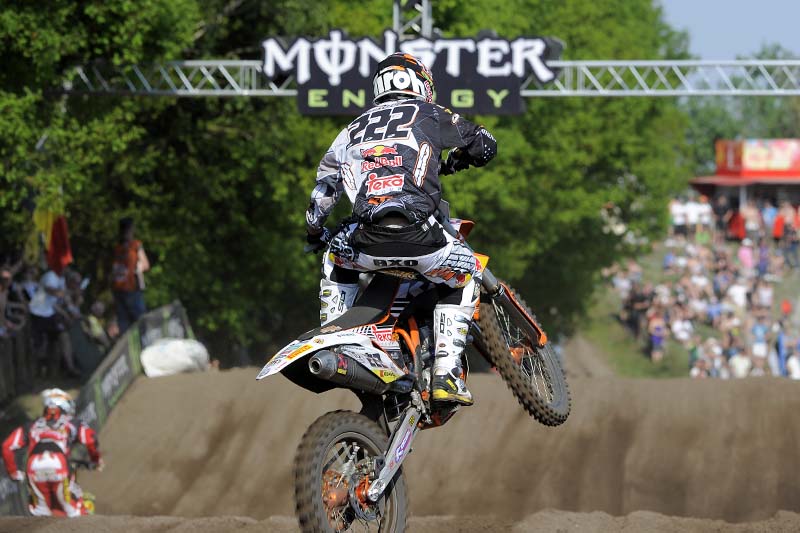 AC222 answered a lot of questions about how his knee was when he went 1-2 in the sand. Guess it's alright!
Rui Goncalves impressed everyone getting fifth overall, he led moto two and could become an increasing factor as he gels further with the 450 Honda. Many had counted Rui out in 2011 but he is proving everyone wrong. David Phillipearts is rising to the challenge laid down by teammate Frossard and scored his first podium of the season, the tough Italian is positioning himself as a title contender again.
The biggest surprise over the weekend ( although not to me) was the performance of Irishman Martin Barr. Barr has fallen victim to the merry go round of GP rides and hadn't rode a GP since 2008. Despite only getting a wildcard entry on Wednesday, the stylish Ulsterman in his first MX1 race ran with the factory riders on his privateer 350 KTM all weekend. He beat some established stars en route to 13th after running 11th all moto. With the eighth best lap time of race one, Barr was again knocking on the door of the top ten on race two only for his bike to have a technical problem. If the GP teams didn't know his name before they certainly do after this weekend!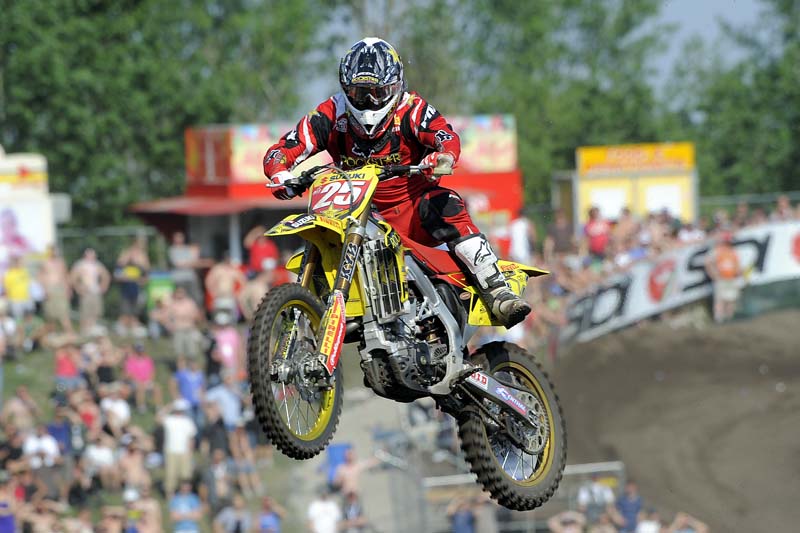 Suzuki's Clement DeSalle lost his points lead which has to make the MX Panda very, very angry.
Steve Ramon was perhaps the biggest disappointment with the factory Suzuki rider just scraping top ten results on his favourite sandy going. Ramon stated he felt a lack of energy and is off to get blood tests to find the source of the problem.
Ben Townley made his return to GP racing but could only manage nineteenth place in the first moto, and was too exhausted to race the second race. BT has the speed to run at the front, but the depth of talent in the GPs will have shocked him as he battles back to full fitness. MX1 is not the place to race your way back into shape. A full weekends racing on a track like Valkensward was never going to be easy for Ben, but don't write the determined and talented Kiwi off, Ben will only get better from here and should be battling for wins before too long.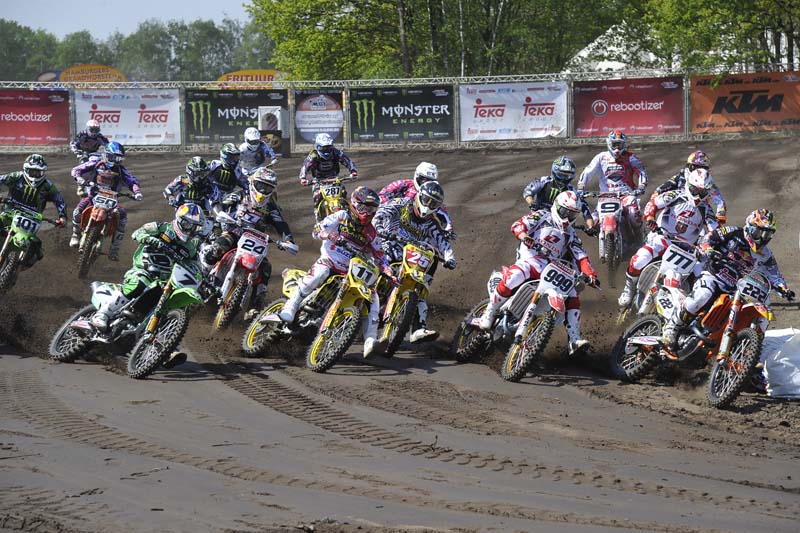 The MX1 stars roar into the first turn!
MX1 Overall:
1. Antonio Cairoli (ITA, KTM), 47
2. Maximilian Nagl (GER, KTM), 45
3. David Philippaerts (ITA, Yamaha), 38
4. Steven Frossard (FRA, Yamaha), 38
5. Rui Goncalves (POR, Honda), 33
6. Clement Desalle (BEL, Suzuki), 31
7. Ken de Dycker (BEL, Honda), 27
8. Evgeny Bobryshev (RUS, Honda), 25
9. Tanel Leok (EST, TM), 24
10. Steve Ramon (BEL, Suzuki), 22
World Championship after two Rounds:
1. Antonio Cairoli (ITA, KTM), 47 points; 2. Maximilian Nagl (GER, KTM), 45 p.; 3. David Philippaerts (ITA, Yamaha), 38 p.; 4. Steven Frossard (FRA, Yamaha), 38 p.; 5. Rui Goncalves (POR, Honda), 33 p.; 6. Clement Desalle (BEL, Suzuki), 31 p.; 7. Ken de Dycker (BEL, Honda), 27 p.; 8. Evgeny Bobryshev (RUS, Honda), 25 p.; 9. Tanel Leok (EST, TM), 24 p.; 10. Steve Ramon (BEL, Suzuki), 22