A trip down memory lane for myself and therefore, by proxy, for you in a Tell Us a Story format.

A trip down memory lane for myself and therefore, by proxy, for you in a Tell Us a Story format.
I was going through some magazines the other day and doing some research for the Racer X Motocross Year-in Review columns when I got stuck reading a test on an '87 CR80 which I owned (well, my dad Tom actually did) and raced.
That got me thinking what if I wrote a little bit about each of the bikes that I have had and raced. Some were good, some were bad and some outright sucked but they all have a place in my heart, which I'm sure a lot of you reading this can relate to. No matter what, a dirt bike owned is one that will stay with you for the rest of your life as you look back and remember epic riding days here and there.
I didn't include my more recent bikes like a 2002 YZ250, a 2006 YZ450F or a 2008 KX450F but like sands through the hourglass, here are the bikes of my life and some stories behind them.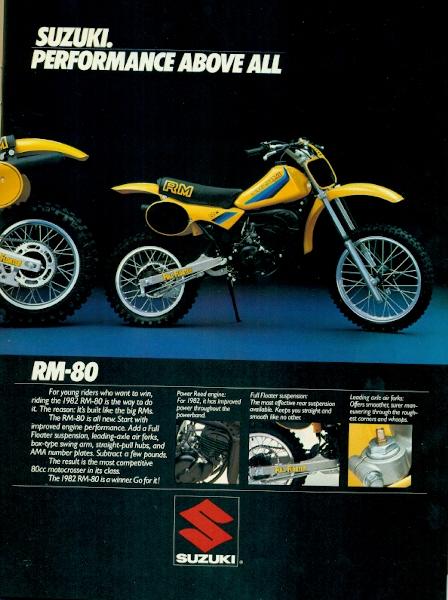 My first bike that I can really remember having is an Indian 50 but my magazines don't go that far back and there wasn't many shoot-outs in the 50cc Automatic category. Then I had an 82 RM 50 but I couldn't find that either, besides I was barely able to ride them so any sort of memory of them revolves around me turning the throttle and being sacred shitless.
So let's start with a 1982 RM80 that I rode in '82 and '83. I remember that this is why I started liking Mark Barnett back in the day. This bike was pretty good for its time and did well in the shootouts but its competitors had radiators on the handlebars so there wasn't much Suzuki had to do to make a good bike. This was the first real race bike in my life and I remember thinking during that next year, 1983, that I wished I had water-cooling like all the cool people had because Suzuki put that on the next year. The early 80's were good times for Suzuki, good riders, many titles and great bikes but in the short span of three years, the Hondas would be so much better, it wasn't even funny. For a shot of me "in action" on this bike, click HERE.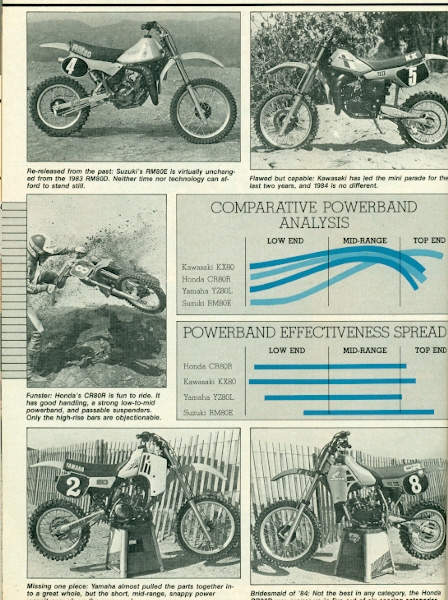 The next bike I got was a 1984 YZ80 (lower left) and this MXA page was the best that I could find. My bike was white and red that I must say was a whole lot nicer than the poop-yellow you Americans got. I had this bike for three years and by the time the end of '86 came, it was a rat -trap. The radiator shroud was basically a scoop and it would just bend the bejesus out of the radiator every crash. The pegs were droopy and god knows how many handlebars Tom had to put on the thing. At this time, my brother was the factory rider in the family and he had a new YZ80 every year until '85 when he got a YZ125 and 250 (for more on that, check THIS story out).
Me, I was stuck with this YZ80 which, even when new, didn't match up to the Honda or Kawasaki in any way, shape or form. I did start putting some decent results down on paper in '86 as I wasn't getting lapped anymore in the highly competitive Manitoba 80cc class. Perhaps these results would catch Tom's eye and I would be able to step it up in 1987?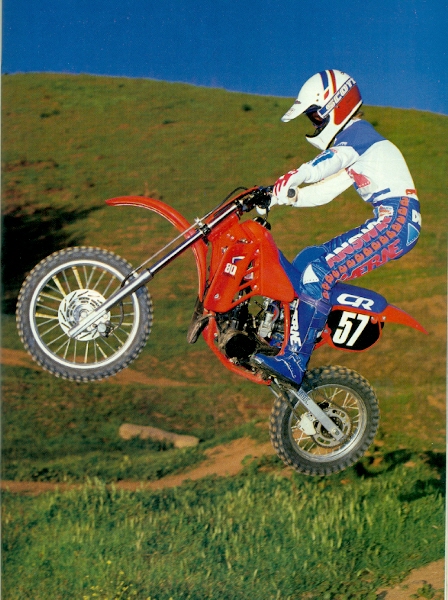 YES! Success as my next bike was a 1987 Honda CR80, which was a massive step-up from my '84 YZ80. Let me see, it was way faster, turned way better, looked nicer, held up longer and had better suspension. Other than that, it was the same as the Yamaha. This bike won all the shoot-outs this year and approximately 98% of the guys in my class were on Hondas this year. There was that weird farmer kid on the Kawasaki and then a guy named Shane Langdale (who would be my future nemesis) on a Suzuki. However, despite the jump up in equipment- I was only able to secure a 4th in the 80 Expert class at the end of the year.
I do remember that the CR on the seat disappeared within ten hours of riding and that I went through a lot of clutches this summer. I heard a few new swear words from Tom as he had to drain the coolant, undo all 73 bolts and try to save the right side cover gasket each and every time little Stevie was out moto-ing down. The front disc was amazing and everything seemed so bitching and nicely put together but then again- that was Honda in the mid-80's.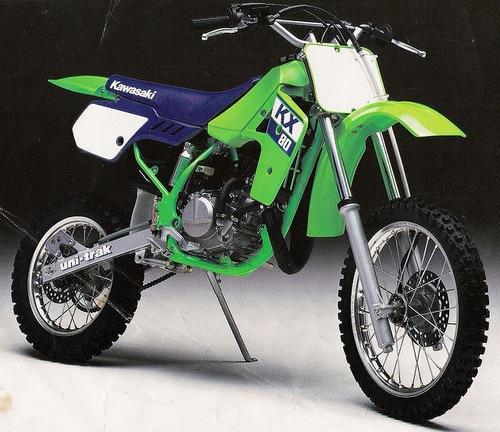 Now my 4th wasn't that spectacular but I was getting better and getting more into racing. And in 1987 I had some incredibly good fortune come my way in the form of my dad pretty much shunning my brother because he wasn't into racing anymore. (Years later, I can understand him getting upset as he bought my brother Jason three new YZ's when he turned pro and he raced like three races before saying, "Uh yeah dad, I'm done" but the penalty of pops ignorning him for the next two years is a bit harsh).
So yeah sure, it caused some major stress between my mom, dad and bother and things got weird and tense for a little while but lucky for me, Tom turned his eyes toward the younger son who still was into racing! And with that, we picked up some sponsorship from the local dealer and Tommy went out and picked up TWO (?!?) KX80's in 1988. These things were trick, they had rear discs, a one-sided removable subframe for easy shock removal and were jumbo-sized for me as I was now growing quite a bit. (For more on this growth spurt- check out my Youtube video of me beating Blair Morgan right HERE)
I was going to take this Manitoba 80cc Expert title if it killed me and I now had a practice bike and a race bike. The cool thing to do back in '88 was take the blue side panels that came stock and put green ones on which we did. We also put a CEET seat cover on it and the thing looked bitching. I also started travelling down south (well, I was in the passenger seat as Tommy drove the Chevy) to try and get better. A lot of time spent in District 23 in Minnesota in the pre-season at tracks like Grantsburg, Millville, Elko and Kellogg back then.
I remember the bike wasn't as fast as the Honda from the year before but the suspension and everything else was so much better. Tom was thinking ahead in these days and went out and purchased a 105cc kit for the practice bike. He was getting me to practice on that thing so that on the weekends, my 80 would seem like a toy. There was a non-points race where my 80 blew up and I rode the 105 in the class. So yes, we're cheaters. Anyways, I absolutely destroyed the class on this hilly track and we got scared at how good it was and never spoke of doing that ever again.
So how did I do? Well, I went into the last moto of the year 2 points down and the guy in first knocked me down in the first turn. I got up and charged all the way to second but too bad for me, he was in first and won the championship. This did not make Tommy happy and he yelled at me on the way home for lining up next to the guy I was battling for the title. Sorry pops!
Thanks to Nick Wey for the photo and here are some pics of me on the bike HERE.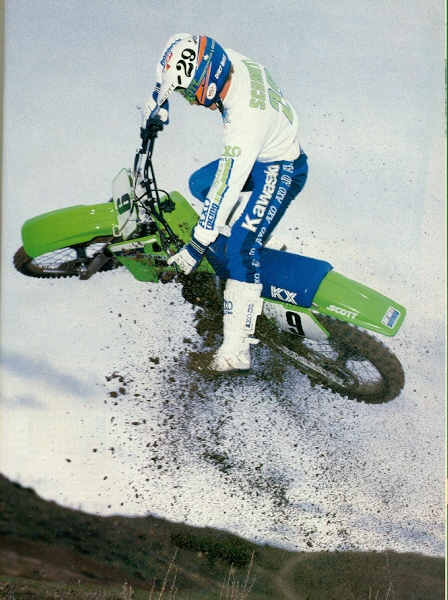 I was getting a little tall in '88 and the big bikes beckoned so dad went out and bought a used 1986 KX125 halfway through '88 for me to get my feet wet in that class. I remember being a little intimidated by riding the big bikes because, you know, a 125 was a mans bike. The bike was pretty good but I remember that it didn't seem that fast at all. Maybe I was expecting it to rip my arms out or something but it really didn't. I started racing 80's and 125's thanks to a rule change in my area that made a lot of parents mad. But Tommy was all about it and so was I because I got a 1986 KX125. The shroud sticker was gone when we bought it so I just slapped a whole bunch of those JT Racing "Bad Bones" stickers all over it and it looked really hideous.
I remember that in the 125 C class, I was getting top tens and sometimes top fives on my Kawi so I wasn't that far off of the dudes who were winning and they had mustaches and stuff like that. I was 15.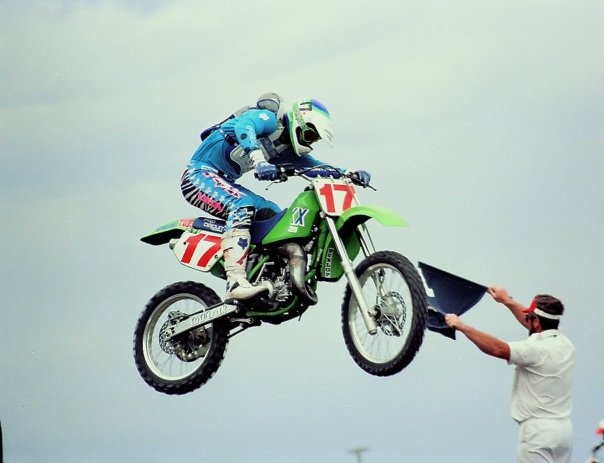 This is 1989 and as most of you can tell, I'm on a 1989 KX125. I figured a picture of me in action on the bike was better than the crappy MXA bike test photo that I had. Anyways, after my narrow miss of the prestigious Manitoba 80cc title, Tommy thought I should stay back and try to win this title all six feet, 170 pounds of me be dammed. It was a horrible decision by "Team Matthes" which I will get to in a bit.
Anyways, we got some good help from Kawasaki in the form of a discount on the bike and we purchased the '89 125 and got rid of the '86. And what a bad move that was! The thing was a turd and broke if you looked at it wrong. See that Pro Circuit seat cover on the thing? Well that was because early on we took the bike out to the sand tracks and it was really slow, like "Dad, I think there's something wrong, it's so slow" type of slow. The Honda was the bike to have this year and although the Kawi handled well (all slow bikes do), it wasn't good for my first real assault on the 125 C class (that's how you did it up in Canada, no one skipped to the B class no matter how good they were).
So then the bike blew up and we send the new parts to Pro Circuit for cylinder, head, a pipe and silencer for this thing. We got it back and…nothing much was different. The bike just wasn't very good and to make matters worse, the thing was so brittle. The footpeg springs got loose in 20 minutes, the plastic broke all the time, the bolts stripped out and I broke the link rods as well as the gas tank when I came up short on a double (gas all over my nuts and it burnt so bad I had to miss my next moto while I held a hose to my ballsack- let the good times roll indeed Kawasaki). While waiting for parts that were backordered, I rode my dads '87 CR125 with the '89 KX front end on it (serious) and it was so much better than the Kawi it wasn't even funny.
Even when we got the parts, I kept on the Honda because I was just convinced that the Kawi had some sort of ghosts inside of it because we couldn't keep it running. I raced Millville pro national amateur day and did well enough to get to race at intermission of the pro day on the CR. Then coming out of the sand in the first lap my chain broke and I had to push it back. So much for my glory. I don't remember how I did in the season but I do remember that I had a lot of DNF's and my buddies Honda would blow by me when I practiced with him.
As far as the 80cc title, we kept the '88's but it that was a complete disaster as I went back and forth with Langdale on his Suzuki for wins. Unfortunately I blew the shock reservoir off over-jumping a double (hot shock oil everywhere!), I broke the footpegs off and my dad had to put extenders on my triple clamps to raise the bars. In short, I was wayyyy too big for the bike and finally about halfway thru the season, we threw in the towel. Again, see the Blair Morgan video for an idea of how big I was. This was another bad decision by "Team Matthes".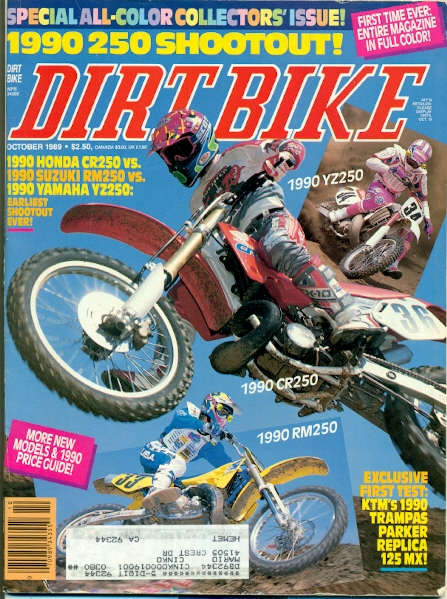 So it was pretty much eff Kawasaki at the end of '89 for dad and I. We knew a guy who worked at Honda Canada and managed to get half of retail on one bike and a discount on another and with that, Team Matthes went red in 1990. I remember that one day I just got home from school when he picked me up and took me to the bank. He had already gotten it all set-up with the bank, he was going to co-sign on a $13,000 loan and I was getting a 1990 CR 125, 250 and 500. The 500 was mainly for him but he always subscribed to the theory that riding a 500 well enabled a guy to ride anything well. That was a solid thing to think and when JMB came out in a story and said the same thing, Tom pretty much thought he was a genius. The part about putting a 16-year old who had a part-time job pumping gas into that much debt was also apparently a good idea.
So that was it, I was now a big bike rider (literally) and wanted to get rid of my number 17 because I associated that with an earned pro number and I wanted to be a cool guy (even though I was in the C class still). I chose #762 because I thought it looked good on Mike Kiedrowski's bike that previous summer. I used to think the 125 was a big deal but I was now out riding the 250 and 500 most of the time to save the 125 for racing. Honda had revamped the 250 this year with new bodywork and a new color orange. The rear section looked much different than the 125 and 500 and the hot ticket was putting that rear section on the other bikes. Which of course my dad did on the 500.
The 250 was really fast but man, the suspension was horrible. I remember the spiking I would get in my palms at times and no amount of springs and oil height (Tommy's suspension "secrets") seemed to get rid of that feel. The 250 I rode had a Pro Circuit pipe and silencer, a CEET seat cover, Alumilite bars and was pretty much stock. I dominated the 250 C class this year and won almost every moto but there wasn't too many of the fast guys in the class.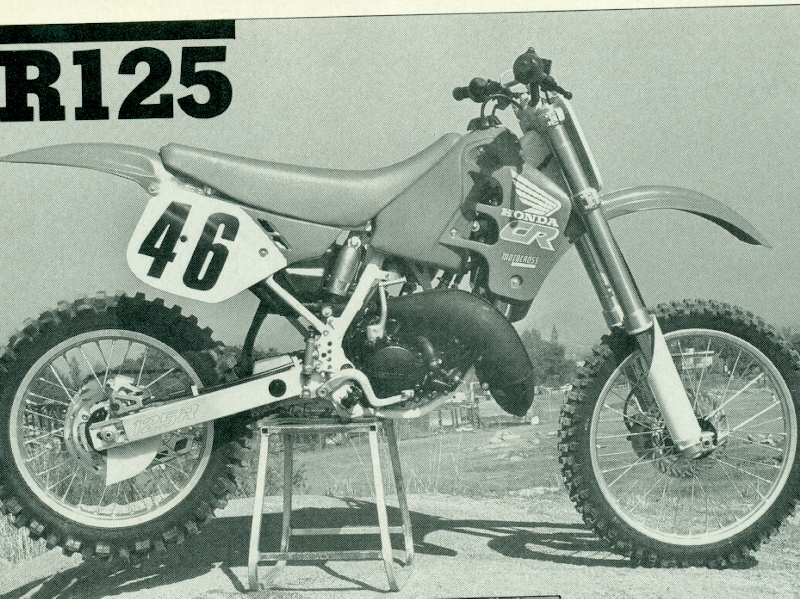 Here's the 125 from that year and I remember that it seemed like it was about twice as fast as my KX from the previous year. This bike ripped and the suspension wasn't as bad as it was on the 250. We put a PC pipe and silencer on this bike as well. The white frames caused quite a stir when Honda did in for 1990 and the paint went away pretty quick at that. This bike was very good but it felt so different from the 250 body-wise and when I jumped from one to the other at the races, it was a little weird. I won the 125 C class to go along with the 250 title but this one wasn't nearly as easy because my old 80 rival Langdale moved up to the class and gave me a good run.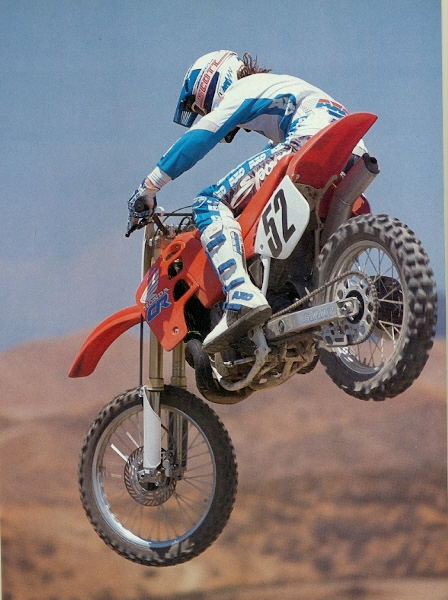 Our 500 was great, it had a (wait for it) PC pipe and silencer which cleared it out a bit and the motor was bone stock other than that. What else did you need to do to such a beast? The silencer was this massive thing that you could have clubbed a seal with and definitely hurt throttle response. The graphics were embossed on the shrouds and for some weird reason Honda did it this one year and then never did it again. It was awesome-they never wore off!
This bike with the 250-style rear subframe on it was sweet looking and I rode this for the next three years with only a piston and ring change. Near the end of its life, I got a Race Tech Gold Valve Kit and it seemed to help out a bit. I also took this bad boy and raced Millville pro national for three years. These were the days when you could walk up and buy a one-day AMA Pro License and because you were some weirdo from Canada, they never checked to see what level you were at up there. I rode Millville national as a B rider in Canada!
There were more than a few days after it rained that I would take this bike out to the sand pits and be out there by myself just roosting up and down hills and making tracks. I can remember the roost just coming over the top of me with this bike as it just chewed up the ground. I was 17 and a 500 specialist. Good times!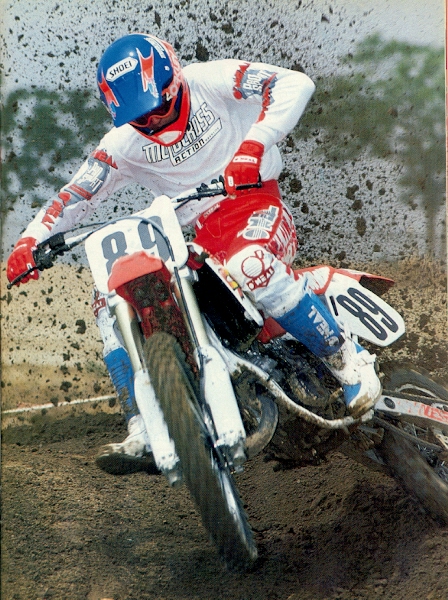 I needed a new 125 for 1991 and it was another Honda as I picked up more support from Honda Canada in the form of a really good deal on a slightly used 125 from a dealer demo program. Remember how I didn't like the Pro Circuit work on the KX125? Well we sent this bike off to PC and I couldn't speak any higher about their work on this bike. Maybe because Mitch raced the '91's for the first time and had so many hours on them that he knew what worked but let me tell you, my bike was fast! I had to move the clip on the needle here and there for temperature and maybe change the spark plug once in a while but that was about it.
The bike pulled holeshot after holeshot and I won the 125 B class pretty easily if I remember right. Even with a broken arm causing me to miss some races (more on that later). This bike is fondly remembered by me and sometimes I think that a '91 CR125 was all that Ferry was missing when I was tuning for him.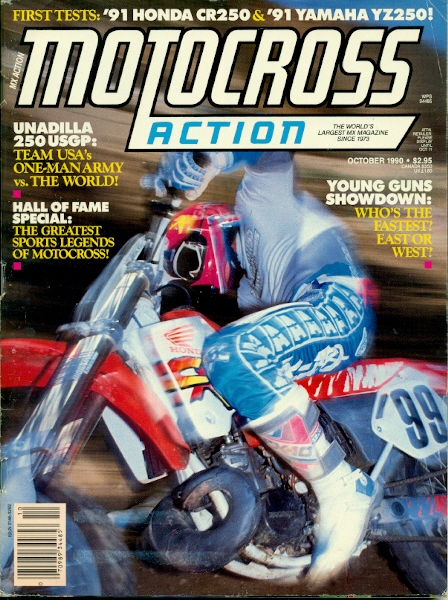 Because I was a big superstar, I needed two new bikes for 1991 as I jumped up into the B class on a new Hondas. The '91 CR250 wasn't really anything different from what I could remember but I re-read the MXA test from this year and they say it is different and much better. Whatever, the suspension still stunk but the motor was so good it wasn't even funny.
I loved this bike and went into the 250 B class (you like how I make the Manitoba Motocross scene to be pretty much like Anaheim 1? You're welcome.) pretty confident of my chances. Things didn't go as planned though when I broke my arm at this fair race in Staples, Minnesota and I missed a race or two. There was this guy named James Andrews that was an old-pro and he came back out of retirement to race the B class, he gave me a run for my money for sure and it came down to the final moto of the year where I prevailed but barely. I did the PC pipe and silencer thing again as well as the Alumilite bars, CEET graphic kit and all that. Why switch up a winning program?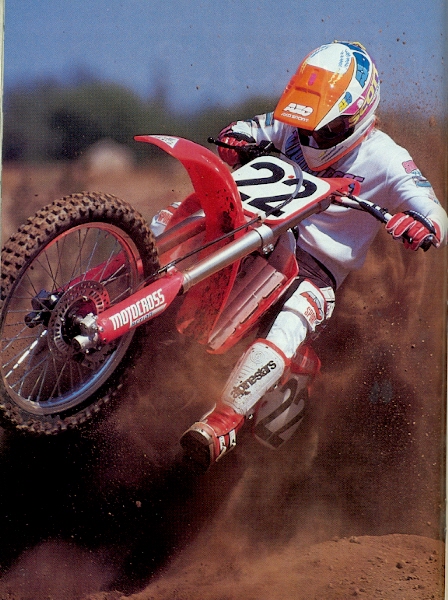 So with back-to-back two title seasons, I made the jump the pro class looking to try and start making real money racing motocross. I wasn't anywhere near a top Canadian pro but I was 18 and getting faster. But unfortunately my plans to be a pro mx'er were immediately derailed when my dad decided that he didn't really like racing anymore and oh yeah- he didn't really like my mom anymore either.
So with a divorce going on, no one really cared all that much about me and my racing career. By this point in my life I was graduating high school and in my third year of running a little aftermarket shop called Steve's Cycle. Yeah I know, real original right?
That thing was going under, I was still paying on that bank loan from 1990 and my world was about to change. So the "plan" of dominating the pro classes was definitely put on hold as I was now funding my program by myself. I did manage to scrape up enough money for this bike, a 1992 CR250 which was radically different from the '91 model.
The bike was sweet and I remember the suspension was much better from the '91. It was also really skinny and handled amazing. This would be the bike that Honda would basically stay with all the way through '96- it was that good. Sure it had some headshake but that was the price to pay for turning inside of a waterbug. I switched up my pipe company to FMF (I'm sure Mitch was bummed) because they had the plated pipes that looked so nice and didn't need to be cleaned. Performance wise, I didn't care all that much- it was a 250.
I kept the '91 125 for a while but had to sell it to keep the shop running for another six or seven months and pops took off with his 500. So I was down to one bike, going broke and trying to run up front in the pro class which I did here and there. Whenever I felt like I was going fast, the guys doing the Cdn nationals would come back (Shane Drew, Don Formo etc) and smoke me to make me realize that I was far off from making a living at this. I lined up for my first Canadian national against Rollerball Pederson and crashed out of both motos. I tore my rotator cuff early in the year and was out for a while, then came back and twisted something in my knee and all told, I think I raced ten races or something.
Wasn't a good year for me but I do remember this bike being great. The next year, 1993, I would be forced to keep the bike and actually won my first pro moto in Manitoba but I also hurt myself again and again trying to go fast while not practicing all that much. To mask the fact that I was riding a year old bike, I bought black fenders, shrouds and side panels for the bike as well as black/gold Fox stuff. I didn't even know it but I was an early memeber of the mulisha.
1994? I don't even remember much but getting hurt and sucking balls.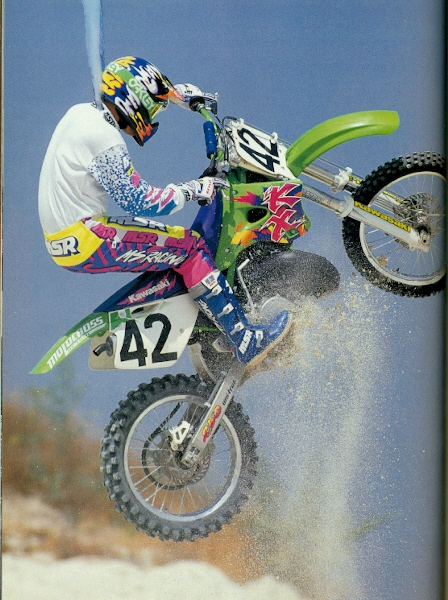 My 92-'94 seasons were disastrous, my parents were divorced and I was forced to grow up in a hurry with a failed business, in debt up to my eyeballs and everyone looking for me to get a real job. I was only 21 but man, I felt like I had experienced a life-time already. I had to sell the 92 CR because it was pretty beat after three years of racing. The dream of racing for a living were long gone and I was just holding on and trying to race while figuring out what I wanted to do with my life. My brother and I went in on a used 1994 KX250 in 1995 and while it was a good bike, the infamous Kawasaki quality control was still there. Or not there as it were.
The suspension was great, the motor was really strong off the bottom and it handled pretty good. I did like this bike and it won magazine shoot-outs this year but we couldn't keep it running. It seemed like one thing or another would break on it- from the frame to the motor to whatever else. It sucked to be spending so much money on it week-in and week-out.I guess the highlight for me was placing just outside the top ten in one moto at the Canadian national this year which, because the series was on its last legs, got me national number 37 or something. I got hurt yet again this year when I put my knee down and felt it go causing me to have to go in for ACL surgery.
This was 1995 and I had a couple of buddies already wrenching down south. I hung out with them at the Millville round of the nationals and really decided that was what I wanted to do with my life. If I couldn't race pro, I would try to be a mechanic for a pro rider and the very next year, I had managed to get a job and thought to myself- "I guess I'll do this for a year or so before I decide what I want to do with my life". Little did I know that I would never really go back living in Manitoba ever again.
That's it, thanks for reading and I have to admit, it got a little cathardic for me there at times. It's so funny how different times in your life can be related to what year motorcycle you had.
If you made it this far down, thank you.