Let's take a look back at the top 15 in overall points in the mens class.
Let's take a look back at the top 15 in overall points in the mens class.
All Photos by James Lissimore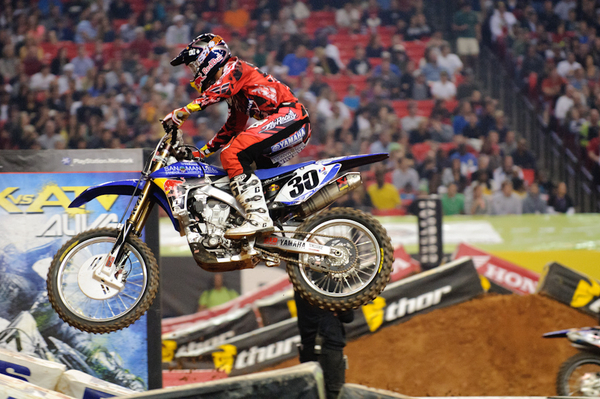 15th in the points is Kyle Regal and I thought that he would be much better to be honest. I'm sure he did as well! Other than Josh Hill's five races last season, being a teammate to James Stewart seems to hurt riders rather than help. Anyways, Regal's supercross experience was the total of about four races until this year but still, being in that spot, on that bike, more was probably expected. He started off poorly, got hurt and then came back. Two out of the last three races, he did pretty well but this guy has a ways to go before he's brought up as a top-five guy.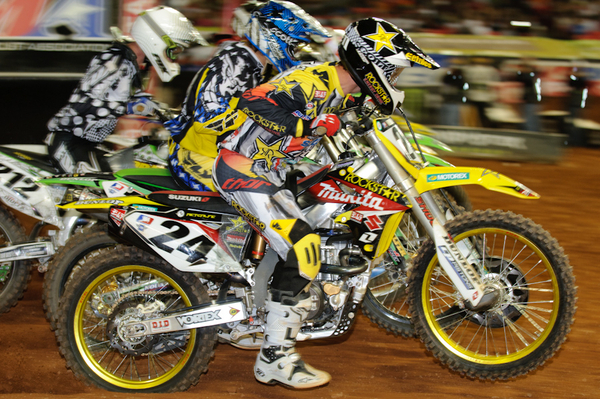 Brett Metcalfe ended up 14th and that's not too bad considering that he only raced nine races. Metty was remarkable in the nine races he did as he managed to get eighth five times! Metty led LA briefly before tipping over and just missed out on podium in Oakland. He was slowly figuring things out and getting better when he started pounding himself into the ground over and over. Brett called no mas and packed it in for the rest of the season to get ready for the outdoors. So really, the verdict is still undecided on Metty and what he can do. We'll see him next year when he should be a bit wiser.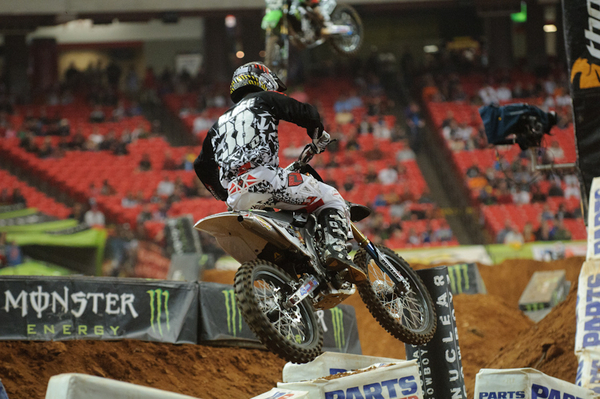 13th is one of only eight riders to make every main event and that is Chris Blose. Making every main is indeed something to be proud of but finishing 13th when you have made every main might be a bit bittersweet for some people. Blose surprised many with his 4th in Vegas because generally his finishes were right outside the top ten no matter if the class was stacked or if there were dudes who crashed out. He needs to show more flash and more sprint speed but at this point, what you see is what you're going to get with Blose. He's solid, fast and a good guy who works hard. You would do worse as a team manager by ignoring Blose to sign someone with more flash and a bigger name who will no doubt end up getting hurt and not working out.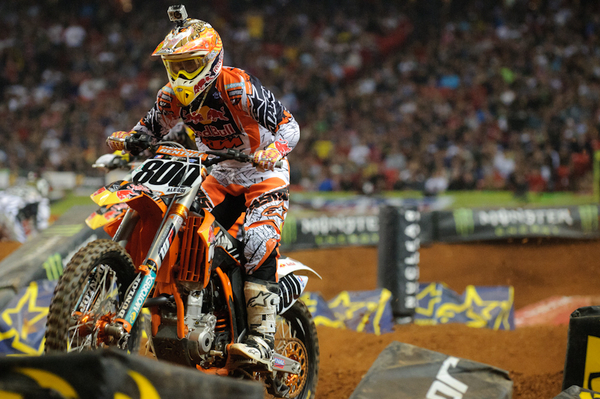 12th is Mike Alessi and really, this is actually better than I thought it would be because early on in the season, Mike was terrible. He wasn't making mains and wasn't riding the way he could or should. He's never going to be Jeremy McGrath out there on a sx track but he should be a top ten guy and near the end of the series, he was indeed that. A major problem with Mike is whoops and he just seems to be timid entering into them. He has to get better in these. As his confidence came back, so too did his infamous starts and Mike led some races for a bit.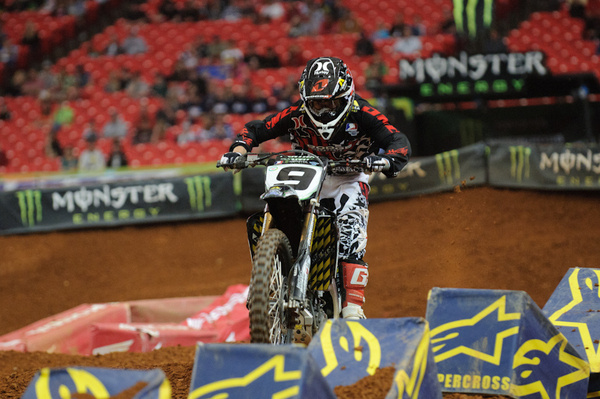 11th place Ivan Tedesco started off the season with a bang as he holeshot Anaheim 1 and looked to be back on track to be a top five/six guy. I saw IT ride before the season and I'm telling you, he looked great and I thought we would see some great things from Hot Sauce. Unfortunately, he kept hitting the ground and I can't believe how many times he crashes in practice and in the race, I guess he's pushing it but like a boxer, you can only fall so many times before it starts catching up to you. Around the midway point of the year, Ivan tore his knee up and the beginning of the end was near as he wasn't able to practice during the week and his results suffered. A good guy that works hard, Ivan has to be bummed about his season but it wasn't for a lack of trying.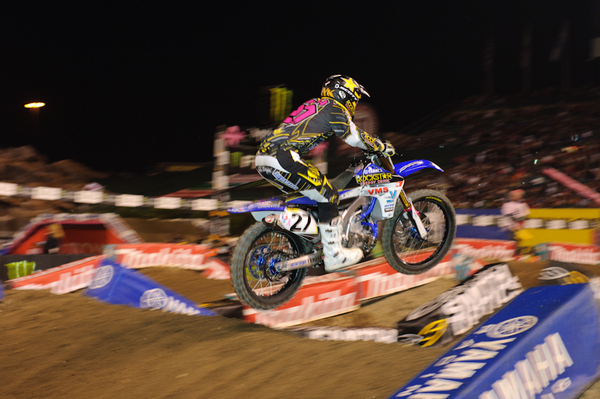 10th place is the peoples champion Nick Wey. Wey also made every main event this year and got Tedesco at the end for a top ten in the series. Wey struggled a bit in the beginning of the year but got some suspension changes made, got a practice bike set-up the way he wanted it and he started getting better. Wey's not going to win you a race but he's going to be there every week trying hard and being an asset to any team he rides for. Like Blose, a team manager might overlook Wey and think that he's just a filler in the field and maybe they should sign someone else but then what happens is their prized new kid goes out, beats Wey a couple of times and then is hurt and misses the rest of the season. There's something to be said for guys like Wey and to a lesser extent Blose, they are solid on and off the track and maintenance free.
Justin Brayton was 5th last year so you might think that his 9th this year indicates a worse year but you would be wrong. According to Brayton and his team manager Jeremy Albrecht, Brayton showed more speed than last year and I have to agree with them. He won some heat races against the top guys and was in the mix more. The downside to this new speed is the unfamiliarity with going that fast and sometimes, you fall off. Brayton did more falling off this year and missed two races with an injury and gutted it out after that. JGR wants to re-sign the Iowan Assassin and I think that's a good fit to me.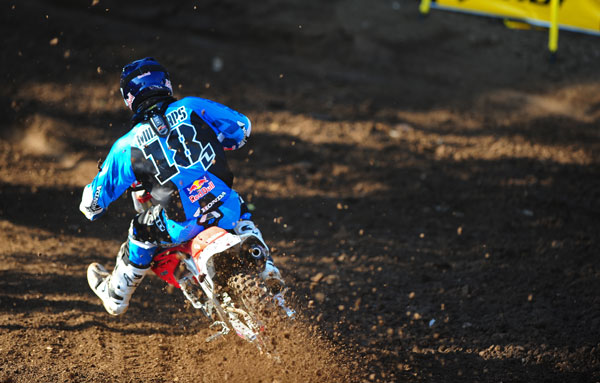 8th is JGR Yamaha's other guy Davi Millsaps who was definitely quieter this year than in the past but there also wasn't the wild upswings (say a win) with the downswings (fade from 3rd to 10th) that we've seen in the past. Millsaps stayed within the 5 to 10 range almost every week (in fact, eleven out of seventeen races, Davi was between 5th and 11th) and he crashed out of two races and got a flat at the other one. I know things haven't always been smooth between the JGR guys and Millsaps but he's working at it, they're working with him and they're all looking forward to better finishes in the outdoors.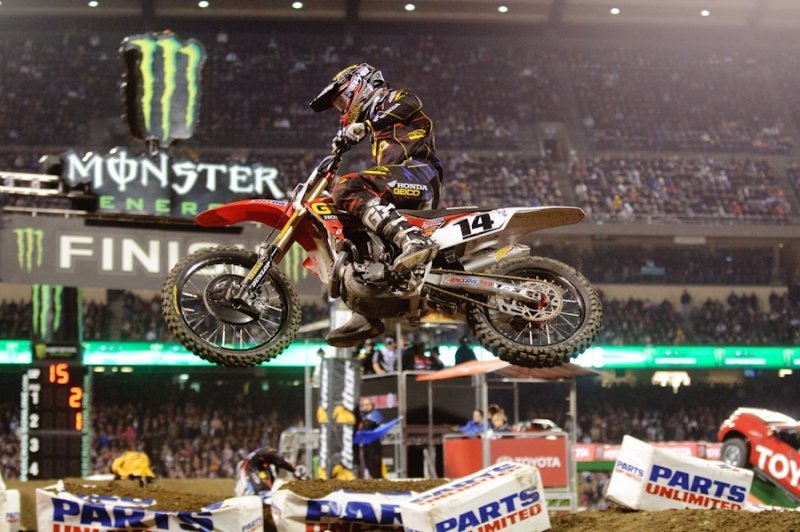 Kevin Windham didn't have his best year and because of that, he's 7th in the points. His turning point was Houston where he was checking out with the lead and went down hard. That was it for KW, he cruised through the next few rounds just healing up and then got a little better near the end of the year. KW not winning a round or two has to be considered a bit of an upset and at times, he told me that he was very frustrated. He knows that he has to get better at scrubbing and his suspension is too soft compared to the new school way of setting up your bike. Still, no matter where he finishes, he's the most popular rider in the pits, is a good guy and no matter what GEICO Honda pays him, it's worth it. In my opinion, I think his winning days are over but you can never count him out.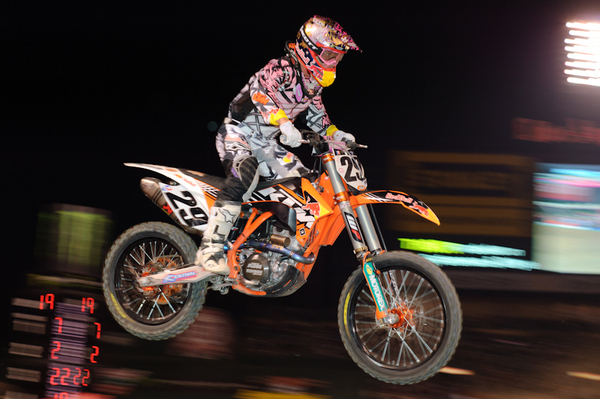 Andrew Short probably wouldn't have been happy if you had told him before the season that he was going to get 6th in the points but if you ask him now, he's probably content with his placing. Shorty definitely struggled on certain tracks and in the beginning of the series but he got better and tied for KTM's best ever finish in the premier class with some fourths. The 350 wasn't as bad as I thought it would be and in fact, between Short and Alessi, there were plenty of good starts out there. But, like I was saying the handicap of the bike was there with certain types of dirt (tacky) and certain types of obstacles (jumps right out of turns) so Short's 6th is, I think, considered pretty good.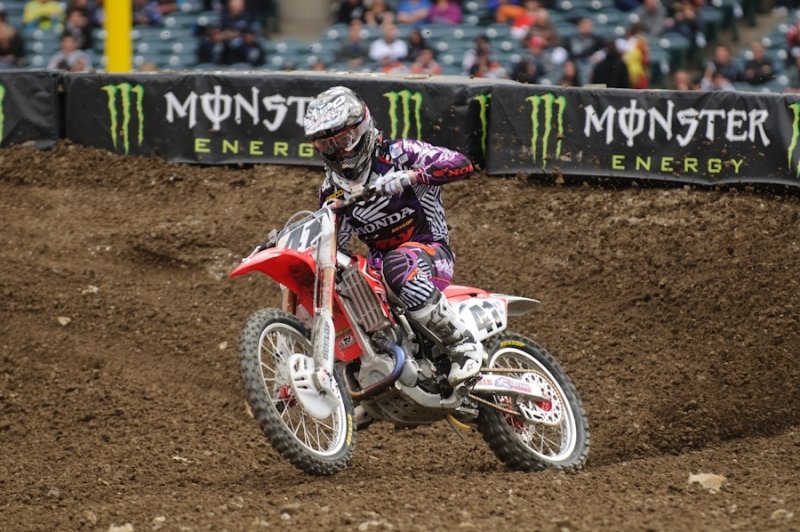 We all knew that Trey Canard would be good and his season-ending finish of fifth was probably where some people had him. But, he got fifth even with missing three races and when he got hurt, he had won three races and was charging up in the points. Canard was very, very good in his first full year of 450 class and was a revelation at times. It took a little bit of time but he caught fire and started leading races and being a factor in the title chase. His scrubbing is just ridiculous, it's different than Stewart's and, dare I say it, is probably even better. He has other riders admiring it and that should say something right there. Canard's a title winning guy in a year or maybe two.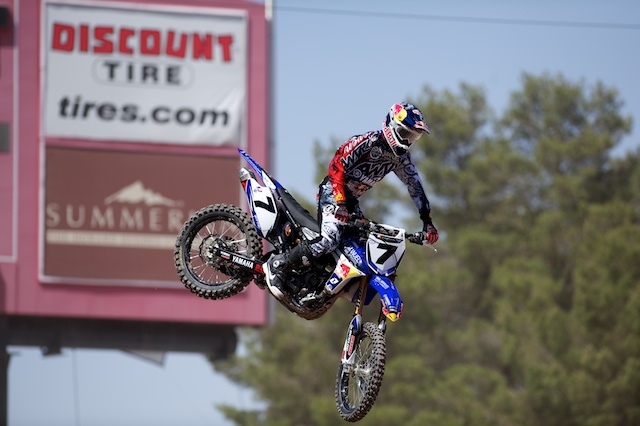 Well, 4th isn't what James Stewart wanted and my preseason pick to win the title definitely had his roughest year on and off the track since turning pro. Stewart was at times amazing and inspiring and at times, he was a hazard and someone who could be caught and pressured. His season was such a juxtaposition of his wins versus his losses is amazing. His wins were as exciting as his losses! I have to say, I've never seen James get caught and passed straight up before and this year, Ryan Villopoto and Chad Reed both did it. It was weird to see him look so human out there on the track. His bike set-up, in other suspension people's eyes, and mine is not doing him any favors out there as well. Still, he won the second most races in the series and no matter what, he'll be one of the favorites next year for the win.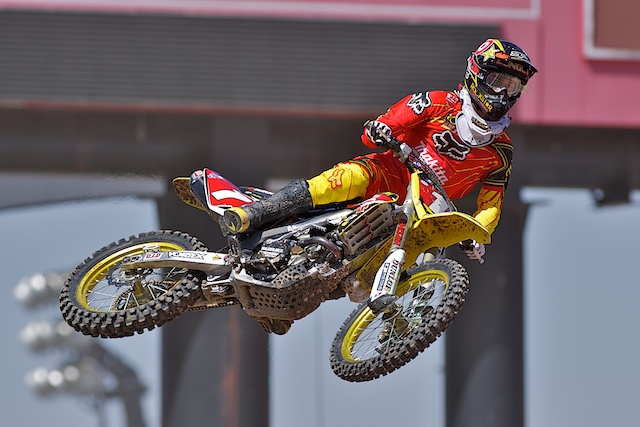 3rd place was last years champion Ryan Dungey and there are as many opinions out there as elbows as to whether or not the Dunge had a great season or not. He made the most podiums out of anyone, he won a race and he was right there for the win in many races so that's good. The fact that RV, James, Trey and Chad seemed to be able to motor away from him at will was bad. Dungey earned his third overall by attrition not by being the fastest guy. Of course, people will say that there are a lot of guys that would take Dungey's season and they would be right but after such a great season in 2010 where he would battle with RV, a step up was needed this year and it wasn't there. There was more than a few races where he never passed one of the other big four in the main event, something had to happen to one of those guys for Ryan to beat them. At Salt Lake City, the second last round, he was right there and had to make it happen and sadly for him and his fans, the guys just rode away from him. Still, if his chain hadn't come off at Anaheim 2, he might be champ and another still, he's got the least amount of experience out of anyone in the big four, he's still young and he'll be there for the next ten years.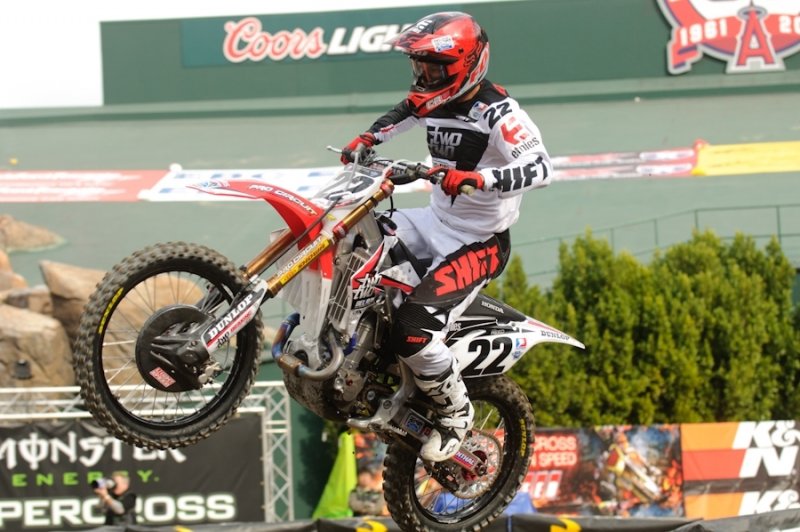 Chad Reed had way more questions than answers going into the 2011 season so his 2nd should be applauded. Reed started off slow on the Honda but started getting better as the series went on. Honda at first sold Reed some parts and then when they lost Josh Grant to injury and Reed started riding better and better, the parts started coming more and more to the point where, with two races left in the season- Reed was on a full-factory Honda. Reed's podium in Oakland was seen by some as the old warrior reaching back and getting one last good ride out there. But then he won in San Diego, got some confidence and it was on from there. Not as fast as RV or Stewart, Reed nevertheless figured things out as the race went on and he caught and passed Stewart a few times. Reed almost won this thing and like Ryan Dungey has his "What if…" moment when his chain came off, Reed's got his when Stewart plowed into him at Dallas. He was in the points lead very briefly this season and although he ended the year in second, the series was a smashing success Reed and his new team Two-Two Motorsports.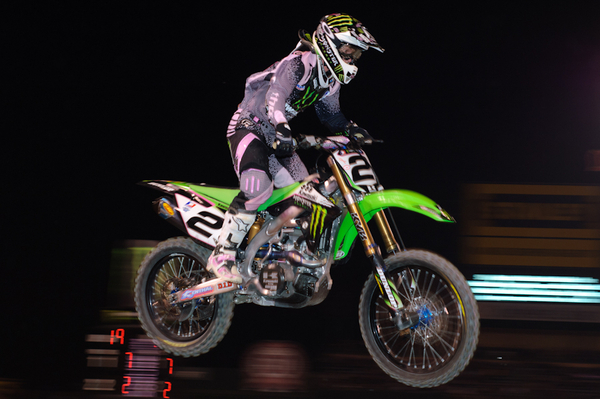 And the winner was Ryan Villopoto! It looked a little sketchy at times but RV was truly the best guy from Anaheim1 to Las Vegas. RV hired Aldon Baker and got into lean, mean shape and was ready come A1. I found it very honest of Ryan when he admitted to me that Kawasaki paid him a lot of money and he hadn't come through for them. Hiring a trainer was the first step in him giving Kawasaki their monies worth. Jacksonville and his DNQ definitely rattled RV and he wasn't himself for a few races but with a weekend off to ride some outdoors and breathe a bit was all he needed to rebound with a win at Salt Lake City. No disrespect to any of the other riders but if you went to every race, then you know that RV deserved this title more than anyone. He was consistently the best guy and congrats to him.