Thanks to reader Warren Kurtz for sending these in and in honor of the first national this weekend, let's take a look back at how things used to be!

Thanks to reader Warren Kurtz for sending these in and in honor of the first national this weekend, let's take a look back at how things used to be!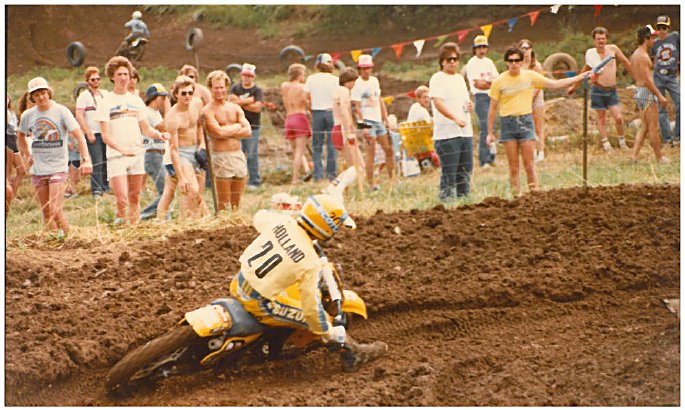 Suzuki's George Holland was an up and coming fast kid and one of the first highly touted amateurs to come up. Him and Erik Kehoe would take turns coming oh so close to winning a championship for Suzuki. Once Holland escaped, errr I mean moved on to Honda would he finally win the 1988 125 national title. Lot's of dudes with no shirts on at Red Bud in 1983.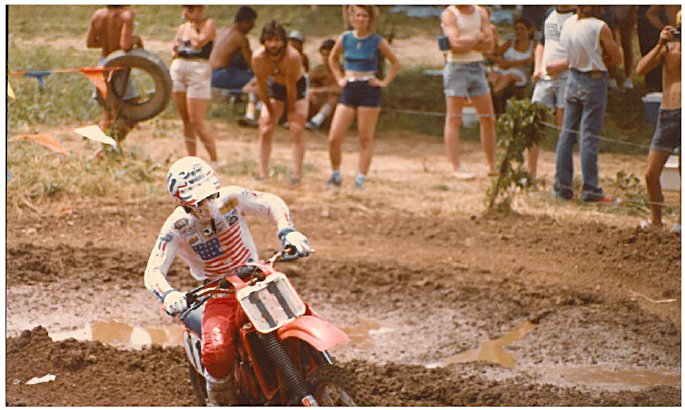 What a season for David Bailey in '83 as he won the supercross and 250 outdoor national title this season on the ultra-cool works Honda. I wonder if the guy bent over studying DB's lines is going out with the chick in the half-shirt who looks unimpressed?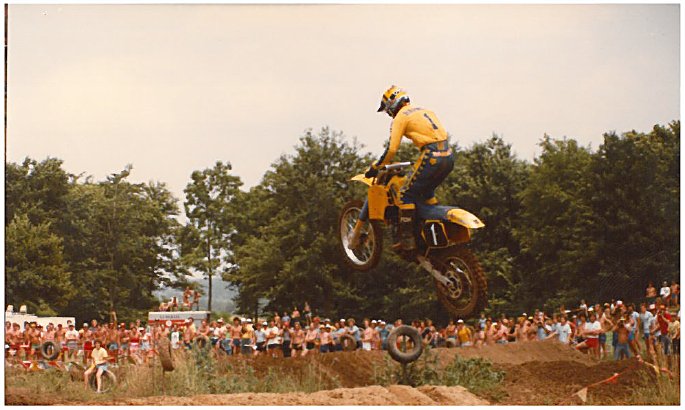 At this point, Mark Barnett was the man in the 125 class and was a three-time champion outdoors. His '83 season wouldn't go that well as he just missed out on a sx title and his bike broke a bunch outdoors. He won more races than everyone else but lost the title to Johnny O'Mara. Nice clean look right here!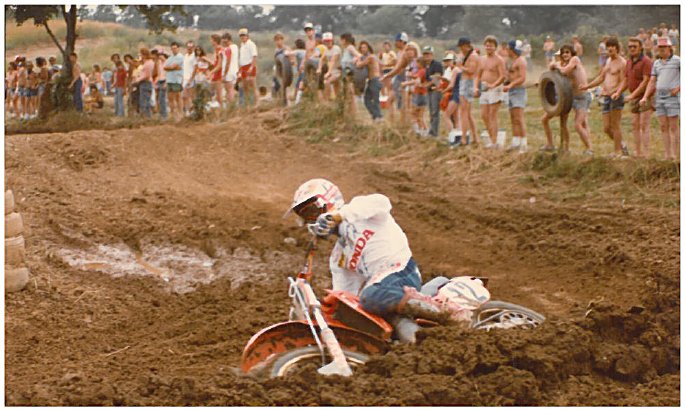 Bob Hannah was new to Honda in 1983 and if you talk to anyone that was around back then, they will all tell you that The Hurricane was the fastest guy this year. Unfortunately, he was also the brittlest as injury after injury took him out of both indoors and outdoors. He did win the most races in both series but came up empty.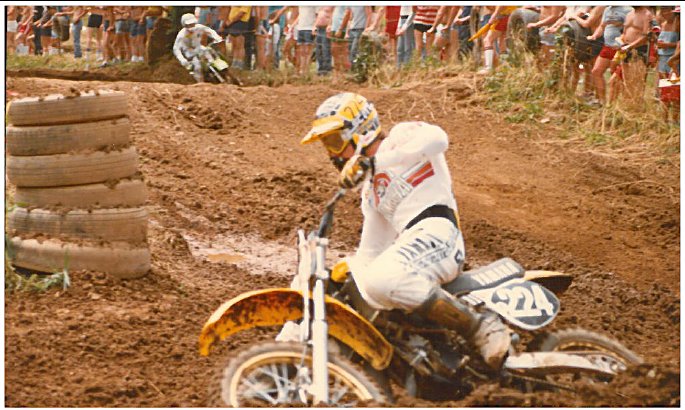 1983 saw the debut of Ron Lechien on the OW125 Yamaha with the rotary-valve engine. The Machine would win a couple nationals and serve notice that his future was bright. Love the white JT look on the yellow machine. The next year, Lechien would sign with Honda because Yamaha decided to stop racing works bike and Ron would get beat by Rick Johnson on a, yep you guessed it, production bike.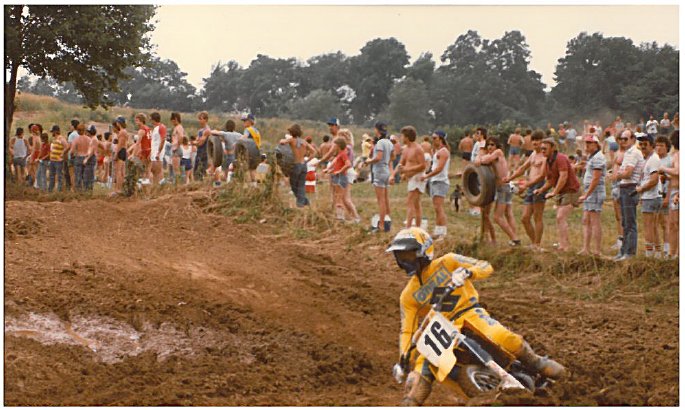 Scott Burnworth was a factory Suzuki rider back in '83 and was always a good starter. The original Burner hailed from El Cajon, he put in some good results here and there and I believe that his best year was 1985 on a Suzuki.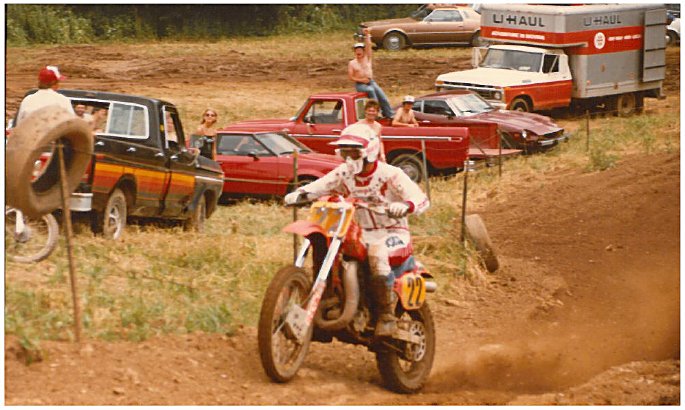 Here's Magoo Chandler on the factory Honda 480. Wow, you could park really close to the track back in the day and that's a sweet pick-up for sure! Getting roosted by 500's with an open faced helmet was gnarly.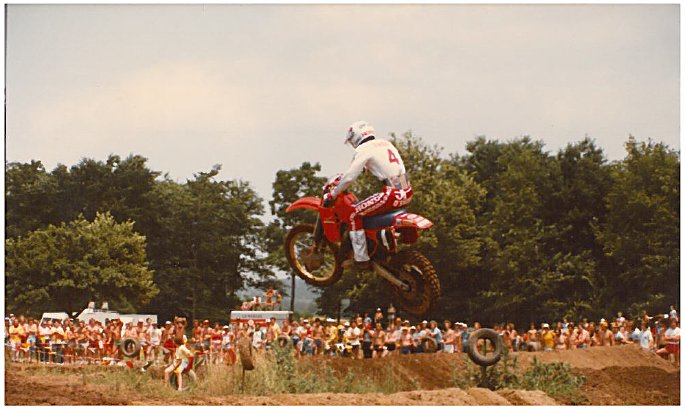 Johnny O'Mara was looking good back then, come to think of it all the guys who wore JT looked good. You could probably dress a red-assed baboon in JT and he would look sweet. Anyways, O'Show won the 125 national title, was a two-time MXDN champion and then next year, 1984, he would win the sx title.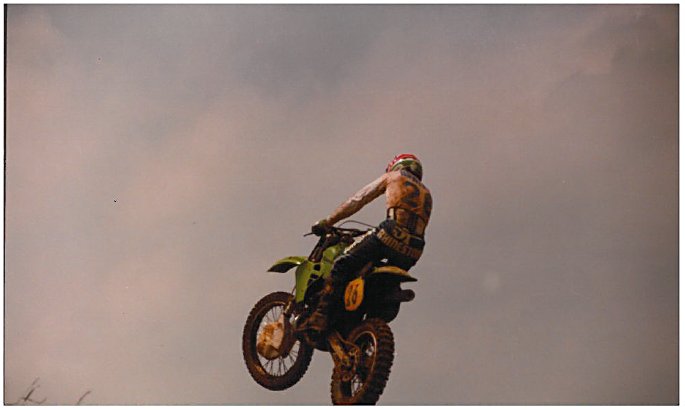 Kent Howerton was winding his career down at this point and I think he raced for one more year after this on a Kawasaki and he was done. Kent's bike was pretty trick for the time as it had water-cooling and disc brakes. Trust me, that was cool. I was reading an old MXA the other day and in, like, 1988 Howerton came back out of retirement and raced Gainesville or some national and scored a top 20 finish!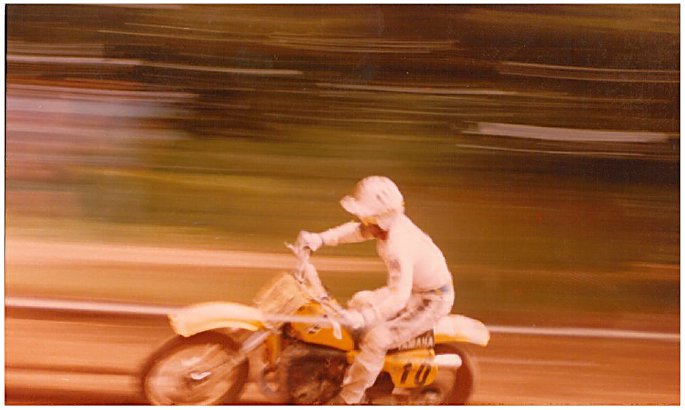 I'm not sure if Warren Reid was actually ever a factory rider but you would think, with national number 10, he would have been. Reid was best known for sweeping all three classes at Mammoth one year.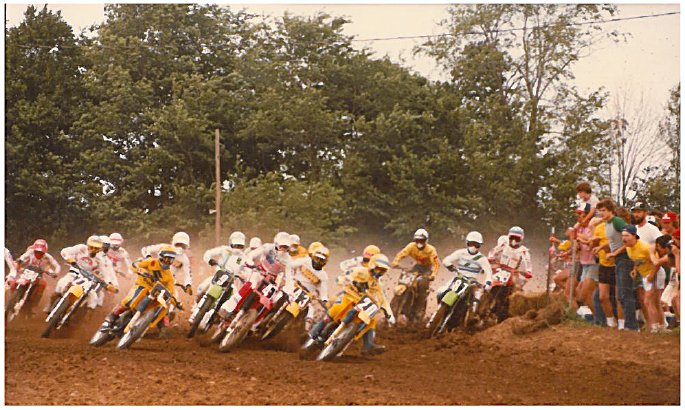 First turn shot and Holland leads the way with Barnett and Lechien on the outside. Look at the dude in the yellow shirt just screaming.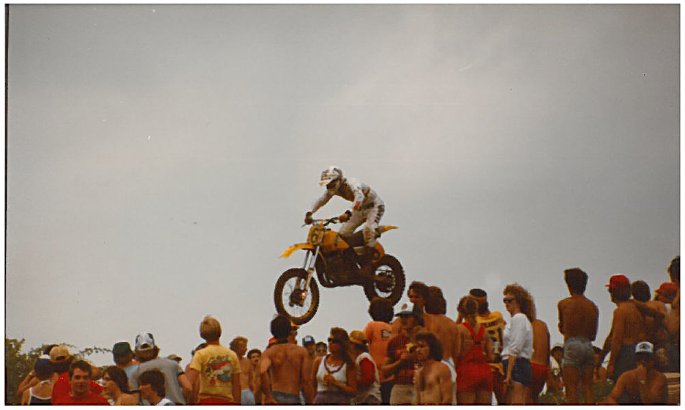 Broc "The Golden Boy" Glover won the '83 500 national title and was pretty much dominant all season long in the bike bikes. This is a real cool shot.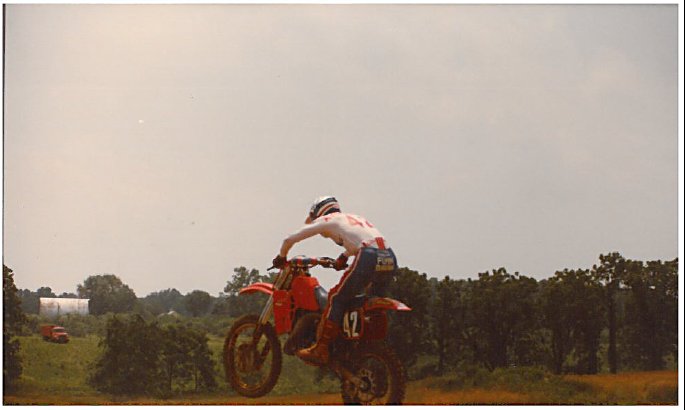 Brian Myerscough was an up and coming rider who was on a Honda support ride for a few years. Flyin Brian (and really, is there any other nickname for a Brian or a Ryan?) really got noticed when he almost won the '83 250 USGP at Unadilla before fading a bit. It was later found out Brian had some sort of mono that held him back his whole career.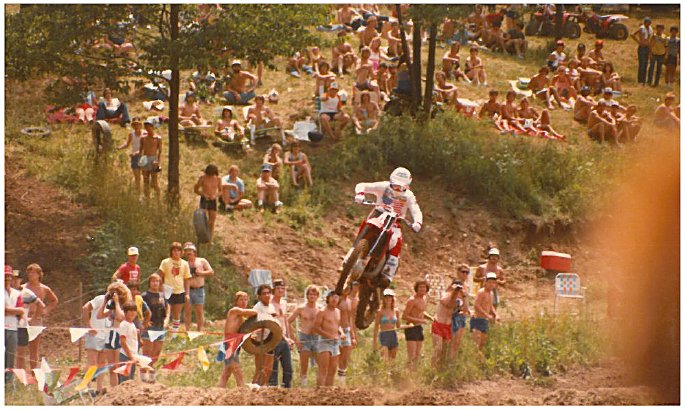 Seriously, just look at all the dudes without their shirt on! How can O'Mara even concentrate, he must feel like he's at a Village People concert.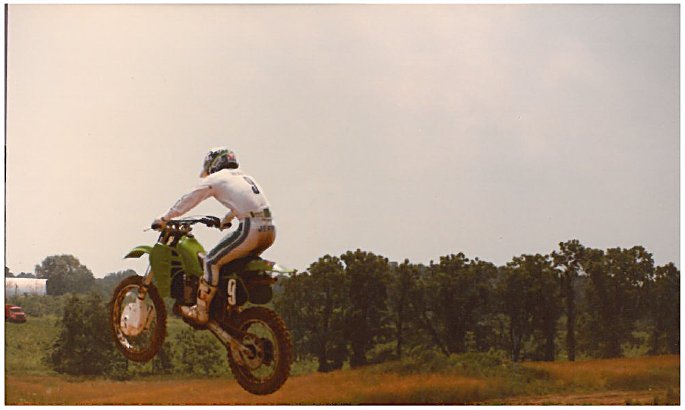 The Flying Freckle Jeff Ward really made a big step up in '83 on his very fast KX125. A couple years after this, Wardy was the best rider in the world when he trounced everyone at the MXDN and won the sx and national title.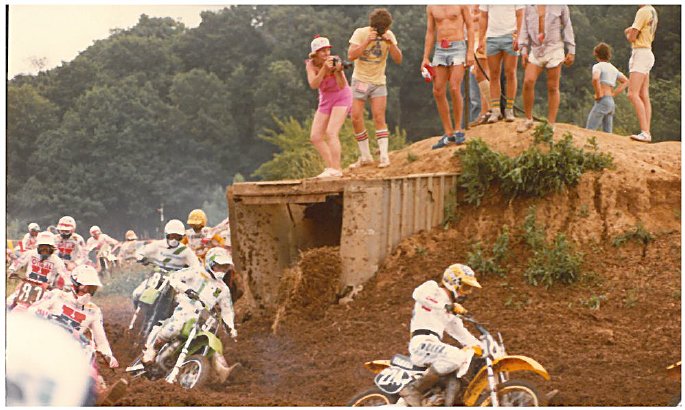 At least the dude on the building has a shirt on! I can't figure out what part of the track this is, maybe some old-timers can chime in on the bottom. Anyways, Lechien leads the 125's around in what I would guess was early in the moto.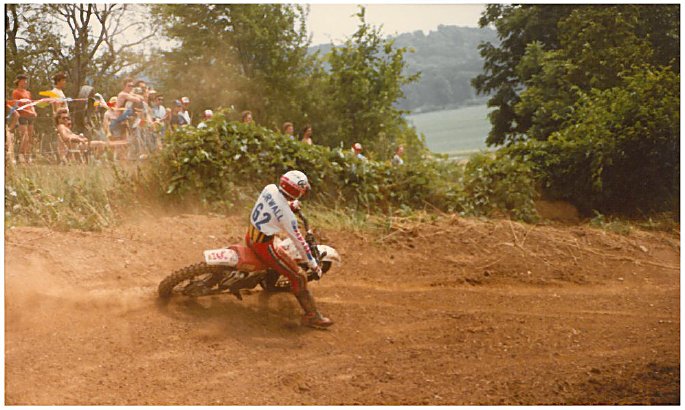 Hey, check it out! Jeff Surwall the man who runs No Fear in his privateer days getting all squirrly. This was before he went to Canada and almost won the national title up there.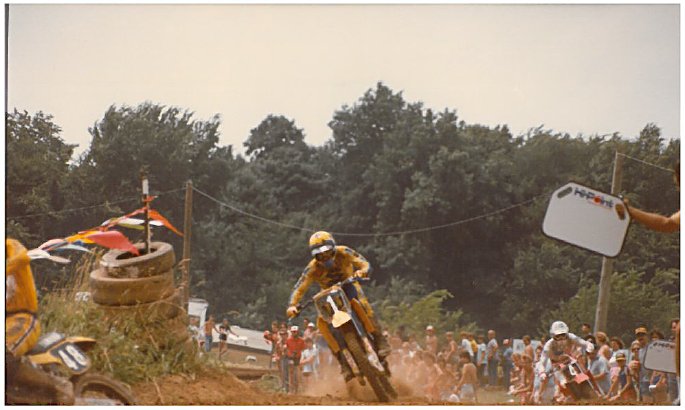 The Bomber charging hard with O'Mara right on his tail. Checking the stats, I see that O'Mara would go on to get the overall win on this day.