Here are some things that I thought about last night.

Here are some things that I thought about last night.
Photos by Simon Cudby
This weekend should see the return of KTM's Mike Alessi to the series and let's hope it's for the rest of the season. Mike has had a series of blows to the head in recent weeks starting at Salt Lake City, continuing on in Las Vegas where he crashed himself out of the night in an ugly get-off and then at Hangtown in the second practice which left him out cold for a little bit. We know a lot more about concussions now than we ever did before and what we've learned is that each time the melon gets hit, the chances of sustaining another concussion gets greater and greater. You're also not supposed to do anything that gets your heart rate up and that's why it takes so long for athletes in other sports to get up to speed, because they literally have been doing nothing but resting. That's why, to me, if there is even a slight chance that Mike's not 100%, he shouldn't race this weekend.
Based on the competition and the two missed races, the title is long gone for the 800 and although he's certainly looked great on the 450 (based on what people who saw him ride before Hangtown as well as at the race) the title was always a longshot anyways for Mike. It's a contract year for Team Alessi and they need a strong finish to the season to be brought back to the orange team. What they don't need is another crash or more sub-par performances like we saw last summer to hurt their bargaining power. Is Mike 100% recovered?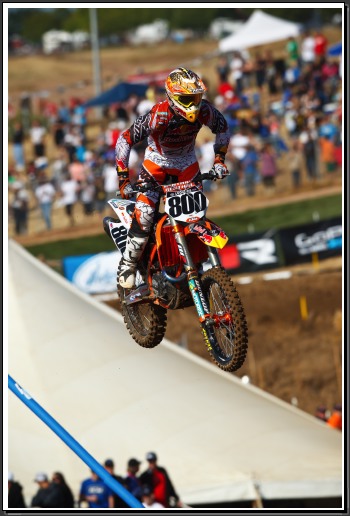 Is Mike ready?
No one but Mike himself really knows that and to me, sitting out another race or even another one doesn't make one difference in the long run. If he comes back at Red Bud feeling rested and rides in the top five all the time and gets podiums here and there, then no one will remember that he missed High Point or Budds Creek.
I'm not there in their inner circle and I hope there's no pressure being applied to Mike to get out there and race to get that next contract. Because in the grand scheme of things, what's two more weeks going to do? Maybe he is feeling fine and will go out there at High Point, run near the front (on a track he does well at) and be that Alessi that we've all seen before.
We'll see Saturday.
*****
TLD Honda's Christian Craig's back injury a year ago or so was very serious. There were people talking at that time that it was going to be a career-ending one. What was terrible about his crash was that it was a broken valve on the bike that caused Craig to crash horribly, there was nothing that he did to cause the problem. Craig's back was so jacked up that the doctors were amazed that he was walking and able to move his toes. It was a very serious injury and he's to be applauded for coming back to such a high level.
Coming into this season, Craig wasn't getting the results on paper that his riding indicated he should but he was out there, looking fast and learning supercross. He's also probably too big to even be in the 250 class but everyone has to start somewhere. Getting thrown into the 450 class isn't exactly the career path that works the best.
Anyways, Christian suffered another bad injury at the LA round when he crashed (with Tyla Rattray I believe) and broke his lower leg badly. So that was it for Craig for the indoor series and come outdoors, now on a 450, he flew so far under the radar that he probably wasn't even on it.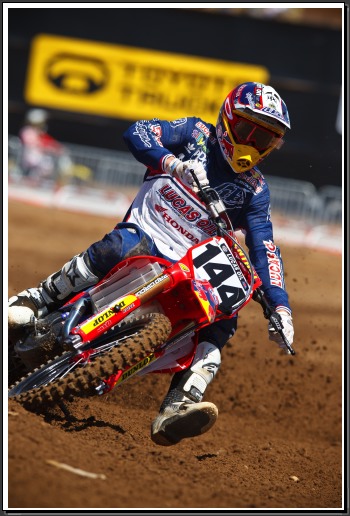 Craig's been great so far this year. Let's hope he keeps it up.
A tenth at Hangtown was very good but what he did at Texas was even better. Leading the first moto over halfway through was a tremendous accomplishment for a guy in his sixth career national (remember he filled in at Joe Gibbs Racing at the end of 2009) and the way he handled it after getting passed was even better. Christian didn't blow up and drop out, he didn't pass out on the bike and barely make it inside the top twenty. Nope, he was passed by some of the best in the world, regrouped and ended that first moto in fifth. Remember when Jamie Dobb won that moto at Red Bud in 1996 and then declared that was all he had and didn't start the second moto? Well, that wasn't happening to Craig and he scored a solid 8th in the next go-around for a very impressive seventh overall and he's in seventh in the points right now ahead of factory dudes like Kevin Windham and Jake Weimer.
With a silky-smooth riding style (his dad Mike had a nice style during his long pro career as well but CC's is definitely different from that in my opinion) , the future looks bright for a kid that, by all accounts, shouldn't even be out there right now.
***
By all accounts Christophe Pourcel will be lining up this weekend at High Point for the Motoconcepts Yamaha team. The union between the 377 and the team hasn't gotten off to a great start but with Pourcel's skill level and his pedigree, you have to think that the results will start getting better every moto out.
If he stays on the bike that is.
As I reported on Saturday, Pourcel and his people have been in talks with the CLS Kawasaki team about making the jump over to Europe this season to race the MX1 class. Clearly something isn't working over here but I have a hard time believing that it's the bike or the team, after all Kyle Chisholm and Ryan Sipes rode the bike to more than respectable finishes last motocross season. And this year in supercross, before he got hurt Chisholm was one of the most improved riders with lap times placing around fifth. When Pourcel was on his free-agency try-outs before the outdoors started, he loved the Valli Yamaha bike and told the GEICO Honda guys that. The Yamaha was more suited for him and his riding style then the more traditional but still a little funky Honda. Both machines are different from his Kawasaki that Mitch Payton had purchased for him, set up for him and sent to his home in Florida.
The team manager David Vuillemin is very frustrated with Pourcel's rides as is Christophe at what he seems to think is a suspension problem. The team is working hard behind the scenes to make this work, team owner Mike Genova has made a bit commitment to Pourcel and talked about how signing him is a signal that he can and wants to compete with the GEICO Honda's and the major 450 teams.
There was of course the requisite denials by Pourcel that he was talking to anyone but make no mistake about it, there were too many people from Europe who were texting me and sending me emails with different details to not think there was, at the very least, some inquiries to CLS Kawasaki on what they could offer the former World Champion. From people saying that it was CLS who reached out to Pourcel, to the fact that a CLS Kawasaki ride in Europe would allow him to race for Pro Circuit in supercross and get around that whole political minefield of racing directly against the Kawasaki factory in the 450 class. There was an agent, a promoter, a journalist and some others "that know things" to not make me think there was something to this.
We'll see what happens this weekend, who knows- maybe Pourcel (on a track that he's won at before) goes out and gets a 5-5 and gets a little bit of momentum going in his direction.
Or maybe not and this whole thing blows up. Whatever happens, we'll all be watching.
EDIT- 6-9 10:25 PM- According to LeBigUSA journalist Stephan Legrand (who's been at Pourcel's house this week, CP will not be racing this racing at High Point because according to him, he did not receive his practice bike in Florida and doesn't feel ready to race.
My take on this? These two are headed for divorce court because I can't see Motoconcepts standing for a rider not going out there and trying his best regardless of whether he rode that week or not. Life stuff gets in the way with riders quite a bit and plenty of riders have shown up at a race without having ridden the week before. And we know Christophe is a man of principals so we'll see but my prediction is this thing is done.
***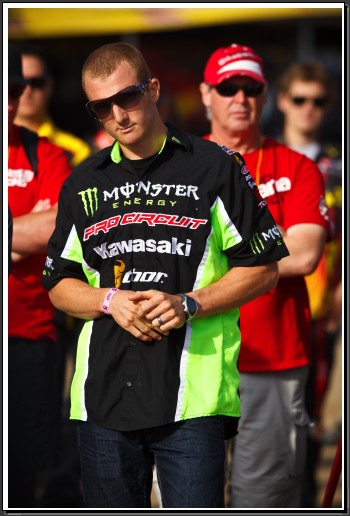 Tyla's one to root for, no doubt about it.
One rider that is having a good start to his season is former World Champion Tyla Rattray who I feel is a bit underrated and should be applauded for what he's done. Rattray, who probably should have been a multi-time World Champion if not for injuries, finally won the MX2 championship in 2008 and promptly jumped to the States for a ride with Pro Circuit. I probably should have guessed this was coming when at the MXDN in England that fall, he spent a ton of time talking to Mitch Payton in the American compound. Anyways, Rattray still had a year to go on his KTM deal, was due a significant raise on that and still took a deal with PC for way less money than he had been making. Think about that, he was a bit older, hadn't really raced sx before, could make more money and ride a great bike with a number one plate had he stuck around Europe.
That's determination folks and that following year when he skipped sx to concentrate on the nationals, it wasn't exactly working out. It seemed that Tyla spent a lot of time around 6th to 10th that summer before breaking his thumb and missing a good portion of that summer's nationals. Rattray didn't spend that time on his couch feeling sorry for himself and for some reason, somehow, getting away from the races worked wonders for Tyla as his first race back, at the rough and tough Southwick track, he won his first moto in the USA. His 6-1 scores were good enough for second overall on the day.
Smash cut to this year and Rattray had a pretty decent supercross series finishing on the podium twice and now, in the outdoors he's neck and neck with his teammate Dean Wilson for the championship points lead. He's come a long way from the number one plate in Europe, through the ups and downs of American racing and it's all paying off now for the friendly, hard working family man.
It's great to see good things happen to good people.