Visors, hometown heroes, snot and a re-emergence.
Visors, hometown heroes, snot and a re-emergence.
Photos By: Simon Cudby
High Point always brings the possibility of either fantastic weather or dreary gray skies, storms and the resulting greasy race surface. As fans, both have there advantages. Great weather makes for more predictable racing in enjoyable conditions but when the weather turns sour, the track becomes the X-factor and the unpredictable racing action makes you forget all about the shitty weather.
This year, the attending fans were treated to the High Point smorgasbord because they got great weather, shit weather and all around great racing in all four motos.
450's
The High Point track looked good in moto 1. A little rutty in areas, some choppy/tacky areas and even some hardpack baked jump faces. They apparently haven't brought in the loads of sand like so many of the National facilities and that may have been to the detriment of the track in the second moto's but hey, they all gotta race the same track right? Snot. Yup, Weege did it. He threw snot out there, though his preface disclaimer brought more attention to it than it would have garnered had he just said it. Perhaps that was Weege's intent, rub it in again. Anyhow, the second 450 moto was ridiculously greasy.
Is anybody surprised that RV2 started looking like himself finally? Everyone knew it was coming, he was obviously just worked following his SX title and needed a break to recover and get back to work with a fresh perspective. I think Villopoto still has more in the "potential" department. He looked great but I think he will get even better.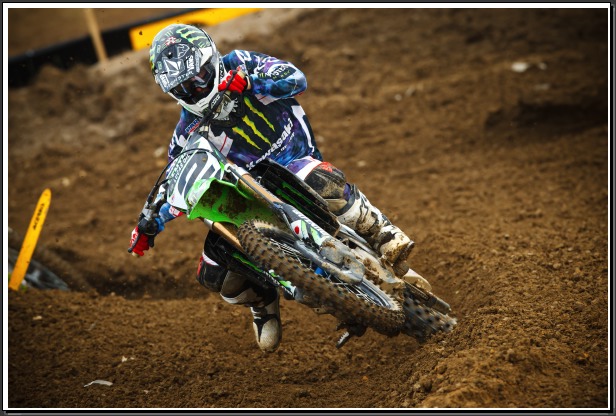 RV2 is looking better.
Dungey had himself some sweet redemption with a moto 1 holeshot but a shifting snafu quickly saw his lead turn into playing catch up. Adding insult to injury was a broken visor adjustment screw which turned his visor into a plastic parachute. In all honesty it's affects were inconsequential though highly annoying. I don't see Dungey catching RV without the visor mishap so its a wash. Moto 2 saw Dungey out front again only to slide out on the greasy surface and from there just focus on keeping it upright and minimizing mistakes.
Reedy got a bad start and took a nasty rock to his previously busted collarbone. He was in a lot of pain and got stuck in a stagnant state circulating the track for most of the first moto without being able to move forward. The track was very fast in the first moto and barring crashes there really wasn't much passing going on anywhere. X-Rays showed no re-break to the collarbone so Asterisk butterfly stripped it and persevered looking toward the second moto. In moto 2 Reed got a better start and simply rode as error free as he could while those around him were slipping and sliding into errors. That greasy surface was no joking matter.
Mike Alessi made his return at High Point and I'm going to go ahead and admit it right now. I picked Alessi for the title in the #DT league before the season. We all know how mental Mike is and my thinking was, if Alessi was runner-up to Bubba and RC in 2007 when he was on a KTM 450, how could he NOT be a title contender being back on a 450 with the 100cc deficit not creeping into his psyche at every turn? Well, for a first race back, I'm glad to say, I think Mike made a solid step forward. He was obviously a little giddy to get out there and make a statement by bulldozing his gate in the first moto. I joked on twitter that if he was on the 350 he wouldn't have had the power to blow through the gate but we all know Mike is infinitely better when starting from the front so he'll take that 1 position dock over battling from the back any day. That was quite the generous penalty for nearly "J-Lawing" the start of the race. Moto 2 saw Mike with a legit holeshot and he was actually checking out before making a costly error and finishing a strong 4th in his first race of the year.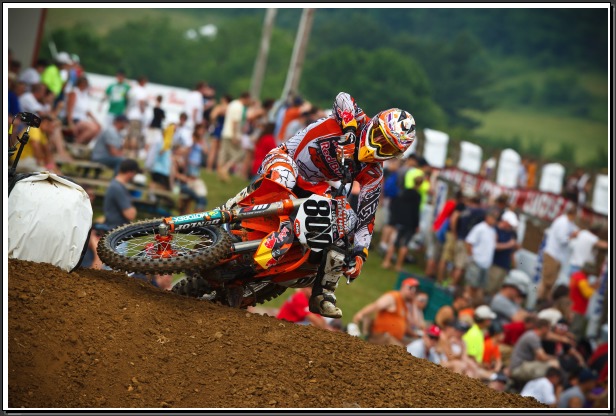 The 800 bought a gate in moto 1.
Now lets talk about Davi Mudflaps. Dude is riding like there's no tomorrow! He looks so good when he's putting in max(?) effort. In moto 1 he was taking it to Chad and not taking no for an answer. Of course, people will point to it being a contract year but Davi has always been a better outdoor rider, add to that he's on THE Yamaha(I'm not giving up that ghost) and the tribulations related to training/racing with one kidney; I'm glad to see him showing the speed everyone knows he is capable of. Maybe following this outdoor series Davi will be the first rider to sign single series deals? Hey, whatever it takes to keep him motivated, I love watching him race with that sense of urgency.
Tommy Hahn put his bad luck to the wayside in Mt.Morris and turned in a 7th place overall that he can definitely build from.
Chizz is still building from his catastrophic Houston SX crash. He's a gnarly dude just for lining up outdoors while still recovering.
Pourcel? Yawwwn.
250's
Let's start at home. Darryn Durham killed it for 28.5 minutes. He and [edit] Michigan's own Nico Izzi , started 1st and 2nd and finished 4th and 7th. Very respectable for both riders. Man their bikes look awesome. Durham looked great, just ask Red Dog.
Ok, so Blake Baggett is one fast sonofabitch. Seriously. He started 10th and was invisible for most of moto 1 only to come from out of nowhere and just walk away with it. When Blake is on he looks unbeatable, so smooth, so aggressive, dicing from one side of the track to the other, using creative lines and blowing minds. He looks eerily similar to a 2006 Ryan Villopoto. BUT, he has won again and until he backs up a win with at least a podium finish, inconsistency will be his label. I really like the dude and hope he kiboshes this tendency in Maryland.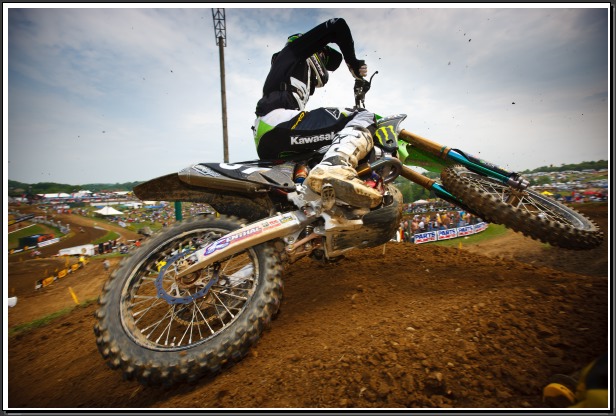 Baggett just punishes the track.
Tyla Rattray is a man in the boys class. The dude has ice water running through his veins. Never gets rattled or shows the slightest inclination toward riding over his head. Tyla is the motocross version of Stallone in Cobra. Just solid. He was my pick for the title before the season and not surprisingly, he's right there. The only flaw I see in Tyla is he's a Miami Heat fan.
Eli Tomac finished 3rd? Brett Metcalfe thinks that's under publicized.
Dean15 was right there all of moto 1 and were it not for Baggett, he would have sealed the deal.
I've had about enough of these poor starts for Broc. I've got my pep talk all set, ready to go for Red Bud and just you watch, if he hasn't pulled a holie by then, he will in Michigan. I'm a very convincing motivational speaker. Despite his shitty starts at High Point, Broc battled and ended up 5th. I hope this signifies the turn around to the slow start to the outdoors for Hot Shy(Sorry Broc :-p).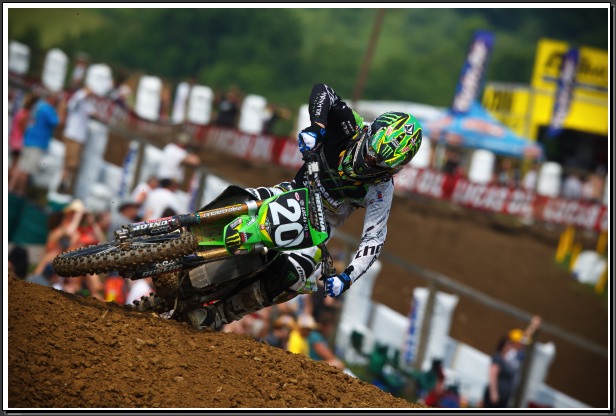 See, he really is racing.
Looking Ahead
There are many compelling story-lines in the 450 class which may be answered in Maryland. Is RV2 going to continue to improve and begin the domination many expected at round 1? Is Dungey going to get his first win? Will Reed's starts improve? Will Josh Grant line up? Can Mike Alessi improve on his 4th place finish? Will Davi Millsaps continue to impress?
The questions I want to see answered from the Lites class heading into Budds Creek are: How will Tyla respond to sporting the red plate? Will Baggett back up his win with a consistent ride? Will Barcia's winless drought end? Will Tickle get a start? Will Wilson reassert himself?
It sure seems like Reedy's got more than a 15pt lead huh?