I probably should have called this something clever like 450 Words.

I probably should have called this something clever like 450 Words.
Photos by: Simon Cudby, James Lissimore and Big Red
The Non-issue-Issue
I think it's safe to say all Matthes' talk of Ryan Dungey "just not being able to get it done", or being "just a little off" has officially lost all credence. Weege mentioned on the show how Dungey's standard response when asked his thoughts on the season of "one race at a time, just keep my head down…" is pretty much working out, just as it did in SX. We all know how useless the what if's are but as I pointed out at the conclusion of the SX season; if you take the top four's worst race and drop it, replacing it with their average, Dungey wins the title. For someone who is "just not getting it done", he's pretty much getting it done.
Sure, Dungey is very vanilla, there's no denying that. He's got the most canned answer queued up for a multitude of questions, he's yet to make an aggressive move on the track and his riding style is pretty standard too. Somehow Dungey has managed to contrast his off track blandness with that terminator-like race craft which always finds him surging back for more. As the season wears on he maintains and finds a way to be unaffected by the length of a season, roughness of a track, depleting heat or the soul crushing mechanical DNF.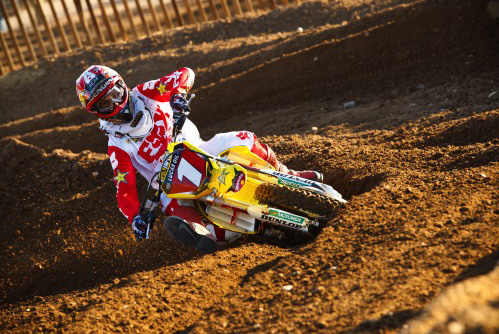 2nd in points but the momentum is all Dunge.
Photo by: Simon Cudby
Washougal was a welcome relief from a string of scorching hot consecutive race weekends. Being a more tolerable temperature, I was expecting Dungey's upper-hand to be leveled. In extreme heat, Dungey seems to be less affected as the grueling motos persist. It's a marginal difference against Reed and Villopoto but I still see it as an advantage. Add to the equation that Villopoto was coming into his home race, eager to finally get that top podium spot and avenge the last lap pass Dungey made last week for the overall; I would have bet good money that Villopoto was going to demoralize the field.
The way Villopoto wheelied up the face of Horsepower Hill lap after lap was seriosuly impressive. He was laying it down! I would watch him and think, wow, he is straight killing it. Then toward the end of moto 1, mere bike lengths behind was Dungey. Switching up lines and hammering his way to RV's rear wheel. I'll be honest, I think Dunge would have made the pass if he hadn't lost the rear in that outside line, but he did lose the rear and he didn't make the pass. Even though he didn't make the pass, there's that mental battle that goes on and you can bet your ass Dungey came out of that moto feeling more confident, not less.
So Dungey and Villopoto were flying, but following his instantly legendary crash in Millville, Reed was not feeling it and was just doing his best to limit the damage. This extended break is just what Reed and all of us as fans need; him to recover and us because this break gives him, RV and Dunge an opportunity to step back and reassess what their strategy will be for the final rounds. It's been an amazing season thus far and with the mental strength of these three, there's no reason to think the racing through Pala will be any less intense and tight.
(T)RE(Y)start
This just makes me frigging sick. It's on the level with how I felt when Josh Grant jacked his knee again in Lakewood. Possibly even a higher level because Trey really gets hit hard mentally when he's confronted with sidelining injuries; let alone consecutive injuries. It's really ridiculous what he's dealt with since turning pro. A broken femur in MX Lites year one, an abbreviated SX Lites year two with a concussion, a broken wrist in MX Lites year two, a fractured femur this SX season while testing outdoors cut short an amazing rookie season on the big bike and now just a race and a half back, does the femur again where it all began in that first year of Lites. Trey is the perfect argument that there is no such thing as karma. I only hope that Trey realizes that its all just a ridiculous bout of bad luck and that he absolutely is as bad as the three dudes still battling for the titles in SX and MX this season.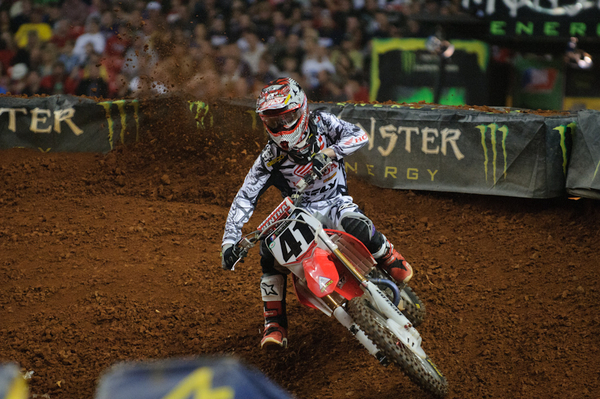 Stay positive Trey. You know all the overcoming adversity cliche's? They're all true.
Photo by: James Lissimore
Trey need only look at RV for inspiration. RV dealt with a tore-up knee ending his first 450 MX season at round 1, a disgustingly broken leg ending his second 450 SX season and his MX season before it would even begin. Villo has found his stride and so will you Trey.
Deep Thoughts
I was both glad and bummed to see how well Top Jimmy did at Washougal. Glad obviously because I'm a big fan of Jimmy being forever linked by the Oscar worthy production we collaborated on in the heat of Red Bud; but bummed because he edged me out for the 450 win in the Dream Team fantasy league. Yup, that drunk, cardboard Cryer toting @clmoser chose Top Jimmy. I was stoked on my pick too though of Byrner. I've been really puzzled the last two years with Byrner's struggles. I was certain when he returned to the yellow bike, he'd be right back near the top 5 consistently but it hasn't been happening. I'm not losing hope though for 2012.
Shorty got 5th. @clmoser was there. Nuff said. Proof that man-friending works.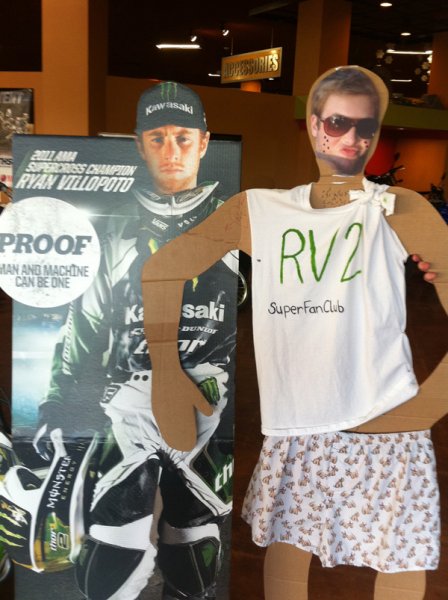 That hand placement is not by coincidence. @chris__holliday in his Zen moment.
Photo by: Big Red
Tommy Hahn finished both motos and finished well. Great to see, I like T-Hahn. Speaking of see, did he keep his goggles both motos?
Tye Simmonds needs a ride next year. On a 450. You watch, if he gets on a non-Blue 450 next year, he will be top 10 all day long.
Will this podium finish mean the surge forward that Metty's been looking for all year? Metty's strong, I mean strong but he's not at the level of a 100% Reed/RV/Dunge yet. That's no knock either.
Light on Lites
Im not feeling very compelled to write about the Lites class right now and I've decided, if I'm not feeling it, I'm not gonna force it. Pro Circuit dominance and a severe case of Geico struggles makes for a pretty predictable class. It was cool to see Tommy Weeck throw in a great ride at his home track though. He looks just like that dude from Dazed and Confused, see below.
See you at Screw-U!!