Otherwise known as the race where Pourcel strikes back! Our man Mccready took in the Loket GP and gives us this little report.

Otherwise known as the race where Pourcel strikes back! Our man Mccready took in the Loket GP and gives us this little report.
World Championship motocross
Czech Republic GP-Loket
Photos courtesy of Youthstream
Desalle and Roczen back on form!
It was a complete contrast in conditions for World Championship riders last weekend. Within seven days of racing in the flat, bottomless sand pit of Lommel in Belgium, they faced the perils of the slippery hillside course of Loket in the Czech Republic. To make matters even more challenging, heavy rain made the course even more treacherous and the start absolutely vital.
Ken Roczen lives close to the border of the Czech republic and had lots of German fans on hand hoping to cheer him on to extending his Championship lead. Roczen wanted to resume his winning ways after getting beaten by Herlings in Belgium.
The German excelled in the first moto, using the mud to his advantage, Ken got his customary holehot and checked out from rival Herlings to win by ten seconds. Ken's line choice is one of his greatest strengths, and in the mud, it proved vital. However, Roczen was not a happy bunny when he crossed the line, he waited for a lapped rider Peter Petrov and proceeded to throw a right hand at his helmet, such was the frustration at not being able to pass the Bulgarian for two laps.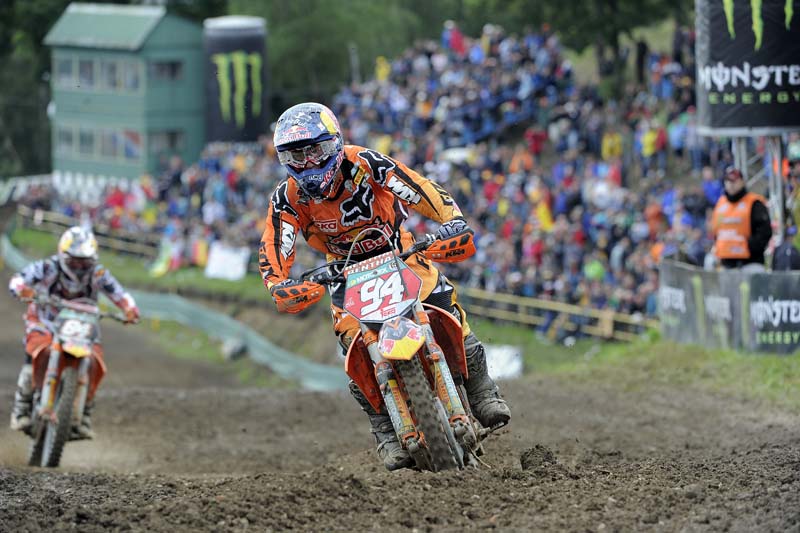 The story of the MX2 season right here, Herlings chasing Roczen.
With his composure recovered for race two, Roczen got into the lead again, this time Herlings was on his tail, and despite getting the gap to five seconds, Herlings came back and caught Roczen. With two laps to go Herlings was right on his back wheel but he could just not find a way past, and didn't want to put a dirty move on his team-mate. The two shook hands at the end of the race and showed the respect they have for each other, because in truth they are the only two riders that can run that pace, week in week out.
Roczen now has a twenty seven point lead with three rounds to go, Herlings will need something special to win the title now, as it looks unlikely Ken will be off the podium if he has no major issues.
Tommy Searle was third overall, but he made life very hard for himself in both motos, a crash and two bad starts meant Tommy had to come from the mid pack on both occasions, but his never say die attitude gave him third overall. Tommy needs to start with the KTM duo to even have a chance of beating them, and with his home GP in Great Britain up next, he will be desperate for his second GP win of the season, and to break the KTM supremacy.
Max Anstie warmed up for the British GP with another fine fourth overall, Max is really starting to get to grips with GP racing now, and will no doubt be very excited as he gets ready for his first British GP, where he will be desperate to get his first podium of the year.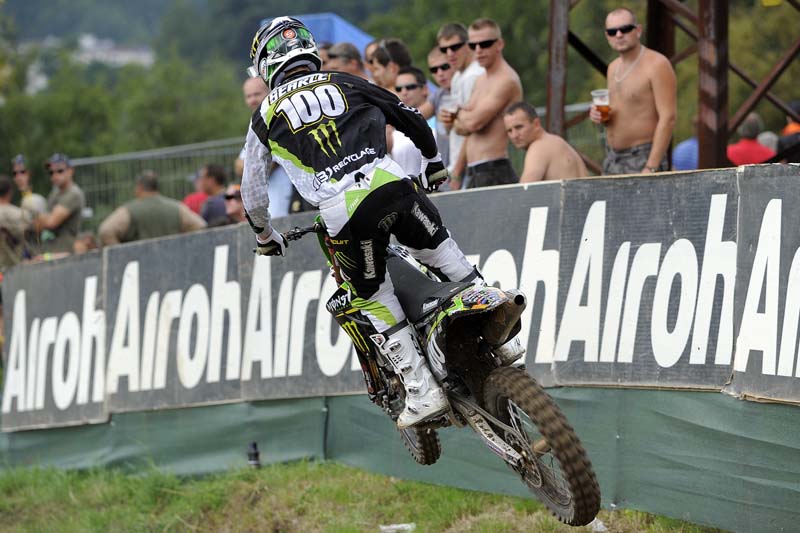 Tommy Searle got on the box with a couple of good rides.
Arnaud Tonus won the qualifying heat impressively on Saturday but his starts let him down badly on Sunday leaving him at the back of all of the fast guys. Fifth overall was a decent performance but he was probably expecting more after Saturday. Tonus has the speed for a podium but there are only three rounds left in the series to get it. On the positive side he is up to fifth place in the series and if he can finish there, and win the British Championship, it will have been a successful season for the smooth and talented Swiss teenager.
Fourth in points Gautier Paulin had a disastrous weekend, destroying his chances of beating Tommy Searle for third in the World Championship. Lying a comfortable third in race on, the Monster Energy Yamaha's engine let go, forcing him to DNF, in race two he had a terrible start, but in a fantastic ride came back to fourth position.
HM Plant/Red Bull KTM UK rider Jake Nicholls had the best ride of his career in race one with a fine fifth place after starting third. A bad start in race two thwarted his attempts at a top five overall but he pulled through the pack to eleventh and was eighth overall.
Unfortunately for Jake it wasn't enough to get him a KTM factory MX2 ride next season, the factory team going for 18 year old Jordi Tixier instead after seriously considering Nicholls for the ride. The young Frenchman has been impressive in his first season in GPs, but is simply not as fast as Jake. However, maybe KTM see his age as giving him more potential to develop compared to the 21 year old Nicholls.
MX2 Overall top ten: 1. Ken Roczen (GER, KTM), 50 points; 2. Jeffrey Herlings (NED, KTM), 44 p.; 3. Tommy Searle (GBR, Kawasaki), 35 p.; 4. Max Anstie (GBR, Kawasaki), 33 p.; 5. Arnaud Tonus (SUI, Yamaha), 30 p.; 6. Valentin Teillet (FRA, Suzuki), 27 p.; 7. Joel Roelants (BEL, KTM), 26 p.; 8. Jake Nicholls (GBR, KTM), 26 p.; 9. Nicolas Aubin (FRA, KTM), 20 p.; 10. Jeremy van Horebeek (BEL, KTM), 19 p.;
MX2 Championship top ten: 1. Ken Roczen (GER, KTM), 540 points; 2. Jeffrey Herlings (NED, KTM), 513 p.; 3. Tommy Searle (GBR, Kawasaki), 435 p.; 4. Gautier Paulin (FRA, Yamaha), 389 p.; 5. Arnaud Tonus (SUI, Yamaha), 325 p.; 6. Max Anstie (GBR, Kawasaki), 318 p.; 7. Zachary Osborne (USA, Yamaha), 295 p.; 8. Harri Kullas (FIN, Yamaha), 268 p.; 9. Nicolas Aubin (FRA, KTM), 227 p.; 10. Joel Roelants (BEL, KTM), 206 p.;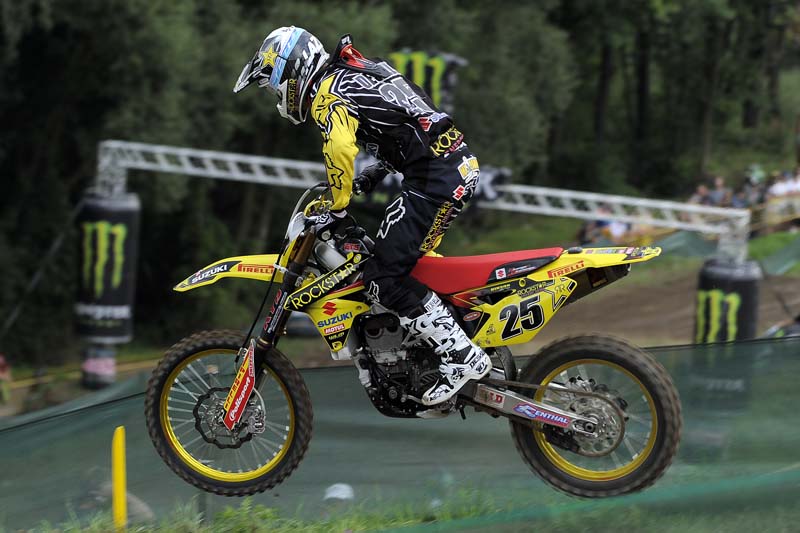 Desalle won again to close up the points a little bit on AC222.
In MX1 it was Clement Desalle who showed that he is finally back to full strength after mid season injuries who took the win. Desalle had to fight his way into second in race one after starting outside the top five, but by this stage Cairoli was long gone in the lead and won easily.
In race two the roles were reversed and it was Cairoli with the bad start, Desalle started in the top three and finally moved into the lead when he past the impressive TM of Estonian Tanel Leok, who had led for over half the moto and would hold onto second at the finish.
Cairoli was initially outside the top ten but worked his way up to fourth and only lost four points to Desalle in the championship, leaving him with a huge 48 point lead in the series. One of the most interesting battles Cairoli had was for fifth place with Christophe Pourcel, yes the Frenchman is back on track, and back on form!
Pourcel ran top ten in race one before finishing thirteenth but a good start in race two meant he could hold Cairoli off for a most of the race. Pourcel even followed Cairoli past Max Nagl at the end of the moto to finish fifth and put to bed any lingering doubt about his fitness. However, the Frenchman conceded he may have underestimated the series in Germany back in June, by explaining just how consistent the MX1 guys are and just how hard you have to work to be successful. With his bike how he likes it, his fitness back up to scratch, and his confidence back, Pourcel could be a podium threat or better for the rest of the year. He may even force his way back into the Motocross of Nations team for France if Marvin Musquin doesn't get his act together.
Third on the podium behind Desalle and Cairoli was Rui Goncalves, the Factory Honda rider finally got his first podium in MX1 after having it snatched away from him the week before at Lommel when his bike expired. To say it was well deserved is an understatement. Rui has worked really hard this year but has been living in the shadow of team-mate Evgeny Bobreyshev, but now he finally gets the attention he has deserved, Goncalves has been consistent all year and in the last few weeks has been knocking on the door, so it is no fluke. The former MX2 runner up is up to sixth in the World Championship making it two Factory Honda riders in the top six, and team manager Lorenzo Resta must be overjoyed at the performance of both riders this season.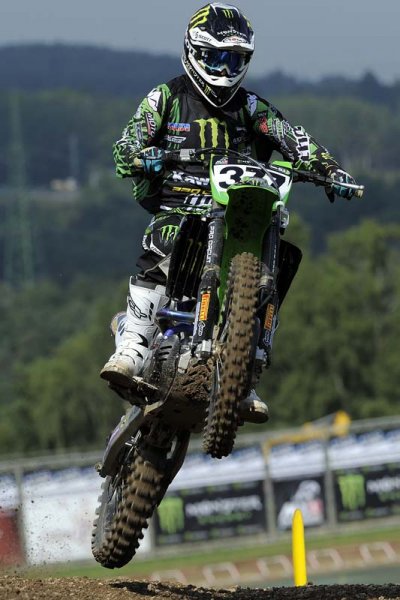 Seems like Christophe Pourcel rode pretty well.
Kevin Strijbos replaced the still badly injured Steve Ramon at Factory Suzuki, and immediately looked comfortable in returning to his former home. The 26 year old Belgian followed team-mate Desalle through the pack in race one to fifth backed up by a good seventh in race two for sixth overall. Strijbos has shown he still has the talent to win and with another two weeks to get the bike more personalised he could be a threat in the next few races, as well as providing the missing link for a potential Belgian win at the MXDN!
Max Nagl celebrated not having to go for back surgery with a strong fifth overall, with Xavier Boog, yet again top Kawaski in seventh overall with two sold top ten rides.
The next round of the series is at Matterley Basin in Great Britain and there should be some sensational racing on the popular track. With guys like Pourcel, Leok and Strijbos back on form, combined with the usual potential podium contenders, and the British riders such as Martin Barr, Brad Anderson, Billy McKenzie and Shaun Simpson looking top ten results at home, the racing in MX1 and atmosphere should be electric!
MX1 Overall: 1. Clement Desalle (BEL, Suzuki), 47 points; 2. Antonio Cairoli (ITA, KTM), 43 p.; 3. Rui Goncalves (POR, Honda), 40 p.; 4. Tanel Leok (EST, TM), 31 p.; 5. Maximilian Nagl (GER, KTM), 29 p.; 6. Kevin Strijbos (BEL, Suzuki), 28 p.; 7. Xavier Boog (FRA, Kawasaki), 27 p.; 8. Steven Frossard (FRA, Yamaha), 25 p.; 9. Christophe Pourcel (FRA, Kawasaki), 24 p.; 10. Jonathan Barragan (ESP, Kawasaki), 21 p.;
MX1 Championship: 1. Antonio Cairoli (ITA, KTM), 509 points; 2. Clement Desalle (BEL, Suzuki), 461 p.; 3. Steven Frossard (FRA, Yamaha), 428 p.; 4. Evgeny Bobryshev (RUS, Honda), 387 p.; 5. Maximilian Nagl (GER, KTM), 378 p.; 6. Rui Goncalves (POR, Honda), 349 p.; 7. David Philippaerts (ITA, Yamaha), 308 p.; 8. Ken de Dycker (BEL, Honda), 268 p.; 9. Xavier Boog (FRA, Kawasaki), 262 p.; 10. Jonathan Barragan (ESP, Kawasaki), 254 p.;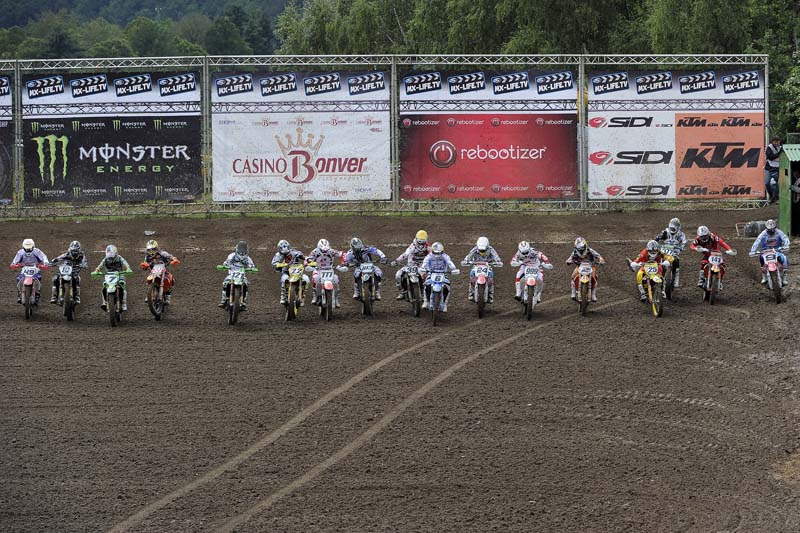 The MX1 class blasts off the line in Loket.