You know the drill, we're breaking it all down and going deep with you guys.

You know the drill, we're breaking it all down and going deep with you guys.
Photos by James Lissimore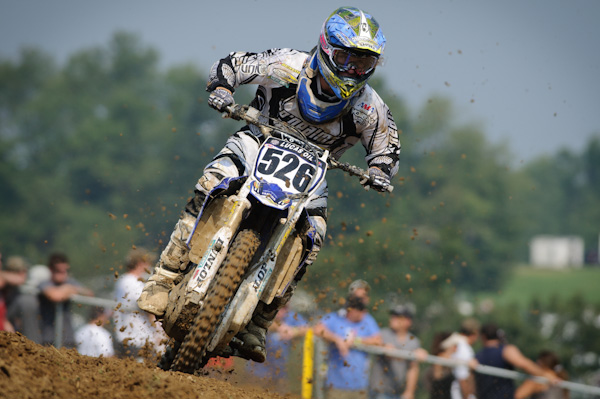 Slotting in at the 20th position in points is Motoconcepts Ben Lamay who wasn't even on the team to start the season. Lamay is a long-time privateer who got a break with a team who was able to pay the bills for him and let him do his thing. With the help, he produced his best results of his career (although his best ride period was at Hangtown a couple of years ago when he was a privateer) and gave the team everything he had. I'm not sure it's enough to get Ben a spot on another team because you like to see a big leap from a guy when given an opportunity and Lamay just sort of took a step forward. Not a leap.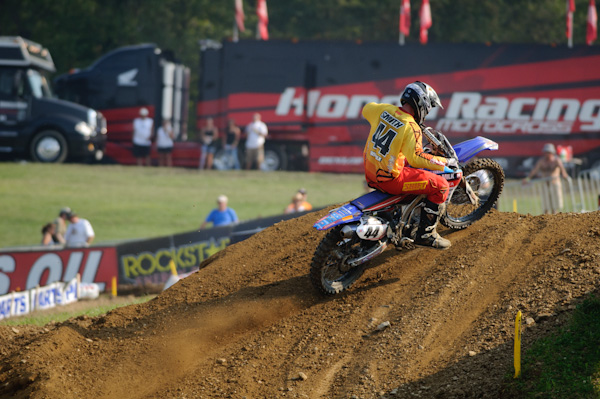 19th in the points is Les Smith who had a season that has to be among the weirdest ever. From a Honda CRF250 in SX to a JGR YZ450F to start the outdoors to a Suzuki RMZ250 for the Rockstar team and then back to the JGR YZ450F . He filled in for Justin Brayton at the beginning of the series and then Davi Millsaps at the end. He was effectively JGR's left-handed reliever coming out of the bullpen. Les is just an old trusty arm there for Coy and the guys to go to. With the missed races due to class jumps and not even having a ride at Hangtown, Smith missed the third most motos out of anyone inside the top twenty, which I suppose says something. What it says I don't really know but it says something. I'm guessing Les really, really wants to be on one bike in one class in 2012.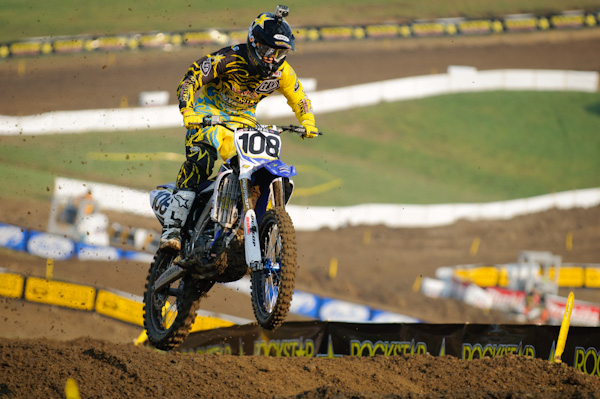 "Top" Jimmy Albertson is 18th in the points and that's pretty good considering that between injuries and crashes, he missed almost half the motos in the series. Albertson started out as a privateer on a Honda and then was picked up by his old friend Chad Lanza at Valli Yamaha a couple races into his comeback. Which is amazing because I thought Jimmy's first go-around with Valli ended so poorly but forgive and forget is often the motto in the mx world. Anyways, Jimmy scored a little better results on the Yamaha than on the Honda but when you think about how he was just coming back from injury when he was on the Honda, I think his rides on the Honda might have gotten to be better if he had stuck it out. But then again, as a privateer, he also was going broke so who knows if he would have made it to the end of the series. By the way, I know I've said this before but Jimmy Albertson is good people.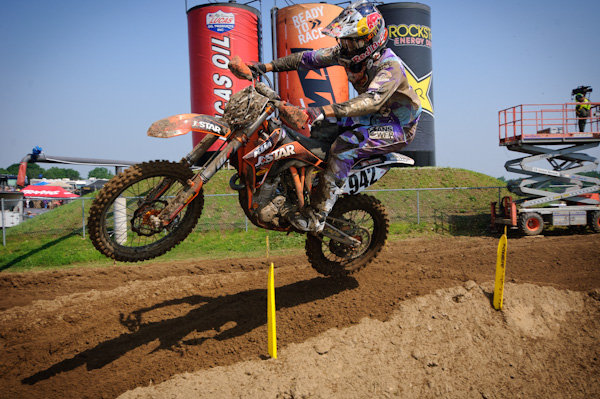 17th is Tye Simmonds and I can honestly say I only noticed him really stand out once this year and that was at Millville when he ripped through the pack both motos for his best overall finish of the year. I was even standing next to Nathan Ramsey (JDR KTM manager) and he was excited at Tye's ride that day. Unfortunately for Simmonds, that was about it for him. He's a big kid, probably more suited to the 450 than the 350 he was on and he did, well, ok I guess. I tend to be more critical of a guy like Simmonds than say, a Les Smith, because Tye was on a good team, collecting a salary and was by and large a professional dirt bike racer and therefore his worries are less than say a Les Smith or Ben Lamay who were fill-in guys and always scrambling for stuff.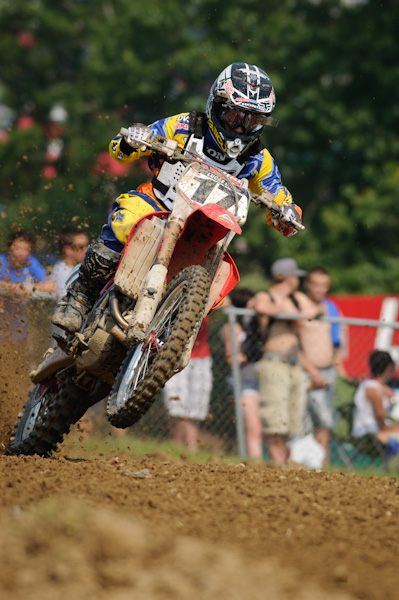 16th in the points is Honda's Justin Barcia who scored this result with only six motos that he made points in out of the eight he raced. Of course Weigandt and Ping saw this coming a mile away but to me, Barcia was amazing in his short time on the 450. Let's face it, his 250 season wasn't going the way that anyone thought it should be and moving a guy who was slumping and known for crashing and riding a 250F like he was trying to break the throttle cable didn't seem to be a smart move. But a funny thing happened to Bam-Bam, he smoothed out on the 450. He got smarter and although he didn't lose his total wildness (ask Ryan Dungey about that), he was very fast. Five podiums out of the six races, leading races and I can't stress enough how impressive he was to me. The real key for Justin is to stay "up" for the return to the 250 class next year and not be bummed thinking he doesn't belong in that class.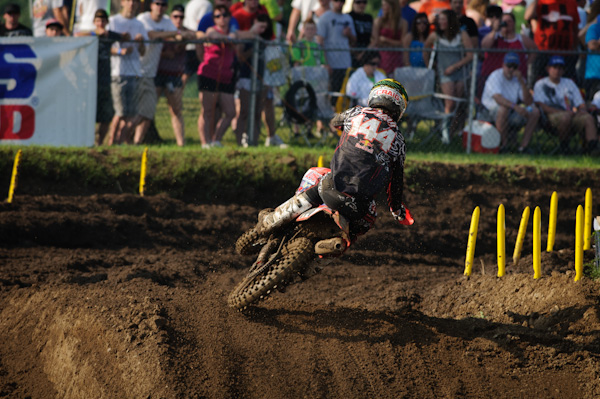 Christian Craig was 15th in the points in the 450 class and a classic example here of a guy being better than his point total. He only finished 16 points better than Simmonds but he ended up a galaxy better in the eyeball test. You know, where your eyeballs see every moto this year and you see that CC has some serious talent. Craig led a moto, got good starts a lot of the time and looks great on a 450. Craig battled injury this year and I think he needs to work on his fitness a bit more but his future is bright. Let's see, talented as hell, maybe not in the best of shape and seems to get hurt a little bit- yep sounds a lot like his dad Mike. Anyways, I think he's going back to the 250 for next season's SX and that's a mistake in my eyes. He's a 450 guy to me with his smooth, non-wackjob like riding style but what do I know?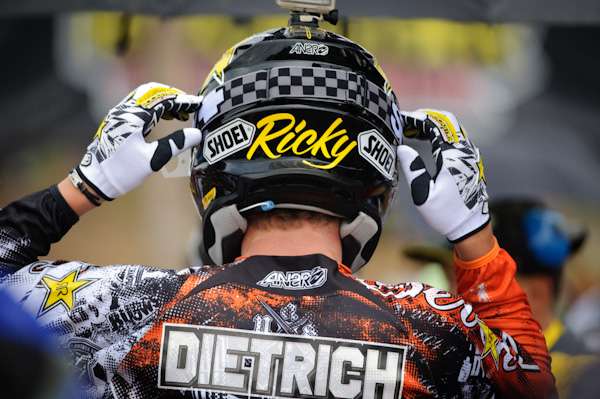 Ricky Dietrich's 14th has to be a major bummer for RD and his team. Ricky gave up some serious money to keep doing his off-road thing to race motocross and early on, it seemed to be a winning gamble. Dietrich was pretty good in the beginning of the year but then tailed off badly. Like real badly. He had some off-track stuff going on which might have distracted him a bit but he went from double digit points scored in every single moto to, at one point, a total of 14 points scored in seven motos. Ricky was easily in the top ten in the points until the bottom fell out. I know for a fact he did not enjoy the Yamaha YZ450F and I'm not saying that's not the reason but how do you explain the first half of the season? If I had to guess, the grind of a twelve-round moto series maybe wore him down? I don't really know but I don't think we'll see Dietrich doing moto in 2012.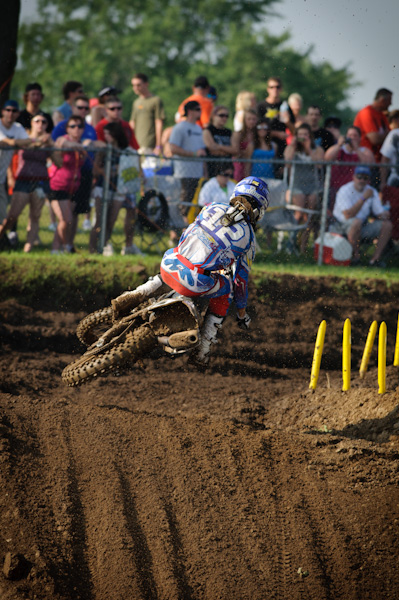 Tommy Hahn was 13th which again wasn't what he or the team wanted. The good news is that seven guys in the 10 to 20 range in points rode a Yamaha so the blue crew has that second half covered! What an ad campaign they could run. Anyways, Hahn was hurt and then he wasn't agreeing with his bike. When he went public with those complaints, he and I got into trouble with the team and then when his brother Wil was mad at me, Tommy got mad at me as well. Then I got mad at MCY manager David Vuillemin for getting mad at me for writing about what Tommy said and everyone was basically mad over on that team all summer at something or another. Tommy hopes next year is much better for him.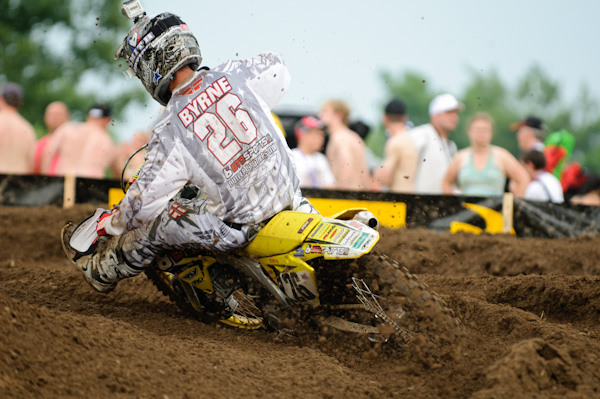 12th is Michael Byrne and that has to be yet another disappointment for Byrner and his team. The former podium finisher in the 450 class just didn't have it this year for whatever reason. I was waiting and waiting for him to bust out and I admire his willingness to travel to New Hampshire to get his suspension the way he wanted it but it just never came together for the always-friendly and professional Byrne. I don't remember at any point thinking "Wow, Byrner is on it today" as he usually started around 15th or so and worked his way up to just outside the top ten. I know I thought he'd be better as he got back on the Suzuki and I'm sure he thought so alsol. Not a fun thing to do, bag on your friend, but I have to be honest. After all, it says I'm honest in the title to this story!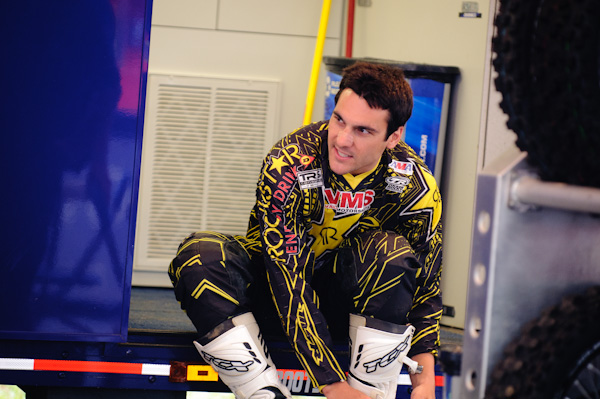 Nick Wey was 11th in the points and once again was remarkably consistent all season. He scored two top ten moto finishes, a bunch of 11ths and missed only two motos when he crashed out. At this point in Wey's career, he is what he is- a solid top ten guy who doesn't get hurt and wins you fans with his personality. Nick's a veteran that realizes in the big picture that there's not a whole lot of difference or coverage difference in the 7th to 15th spots on the tracks so you have to make it up in the PR side of the sport. He's fast, a good guy and a professional racer who I think will be on a different color and team next year.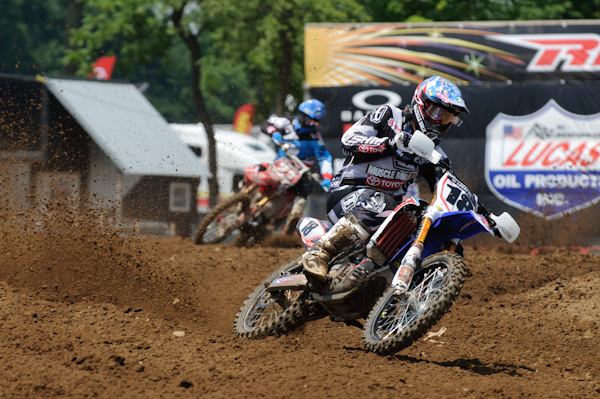 Davi Millsaps was 10th in the points and I've always thought of Davi as better in supercross but this year, he was better outdoors. Millsaps scored this result despite missing half the motos with injury. He led some motos, got on the box and was doing pretty well for the JGR team before hurting his knee. I'd say he was a surprise no doubt about it and let's see where he ends up in 2012. If I was a betting man, I'd say he stays where he is on a Yamaha once again.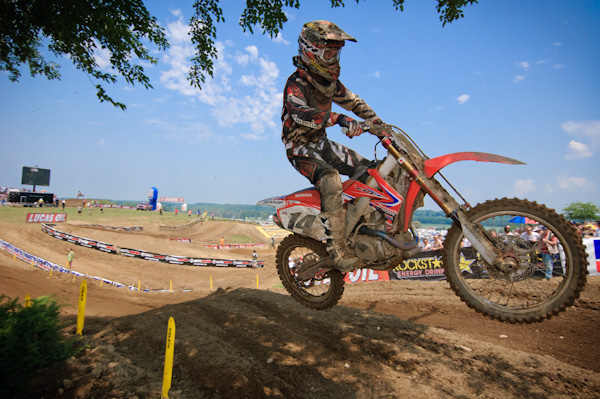 9th is part-timer Kevin Windham who didn't really know he was going outdoor racing until the last instant, rode pretty good at a lot of races but then got worse as the series went on before dropping out. I spoke to KW around the time he was getting ready to pull the plug and the heat of Millville and Red Bud wore him out combined with the responsibilities he had around his home. He was frustrated with his results and didn't want to be just riding around out there. I explained the whole "No one cares how you do, you weren't prepped for a series, you're the most popular rider in the series and whatever you do people love you" theory but he wasn't having it. Too little training, too much work and too poor results forced Kevin to pull the plug early. But it was still cool to see him out there and when he led Hangtown early, the place was going ape-shit.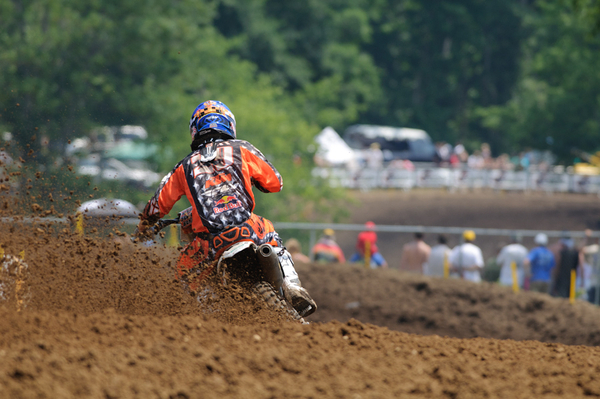 8th is another rider whose season ended early but his was not by choice. Andrew Short's debut season on the KTM 350 was not going well before ending in a crash at the test track. Short was a consistent top three rider on a Honda 450 before this year really falling back into the pack. Was it the bike? Was it the rider? One can never know for sure but I do know this, his starting position was the worst out of anyone in the top ten. I'm not a believer in that bike, I never have been and in American motocross with the tracks watered and disc'd up, it's a disadvantage for sure. From what I hear Short's going back to KTM and he's going to be on a 450 so next season we'll see more of a true indicator of Andrew's talent and speed.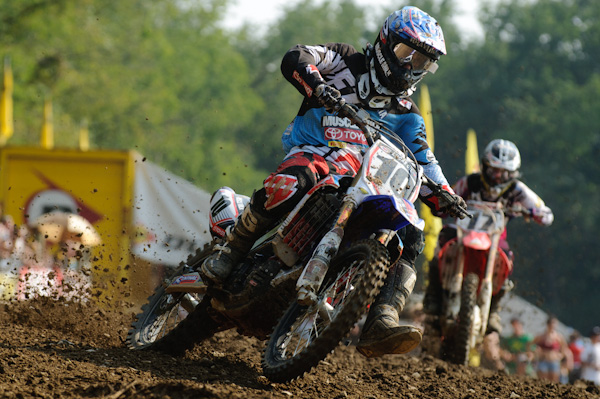 Justin Brayton was 7th despite missing a few races with injuries from supercross. Once he did get back, he was better than I think I've ever seen him outdoors. He got stronger as the season wore on (and yes I'm aware he won a moto on a KTM back in the day but he was still better this season) and had some real good races here and there. It would also seem that he was much higher in many other motos before crashing. Brayton's best finish was a third at Southwick but he was usually in the 5th-6th range.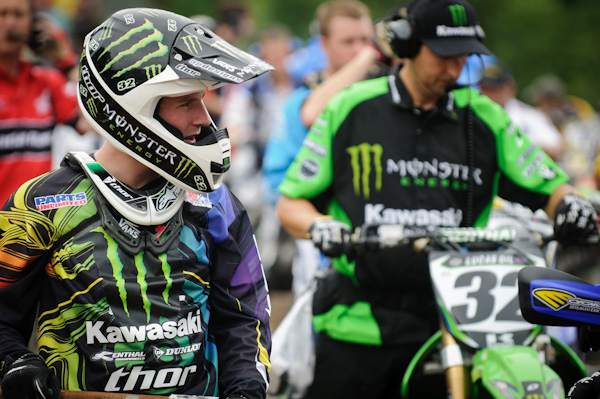 Jake Weimer was 6th overall in the points and he was another rider that got better as the season went on. The difference between Brayton and Weimer is that Jake was better after getting on the 2012 Kawasaki 450. His results were decent at the beginning of the season, seemed to get worse as the year went on and then when he got on the new bike, he stepped it back up. In talking to him, he was frustrated at not being able to get the bike to where he wanted it and the '12 helped him feel more comfortable out there when the track got rougher. Although a 6th probably doesn't make Jake very happy, I say that's about where he should be, maybe a bit better but he's not on the level of the top three guys just yet. Although I bet it does burn his butt a bit that the 5th place guy beat him despite missing four motos to Jake's one.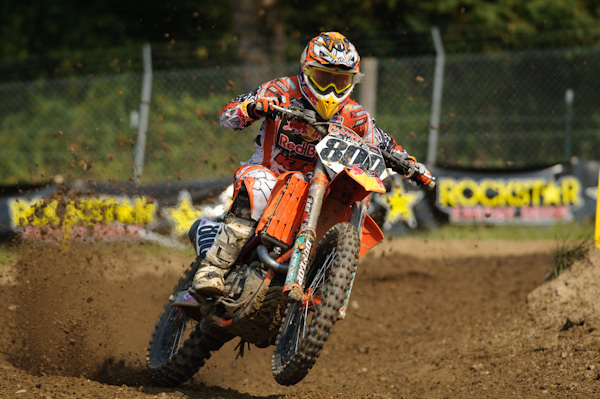 And that would be Mike Alessi who somehow convinced KTM to let him ride the 450 outdoors and the Austrian OEM was rewarded with a good finish by the 800. What would have happened if Mike had not KO'd himself at Hangtown and been able to race one of his better tracks? We'll never know but based on his results, you would have to think he'd have been better. Despite being on the 450, Mike's patented holeshots weren't really there. There were a few (officially 3) but Alessi was battling for positions more than any other time I can remember besides last year when he was on a bike with 100cc less than anyone else. Mike had a very good outdoor campaign and can be happy with his results and effort I think.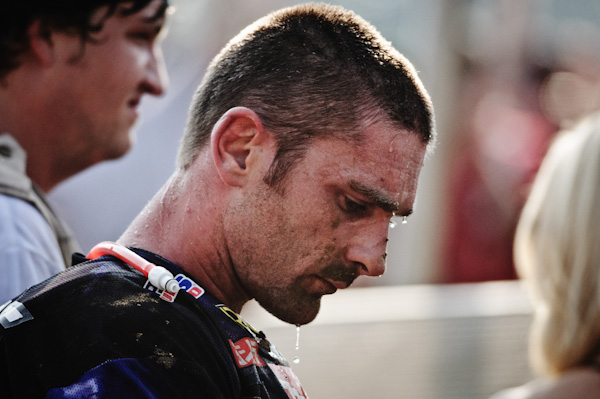 4th overall was the guy who was second last year but probably rode better to get the fourth than he rode to get the second. Suzuki's Brett Metcalfe had a good season and proved to be the fastest out of the second group of riders after the top three. Just like last year Metty got better as the season went on and he redeemed himself after a crash-filled indoor series. All told Brett got 4 podium finishes, three 4ths and a buttload of 5ths.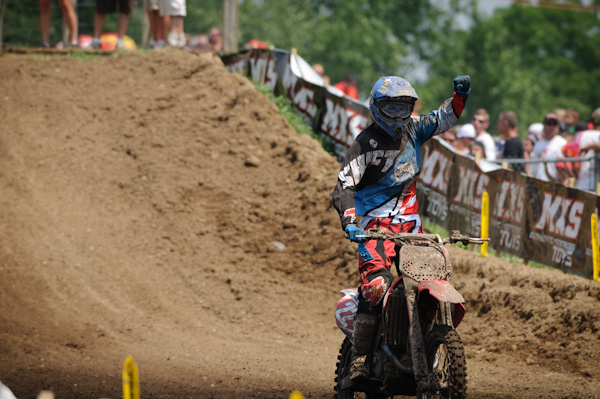 Chad Reed ended up 3rd in the series and oh what could have been for the two-two as he was up by double-digits and looking to bring this thing home before THAT crash at Millville. Despite claiming to be injury free after that, it was clear that something was wrong with Reed after that crash as he only made the podium once in the ten motos after that (although his Honda did blow up in both motos at Southwick). Still it's hard to come down on the guy, he didn't commit to the motocross series until late and then showed that he was faster than last years champion and Ryan Villopoto for most of the season. I really never thought he was going to win this thing until that first moto at Milville when he beat Dungey. It was at that point that I was thinking "Wow, he's really, really going to win this thing" and then of course disaster struck the next moto. No matter what happened at the end, Reed's the big winner of the series (behind the guy that, you know, actually won it) with his rides, his heart and determination being very impressive.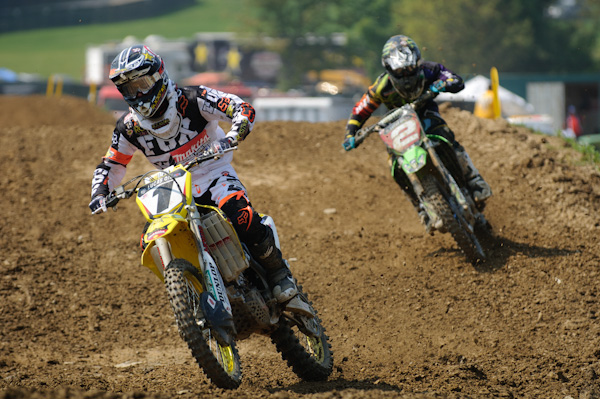 2nd place was Ryan Dungey who wasn't as impressive as he was last year (when he was KILLING them out there) but he was a DNF away from defending his title. Dungey was much better outdoors than he was indoors where he seemed to lack the killer instinct and raw speed of his competitors but outdoors, he was their equal in many ways. I don't know Ryan very well but it seems to me that he's greatly affected by his emotions out on the track and I know that his emotions this year were up and down with him deciding on who he was going to ride for in 2012, his unhappiness at Suzuki (as amazing as it sounds, he really didn't like his motorcycle all that much) and the way that Yoshimura was running the program. And yet still, despite all this, he almost won the series. He's off to KTM for 2012 on a new bike in what I can't help think is a sideways move at best and we'll see next year how that works out for him.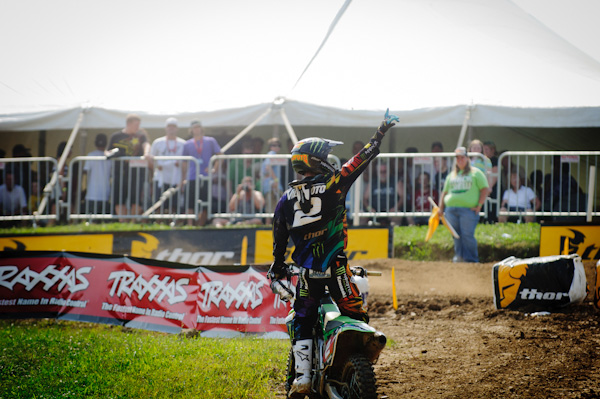 Ryan Villopoto's outdoor title came a lot harder than his indoor one did and that one was gnarly. Never really in control of the series until the very end, it didn't look good for RV when he was caught and passed at Washougal and Millville, RV regrouped from that and form early season malaise to complete the double sweep on the season. To many it seemed that Villopoto was the favorite going in but he didn't win as many overalls as either Reed or Dungey and like I said, he ground this one out. Like a running back who just keeps pounding the football and getting 3 yards a carry, eventually you're gonna break down. Getting the 2012 Kawasaki KX450F was also a key in his win as he won five out of the last eight motos on that bike. He fully deserves this title but to be honest, if Dungey had won then I would say that he deserved it. There just wasn't much to separate the two Ryan's.