Traction. Feedback. Predictability. What else is there in a good set of tires?
Traction. Feedback. Predictability. What else is there in a good set of tires?
For as long as I can remember the tire of professional racing was always Bridgestone. $25 a pop for privateers on National weekends, there were great deals to be had on Renthal bars and sprockets as well. Fast forward to '10 and the unexpected happens. Bridgestone withdraws from its position as the official tire of Professional dirt cicle racing and in steps Dunlop. The change was not welcome initially by most riders as they had developed a predictable routine with understanding Bridgestone Doug and the special compounds he provided in the many conditions we see in MX and SX. Needing to establish new relationships and get used to completely new product brings uncertainty to a sport where the participants don't appreciate it.
Enter Pirelli, a tire company who has been in the rubber biz since 1872, certainly knows their trade but even still, factories and race teams were still reluctant to rely on them as their sole tire supplier and partner in product development in moto. Pirelli has captured almost everything there is in Europe, the top teams all rely on Pirelli and riders over there swear by the Italian brand. Over here JGR Yamaha was looking for a more dedicated one-on-one collaboration with their tire supplier and Pirelli assured them that they were up to the requirements.
According to JGR Team manager Jeremy Albrecht, the team has been very satisfied with the relationship and product. If a team operating at the highest level of the sport we all love and participate in backs them, what possible excuse could we "privateers" fabricate as a reason to just follow the status quo?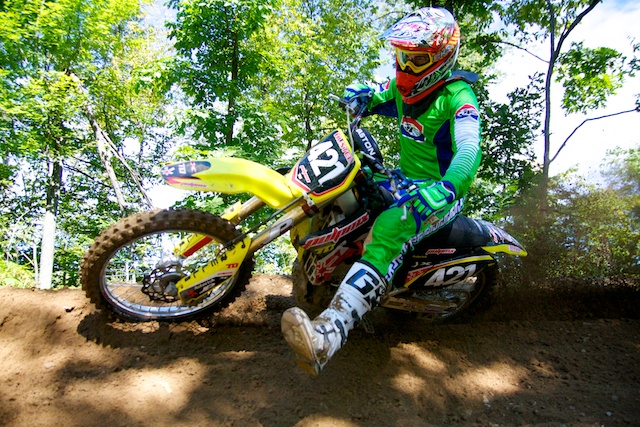 Here I am testing the traction limits of the MX32's
Pirelli sent a pair of their Scorpion MX 32 Mid-Soft for me to check out. For this tire assessment I rode at a few different locations. First was the JP Speed test track which has a varying surface from loamy sand to hard pack. The second location was a very whooped out sand track and the last was the Great Lakes Grand Prix in Northern Michigan. This track is carved in the ski hills of the Otsego Club in Gaylord Michigan. It's a 3.5 mile track made up of primarily sand but as a whole, the track was soft and loose, a perfect surface to put these rubbers to task.
In almost every situation I found myself in with these tires, I was extremely impressed with not only the traction but the feedback they provided. Front-end feedback is always important, if it's not there or unpredictable you suffer washout or knifing. The lug pattern is pretty standard, and when something is standard, it's that way because it has been proven to work. The lugs were tall and the compound just as you'd expect a "Mid-Soft" to be.
There was one instance when I felt the front-end feedback was lacking and that was on the whooped out sand track where it happened to be raining. The front was pushing pretty obviously in the corners and the feel wasn't as predictable as every other situation I rode them in.
The bottom line(show) is, these tires worked great where they were designed to be used, in loose to soft/ loamy conditions. If you ride on these types of surfaces like I do at most locale's here in Michigan, I definitely recommend spinning a pair of the Scorpion MX 32 Mid-Soft's. They've worked well enough and more importantly predictably enough, that I will be buying another set when these give up the ghost.
Thanks to Josh at Pirelli for being so patient while I found time to put the tires through their paces.
For more info Call 1-800-pirelli or visit www.us.pirellimoto.com for more information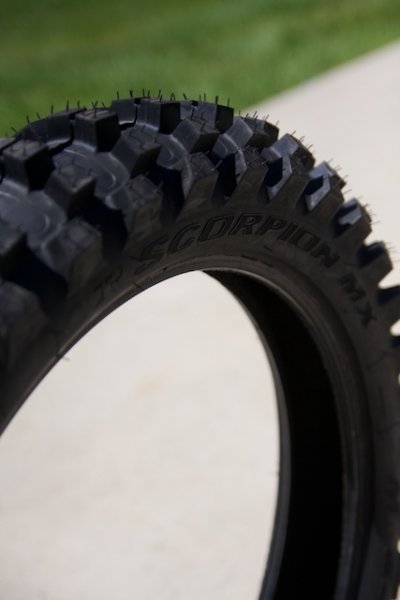 Pirelli Scorpion MX 32 Mid-Soft