Laporte talks about his 1983 250 World Championship title defense

Laporte talks about his 1983 250 World Championship title defense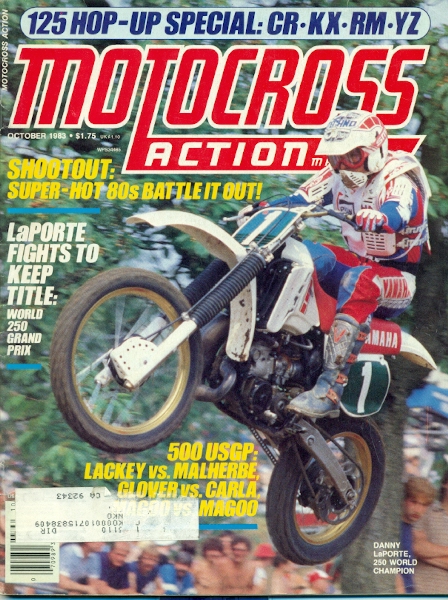 "I remember this cover. I had won the 1982 250 World Championship and was looking good to defend my title. I remember that the first race was in France and Bill Bucha was my mechanic at the time. He was a great mechanic, one of the best ever.
I DNF'd both motos at the first round because of a gas cap! The bike was getting vapor lock and pushing all the gas right out of the tank. The guys at Yamaha changed everything, the motor, electrical and everything- it was crazy. Everything was new but the gas cap and I lost fifty points right there.
So that was a great start to my title defense (laughs) and I went on to the second race in Germany where this picture was taken.
I remember the track-it was kind of like Saddleback- a real fast track with sky jumps and a typical Eurp track. Very fast as well. I remember that I wasn't getting the gearing right and Bucha was waving me in to change the gearing. It made a huge difference and Georges Jobe and I rode wheel to wheel both motos for 45 minutes. The track had great traction and nice berms- you just feel like you could ride forever you know?
It was weird, I think I rode better that second year than the first because by the end of the series, I had cut out half of that 50-point deficit. So even though I lost the title, I feel like I rode better in the year I lost. I had a better season but when you lose two motos and that's it.
It was cool to be on the cover of MXA. Back then MXA was really cool and when you get a cover shot on there, you know you made it. It was a seal of approval, they were always all about motocross and that was it. Generally the American public aren't interested in the European GP's but because I was there and Jody (Weisel) and I are friends, he gave me the cover. He never gave you anything for free, you had to earn it.
I was always a JT guy in America and I kept it going when I went to Europe. John Gregory, the owner of JT, hand delivered my gear to me at selected races. It was like Christmas for me whenever he came over. He would sometimes ship it as well to me from San Diego. I was also one of the first guys to wear Techno helmets, which the JT ALS-2 is kind of based on. The integrated visor and all that were part of it. It had really thick padding and a soft shell, in Europe the standards are quite different than in USA. When I first tried it on, I didn't like it but it grew on me. It was super light, the lightest helmet on the market and it looked pretty cool also."