Nate Davis won a Pulpmx Show contest and in this great essay, he cronicles his lost weekend in Las Vegas.

Nate Davis won a Pulpmx Show contest and in this great essay, he cronicles his lost weekend in Las Vegas.
MY PULP EXPERIENCE: AN ESSAY ABOUT WINNING AN ESSAY CONTEST
By Nate Davis
Photos by James Lissimore
Back in April I wrote a 500 word essay, 12 point Arial font, that earned me the privilege of sitting in on a PulpMX show with none other than Steve Matthes, the OG KDub, and that guy that answers the phones. The criterion for the essay was strict; laugh, cry, and kiss ass. I may have left out the laugh part in my submission but that wasn't from a lack of trying. When I realized I wasn't very funny, I chose to write how motocross kept normalcy in my family after the loss of my parents (crying), and later how the PulpMX show would keep us together (ass kissing). Low and behold I ended up being one of the four semi-finalists that had beat out 100 something losers. Having to call into the show and plea my case ended up being a lot of work. At the time I was at work on an oil rig in Nowhere, North Dakota, (those of you about to google Nowhere, North Dakota it doesn't exist) and had absolutely no cell phone service. Anticipating this I purchased a $300 cell phone booster to ensure that my call would not get dropped. When I called into the show I was sweating like a nun in a field of cucumbers. I had all intentions of bringing up how awesome the 87 Anaheim supercross was, 99 SummerCross and 2003 Budds Creek and Brian Deegans 167cc machine. I didn't get any of that in (my brother Dusty called in and got the 87 Anaheim supercross bit in for me) and crumbled under the pressure of trying to impress Steve, Watson, and the phone answering guy. I had to get off the phone and get back to work and was surprised the next day when I listened to the archive and heard the end of the show where Pulp listeners had called in and voted for me. In the end I ended up being the lucky bastard awarded a 4 night stay in the Sin City, as well as tickets and pit passes for two to the Monster Energy Cup.
My wife Kelly, my brother Dusty, and I flew into Las Vegas on Friday afternoon from Billings, Montana. My sister Casan, and her fiancé Tom were already there; since the essay that won me this trip was about our family we made it a family vacation. Matthes and his travel agent, William Shatner, put us up in the lovely Luxor Hotel and Casino. A very convenient location as it is within walking distance of the Lion's Den thus close to the PulpMX studio. Those of you that have never stayed at the Luxor, it is the hotel that is shaped like a Pyramid on the south end of the strip, the light in the sky. There is only one elevator per floor; our room was kitty corner from the elevator which meant Kelly and I only had to walk 4.8 miles from the elevator to our room. Although the Luxor is a very nice hotel it is not short for luxurious. At least I didn't get put up in that crappy Aria hotel like those cheap bastards at Kawasaki did for the other three essay semi-finalists. If Matthes would quit eating all their food and drinking all the coffee they might have a little more room in the budget for hotel accommodations, but I digress. As we checked into the hotel I decided to test the front desk receptionist and asked her if King Tut actually lived here; she didn't get it.
With a big day ahead of us with the Monster Energy Cup, we decided it would be a good thing to get settled into our rooms and get rested up. Being from a small town in Montana that quickly changed into, "Hey lets go walk the strip and stop at every blackjack table from here to Caesars Palace. While we are at why don't we each mow down about a case of beer!" Moser would have been proud. We eventually called it a night/morning at around 3 am; I mean come on it is Vegas.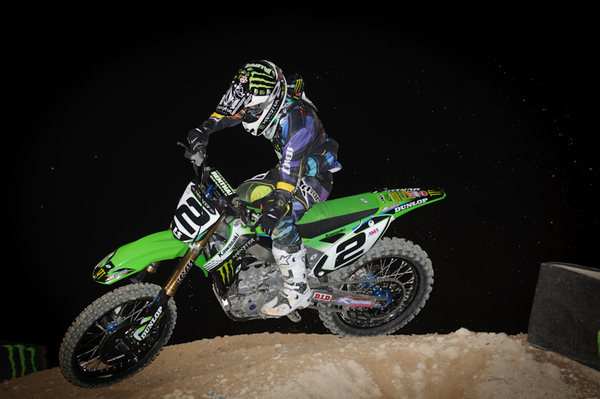 The only guy whose weekend was better than Nate's was this guy who won a million bucks.
The next morning around 9 am my brother was calling me. Dusty had to inform me that he and Tom were two Caesars down and decided to go to the pool and work on their natural Tan. Me, also needing to work on my natural tan went down to join them much to the protest of my wife. As I entered the pool area I was greeted by a group of obnoxious, slightly buzzed (I am using the term buzz lightly) guys who were circle jerking in the pool. The other group was from England and knew all about the PulpMX show and the essay contest. This lead to some interesting bench racing amongst fans, where we diligently covered who we thought was going to win the Monster Million which none of us thought it was possible. Then we argued whether or not USA riders could ride what the English referred to as a "real" sand track. By the end of it we had plans of making the trip to Lommel next year for the 2012 MX Des Nations, so we could watch the Euros get handled by America in the sand. So a little bit of tanning, drinking, and bench racing was going down at the Luxor pool and by noon we were the life of the party. By then it was time for us to head for Sam Boyd stadium.
We arrived at Sam Boyd stadium and headed straight for the paddock. Things you can always count on in the pits at a Supercross race; kids who will stop at nothing to ask riders for their gear, jersey chasing girls with little to nothing on for tops, and…my brother. With the little help of liquid courage he had received early in the day from his friends Caesar and Buddy Light, Dusty was walking up to everybody and anybody and shaking their hands. Not to mention yelling at them from across the way like when he saw Chisolm at the Suzuki Tent; "Hey sign this guy for next year!", or Brayton walking; "Hey Justin looking good on that Honda, go get that million dollars!" I was impressed and then slightly embarrassed when he walked over to the Pro Circuit truck as Mitch was lowering himself down on the lift gate from the top tier of the race trailer. Dusty waited at the bottom until he had finished coming down to shake his hand. Mitch being the class act guy that he is, shook his hand and thanked him for his support. We toured the pits for a while until it was time to get the tour of the Monster Energy Kawasaki truck.
I stood outside the truck and didn't realize that Aaron, and Jason "Nothing is Over" Rambo were already there talking to Monster Tom. The tour was supposed to start at 3:00 PM but due to time delays, as the whole event ended up running about two hours late, the A practice was out on the track. So we waited to start the tour right after Villopoto and Weimer got in from practice. Monster Tom was very knowledgeable and even showed us the area where Matthes gets his coffee and food for the day. They opened up a drawer for us to show off their titanium nuts. That titanium nut and bolt collection was in one tool box drawer and said to be valued over $6000. The tour was good and we even got to get a little insight of how the suspension setup varies from Ryan and Jake, as explained by their suspension tech. Rick Ash, Kawisaki's motor guy even popped in and grabbed his laptop and prepared to do some ignition mapping on the bikes while we were there. Then entered the one and only Steve Matthes as he went straight for a banana and bottle of water, probably to help him recover from his elithical workout the night before. Before we left the Kawasaki truck I went up into the rider lounge and discussed line selection with RV. I let him know where all the hot lines were out there to help him gain those extra tenths of a second he needed to get to the top of the box. We later then discussed guns and unicorns. Yeah those last three sentences are from my fantasy world.
From there we would go over to the infamous Hart & Huntington Race Team. If you have been to a supercross you know what the atmosphere is like around the H&H semi. The hospitality area is filled with a bunch of what looks like rock band groupies, and there is the guy on the microphone pumping the crowd up with serious beats vibrating the entire paddock. They were throwing out shirts and all sorts of H&H gear. As Watson would say that is putting A and B together, but as has been said many times, their pit presence is second to none. Matthes went into the truck to try and find Kenny at which point he would return without him saying, "He'll be out in a bit." We sat there for about five minutes or so until Watson came out of the truck. He walked around like he was busy making sure things were in line before making his way over to us. He shook my hand after cool guying me a couple times and then departed from there. We let Matthes continue to provide excellent vision for his EKS brand riders while Kelly and I went to track down my brother and sister.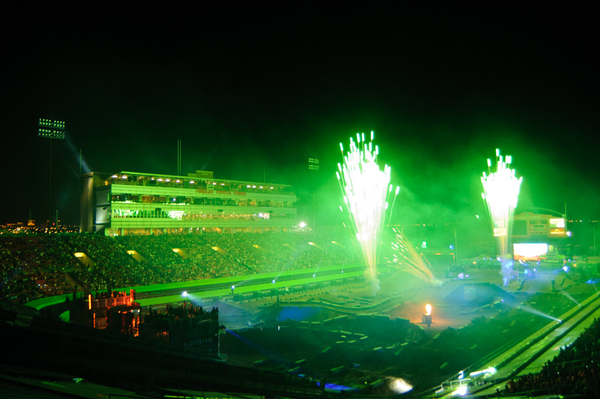 Fireworks are cool.
I was a bit concerned when I saw Dusty, what looked like, cornering Jim "Hollywood" Holley next to the MotoConcepts hauler. As it turns out Dusty shook his hand and somehow struck up a conversation about being from Montana. It just so happens that Holley wants to buy some land in Montana, so he and my brother exchanged phone numbers. I am in the market to buy some land right now and think it would be cool to buy some from Hollywood. Then I would become late on the rent and he could track me down with a baseball bat and demand I settle up. That would be awesome!
Now it was time to go watch the race. I won't go into great detail about this part since I assumed everyone saw it on television, except that Brad guy from Canada, so I will give an Observations like rundown of everything.
Seating – I sat in the industry section with the other essay finalists and they were pretty good seats. It was good to meet and sit with those guys as we benched raced and talked about how fast we all used to be.
Track– Very cool to look at; over under was sweet; going into the stands very Pontiacesque. A total of three ruts could be seen, all in the corner after Thunder Alley / Whoops section. The tabletop double jump was probably the best to watch, Marvin Musquin whipped it every lap over that thing. The outside portion of the track looked choppy, rocky, rough and no fun. The ruts in the faces of the jumps out there were deep and the lighting had to make it tough.
Opening Ceremonies–Looked like the timing was off between riders coming out. Kevin Windham killed it as usual, throwing a big whip off the freestyle ramp than a transfer from a berm to the steep takeoff of the double tabletop. Villopoto looked a little spooked when he arose up out of the podium on a 50 ft. pedestal contraption.
National Anthem– I am not a fan of the Jimi Hendrix guitar version of the national anthem, however having the mini and amateur riders pull out the big flags was cool.
Results:
1.) Ryan Villopoto (1-1-1) "Poto Moto!", as Tom would say and everyone in the same section heard him say. My pep talk must have done it for him.
2.) Ryan Dungey (3-2-2) The Dungeinator looked pretty good for his first race on that KTM 85SX. His bike looked extremely short, as he looked like the Jolly Orange Giant on that thing.
3.) Brett Metcalfe(4-3-3) Metty solid as usual should of won his heat race.
5.) Eli Tomac (5-4-10) Tomac looked right at home on the 450 and kept Metty honest.
7.) Nick Wey (14-11-4) Rode awesome in the third main. When we were in the pits I threw a Winners Take All quote at him, he looked at me like I was an idiot, and then noticed my Mandingo Pickle shirt and then we became friends.
10.)Mike Alessi (6-21-6) Mikey got good starts every main but it didn't look like he was comfortable with his bike as it was bouncing around like an 8 year old on a pogo stick. Brett Michaels (his mechanic) just couldn't seem to get it to settle down.
11.)Ben Townley (2-19-20) BT101 gave it all he had in the first main to hold off Dungey which was impressive. A bent chain guard held him up because it was making a noise that kept him from finishing the last two mains.
21.)Josh Hansen (22-17-21) I don't know what Hanny has been through man, but I do know what he hasn't been through…. All three of the ME Cup main events. I think he pulled off every main and supposedly a big crash in practice hindered him, Watson better hope so.
Another cool thing to see, was after Justin Hill won the amateur main his older brother Josh Hill was one of the first guys to congratulate him after he was done on the podium. You could tell Josh was stoked for his younger brother, this made me a Team Hill fan.
Saturday night I was intent on finding the after party and where the riders might be at. With MGM Grand being the official hotel for the ME Cup, Kelly and I decided to head over there. After wandering around like Charlie Sheen through a whore house, we really didn't see any sign of the moto industry. Then I spotted Matthes and JT$ playing my favorite gambling game, blackjack. There was a chair at the table so I decide I'd play a few hands with them. It was cool listening to those guys casually talk about the race and some inside things that you would normally never hear or read about. I tried to not act like a twelve year old girl sitting in the front row of a Justin Beiber concert, and think I contained myself quite well. Matthes thought he saw Pat Morita from the Karate Kid movies but JT told him that Pat had passed away a few years ago. Matthes was crushed and didn't believe Thomas which led to my wife using her phone (because we were all busy) to work the Google and find out that indeed, Mr Myagi was passed on. This seemed to devastate Steve.
Wanting to show off my knowledge of moto and try and initiate some sort of bench racing session, I resisted the urge as it was neither the time nor place. After playing several hands of blackjack and watching Matthes dominate the tables JT$ and him went on to a bar while I stayed and continue to lose money….all of it.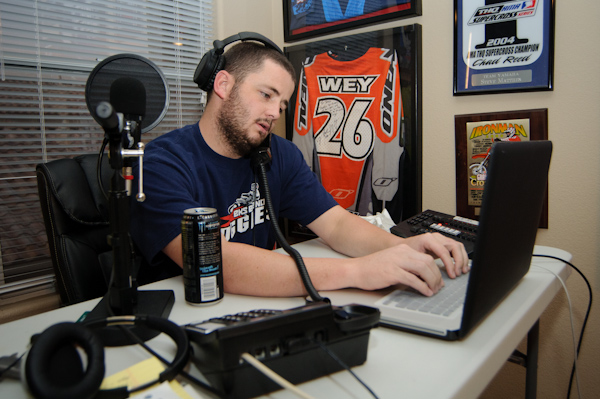 The man, the myth, the legend- Tits Legendary hard at work answering calls & working the Mac.
After becoming broke for the 223rd time that night Kelly, and I made a trip to an ATM and got more money. While she was getting the money, (I am married now so the wife handles all transactions) I took a restroom break and entered the restroom alone. Shortly after I had chosen the urinal I was going to use from a bank of about 30 unused urinals, a guy walked in and used the urinal right next to me. I feared for my life and continued about my business without looking over to see who it was. As I came out of the bathroom Kelly asked me who the pro rider was that was in there with me. She recognized him but couldn't put a name to the face. Later she pointed him out as he was walking through the casino and was none other than 4th place finisher Martin Davalos. Martin I don't know how they do it in Ecuador but in the USA there is a strict one urinal spacing policy most men like to enforce when possible. Needless to say other than watching Matthes dominate the tables, Martin Davalos brushing my shoulder at the urinal stall was my closest encounter with moto fame that night, and Kelly is the only witness to whether or not this event actually occurred. It was getting late so we called it a night and made our way back to the Luxor.
Sunday was a day to entertain the wife so if you want to hear about that you'll have to read next month's issue of Hustler.
Monday, the big day had arrived and I was more nervous than a new guy in a prison shower block. I was awake bright and early continuously thinking of what I might say on the show, and what I should not say. When we arrived to the PulpMX studio, the basset guard dogs had recognized our arrival and were at the ready to attack if needed, but Matthes restrained them. Kelly had cooked some goodies to show our appreciation and they barely made the plane ride down from Montana. Matthes dug into them immediately and commented the wife on her baking skills. Steve told me to expect Kenny showing up at about 5 minutes before six, and about that time the front door swung open and in walked Watson, believe it or not supporting a flat bill hat, sleeveless shirt and a gallon of water. He must have been trying to make a good impression; he was almost 45 minutes early. He plopped himself down on the couch and Steve ran the show lineup by him. As soon as he told him about DV stepping away from the MotoConcepts race team Watson immediately called out the Alessi deal, as he said he saw Tony Alessi and Mike Genova pow-wowing outside the semi. The chit chat continued for a little bit in the living room, Watson kept checking out my chick from time to time, and Pookie offered us some beverages. Steve and Pookie were very accommodating to us and made us feel right at home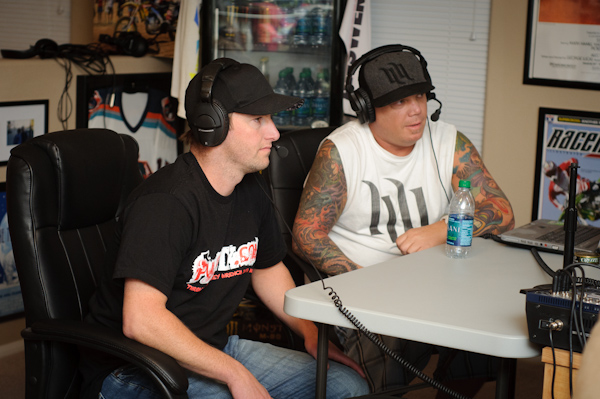 Nate and Kenny try to bond during the show.
Up to the man cave/studio we went to prepare for the show. The jerseys on the wall, and the Monster Energy refrigerator in the corner, had me plotting out how I need to decorate my man cave. The Maple Leafs were on the television losing their next hockey game while Matthes prepared the headsets and the soundboard. Once we put on the headsets and the show got underway I was surprised at how busy Steve is with running the soundboard, pulling soundrops from his iPad and constantly texting or twittering on his Blackberry. I was sitting to the right of Watson and noticed he gets easily distracted with the chat room, and whatever else he has going on with his cell phone. Once the intro song started I felt like I was just listening to the show like I would be at home. It was pretty much like I imagined it would be. I tagged the following significant events of the show to try and help visualize what was going on in studio.
Before the show:Watson to Matthes looking at a laptop in front of where he sits, "Hey you got the chat room rolling on this thing"
00:01:30:Watson throws out his first "dude you are on glue" comment after Matthes called him his life partner.
00:02:38:Steve introduces me being in studio and I claim that me and Kenny are buddies, and he in turn says we could be friends, until he finds out I am from Montana crushing my hopes of bro'ing down with Watson in the future.
00:05:32 Steve admits to looking at the crotches of the guys running around the pit in nothing but Freegun underwear, then asks my wife notice their crotches as well. Since I am sitting there she denies taking a quick peek
00:08:28 The Hippy and the Hick show is brought up and Matthes says "if you are going to say something you got to have something to back it up" At this point I am chomping at the bit to get "Documentation!" sound drop out there. Then Watson says that 2001 was 11 or 12 years ago.
00:09:00 I finally get my documentation bit in
00:22:25 Matthes gets Kenny all worked up about Hanny riding the B practice and Watson is throwing his hands up in the air and you can tell he is really getting upset.
00:23:15 I bring up Kyle Partridge only doing the Vegas supercross last year. I was mistaking it for the 09 season when Partridge qualified at Vegas on an 08 bike, which was pretty sweet.
00:25:56 Matthes effectively calms Kenny down by reading a some e-mails that suck up to Kenny and he says "all the people that don't get it….get it" (Note: every time you hear crumbling of paper that is Matthes crumbling his printed out emails into a ball and then throwing them at Tits.)
00:26:30 Watson explains how he is a business man of the sport and knows how to put A & B together to make shit happen. He is a cup of coffee deep right now so he is starting to become sharp with his comments.
00:27:08 Watson is now saying "it is called B to B, business to business" … I now have an effective business model to follow if I have ever decide to start one.
00:29:12 Matthes asks me if I have just been getting wasted while I am in Vegas, I first I say not really to avoid sounding like an alcoholic, then I realize I am a professional drunk and fess up.
00:30:55 Kenny's cup of coffee is really kicking in now, he just finished giving us a dissertation on how Asian people don't gamble in the main casino at the Luxor. I am looking at Matthes and he is looking at me and we both are nodding our heads in disbelief that Watson has pulled this out of his ass.
00:32:52 I point out Mike Alessi bike setup looked funky, and Steve calls me Brian Lunnis, then confirms my suspicions with his mechanical knowledge that he used in "03 during Ferry's first Moto win at Budd's Creek where he humiliated the competition and straight up beat "The Goat" Ricky Carmichael. To this day Ferry says that it would not have been possible without the finely tuned YZ450F by his factory mechanic and soon to be media mogul Steve Matthes." (source: WikiPedia)
00:37:10 Those caramel apples were a pain to pack with us on the plane all the way from Montana. Kelly also made some delicious cake pops but they did not make it till Monday before melting in the Vegas heat.
00:38:19 Brad from Canada called back and asked about Dungey's Leatt. This gets Tits all sorts of excited and Watson and I say to shut his microphone off.
00:42:02 This question from the Tweet at Tits segment about the signing of riders, I say to wait for the press release, and Watson says to ask the pafferatzi, looks at me and winks since I referenced the pafferatzi earlier in the show. I now have now regained hope that me and Watson will be able to bro down later.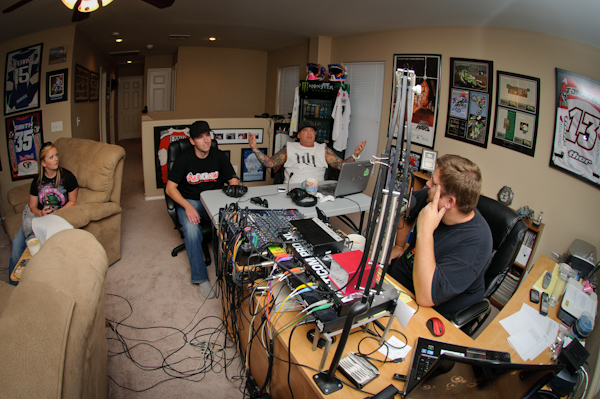 Kenny just plain gives up at some point in the show. That's a lot of cords!
01:02:36 DV Basically confirms the Alessi to MotoConcepts the reason for his departure. And Kenny taps me on the shoulder, pounds his chest like a gorilla, throws his hands up in the air like he is signaling a field goal, and starts pointing at Matthes' iPad as if to signal Steve to play the "I know everything" sound drop. Matthes doesn't play the drop.
01:26:00 Coming back from commercial I try my best "Van Halen coming at ya" Matthes impersonation. At the time I thought I did good, listening to it later I didn't even come close.
01:29:20 The story of Geico Honda switching to Yoshimura pipes comes up and right before Kenny speaks up he was texting or doing something on his phone and takes Matthes comment out of context and turns it into something totally different. I think Watson is thinking that Matthes is saying that Pro Circuit is not doing as a good job on Geico's stuff because they are competing with them. This is caused by Watson being distracted and simply not paying attention.
01:32:03 Now this argument has spilled over into whether or not Factory Connection uses Honda specs on their triple clamps. Matthes has is finger on his iPad so he is ready to push the "I know everything!" sound drop.
01:32:32 Watson "Dude you are on glue" comment number two.
01:34:58 Watson is already having to stick up for Hansen and he isn't even on his team yet. He better get used to this, in my own opinion.
01:37:13 Watson continues to defend Hanny by bringing up Kevin Windham's performance… again. Matthes and I are mutually rolling our eyes.
01:39:29 Watson brings up press release, looks at me and winks. At this point I think we are definitely going to bro down later. I really like my chances.
01:42:55 This guy claims to be from Romeoville Illinois and says that its right next to Joliet and that it was named after Romeo and Juliet. Then I find out its free give-away guy and think he is just kissing Kenny's ass. I googled it later and found out that Joliet, pronounced jaw-lee-et, was named Juliet and neighboring town Romeo was named after Shakespeare's tale of love. The towns later got renamed Joliet and Romeoville. The shit that Kenny knows, putting A & B together.
01:44:00 Pookie is in studio and she is literally telling Steve that he needs to send this dude some stickers.
01:46:11 Watson, "you are on glue" comment number 3.
01:50:35 Watson taps me on the shoulder and then straight up tells Brayton that he doesn't think this new ride is going to improve his results. I am looking at him in disbelief that he actually is saying this stuff to him.
01:51:28 Brayton answers by saying that in the end its all on Justin Brayton; at that time Watson looks at me and nods. I start googling places that me and Watson can bro down after the show.
01:59:10 I had this Muscle Milk question ready to rock and roll as soon as I heard Justin Brayton was going to be on the show.
02:06:58 Brayton calls out Watson, I am trying really hard not to explode into laughter into the microphone.
02:15:07 I tell Tits that $5000 dollars a year for the next twenty years is not 10% of a million, afterwards I realize I am an idiot and can only imagine what people in the chat room said at that point. Sounding like an idiot was my biggest fear, then I sounded dumber than Tits. Epic fail.
02:18:46 I received a Tweet from Moser earlier in the day to put my balls on something in the studio, so I had to throw it in there somewhere. I figured those sheets Sinjin wanted would work, since he seems to like balls.
02:20:57 At this point I feel like I am watching Sesame Street when Watson asks Villopoto to describe what a "friend" is. Today's word is brought to you by the letter F.
02:21:15 Matthes is elated as he throws his hands up in the air and spins in circles in his chair when RV calls him "more than an acquaintance"
02:21:45 Whoever national number 874 is gets two shout outs on the air
02:30:09 Number 874 gets another shout out
2:30:40 While hanging up the phone RV says "thanks friend", therefor documentation that him and Matthes are indeed friends.
02:33:44 At this point I have come to realize that Watson doesn't remember my name, but then I realized it is Ken just getting mixed up in conversation, then he calls me "the guy"; I have made reservations in my mind for me and KDub to bro down later.
02:34:47 After I make this Hanny comment, Watson won't even look at me, I have instantly canceled aforementioned mental reservation.
02:36:37 Watson stands up for me at break I am going to call and make reservations for us at the Spearmint Rhino VIP Room.
02:46:15 I am trying really hard to control my laughter while NYK is explaining how much of a badass Damon Bradshaw is.
02:49:43 This is a quote from Winners Take All, knowing that NYK is a big fan of the movie I thought he would appreciate it. In the movie this is where Bad Billy puts young up and coming rider Johnny Rivera in his place. In NYK's case you would never do that to Bradshaw and he tells me why.
03:04:32 Watson is explaining the arguments him and Steve get in are just for entertainment value, at commercial break Matthes and him eventually hug it out.
03:14:25 The JGRMX commercial makes me wonder why they are only, "semi-proud sponsor of the PulpMX show", rather than just a completely proud sponsor. Perhaps it's because Matthes raids there lunch at the races.
03:18:04 Kenny and I have a moment I am glad I made those reservations at commercial break for the VIP room at the Spearmint Rhino. Later in the show he says we can't be friends until I buy him dinner and I hear the Spearmint Rhino has one of the best steaks in town. On a sidenote I actually purchased an iPhone when I got home the next day and bought the PulpMX app first thing. Now I can carry out an entire conversation with Kelly in nothing but PulpMX sound drops. If you haven't got the app yet you might as well kick rocks.
03:19:18 Where in the hell does HazBeen get this shit from? Who is this guy? You can tell by Kenny's body language that he truly does despises when HazBeen calls in.
03:23:47 Tearoff segment question one, Matthes is asking me what the best part of an 8 hour event was, I gave him what stood out the most to me.
03:24:40 The adding of the adjective "extremely" probably wasn't needed, I pat Watson on the shoulder after this comment and he doesn't even look over at me. I don't think we are going to bro down after the show.
03:34:35 The help from the audience that Steve is referring to is Pookie holding up a finger and signaling one. I was hoping Tits would get this wrong since I was a huge Guy Cooper fan and know about every race he almost won, 87 Coliseum being the closest, damn you Rick Johnson.
03:39:10 Here is our world geography review, Kelly who is a third grade teacher tells us that in fact England is part of Europe. Glad we were able to clear up that brain buster.
03:43:35 Watson calls Jeff Ward his friend, I wanted to get Wardy on the phone to confirm but we were running out of time.
03:48:27 Trying to get a reaction out of Tits all night and I failed. I went for the jugular when I asked if he was a part of Circle_Jerkies, you can hear Pookie laughing in the background, as I know his affiliation with the Dream_Team.
At the end of the show Kenny picked up his gallon jug of water and headed on out. I asked him if he wanted to meet Kelly and I at the Spearmint and he smiled and didn't say anything. My fears had been confirmed; Kenny and I actually are not going to bro down. I actually was surprised at all the coordination that goes into these shows. I have new respect for Tits now after seeing all the multitasking he has to do from answering calls and providing a sound drop from time to time.
The show was a lot of fun to do. It was hard at first realizing that I had a microphone I could talk into at any time. I caught myself just listening in as if I was listening at home, it was a good thing I didn't have any Bud Light's prior or else my laugh would've blew everyone off the air. I have to thank Pookie, and Steve for letting us into their home for this. That would be brave thing to do, let some stranger you pretty much met on the internet into your home. I have to thank my beautiful wife, Kelly for putting up with me in Vegas for 4 days and nights. I recommend that any Pulp fan try for this contest if they ever do it again.