Firing up the memory turbine, I recall the MX machinery of my life.
Firing up the memory turbine, I recall the MX machinery of my life.
Thanks to Tony Blazier for the images.
Long ago Matthes put pen to paper on a story HERE documenting the bikes he had owned, loved, hated, rode into the dirt and then departed with. I remember reading it and how it caused me to take that stroll down "premix lane" and consider the bikes left littered behind me over the years. Now I was never a Canadian prodigy, nor a 4-time Manitoba Champion. Shoot, I didn't even have a mini-Dad who would kick me in the nuts or demoralize me with an icy stare following a poor race BUT I did have a handful of bikes and each has a story to tell. I'll leave it up to you if any of them are intriguing enough to keep reading.
If any of you out there want to do this same thing with stories about all your bikes, feel free and we'll run it right here on Pulp. It's funny how you equate the time in your life to the bike you owned. Just use the contact form on the site and send it to use. We'll try to get the pics or you can scan them yourself.
Without further adieu, I type those words we hear during all the great PulpMX Podcasts, "Let's go back in the time machine"…
A Little Background
I can remember when I was in elementary school, before there was the internet and libraries were actually useful still. I used to always check the Dewey Decimal System in the local libraries for books on dirt bikes, if they had pictures, even better. I loved watching The Dirt Bike Kid and whenever the newest Dirt Bike, Motocross Action or Super Motocross came out and it had the 80cc shootout, I would read that comparison at least 25 times and just day dream about how awesome it would be to have one. I was obsessive. I wanted a dirt bike so bad, I probably would have committed a felony if I was approached with an opportunity with a dirt bike as the payday. My family didn't have a lot of cash, we weren't poor by any means but I could tell my parents weren't on the same page with one another pretty early and me having a dirt bike purely out of want wasn't something I was even interested in getting shot down on. So I dreamt and planned for the future. One day it would happen but it would be up to me so for now I would just wear out my magazines and scheme.
1983 RM80
In 1988 I was 11 and found this bike in the classified section of the Flint Journal. It was the actual picture used in the dictionary under the pseudonym for "roach". I mean, you could not get more of a pile if one of the Wildout Wheelie Boyz got chased by the cops in 1983, laid it down and left it there till today. When I found it in the paper though, I was so jazzed because I had just sold my Clod Buster. Remember those? It was about a $500 remote control Monster Truck. Super legit for it's time. Anyhow, the RM80 was listed for $299 and I've never been one to haggle over price but I remember I ended up buying it for $250. My Mom drove me to pick it up and I believe we loaded it into the back of her Pontiac LeMans hatchback!.
The thing had blown forks, a blown shock, no compression(or power for that matter) and the freaking exhaust pipe would fall off while riding it! I didn't care, I was on a dirt bike! I would just ride it on my Grandfathers 100 acre property and when the pipe would fall off, it would have a little more power than when it was on and shoot flames from the cylinder. Luckily, I never set Grandad's land ablaze. I used this bike pretty much the same as a redneck farm-boy. I just enjoyed the feeling of bee-boppin' around the trails and finally experiencing what I had been reading about for years(even though the steed was a pile).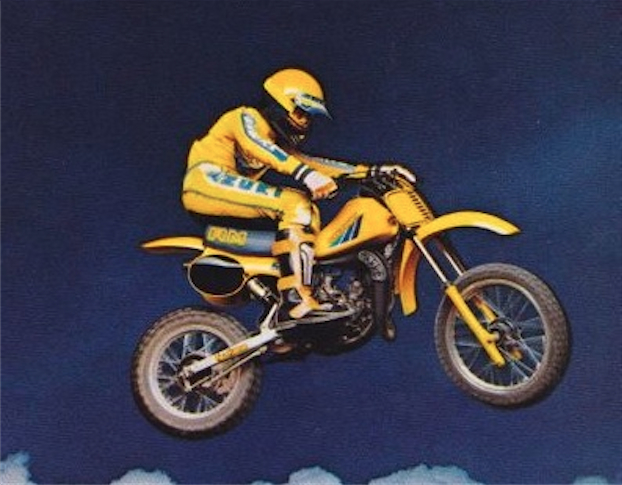 Imagine this bike not having an exhaust, that's closer to how mine looked when you rode it.
1985 KX125
I honestly don't know what happened to that RM80, I doubt I sold it seeing how it had absolutely zero value. At any rate my next bike was a 1985 KX125 I bought from a good friend in elementary school who had been riding just about since birth. He was a always a trail rider though and always had older bikes. Just a family of recreational riders. I bought this bike during the winter and could not wait to ride it, so foolishly I took it out in the snow. I didn't know the first thing about the mechanics of a motor and just assumed, if it starts, it'll run good enough in any weather. I ended up cold seizing it and it took me about the rest of winter to save up the money for a new cylinder and top end(the piston actually blew a hole in the cylinder). I spent a lot of time looking through those "Midwest Action Cycles" ads at prices on OEM Kawi parts. The bike was decent, it kept me riding for 1989 and part of 1990, still just trail gougin' not a thought about racing(man that seems weird to me now).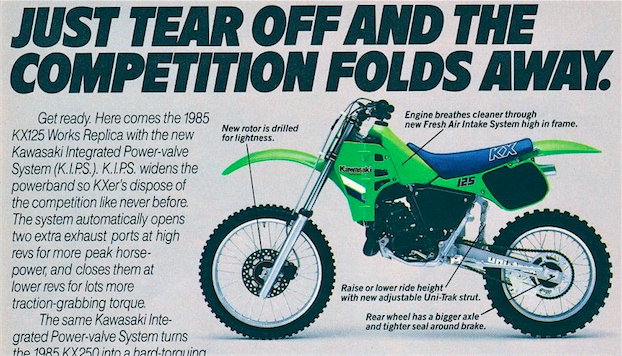 I love how these old ads had the lines pointing out the cutting edge new features.
1984 CR125
Now you may think to yourself, "why in the hell would Swizzle take a step back in model year?" That's easy, this '84 CR125 was the shit! I bought it in mid 1990 and rode it for 2 years. It was such a great bike. I remember one of my main reasons for being stoked on it when I went to look at it was it had symmetry. Yes, it had two(!) radiators and my '85 Kawi only had one and it always bugged me. I felt like a dude with only one testicle. Does it really matter? Not really but I wanted two radiators like everyone on a current bike, not some uni-radiator freak of nature. I was already on a bike outdated by 7 years, no need to compound that with glaring visual evidence of it's age. But back to the Honda. I bought it from an older guy who had definitely taken incredible care of the bike. It could have been a restore for all I know but his price was low enough for me to buy with the money I had saved myself so I was ecstatic. It flat ripped. By far the best bike I had owned and I finally had a bike I felt I could improve my skills on. I actually raced for the first time on this bike. My seat even fell off in a moto(yup, I was that guy).
I actually still have some video of me riding this bike at a beat down track that was behind our old high school. It's awful, I had super old legit leather Highpoint boots with the leather straps and the metal plate on the shin, the Fox barbed wire pants, Pawtector gloves, a long sleeve shirt and Bell Moto 4 with Marvin the Martian painted on the back by hand! Yup, full-on butt whips caught on tape. I had this bike for two years and as it turns out, I ended up wishing I had held onto it when I got my next bike.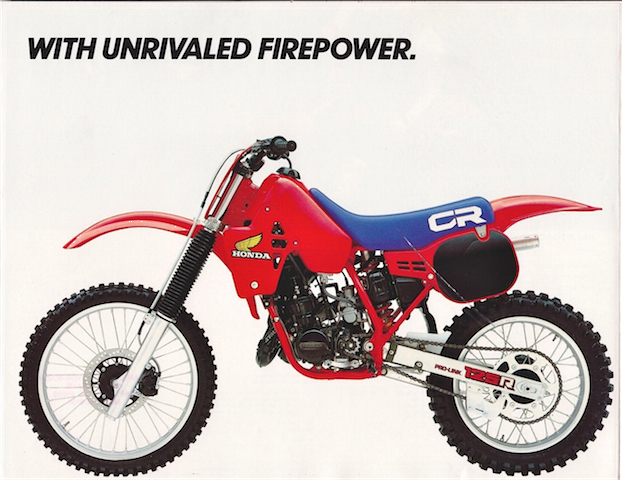 This bike would still make a mean non-current racer.
1992 KX125
And here we are. I was SO stoked to buy this bike, it was actually the first bike that I didn't pay for outright with money I had saved all by myself. That's evidence of how bad I wanted to ride, ask anyone who knows me now, the last thing I am known for is saving money and being frugel. My Dad had offered to sign a loan for me to finally get a modern bike(I bought this in 1993) and when the 1992 KX was revealed I fell in love. It was the best looking bike I had ever seen. The shrouds wrapping the gas tank, the clean graphics and bodywork just flowed together so well. I bought it from a local B rider for $2200. It looked perfect and sounded great when it started, idled and when you revved it. Unfortunately, these bikes need to do more than just look great and "sound" good while sitting motion-less. This bike was such a turd. It had a narrow low-mid power-band and coming from the '84 CR125 that would just zing in the top-end, I was bummed. I thought maybe the power-valve was not installed properly or something, it just worked the complete opposite of how good it looked. I was heading out to the track at my friends house and the front end washed out on a off-camber causing one of the radiators to rip open and those weren't cheap so for the longest time I ran a salvage repair job using the radiator from a buddies '86 YZ125 (so sketchy!!). Funny story; one of my best friends, Marc, was at a National and his buddy "ended up with" Ryan Hughes' factory seat. It was one of those Wide Open Racing seats, the first of the "gripper" seats ever used with the giant "V" ribs covering the seat. He gave it to me and I thought it was so cool. I raced this bike a handful of times in the C class, pretty much just dipping my toe in to see if I wanted to commit to racing and kiss the trails goodbye. I remember riding at my buddies house, we had shovel-built this, maybe 20′ double and I decided to try my first ever seat-bounce over it. As you can guess, I didn't anticipate the benefit of the seat-bounce technique and I was sent into a massive endo and ended up about 4″ from that pointed silencer tip going all "Weege Wrestling Rape-Style" on me. It took a big gouge of flesh out of my hammy instead.
I was so into moto at this point, it was all I did and thought about. When I wasn't riding I was tearing the bike down and cleaning it with a toothbrush. I developed quite the reputation for "over-attentive though not necessary maintenance". We still laugh about it to this day. The oil drain plug cracked off on this and Marc's Dad welded it so I didn't have to buy a new case. My best friend Marc DeCubber was heading down to Gatorback for the first National of the year in '94 and although I was still in highschool, I took a 10 day self imposed vacation to go with him and his Dad. We rode at Croom all week and my Mom called to tell me the school was going to fail me for the year. I didn't care, it was one of the funnest trips of my life, still to this day. I wouldn't give up the fun we had and the memories of that trip for anything in the world.
It's bitter-sweet, although it was a turd, the period of life when I owned this bike left me with innumerable awesome memories and experiences involving it that I miss it(in theory anyway). I rode the crap out of this bike for 2 years, the length of the loan I had on it. When I was selling it, someone stole it (no, not the same city where I live now with thieven' mofo's). There were a group of low-life dudes in my school who rode but also stole bikes. I'm sure they took it and while I was pissed about losing money on it, I really could care less that I didn't have the bike anymore.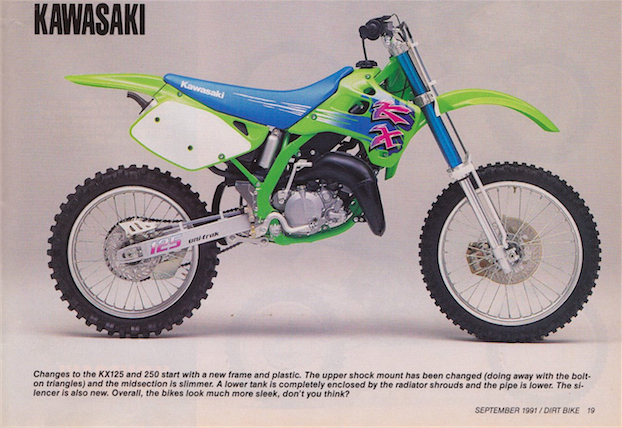 This is still a beautiful bike. Too bad the taste it left in my mouth is so bitter.
1995 RM125
This was a pretty good bike and also my most dedicate period to racing. My friend Jeff and I were pretty much the factory C class racers of 1995. We had absolutely identical bikes aside from our numbers and would spend every waking second together riding, maintaining and racing them. We hit all of the Spring Fling money races in district 14 and I decided after I won 4 races straight during the year, that I was going to move myself up to B class. I had a guilty conscience about mumblings of being a sandbagger even though now I realize I totally wasn't and I felt that moving up would help me progress more than just winning C class moto's.
The bike had a strong mid-range motor that wanted to be short shifted and that's how I rode it. I tore my ACL at a Milan night race on this bike and never had it diagnosed until a few years ago when I had it repaired with some pretty serious complications. I started rocking the white boots around this time too and I remember when I bought a pair of Alpinestar Tech 4's in White and Blue, people thought I was fruity. I loved them. I still don't think the black boot look that is re-surging is a good look.
I started making my own shroud graphics during this period and although looking back now they were horrendous, people thought they were pretty sick back then and I did them for others too. Marc had been spending a lot of time with Swinkster in Florida during this time and he had brought me back a set of Brian's Factory Suzuki shrouds. My second bike to sport a component from an actual factory bike and although it was of no actual benefit, the mental advantage of these shroudss was tangible.
These bikes had an issue with sub-frame integrity and I had to have it welded.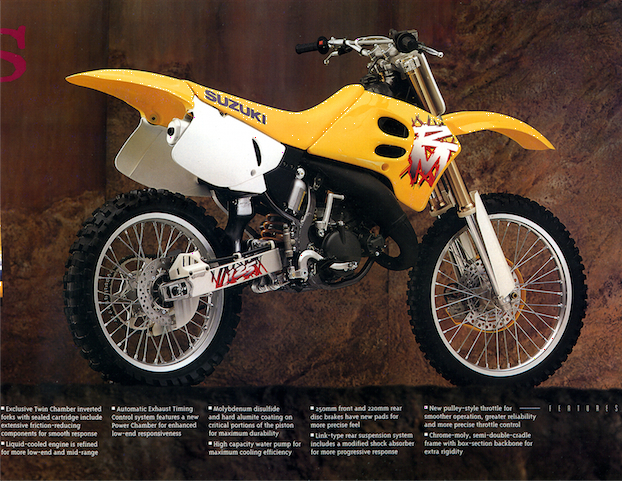 Solid mid-range motor. Good bike.
1998 RM125
I had started college and gotten away from riding for a while but then after going out with Marc and Jeff a few times while they were riding, I decided I needed a bike again. I did the dumbest thing in the world. I called the dealer I had bought my last bike through and told them what I wanted and to call me when I could come pick it up. I don't remember the details of that deal but I can tell you I still need Preparation H everyday to ease the pain from it.
This bike was awesome. It was my favorite bike ever until my current bike I ride today. I was bummed that it had right-side-up forks because again, those looked dated even though the bike was the current model. I raced B class on this bike quite a bit. I was a top 5 guy but didn't ride enough to commit improving or trying to do anything more. Graduating was still my main focus. I went to race at Bulldogs, a local super sand track and didn't realize I forgot to oil my fresh filter until my bike seized at the end of practice. That kind of took the wind out of my sails and riding took an extended back seat to school.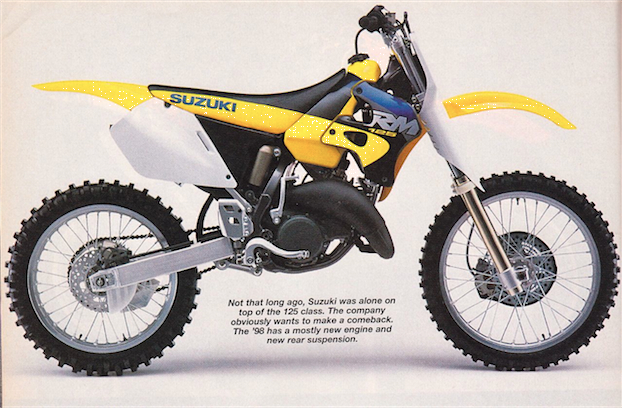 Really liked this bike.
1997 RM125
Yup, there I go again buying a bike that pre-dates the last I owned. This is a pretty good story here. It was 2005, I hadn't rode since about late 1999 and Jeff had recently been in my ear about riding again. He told me about a 1997 RM125 the shop he worked at had for sale that was cheap and in good condition that I could have fun on. Since it was close to the same bike I had last raced, it would be pretty familiar. I didn't think seriously about it at all, I didn't have the cash laying around but I filed the info away in my terrible memory. I was in Vegas with my pregnant wife and family. Sunday morning my brother-in-law and my friend Jason decided they were going to bet on some NFL games. I figured, why not. I'm typically not a betting man and had never bet on sports before so the chances of me bonering this up were highly likely. To all of our surprise, the least of which mine because I was so ignorant to betting and the odds, I parlayed 10 games on a $10 bet and won!! I bet $10 and won $1,000. I called Jeff and told him to prep that RM125 for me, I would pick it up when I flew home.
I don't remember much about the bike other than it was a shell of the '98 I had last owned and the clutch was going out in it one day when some friends and I were at a Baja Acres practice. I traded my buddy Matt for a session where he rode my RM and I rode his KTM 250SXF, the first thumper I had ever ridden. What a mistake. Me, at 28 and having little time to ride and not exactly in "125cc 2-Stroke" shape anymore. I was "rooned". I felt the same as I'm sure most disenfranchised, out of shape, aging dudes who jump on their first 4-Stroke felt. Like it was the fastest I had ever ridden. Needless to say, the RM125 was sold within a week.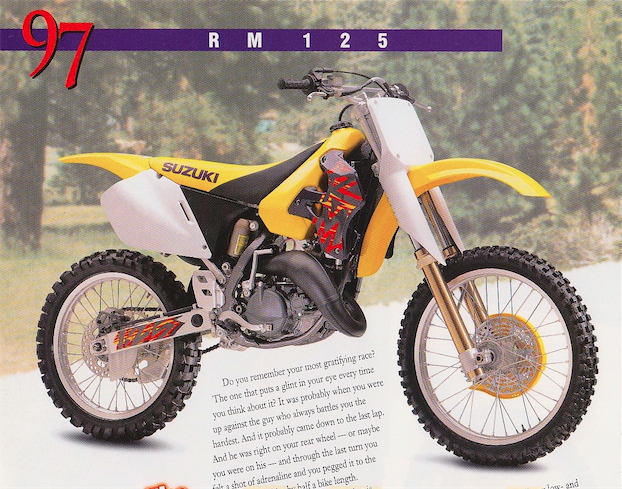 Wasn't so pumped on this after I rode the KTM250SXF.
2003 YZ250F
Mere days after I sold the RM125, Jeff told me about a buddy of his who was selling a very nice '03 YZ250F with '05 seat/tank/shrouds for $2300. I bought it and while it was a far better bike than the '97RM125 it replaced, it felt like a pig compared to Matt's KTM250SXF. I was shocked that people had chosen to ride these pigs over the flickable 125cc 2-Stroke feeling. Who was I to complain though, that pig made it easier for my out-of-shape-ass to ride without panting. I stuck it out with the Yamaha for about 2 years. It was solid but just felt like a KX 500 compared to how a "little bike" should feel.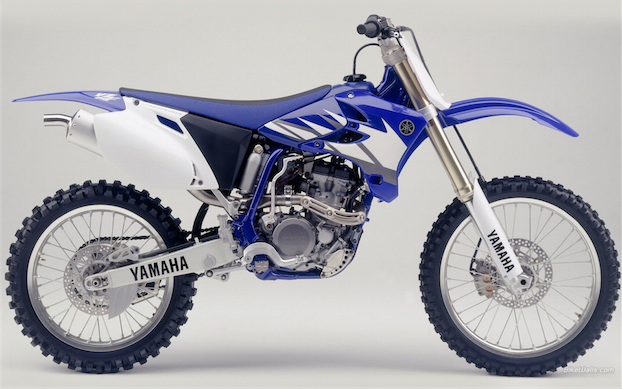 If Super Hunky took this picture there would be an "Oink" coming out of the exhaust.
2008 RMZ250
This brings us to current day. In 2007 had sold the Yamaha to some guy from Kentucky and had come to the conclusion that with a son and at least one more planned, time just wasn't on my side for having time to ride and all the maintenance that comes with using a bike.
In 2009, when I did have a second son, second job and seemingly less time but better management of said time, good ole Jeff tells me he's planning to buy an '08 RMZ450 from Trevor Donie, a local amateur prodigy who trains at MTF. He tells me Trevor has a couple RMZ250's he wants to sell too. Jeff said I could get an '08 RMZ250 for $3400! I couldn't believe it. This bike had low hours, a full PC Ti exhaust, PC triple clamps, Pro Taper bars, full Hinson clutch system, brand new tires/complete wheels and a bunch of spare parts. Jeff drove down to MTF and picked up the bikes right around Atlanta SX of 2009. I was so happy when I rode it, it felt much more like a "little bike" should then that '03 YZ250F. It was flickable again and the strides made from the '03 Yammie to the '08 Zook were blinding.
I had been considering racing again for a couple years and I finally went for it this year at The Great Lakes Grand Prix at the Otsego Club in Gaylord and again two weeks later at Bulldogs. I had been riding relatively consistently for as busy as I was but I was still skeptical that I could finish the 35 minute moto. I was racing the Vet Sport class and on the start(no gate) some dude pulls up on an angle and locks my handlebars out behind his and the guy on the other side of me, worse yet, they BOTH stall when the race starts. So I get about a 38th place start out of 40. Not looking good. I was happy though, not only did I finish but I actually rode hard the whole time. I ran into the back of one dude who tipped over in the corner and washed the front end in another but finished 10th. Finishing was a victory in my eyes let alone charging the whole moto.
At Bulldog's I raced the same class again with more start shenanigans. It was a 3-drop gate, the first class took off but when the second class took off, the guy next to me got stuck in the gate. He backed up, the gate lifted and dropped, I was thinking he was gonna go and then they would drop it for us after but nope, everyone took off with him except me. I was definitely not in the race mindset like everyone else. Being a 3-class race, I never knew what place I was in so I just rode my ass off because there was always someone in front of me. I ended up going 1-1 but again feeling like I was in the wrong class even though I never race. The next class up was 30+ and I'd just piss those guys off so I'll continue to race where Jeff says I belong, afterall he's at every race of the year pretty much.
Back to the bike, I don't see myself getting another bike for a while. This one is paid for and totally setup for me, I love it.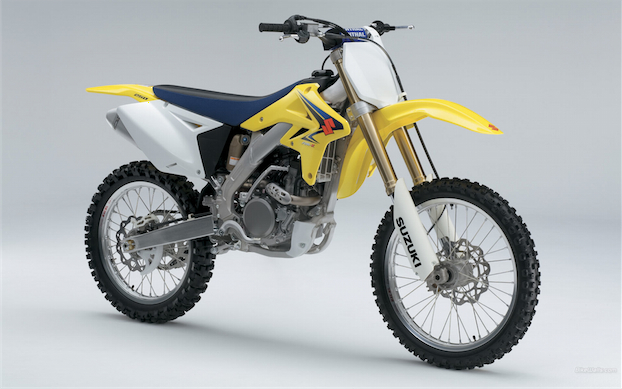 This is actually the first pic I've seen of my bike in stock form.
Thanks for reading my stroll down memory lane. The old stories are definitely the funner to recall and probably funnier to read but I enjoyed firing up the memory turbines and now having these tales out there for myself and others to recall. I recommend everyone go through the process of retelling the story of The Bikes of Your Life. Reminiscing is good times.