Retro king Tony Blazier and I talk about some iconic magazine ads over the years.

Retro king Tony Blazier and I talk about some iconic magazine ads over the years.
By Tony Blazier
When I sat down to make a list of my favorite motocross gear ads, I did a little thinking about what makes an ad great. First and foremost it has to memorable. Many of these ads are decades old but people still remember them fondly. Second, I think they need to be significant some way. Either for the product they indorse or the creativity of the ad itself.
With over forty years of American Motocross gear ads to choose from, it can be difficult to narrow it down to just a few. I looked at hundreds of ads in the course writing this, but these were the ones I kept coming back to. So without further adieu, here in no particular order are my ten favorite gear ads of the last 40 years. Hope you enjoy it- Tony.
Matthes note- I added in my two cents also.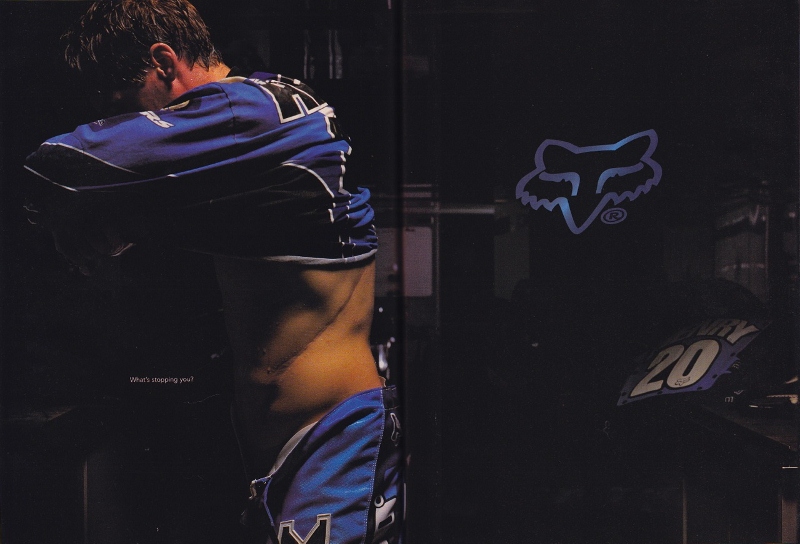 Everyone remembers this one.
Tony- When I first saw this ad in 1997 I was totally blown away. Just two years prior to this, Doug Henry had broken his back in one of the craziest crashes in pro Motocross history. At the time, his comeback was something of a miracle. This ad by Fox Racing was a celebration of Doug's heart and determination. The raw image of Doug's massive scar and the stark question "What's stopping you?" was so powerful, it was like punch in the gut. This ad perfectly illustrated the all-consuming commitment necessary to be a Motocross Champion.
Matthes- I liked this ad a lot for obvious reasons. I was never a Henry fan as a kid but it was nice to see him come back from a potential career-ending injury. Also a very big coup for Yamaha to get him (probably cheap) after Honda was scared away by Doug's injuries. Plus add in the years of Honda poaching all the champions away from Yamaha and it had to count for something for the blue guys. Anyways, yeah the ad. Nice job Fox!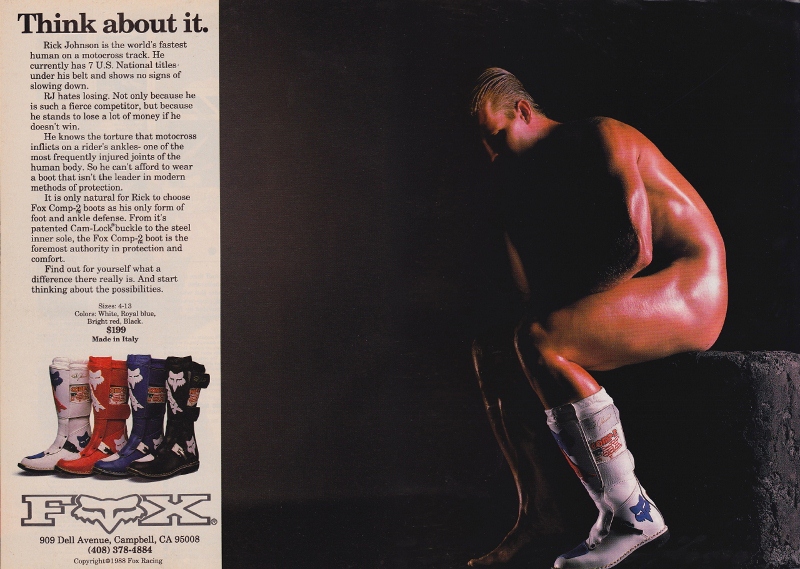 Great ad.
Tony- This Fox ad from 1987 would have to rank as one of the most iconic Motocross ads of all time. It really takes a lot of guts to pose nude in a national magazine ad. At the time, RJ was at the height of his popularity and he was obviously supremely confidant to do something like this. Fox was also really on the rise and nipping at JT Racings heals as the coolest brand in motocross. To me, this ad really announced that Fox was a brand willing to push the envelope and do it in a bold and interesting way. Can you imagine Dungy doing this now? I don't think so..
Matthes- This ad blew everyone's wigs back when it came out. It was risque to say the least- RJ naked??? Wow. Anyways, Ricky was king back in the day and kudos to him for agreeing to do "The Thinker" with nothing but some boots on. I had a pair of these boots and they were great. I loved them (although I think they were just Alpinestars with a Fox logo on them) and they looked awesome. I wonder how many gallons of cocoa butter they used on Johnson and who was in charge of layering it on so that he glistened? Also, sweet Jesus, look at his thighs! They're like tree trunks!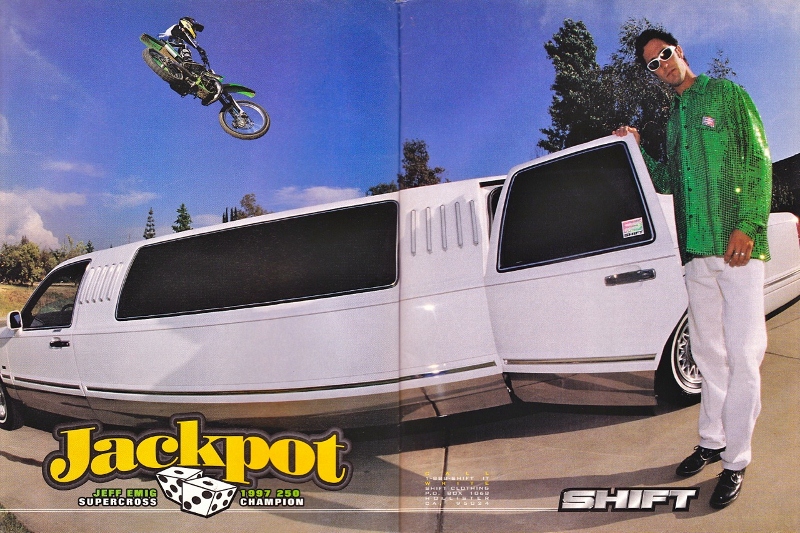 Hoop earings and crushed velvet shirts. Ahhh, the 90's.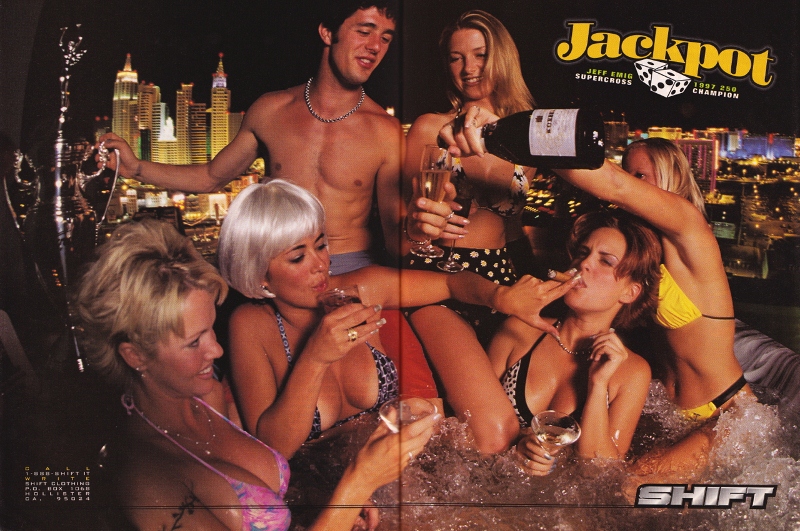 Fro's lucky.
Tony- I could probably list half a dozen Shift ads from this era as some of the best gear ads of all time. These two were made by Shift to celebrate Jeff Emig's 1997 Supercross title. Shift actually had to make two different ads because magazines like MXA would not run the hot tub version. The thing that made all of these ads so great was how well they captured the whole rock star vibe. They perfectly utilized the images of guys like Jeff Emig and Seth Enslow to establish instant brand credibility. Shift did not take itself too seriously either, putting out products like leisure suits and gold necklaces. Simply put, Shift in this era was the height of cool and its ads did a fantastic job conveying that image to the consumer.
Matthes- Shift had it going on for a while and then they didn't. These ads are cool and the bottom one hits home with me because for some strange reason, I was standing ten feet off to the side when they were shooting this. My buddy Jason Frenette and I had gone to MGM Hotel the night after Fro clinched the title, saw Brian Swink in the lobby and he got us up to this suite with Fro and all his buddies celebrating his win. This was out on the balcony and they really didn't take too many takes before everyone got out. All the chicks are wives or girlfriends of riders and in case you didn't notice, Fro is wasted. Even though Reed has brought their name back to the forefront, I think my favorite Shift stuff was the Factory Connection stuff in the Billy Laninovich days.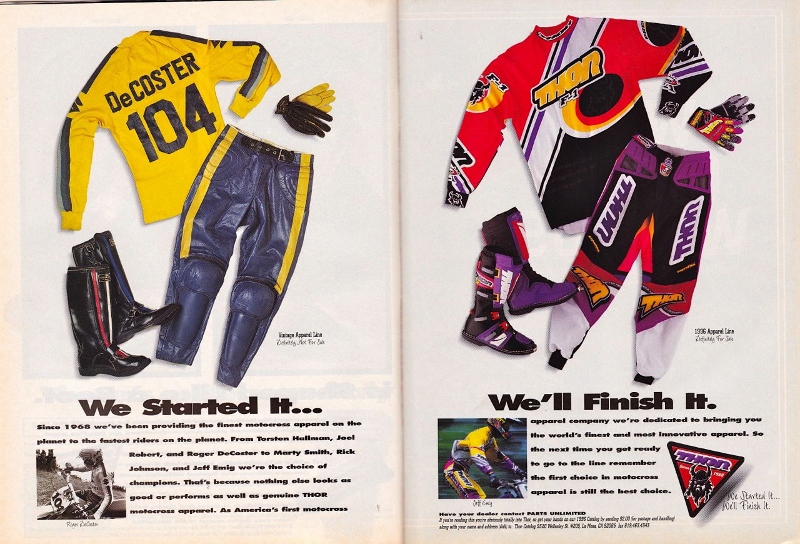 Thor goes way way back in the gear business.
Tony- For me this is when Thor really started to hit its stride. Thor had started in the 70's as Torsten Hallman Original Racewear with decent success. But by the mid 80's, they were struggling with their identity. They had guys like 125 Champ George Holland riding in their stuff but the product was not a real threat to powerhouses like Fox and JT. In the early 90's they started to turn the tide with young up and comers like Jeff Emig. By 1995, they were really putting on a push to challenge then market leaders, like Fox and AXO. This ad is cool to me because it touches on Thor's heritage while also stating in no uncertain terms that they are serious about competing with the best going forward. Within a few years of this ad Thor was indeed one of the top gear companies in motocross.
Matthes- I don't know why Tony chose this ad. I thought this gear was hideous and it was around the barbed wire stuff time. Tony says that George Holland wore Thor and I don't remember that. So yeah, I don't know about any of this. I'll just move on.

THe Dogger. The Dunes. Bad Bones. Perfection.
Tony- This JT ad is a real classic from the 80's. I don't believe Ron Lechien ever took a bad picture on a motorcycle and this ad really captured his perfect style on a bike. This Bad Bones gear was super cool at the time and Ronnie always looked great in it. This ad did a great job of doing much more than just promoting JT gear. It evoked the free spirited lifestyle that all of us who ride identify with. The desire to just get on your bike, forget the rest of the world and just shred. Many companies have copied this ad since, but this JT ad was the first and I think the best.
Matthes- Did I ride a Kawasaki KX80 in 1988? Yes. Did I have JT Bad Bones Gear? Yes. Except I had those Fox boots that naked RJ has on above and I had a, wait for it, a god-awful Bieffe helmet with the little flo-green Bad Bones stickers all over the top of it. Anyways, Dogger rules and this ad rules and almost everything JT did until the RJ Cyborg gear ruled as well. End of story.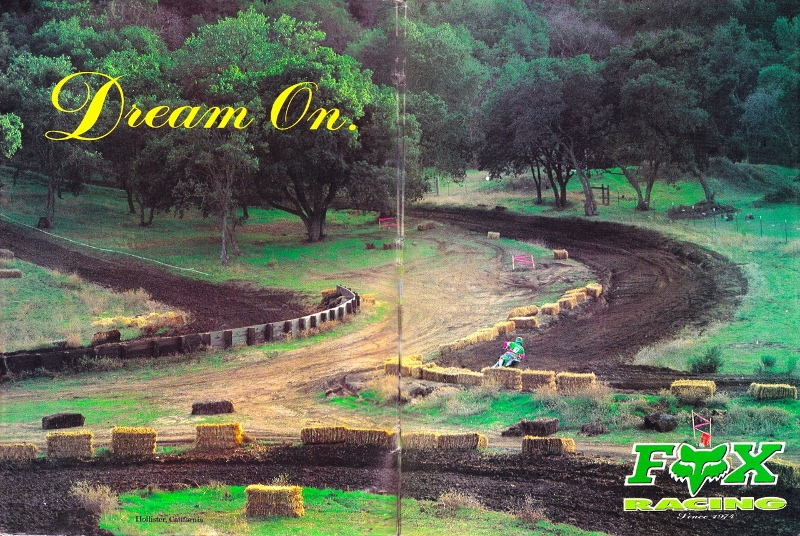 Does anyone know where this was?
Tony-Fox had a couple of rough years in the early 90's with some questionable design choices and rider defections. In 1993 though, they were poised for a major comeback. Fox did a series of ads with the tag line "Dream On". These iconic ads featured beautiful, pristine tracks, often with a lone rider such as Robbie Reynard, Jeff Matiasevich or Doug Henry riding on them. These ads just made you want to get on your bike and go for a ride. Fox Racing has had some great ad campaigns over the years and this was one of their best.
Matthes- Fox has a lot of awesome ads and this one is good for sure, but it's not making my best of anytime soon. But it's Tony's story and I can suck it.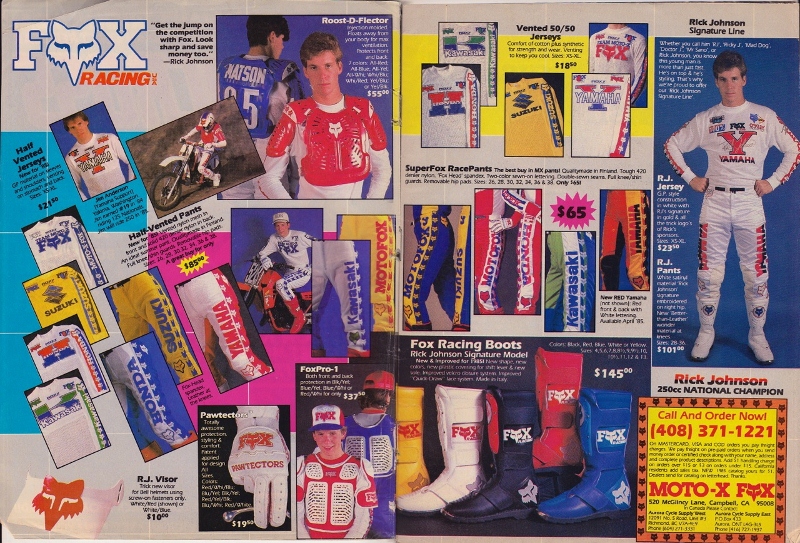 Nerdy RJ.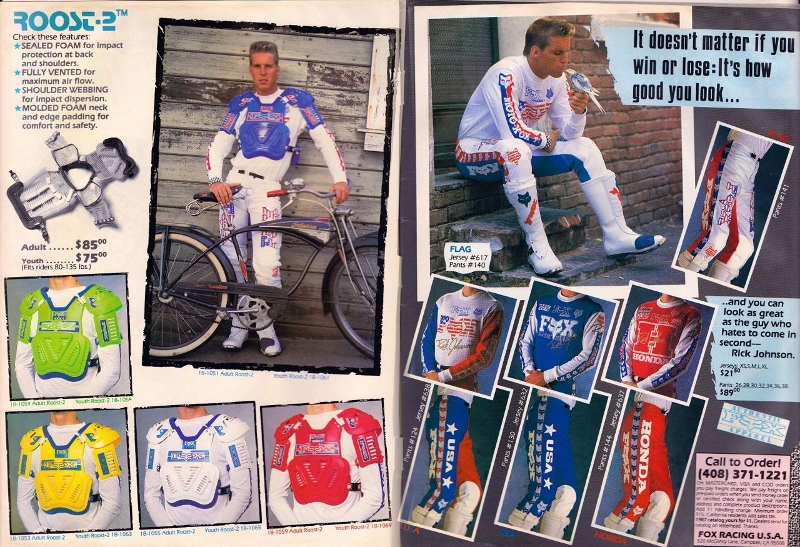 And super-cool RJ.
Tony- In 1986 a perfect storm hit motocross and its name was Rick Johnson. In the 1985 off-season, RJ moved from Team Yamaha to Team Honda and became the dominant man in Motocross. RJ had always been a stylish rider, but in 86 he and Fox took that to a whole new level. When I saw this red white and blue signature gear, I thought it was the coolest stuff ever. These designs by Fox were so well done they still look great today. With iconic products like the Roost-2 chest protector and Comp-2 Boot, Fox was poised to take the #1 spot from JT Racing. If you want to look at the incredible difference a year makes, look at this Fox RJ ad from 1985. The 86 RJ is the "King of Cool" with all the right moves. The 85 RJ looks like a dork that does not even want to be in the ad. The products look dull and boring to boot. In 1986, Fox and RJ took a quantum leap forward that would propel them both to the top of the sport for years to come.
Matthes- Tony's right about this, these would still hold up today and the red/blue USA stuff that RJ wore at the USGP was awesome. Topped of course by the fact that RJ wore one red and one blue boot which for us local dudes, would never happen because we wouldn't have that kind of cash to waste on another pair of boots. I also love Tony's comparison to RJ in '85 and RJ in '86. Totally true and Fox really remade him although I loved that '85 Yamaha gear. It looked awesome as he rocked the number 1 plate outdoors. Those Roost Deflectors in '85 really sucked balls and I wonder if it's true that the OEM's stopped all the gear companies from putting their names on the gear unless they paid them? If so, boo on you OEM's. I loved the names on the sides.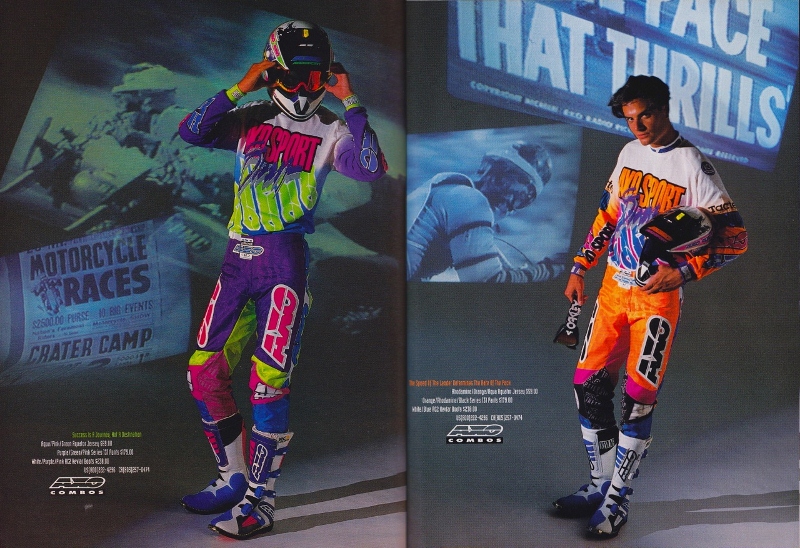 Remember AXO? They were the bomb at one point.
Tony- Until 1991, AXO was something of a bit player in the Motocross gear wars. They had some nice designs in the 80's but they were still known mostly for their boots and kidney belts. That all changed in 1991 when Jim Hale of AXO decided to go after the biggest fish in the MX biz and signed Damon Bradshaw and Jeff Stanton to wear AXO gear. Overnight AXO became the highest profile gear company in motocross. In 1992, AXO came out swinging with, in my opinion, the sweetest gear line up ever. When I first saw Bradshaw in the 1992 Flo orange gear, I HAD to have it. I still have a set to this day and even though all the materials are dated, the gear itself still looks awesome to me. The color combinations were all bright and bold and the gear was just super high quality. Everything about it was trick right down to the little AXO logos inlayed right into the pants material. AXO is still around to this day, but this was definitely their high water mark.
Matthes- I seriously have to have an intervention with our buddy Blaizer here because yes, this AXO stuff is nice for sure but how could you not put the Bradshaw stuff in here? The little bomb bursts/black stuff or maybe even Jeff Stanton's solid color motif? AXO was high quality and nice looking but Tony's got the wrong stuff in here. Maybe he's watched too many old races and his eyeballs are jacked up.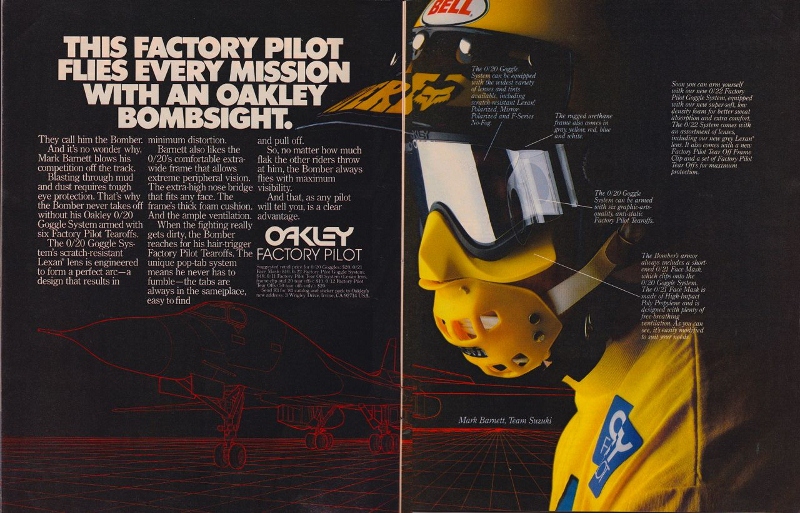 The Bomber looking sweet.
Tony- These days, Oakley is an international powerhouse selling everything from sneakers to wristwatches. It was not always that way however. In the early 80's Oakley was core Moto and they sponsored some of the biggest starts in the sport. Mark Barnett, Johnnie O'Mara and Jeff Ward were all Oakley sponsored riders. In 1983, Oakley came out with one of the coolest Moto ad campaigns of all time to promote their riders and the "Oakley Factory Pilot" was born. These ads made direct comparisons to motocross riders and jet fighter pilots. To me, these ads were so great they do not look a bit dated almost thirty years after they were created. They have stood the test of time and stand out as some of the greatest motocross ads ever.
Matthes- Then again, maybe his eyeballs are good. Classic ad, classic "look" and no doubt this is motocross as we remember it in the early 80's.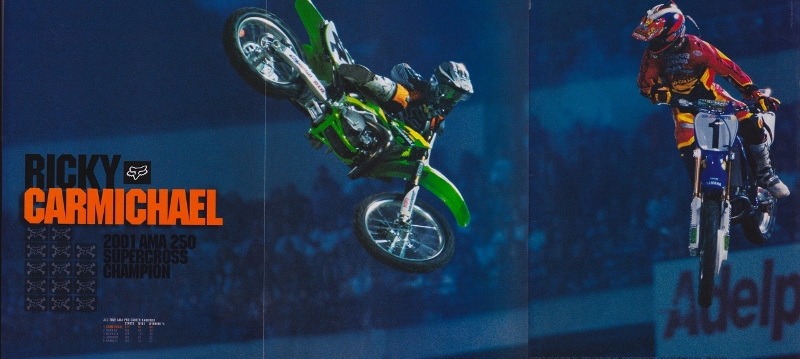 A new beginning…
Tony- If there was ever an ad that sounded the changing of the guard, this was it. At the time this Fox Racing ad came out in 2001, Jeremy McGrath was the reigning seven times Supercross Champion. Ricky Carmichael on the other hand, had just endured two miserable crash filled SX seasons. The winds of change were blowing though and the balance of power was about to shift. Jeremy actually won the first few rounds of the 2001 SX season and many people thought it was going to be business as usual. At round three however, RC actually caught and passed MC from behind and never looked back. RC would go on to win 14 consecutive SX races that season and end the King's reign as Supercross champion. This picture was probably a little unfair to MC, who was one of the best showmen in motocross. RC took MC by surprise on the Anaheim parade lap and basically made him look like a dork by whipping his KX upside down right in his face. The end result was one of the all time iconic pictures in motocross.
Matthes- I like this ad, it's great and all that but it's sort of a slap in the face to a rider that brought a lot of success to Fox over the years. But then again, MC ditched them for another brand (probably over more money) and maybe there was some hard feelings there. It's just such a new school/old school contrast and this season, we all knew that RC's reign was beginning. Tony says this was a parade lap but I always thought it was from the race where they were going back and forth for a while before RC took off.