There was a time when I would flip right by AGV in the catalogs, my how times have changed.
There was a time when I would flip right by AGV in the catalogs, my how times have changed.
When the AGV AX-8 was released and it was announced that TP199 and Davi Millsaps were going to be wearing it, it immediately earned itself at least a once-over and consideration as a viable helmet choice for racers of all skill levels. This was more than could be said in the past for AGV in the pro ranks of motocross. Whether it was by stereotype or a lacking commitment to an elite helmet option for serious motocross racers, recent history left AGV on the outside looking in when it came to our sports' committed racers.
When you look at the AX-8 EVO, certainly the first thing you notice is the unique mouth-guard shape. It's bulbous and it separates this helmet from others much the same way the Arai mouth-guards did in the 90's. Some people are really turned off by it but I always liked it. It was different, distinguished and gave the helmet a sort of Storm Trooper look with the vented mouth piece looking like a robotic intercom speaker.(I've never thought of myself as a Star Wars fan but that's a Storm Trooper reference, two reviews in a row).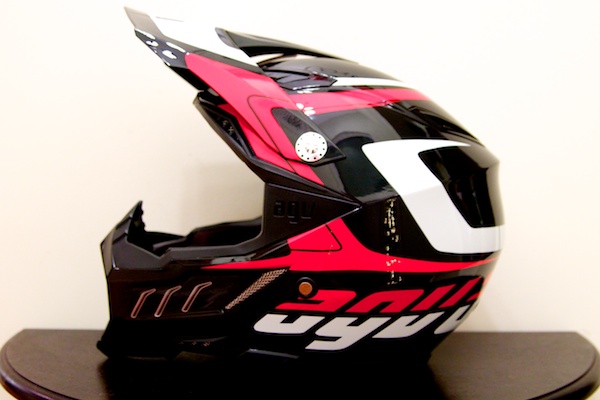 The retro-graphics are done right on the AX8 EVO.
The vents on the helmet are really nice. They are sliding plastic pieces on the top-front and are big enough to easily slide with gloves on and have no doubt whether they are open or not. There is a little rubber "bumper" on the bottom of the mouth-guard with "Shock Absorber" molded into it, I hope I never have to test that but hopefully it does it's intended job adequately if I do and it's a cool looking nuance nonetheless. The helmet is really light and all of the trim on it has perfect fitament. That's one of the most impressive things about this helmet, the material and build is second to none. It uses the same style of visor screws as my TLD SE3 and one area where the AX-8 EVO stands above the SE3 is the liner. Top to bottom, the liner feels better. The padding is slightly more dense and the liner edge at your forehead has a neat little sewn in "AGV" trimmed edge. Really just aesthetic but adds to the slick finish of the lid. The biggest advantage of the liner over my SE3 is how it fastens to the helmet. The little nubs on my SE3 always require a little wrestling to make sure they are secure, the AX-8 EVO liner securing nubs are bigger and give a much more "secured pop" when installing it. Again, the fit and finish is stellar.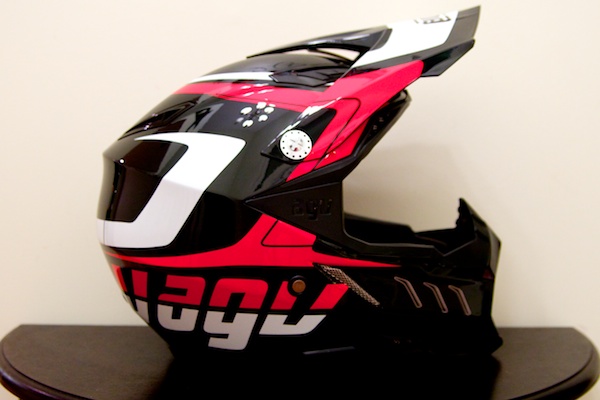 Right-side.
Comfort is great too. The liner provides full consistent contact with no painful pressure points anywhere. One area which may or may not be an issue is the cheek pads, they get thicker toward the front of your face, this should be good as after-all they are cheek pads but they push in on your cheeks enough to where when you open and close your mouth, you're kind of gnawing on your cheeks. It remains to be seen if this actually bugs me while riding, I'll update this review when I have a determination.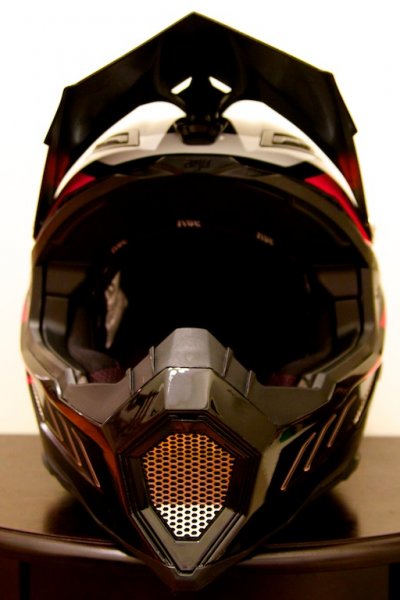 The AX8 has a very distinguished front view.
All things considered, the AX-8 is a really, really awesome helmet. It's light, the design- distinguished, fit and assembly is second to none(possibly even the best I've seen after years of Shoei VF-X models and TLD lids) and the comfort is awesome.
For those of you who thought, like me, that the only viable names in the MX helmet market were Shoei, TLD, Arai or Bell; the AGV AX-8 EVO easily belongs in that group and in more than one area, stands above it. The AGV AX-8 EVO is available in a ton of different color-ways, including of course a TP199 model at a MSRP of $379. Check it out at http://www.agv.com or order it through BTO Sports!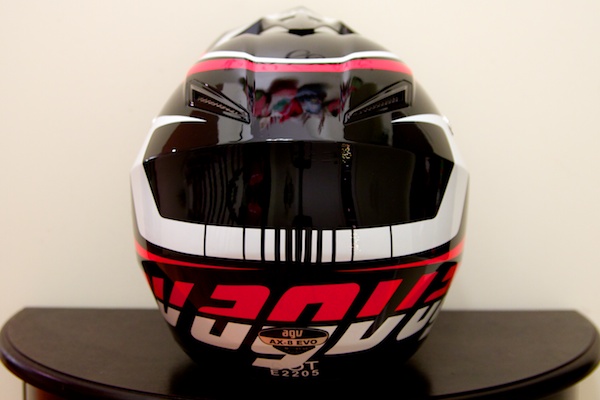 Rear-view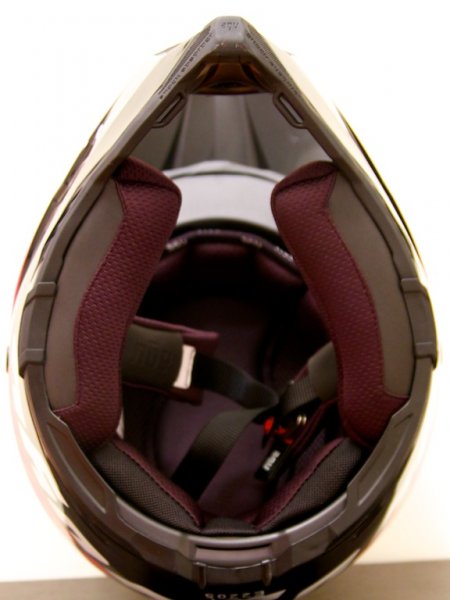 Liner is super comfortable. Cheek pads are a bit more dense than a TLD SE3. I like that.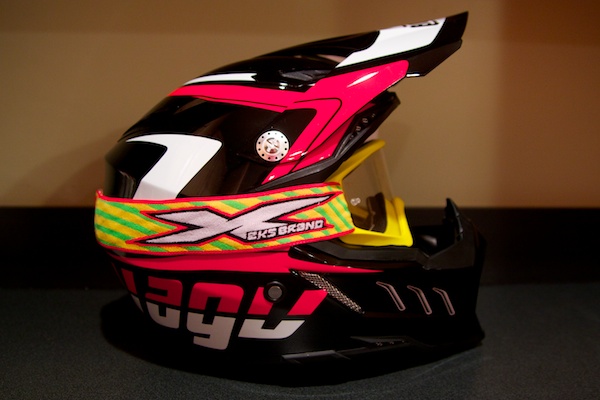 EKS Brand goggles fit in the view port like they were designed in tandem.