Thanks to folks at Kawasaki, we're giving away a sweet trip for two to Anaheim 2. But you gotta wow us…

Thanks to folks at Kawasaki, we're giving away a sweet trip for two to Anaheim 2. But you gotta wow us…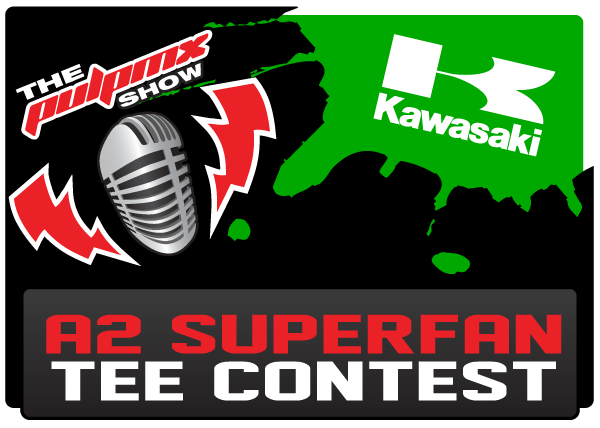 Here's your chance to be an artist!
Entrants, grab the .png and .ai graphics here.
We're doing it again.
Coming off a great contest last year when the Pulpmx Show and Kawasaki flew eight people out to the Monster Energy Cup in Las Vegas. And it was such a success, we want to do it again!
What we're offering is:
1. Hotel, flights and ground transportation for 2 to Orange County, California – coach class. Travel days: Thurs and Sunday.
2. Kawi HQ and museum tour
3. Lunch w/Monster Tom (Kawi PR guy) and whoever he can grab from pro team race shop
4. A2 track walk
5. A2 behind the scenes Kawasaki team transporter tour (Factory, PC, H&H)
6. Photo session w/ Pro Shooter Andrea Wilson at the track (pits, stadium)
7. Special Limited Edition Ryan Villopoto Signature Traxxis RC car
8. As much Monster Energy as you can stuff in one single checked luggage from our HQ fridges (not to exceed a large Ogio "bus" duffel!)
9. $200 shopping spree in 2012 Kawi apparel catalog
10. Media room tour to see you actually working at A2 (this will be rare, I'm usually talking or eating at the races)
11. Lunch in the Kawasaki lunch room
12. Surprises, surprises, surprises…
The rules are simple- come up with a t-shirt design that incorporates the Pulpmx Show and Kawasaki. Whether it's an Aerostar, Gigi, DanDunes vs Cox, JR drinking, Kenny's wrapped coolers or me and my love for Van Halen with Sammy Hagar- whatever it is, do it up! Now let's say you don't have that much artistic talent (like me). That doesn't matter, just send it in and if we get it, it makes us laugh, it will win. Limit of 3 submissions please.
The winner will get all of the above and most likely, an actual t-shirt printed up with their design on it. Send all questions and designs to pulpmxshow@gmail.com
The winner will be announced on the Jan 16th Pulpmx Show presented by BTOSports.com.
Now get busy drawing!
PS- Contest is only for flights that originate from the USA only. So if you're from another country, you need to know this and the fact that Kenny probably doesn't like you.