The Oakland track, AKA, the great neutralizer of aggressive-advantage.
The Oakland track, AKA, the great neutralizer of aggressive-advantage.
Photos by: THE James Lissimore
Track
The track was peculiar in that it wasn't one-lined yet there were only a few spots where an alternate line actually made or lost time. It was clear that this race was going to be decided primarily by who made the least amount of mistakes. Chock that up to the rapidly deteriorating surface which started tacky and became spongy and unpredictably rutted. In terms of obstacles the track was a one-trick pony. The obstacles were laid out in such a way that none of the rhythm lanes offered timing variables. What the track lacked in obstacle difficulty was more than made up for in condition. When there is one clear fastest way around the track it makes for tight racing, minimal passing and high frustration levels.
SX1 Class
I'm a fan of options and that track didn't have any. Sure the racing was close but even as close as it was, it was a rather boring last 10 laps in the SX class main. It's weird, my eyes were glued to the screen but it was in anticipation of a mistake, not a compelling battle. I want to see the riders switch up lines and rhythm combos to make things happen, not be obviously resorted to the fact that the difference is going to be determined by error alone. At the front, that was exactly the case.
From the drop of the gate in his heat race Stewart looked better than I ever remember seeing him since the release of the 2010 YZ450. He's been plenty aggressive but also erratic, making many mistakes. Saving some but picking it up off the ground more often than even he was used to. He got out of shape in the whoops a few times and lost the rear momentarily but for the most part he kept the power to the ground and moved forward.
The track must have deteriorated in a big way from the heats to the main because in the heat RV was like Jaws on a chum trail. Like we've seen in the first three races this year, RV was clearly the fastest rider on the track. He was as aggressive as ever scrubbing jumps and seconds off his laps. Eventually working to within a bike length of James as they crested the finish in the heat. RV had to work his way up from a mid-pack start while James made quick work, with minimal contact, of Justin Brayton and Andrew Short. Good for Brayton for not just giving up the position to JS. Brayton's never been afraid of a little contact and missing the main last week no doubt made the contact on James' initial move by Brayton a no-brainer.
This was a mature, calculated James Stewart who recognized that this track didn't play well with over-aggression. Instead of attacking it with his typical style, he found the edge of where it would begin to penalize him and set the cruise there focusing on eliminating errors. Will this approach which paid off with his first win of the season be "plan A" moving forward or is it simply the formula chosen specifically for this type of track? Many people have been asking "where is the real James Stewart?". This James Stewart is not the winning James Stewart we have seen in the past, yet he's a winning James Stewart nonetheless. The old winning-James Stewart would have attacked this track, making some breath-taking saves along the way and either winning by a demoralizing margin or leaving himself demoarlized due to hitting terrafirma. Is this a new James Stewart who sizes up every track and makes fractional adjustments to optimize his likelihood of a win? The James of old just twisted the grip and held on, playing the odds, often winning decidedly; though crashing spectacularly often as well.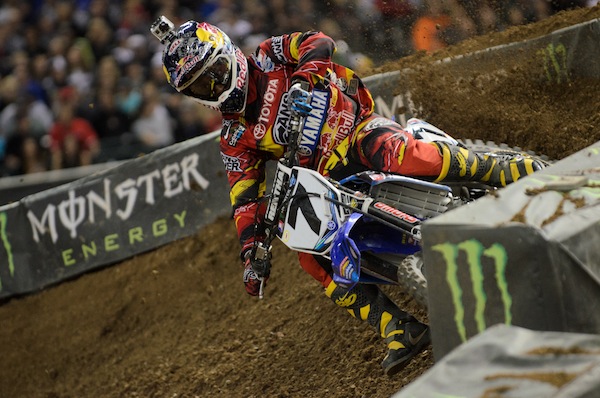 This was a Stewy we haven't seen recently.
Next week in Anaheim will give us an indication if this approach was one 'n' done or will be extended but for now, let's just be happy that we've got four race winners, on four brands, in four rounds.
Reedy pulled a great start in the main and was set to go back to back in LA and Oakland. Chad noted that he rode tight and "like a girl". I can't speak for the tightness but when he was out front through lap 9 he definitely didn't match the intensity of RV's heat race but nobody else on the track did either. To me it looked like it was just a case of "easier to follow than lead". With a track like that where everyone is doing the same things and the riders' speed is so evenly matched, it's pretty standard for the leader to click off laps while those hunting him can mentally catalog where and how they can shave time. With each lap the leader is less likely to stay in that position unless they dial-up the intensity and subsequently the possibility for error. Reedy didn't do that and perhaps that's what he meant by riding "like a girl". James put his mental notes to work on lap 10 and implemented them to pass and extend a bit of a lead. That's probably the point where Reedy's tightening up came into play and to hold off RV while tightening up is pretty fortunate.
RV looked like it was only a matter of time before he would make his way by Stewart on his way to Reed but as the laps wore on his aggression forced some miscues. Those miscues prompted him to back it down a notch and there went the advantage.
If ever there were a "kryptonite track" for aggressive riding which WASN'T determined by weather, Oakland was it. If James Stewart, the pinnacle of riding on the edge of control and aggression can figure out a way to win on a track that punishes those traits, so can the rest of that top group of racers.
James' win in Oakland just made this season even better.
And yes by the way, this race, just like every single other was straight up. They all race the same track and start from the same gate.
End of Story.
SX2 Class
That was a diiiirtttyy crash for Tyla Rattray. Best wishes for a quick recovery to the hard working South African. For a guy who's not supposed to be a Supercross-er, Tyla has been uber-impressive and that's just the result of how seriously he takes his racing career. It's evident in his commitment to assuring every resource is tapped in his preparation for the season.
There were plenty of others crashing or saving would-be crashes in the main. Dean had another crash which started out looking silly, quickly became pretty gnarly looking and could have easily turned serious. He seemed to lose all his equilibrium which carried him off the track leaving him in a terrible position to battle forward from way back. Seely also had a crazy looking gyroscopic looking crash which left him in Dean-O-land to battle forward. Tomac had a scary moment and Davalos lost the bar with his left hand landing from a jump. It was near carnage all over the place. Is this SX2 or Arenacross?
How many high-fives do you think Seely got in the pits after putting Friese over the berm? 40? 50? To be honest, Cole barely made any contact but he'd be smart to talk it up like he did. Putting Friese over berm is pretty much just like beating up the bully in school. Everybody loves you for it.
That didn't keep Friese from effing somebody else over when he got up and re-entered the track. He pulled a tuff-block onto the track and of course somebody is going to suffer from it, it's the "Law of Friese". It's just the way it goes. Poor Marmont didn't stand a chance, he never saw it coming.
Much to the dismay and bewilderment of Matthes, Zach Osborne is headed back east to focus on his GP preparation. I see both sides and in the end I really respect Zach for sticking with his plan and the group around him that allowed him to go forth with this little experiment. Honestly though, who in the their right mind would have imagined Zach being 3rd in points after 4 rounds? Even more insane, who would believe that he would stick with his plan to leave while sitting in 3rd?! Call it crazy, it is but it also shows maturity and integrity. He's made his mark on the series and the teams participating full-time. He'll be back full time next year and on a great team. It's really the perfect position he could have put himself in. If he had made it to 2nd in points, leaving would just look crazy, if he had left in 4th, teams wouldn't be quite as jazzed with him. Leaving while 3rd is just like, "yeah that's right" with a little wink of the eye and see ya later.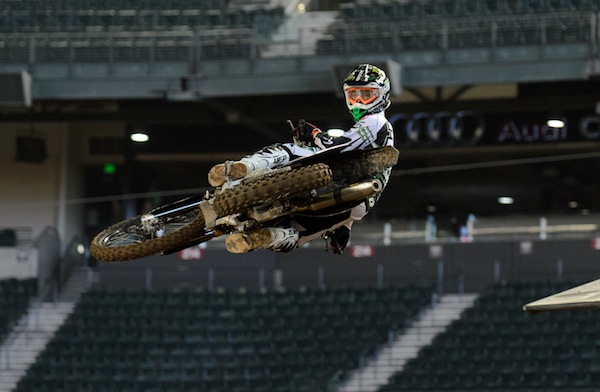 "Yeah, that's right."
With the crashes in Oakland and Tomac's speed of late, the SX2 title is his to lose. He was great last year and better this year.
Really Martin Davalos? I mean, REALLY? There are theories out there that Martin is consciously attempting to keep his SX2 eligibility, it sounds insane. Especially since he's already been in the class for like 6 years. It's kind of hard to argue with those incinuations at this point. I mean has any rider been met with more bizarre circumstance race after race, season after season? It's just silly. At this point I really don't see the draw for sponsors. Every time he is mentioned, the very next sentence is always some reference to how he's going to implode and end up in the back of the pack. Somebody get Martin a head-doc. He's one of the nicest guys around and he's got amazing speed and skill BUT(yup, there it is) he needs to nip this reputation in the bud and start with a fresh melon.
End
Oakland was a strange round in my eyes. The dirt looked incredible in the SX2 race but was very misleading and detoritorated at an alarming rate. By the beginning of the SX main, it was sketchy and aggression was replaced with tenacious caution. The track was itself the ghost rider who no one could trust. It literally seemed to be reaching up and spitting riders off their bikes without warning.
The series returns to Anaheim next week and if the SX class keeps pace with the new rider/new brand trend, some serious shit will have gone down.
Thanks for reading.