An Honest Look at the Title Chase…
An Honest Look at the Title Chase…
By: Paul Quesnel
Photos By: The James Lissimore
We started with five; five men who all had a legitimate chance at winning the 2012 supercross championship. Before the season even began though, that number was soon cut down to four. Due to an untimely pre-season injury and the carnage that later ensued at L.A., Trey Carnard was the first man to be eliminated from this year's title hunt. While losing Trey was no doubt a huge blow to the series, the season was still looking very healthy at that moment in time. We still had the four biggest names in the sport, we still had a different winner each weekend, and we still had a very exciting points chase shaping up. How things can change in a short amount of time.
When we lost Trey indefinitely it was like getting punched in the nose….really hard. Yeah we had to go to the hospital to get the bones put back in place and yeah we had to wear a stupid nose guard for a couple weeks, but we were still in the game. In contrast, losing Chad Reed this past weekend was like getting hit by a car. Now, we are lying in a hospital bed in a full body cast, sipping our food from a straw. The series is on life support. We are on the ropes, about to throw in the towel. In our minds, we are already putting Villopoto's name on the trophy while we reminisce on the season that could have been.
Before we go any farther, let's all take a moment and wish Reedy a speedy recovery. What a transformation Chad has undergone throughout his career. Through numerous acts of determination and courageousness, he has won over the hearts of so many people that it's almost to the point where if you're not a Chad Reed fan, your part of the minority. If you don't believe it, check out the number of fans that have written on Reed's twitter account since the crash. Chad is a guy who understands that the old saying," you're only as good as your last race," isn't always true. While results on the track will always be a determining factor towards a rider's image, he realizes that personality, humility, and compatibility are much more important when it comes to the fans. He realizes that one act of heroicness or determination goes much farther than a couple good race results when it comes to creating good will with the motocross community. Between him starting his own team while staring at a mountain of adversity, his amazing ride at Millville after that spectacular crash, and him chasing down a surging Villopoto when no one else could, Chad has shown us all multiple times that he has the heart of a lion.
Saying that, it's really a crying shame to see Reed go out when he was at the top of his game like that. He was only six points behind RV, he was getting faster and faster every week, and he was right on the rear wheel of the series points leader. Now, some people are talking about how Reed's crash is kind of ironic because his get-off at Millville last year also took place when Chad had everything going his way. He was up by a good margin of points, he had beaten Dungey in the first moto, and he had just passed Villopoto for the lead in the second. So is there any correlation between his crash last year and the one he had at Dallas? Definitely not, unless you believe Villopoto has magical powers and can make anyone within thirty feet from him eat the dirt. Was Chad riding over his head in either situation? Definitely not, in fact you could make a case that RV was the one making mistakes early on in the main event at Dallas. Both accidents were just a simple case of, "shit happens."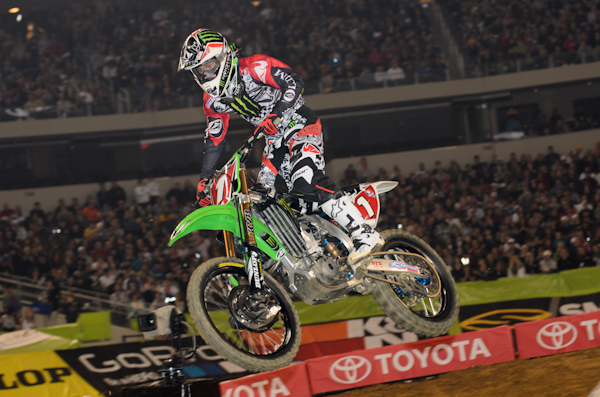 RV looks unbeatable of late.
The early prognosis is that Chad will be out for the rest of the supercross season but is going to try and make it back in time for the outdoors. Most people are saying that with a torn ACL there is no way that's going to happen. As someone who has never torn his ACL before, I can't really speak about how big of an injury it is or how much time it takes to recover from but with Chad Reed one thing is always certain, you can never count him out. The start of the National series is just about three months away and if anyone can overcome this injury and make it to the starting line at Hangtown, it's Chad. If not, then I'm sure he's going to come into 2013 ready to win the title he could have won this year.
So we are down to three; three men left chasing this supercross championship. Let's start with the red-plate holder, now thirteen points ahead, Ryan Villopoto. Although RV is always impressive, he didn't look quite as comfortable on the odd dirt of Dallas as he has in previous weeks. In practice, his times weren't quite as fast as Chad's in either session and as matter of fact, in the first timed practice he was only able to log the fifth fastest lap. For anyone else this wouldn't be too surprising by any means but so far this year RV has been able to log the first or second fastest lap in every qualifying session. A good source (Steve) confirmed that the team switched to a different tire for the first practice then switched back to the old faithful for the second and it's just interesting because it seems like Villopoto and crew have been pretty spot on concerning setup all year long and you rarely see them go the wrong way with the bike.
Pertaining to the main event, RV knew that the battle was on that night. He knew that Chad was still fuming over the win he let slip through his fingers at San Diego and he knew that Chad was going to be bringing the thunder in the main. But for as great Chad was riding in the first seven laps of that race, I think RV rode equally as well. It seemed as if they were pretty close to the same speed if Chad wasn't indeed faster and it would have been interesting to see how RV would have responded if Reedy did pass him. Would Villopoto have latched onto Reed and try to pass him back or would he have fallen off the pace? You have to think that he would have at least kept Reed in his crosshairs because RV was not giving up that number one spot easily. Villopoto knew the importance of winning that race and so did Chad. It wasn't just about the points, it was about who was going to come back east with the momentum and who was going to be the alpha dog from here on out. Furthermore, Ryan and Chad were both riding head and shoulders above everyone else. Their fastest lap of the night was both right around a 46.7 while Dungey, who had the next fastest lap, was over a second slower at a 48.0.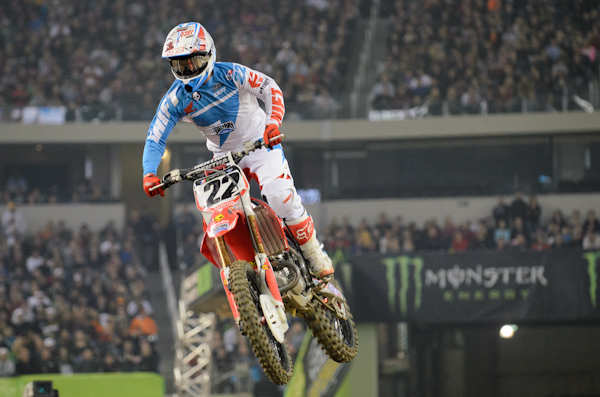 Reed left the series and a hole in our hearts in Dallas.
So with Chad now gone, is Villopoto winning this championship a foregone conclusion? No, not by any means. It was only two races ago at Anaheim II where RV passed Chad on the opening lap and gapped him by a decent margin. The point I'm trying to make is that it only took Reedy two races to catch fire and be on the same pace as Villopoto. We have exactly ten races left and that's a lot of time for Dungey and Stewart to step it up. It's also a lot of time for RV to make a mistake. Nevertheless, it's pretty hard to bet against the man who has won over half the races and obviously has the most flat out speed right now. Villopoto has also shown that when the title's on the line he won't crack under the pressure and he's always aggressive enough to go for the win when the time calls for it.
Ryan Dungey surprised everyone in the beginning of the season by winning KTM's first main event at the second round. Since then though, he seems to be struggling just a little bit. Sure he still gets on the podium and sure he's still in the points chase, but it's obvious he's not at the same pace as Villopoto and Reed before he got injured. It's almost like he's in no man's land. He's not quite as fast as the guys running up front but he's always fast enough to finish in front of everyone else. We always talk about who is," the best of the rest," and we look at guys like Brayton, Weimer, Windam, and etc. But in all actuality, is Dungey the best of the rest right now? In the last four races he hasn't been able to beat any of the other title contenders when they stayed on two wheels. If James would've stayed up at San Diego would Ryan have beaten him? If Chad stayed up this weekend and James didn't run into the back of Millsaps would Ryan have finished second? It's interesting to think about but obviously the answer is no, he's not," the best of the rest," he's just having a tough time getting the bike where it needs to be right now. We all know Dungey and we know how good he is once he gets comfortable but it looks like he's just a couple clicks off the pace from the guys up front. Besides that I think Dungey's biggest issue right now is on the opening lap. While the other three title contenders use the first lap as an opportunity to pass numerous riders when they need to, Dungey seems content with just letting things calm down before he starts making moves. No doubt Ryan will gain some speed as the season moves along but it's already round eight and if he wants to win his second supercross title he can't bank on Villopoto making a mistake. His chances of winning the championship went up by about fifty percent when Chad Reed went down Saturday night and if he wants to really capitalize on that he needs to go out this weekend and run up front to show everyone he's still in this thing.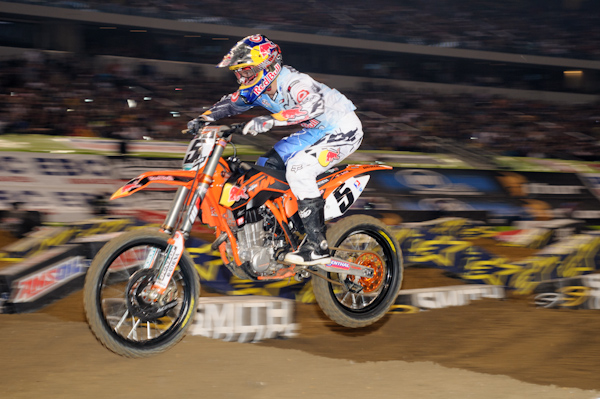 Steady as she goes.
What can you say about James Stewart? Right now he's five for seven when it comes to having a mishap in the main event plus he has the heat race crash at Anaheim 2 which probably affected his main event. He's forty-two points behind Villopoto and he's twenty-nine points behind Dungey. If neither of the two Ryan's have a disastrous race for the rest of the season, it's really hard to imagine James catching up to them in points, especially with the way things have been going lately. Still though, anything can happen. If James wants to win this championship he's going to have to start winning from here on out and he can't afford to have any more mistakes. The problem I foresee happening is that James knows he can't settle for less than the win anymore and he's probably going to start pushing harder than he has all season. And what usually happens when James Stewart starts pushing it? That's right, he sometimes wins but frequently crashes. Besides that it just seems like Bubba is starting to lose that confidence he used to have. Have you watched his interview from Dallas? A couple years ago when he was interviewed after a loss you could just tell he was thinking," yea I just lost, but I'm still the fastest guy around." Now when's he's interviewed you can tell he's just not thinking that anymore. James is going to need to get some of that confidence back if he wants to beat RV for the title because you know that guy is full of confidence right now. So is Bubba even in this title hunt anymore with the way things are going? Does he even have a chance? Sure he has a chance, but it's really not looking very optimistic. I guess you could call it a half chance if you wanted to. If he comes out this weekend at Atlanta and has another bad weekend though I think it's safe to assume the wheels have officially fallen off the wagon. He needs to start making things happen right away and if he doesn't he can kiss this championship goodbye.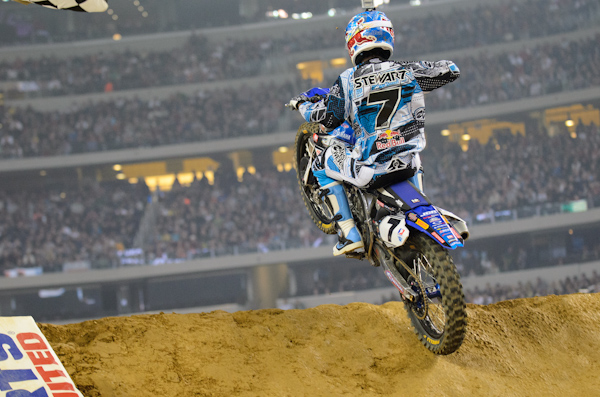 Can JS7 get the Yamaha figured out in time?