Multi-time supercross and motocross winner as well as former factory rider David Vuillemin recaps Atlanta for us in his first column on Pulpmx.

Multi-time supercross and motocross winner as well as former factory rider David Vuillemin recaps Atlanta for us in his first column on Pulpmx.
By David Vuillemin
Photos by James Lissimore
Hey everyone,
Welcome to my first collaboration article on PulpMX. I will try to make it a weekly habit on world-famous Matthes' site. The "ObserDVations" will become "Snake Eyes" on PulpMX!
Let's talk about A-Town. It's my second favorite stop in the series after San Diego. The track is always big due to the football-size stadium, some of the best dirt (after STL) and the biggest crowd of the year. ATL didn't fail to meet expectations.
Finally, we got a technical track with two good rhythm sections, long lanes, a couple 180 degrees bowl turns to pass in, a tricky sand section, two slick flat sections (in front of the mechanics and leading to the starting straight) and some ruts. What could have been better is to have a real whoop-section and less 90 degrees turns (those are one lined) but in my opinion, it was the most technical track this year and the most demanding physically.
250
In the Lites, obviously Barcia is the kid to beat. I was a little worried about his riding in Dallas. Seems like he wanted to mark his territory a little too much, riding over aggressively and taking cheap shots sometimes(like he did against Durham or Wharton for example). He's a great rider with a bright future and he doesn't have to ride like that to win, obviously. BamBam pretty much only made one mistake this weekend in the heat race where he lost the front while leading. If it was Bubba, the internet forums would have blown-up blaming the Pirellis! 😉 He remounted and almost won the heat with a late charge against Baggett. That heat race was crazy, 3 leaders crashed, Wharton, Malcolm and Barcia. In the main, Justin lead from A to Z but Baggett, who had a disastrous opener in Dallas, kept him honest staying a few seconds behind him for 15 laps.
Blake's weekend started pretty much as bad as 7 days earlier in Dallas. As a tittle contender, the new number 12, has been lacking speed. He was 1 second off in Dallas in timed practice and 2.3 seconds off in Atlanta in qualifying. That's a lot on a mid-50-second laptime. In his defense, Blake was sick (flu?) and spent some time in a hospital on thursday. He had a couple breaks going his way in the heat race, which gave him the win. That had to be good for his confidence. BB rode a great race in the main, the speed was there, he turned a 52.172, pretty much the same as Barcia who did a 52.125 and finished 2 seconds behind Justin at the checkered flag. That is what I call his "race-reference" this year. By that I mean, a race to build from and it should be good for his confidence in the races to come. He's already almost a race behind Barcia in the championship and doesn't have any more mulligans if he wants to be a threat in the points.
A podium for your second SX as a rookie isn't bad at all. That's what Boggle did on Saturday. I like this kid but don't really know him or anything about him. His speed is right there with the "veterans". Four-tenths from the pole in practice, four-tenths from Barcia and Bagget's fastest lap in the main and at 9.1 seconds from the win in the 15-lap main. The stats don't lie, he is on the path to do great things. But sometimes, for teenagers and rookies, great things seem close but could be pretty far at the same time. It's all about their ambition, their work ethic and priorities. Like I said above, I don't really know him nor his program and entourage but if he works the right way with MX/SX being his #1 priority, we will see him battle for a win very soon! That was an impressive ride…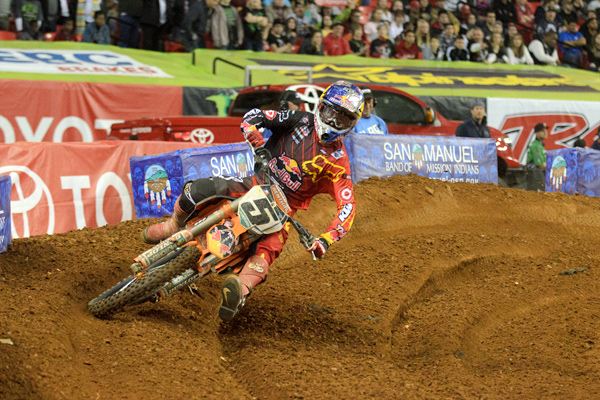 Dungey came through with a big win on Saturday night.
The last musketeer in my Lites East "Big-4", "Kerozen"… Ken didn't do as good as I expected in Dallas. It wasn't the Roczen we know there. Maybe it was the first race and his strategy was to get thru it safely by scoring points. He clocked the fastest lao time in Atlanta, pulled an awesome holeshot in the heat race… Like Barcia, he lost traction and crashed while leading it. Damn Dunlops! (sarcasm). He finished 2nd to Bogle. I guess something happened in the main when he hit the gate at the start. He stated on Twitter that it was a mechanical issue and not his fault. It has to be clutch related but I don't know more about it. He lost 5pts on Barcia in Dallas and 10 this weekend. He used 1/2 of a mulligan this year and will have to win soon to stay in the title contention or at least be in front of Barcia. Justin will be consistent, he has 1 more year of experience and podiumed all the East races in 2011. It's go time for Ken now, the Lites SX series are short and he will have to react soon. We all know he has all the tools to do it…
Behind this "Big-4", on paper, we have Wharton who has been fast and consistent so far. His best lap in the main was only 3 tenths of the winner. He will have to work on his overall time on 15 laps to battle for the win. Durham is pretty much on the same boat but a little behind speed wise. Consistency will not be enough this year because I don't think the East field is that deep this year. Even if I had some differences with MotoConcepts, I'd like to mention Jake Canada who was in last for the first 3 laps. I am not sure what happened, maybe a first turn crash, but he rode good and worked his way up to 9th. With the circumstances, it was a great ride by Jake. Also, my sleeper's pick for the year has been, Malcolm Stewart. It's not working very good for me in my fantasy league! The crash with Bogle in Dallas followed by the famous Justin's slap, his super hard crash in the heat race in the rhythm section and his KTM not starting for the LCQ are not helping my case either… I really feel like Malcolm has the speed and the technique to mix it up with the "Big-4" unless I am wrong and dreaming. Time will tell I guess.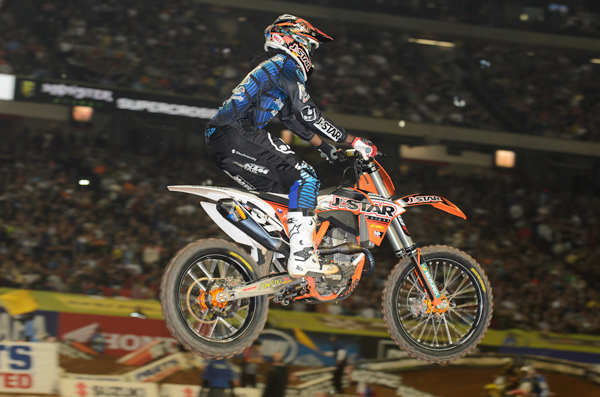 Vuillemin thinks that Malcolm Stewart could be a player in the class.
450
Looking back at the 450 Main Event, that thing could have been memorable but a couple turns of events kept it away from it. We could have had an epic 3-way battle in the last 5 laps…
It was Ryan Dungey's second win of the year in pretty much the same fashion as his first one in Phoenix. He got a good start, second behind Seely. Cole's pace in the 7 laps he led wasn't super fast, high 51s/low 52s. The fastest laps of the main from RV, JS and RD were 50.7, 51.0, 51.2 respectively. Surprisingly, RDCinco stayed over 7 laps behind Seely. Strategy? Fear of a mistake? Call it what you want, it could have cost Ryan the win if RV and JS were closer after a few laps. RD rode a great race, not the fastest on the track but the most consistent. His fitness is, with RV's, the best of the field. His fastest lap time in the main in the last lap is the proof of it. Dunj' did what he had to do, and like I was saying in the "ObserDVations" after San Diego on my blog, at this time, RD will need some advantageous circumstances to win a race. Atlanta was right on point and he delivered when others give him the chance to win. Yes, you will tell me, he didn't ask RV and Bubba to get bad starts and you are right. Starts are part of the game for sure. I am just trying to dissect the fact at its finest to give you the answers and the "whys" of a race.
RV was 6th on the first lap, he's the Champ, the leader, the man to beat, the fastest in practice and in the race but why didn't he win? There are answers to that. Everyone will say "start"… I say yes but no. He could have won with a mediocre start… The start would have helped him that's for sure. RV tipped over in the 8th lap too. But still, he could have won! For me, the sand section was his biggest weakness. He never went thru it twice the same way nor smoothly. From where I'm at, it seems like, after jumping the wall, he was staying in 2nd gear and spinning a lot. He was lacking drive and his front wheel was dragging to much and slowing him down. I would have advice to shift to 3rd in the air for less spin and more drive. He made a handful of mistakes in the sand when he was right on RD at the end.
What else? If you watched the race on TV you could see he made an impatient move on RD when he was lapping Chisholm in the turn after the finish, RV all the sudden dove in the inside to make a blockpass but was too late. That cost him a few seconds, not the best way where there are 2 laps to go. Even if the move would have worked, they both would have ended on the ground and it would have looked similar to Reedy's move on Bubba a year before in the same stadium! Instead on capitalizing on Chisholm being lapped, get closer to RD to make a move later on, RV lost all his chances in one impatient move. See, even the bests, the legends, the champions, make "bad" decisions sometimes…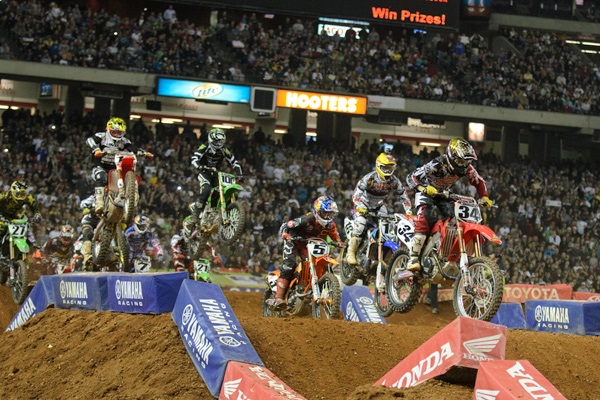 Cole Seely led early and Atlanta turned out to be a pretty good race.
What about Bubba? James showed up in Atlanta with a different attitude. Maybe for the fact that it's east coast and loamy dirt. He looked the smoothest he has been all year in practice. Bike looked good. I saw he was using rubber engine mounts since Dallas. He might have less vibrations but I am not sure if it's any better for the chassis flex. Back in the day at Yamaha, we tried thinner mounts, carbon fiber ones but ended up always using the stock ones. Since I didn't try his bike and his new set-up, I will not speculate on it without knowledge. Anyhow, Bubba looked smoother, fast and mistake free all day. He had a huge holeshot in the heat race and completely blew his main event start. He got into 3rd on the 12th lap. He was catching RV that was catching RD. Like I said in the beginning of this 450 paragraph, it could have been a great 3-way battle but the lights on the triple came out. We all know RV jumped with the lights, did he see them? Tough to say, when you ride, you look at you front fender in this particular part of the track. I give him the benefit of the doubt, no one got more hurt cause of it and he didn't get an advantage from it at the end… But Bubba rolled the triple and that was it for him then.
I also don't think James is in as good of shape as the Ryans and not at his best mentally. It's super difficult to recover mentally and physically after rolling a triple in those circumstances. I thought it was a good ride by Bubba. His pass on Seely was textbook. His smoothest is coming back. By the way, in practice, I wrote something on Twitter about his tires working really well on the slick sections. It was really noticeable. He's on the right path, he has to stay on it and start beating the Ryans. His destiny, as far as the Championship is concerned, isn't in his hands anymore trailing RV by 44 points with 9 races to go…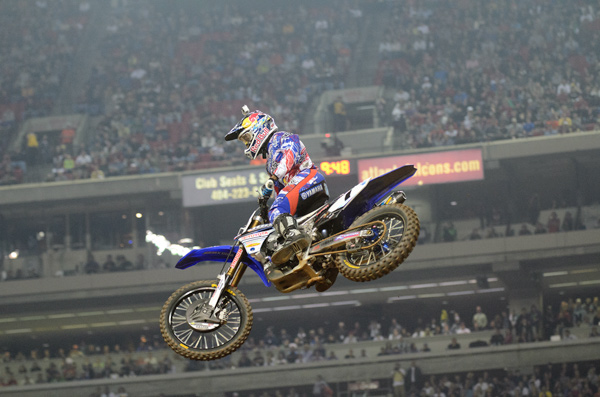 DV12 thinks that Stewart could get into a little better shape to match the Ryan's.
Little mentions on Davi who was on it this weekend. Entertaining us with his "wall launch" and being fast all day with a 4th in the main as well as Brayton that is recovering from his "CantBelieveHeDidntGetHurt" crash in San Diego getting back in the top 5.
As a personal note, I was happy with Nick Wey's top 10. Nick and I have been working together since round 3 and he's improving. That was his best ride of the year. Also, I am not working with Kyle Chisholm anymore. His team, Jeff Ward Racing, wanted him work with his team owner, Jeff Ward. Seems like our positions were conflicting which I totally understand…
I hope you enjoyed this way too long article…
Talk to you soon
DV