A peek behind the scenes of the San Diego SX & up the skirt of The Pulpmx Show.
A peek behind the scenes of the San Diego SX & up the skirt of The Pulpmx Show.
By: Cory Moser
I suppose before I get to much further into this: Hi my name is Moser, I grew up riding and racing motorcycles, I'm 28 years old, married with a 2 1/2 year old daughter and another baby girl on the way, we live in Seattle, I'm Shorty's #1 fan and a big fan of the Pulpmx show, to read about Matthes and I's first date and beginning of our bromance just search Moservations on pulpmx.com.
I'll start this story by saying I have the best wife in the world, I realize that is extremely cliche but it's an absolutely true statement. I won't list all of the reasons why I have the best wife in the world in this particular forum but I'm a very lucky guy to be married to Mrs. Moser. It was February 10th, a Friday night, nothing special was going on just a nice quite evening at home with the wife and kid, we didn't have any big plans going into the weekend. The next seven SX races where going to be live so I was going to meet up with my BFF @chris__holliday and watch the race Saturday night. The Pulpmx cooler Ebay benefit auction for Ryan Morais was going to end at 12:00pm on Saturday and I had persuaded my mom to help fund a winning bid, the cooler looked badass and it would be a nice addition to the back of my woody on man trips. That was the extent of our weekend plans and with nothing going on Saturday morning we were going to sleep in as much as our 2 1/2 year old would allow us.
Smash cut to 5:00am Saturday morning my wife had gotten out of bed which is not all that uncommon as she's 9 months pregnant and pees 29 times a night, but she kept wandering around the room, so I asked if anything was wrong and she said no. Shortly there after I wake up to her setting a laptop in my face and there's a video of Andrew Short telling me that I'm coming to San Diego for the SX tonight to hang out with him and the team all planned and organized by my crazy wife. My immediate reaction was shock combined with confusion. I mean it's not every day you're peacefully sleeping in bed naked and have Andrew Short wake you up telling you you're coming to hang out all day. As if that wasn't enough Mrs. Moser had also set up a sit-in on the Pulpmx Show on Monday night thanks to Pookie and Steven Matthes. I'm not going to lie it took me a few minutes to wake up and pull myself together, I was caught completely off guard, then I was really nervous, then excited, I felt like a women for at least 10 minutes with huge emotional mood swings hitting me. I threw some clothes into a bag and I spent more time trying to decide what shirt to wear then it took me to shower and shave. I eventually just packed 3 shirts to ensure I would be able to match whatever Shorty was wearing.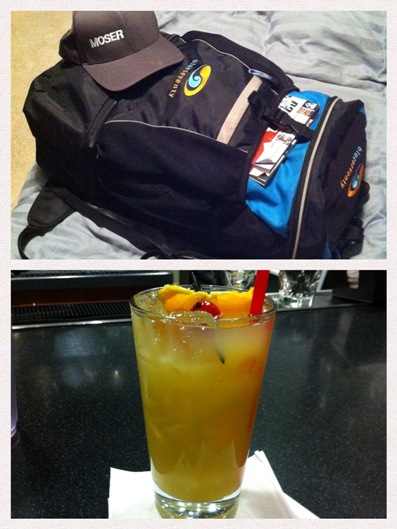 The only way to fly, a couple RacerX mags and a stiff drink.
So anyways, Mrs. Moser dropped me off at the airport I thanked her repeatedly then kissed her goodbye and headed straight to the bar nearest my terminal, I was anxious and needed to calm my nerves. After a tall OJ I was feeling more relaxed and excited about how the rest of the day was going to unfold, the flight was uneventful and the soothing voice of a Matthes podcast even put me to sleep for a Short while. The detailed itinerary provided by Mrs. Moser (she is a big organizer/planner) said I was to meet Pookie at the airport upon my arrival in San Diego. To my surprise not only was Pookie waiting for me she had written out a "Moser" sign. We hopped in a cab and headed straight to Qualcomm stadium, traffic was backed up a good distance from the entry so we walked a ways to the stadium. In an attempt to find the correct ticket counter we walked ¾ of the way around the stadium, Pookie and I getting lost became a reoccurring theme of the trip and we came to the conclusion that neither of us has any sense of direction. Motocross celebrity sightings started happening immediately and I'm not ashamed to admit I couldn't hide the smile on my face, it's just cool to see all the riders and industry guys you watch on TV and online and read about in the magazines wandering around the pits.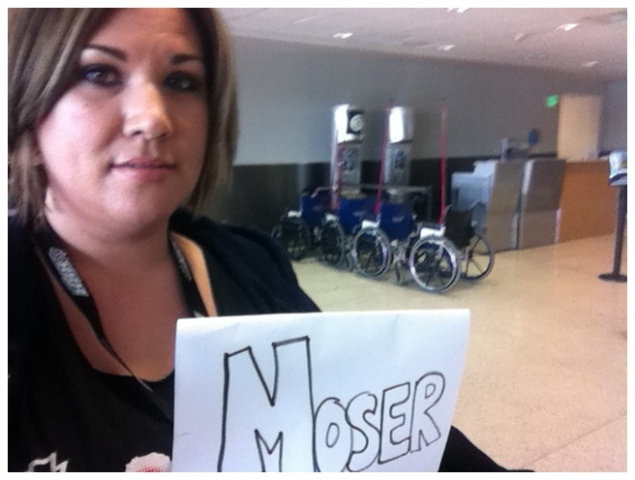 Pookie was a 1st class tour guide & my drinking partner all weekend.
We meet up with Mr. Matthes and practice was already underway so we headed up to the press box to stake our claim on some seats. Thank you to both Jacki Short and Mr. Jason "Weege" Weigandt for the tickets-the lady at the will call counter was confused that I had two tickets waiting for me. Weege and Hansel (he's so hot right now) with RacerX were already in position in the press box watching practice, tweeting the play by play and taking notes. Something I had never put much thought into before but that I quickly learned was the amount of people and work that is required to provide the type of content available on a website like RacerX it's pretty impressive to see it all in person (feel free to insert a joke about me swinging for the balls of RacerX). After watching about 29 seconds of practice it was blatantly apparent that the whoop section that was laid out directly in front of us was going to be the, great divide, achilles heel, and/or equalizer, of the evening. This was the 1st practice aka the un-timed practice, so some don't consider it the 1st practice but anywhoo when the unseeded guys hit the track the carnage started and I took that as my que to leave. I headed to, take a wild guess, the…….Supercross.com truck to try and touch Shorty and say hi.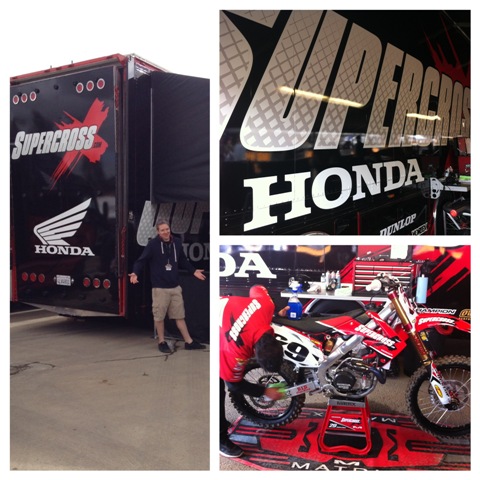 The Supercross.com semi and tent are extremely sexy.
THE @Titslegendary had also made the trip to the Whales Vagina so it was time for us to embrace for the first time. Pete the Producer and I have been friends on Twitter for a couple years now and I consider him a friend. But in all honesty our relationship up to this point could be likened to that of having a cyber boyfriend or girlfriend, sure you think you know someone pretty well and you've send a few racy picture texts back and forth but shit gets real when you have the pleasure of touching that person for the first time. Pete and I embraced next to the Supercross.com pits and it was a magical moment. The full embrace lasted longer than most, it was nice, he had strong musk about him and we both commented that the other was taller than we expected (Matthes Note: This is ridiculous. Is it a race report or a Harlequin romance novel?). I'd liken the interaction to seeing an old friend you haven't seen for a long time and our conversation picked up right where we had left off during our last cyber chat. Pete headed to the KTM tent to reconcile with Dungey and I turned my attention to trying to catch a peek of Shorty with his shirt off.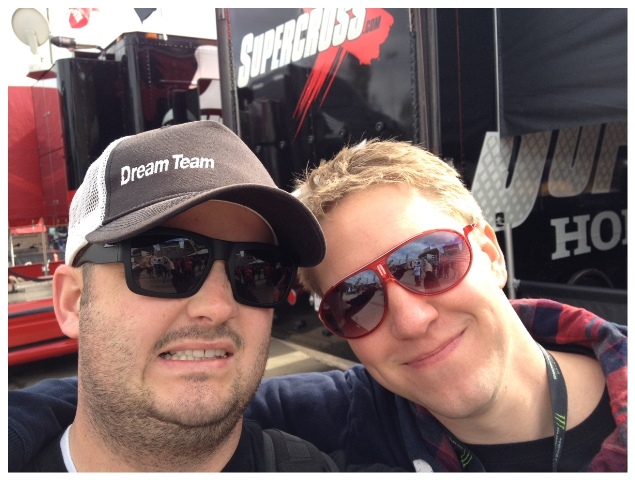 Pete the Producer and I get real close.
You know that moment in the movies when the two lead characters eyes meet for the first time, well that's the best way to describe how Shorty and I made eye contact in the whales vagina, I caught his eye and he flashed me that patented Shorty smile. Next thing I know Shorty is slapping my ass then introducing me to all the guys on the team, no big deal just Larry Brooks (strong hands), Jeremy McGrath (King of Supercross), Mark Valcore (the man that tightens Shorty's nuts) and four or five other guys that all have specific job and whom I can't recall their names. Let me tell you, all the guys couldn't have been nicer or more welcoming throughout the day. In an attempt to break the ice when I shook McGrath's hand I said he looked familiar and asked what his name way (McGrath was my idol growing up, his poster was on my bedroom wall) McGrath responded with "What are you Shorty's brother or something?". A little later one of the team members and I were making small talk and he said "So your Shorty's brother?" I should have ran with it and I'm still kicking myself for not playing along. Shorty was getting ready for second practice watching some videos and talking about line choice. I gave my ten cents on the fast line through the whoops then helped Shorty get geared up for second practice (not really I tried to stay the hell out of the way and tried not say anything too stupid it was still early I had plenty of time to make an ass of myself later).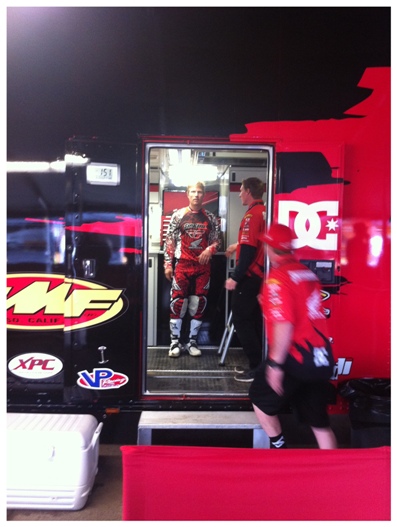 Shorty and I make eye contact for the 1st time in the Whales Vagina.
I can't believe I've made it this far and haven't mentioned the shitty weather, when you're packing at 5:00am and your headed to California you don't stop and check the forecast-you assume it's going to be warm inside the Whales Vagina, well it wasn't and although I had packed a hoody I was freezing my balls off in my cargo shorts all day and night. And actually all weekend the shitty weather followed me to Vegas. As the 2nd practice session got underway aka the 1st timed practice, Shorty and I bro'd down in the riders seating area and watched the 250F seeded practice before he hit the track. How could this day get any better you ask, well I got a text saying my mom had won the Pulpmx cooler after an intense bidding battle with whom I would later find out was Scott from down under. I was already 100% super pumped on how the day was going so now I was 110% super pumped.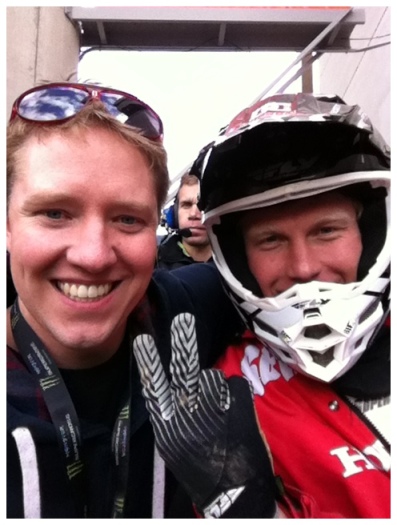 Just a couple of buddies watching practice together.
When Shorty headed out on the track I headed back up to the press box, Matthes, Weege and Hansel (he's so hot right now) were still pounding away on their keyboards and also doing a bit of bench racing with Monster Tom. I introduced myself to Monster Tom and then told him to eff off for kicking my ass so bad in the Pulpmx Fantasy Football League. The 2nd/1st practice was pretty uneventful lots of riders had close calls in the whoops and that would be the case for the rest of the day and evening. You know how a husband and wife that have been together for years and years don't even have to talk to one another they just know what the other persons is thinking or going to do, well as practice was winding down without so much as a whisper, glance or nod, Matthes and Weege simultaneously closed their laptops stood up and headed towards the pits, I quickly followed in pursuit.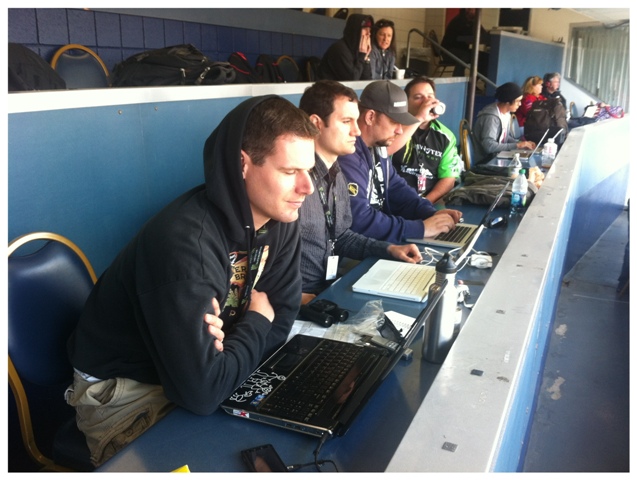 Hansel catches a quick nap while Weege, Matthes and Monster Tom do media stuff.
First stop was the H&H tent to check out the "game changer" Kenny had been talking about, the Johnny Cash cover band Cashed Out was cool. I like Cash but the phrase game changer isn't the first thing that comes to mind when one thinks about a band set up in the pits. The food was set up under the non-Hanny semi so we were welcomed to sit down and have a wiener or some Chipolte. When I said hi to Kenny he told me to fuck off which always makes me laugh we've met a few times now and I wouldn't say we are buddies but we're acquaintances. I wasn't too hungry at the time but I'd never had a Chipolte burrito so I decided I couldn't pass it up. Chipolte lived up to the hype not a day goes but that some rider isn't pimping it on Twitter or Instagram, Pookie said it's way better when they make it in front of you and it's warm.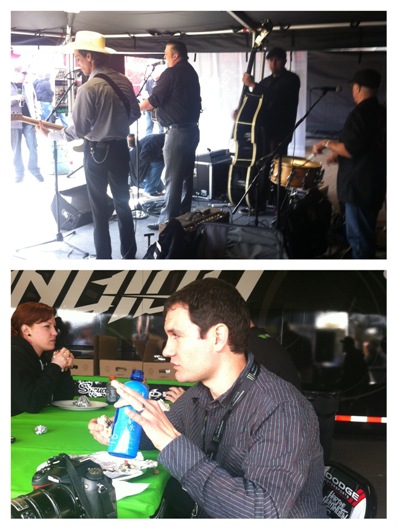 The game changer and Weege eating a free lunch.
Next up on our tour of the pits was the Ti-Lube team for a little salty pickle talk with Big Nasty. Tricky Nicky Wey personally tagged Matthes' Michigan Mafai tee shirt. A JT$ meet and greet was the next scheduled stop, I wondered how sharp would JT$ fohawk be, would he even acknowledge me or just make grunting noises. JT$ is definitely serious on race day but even more so just down on himself and his riding, but who am I to critique the technique of a guy that has been racing professionally for the better part of a decade, you stick with what works. Kicking himself in the balls, pounding his head into the wall and making fun of himself all with a clenched jaw and empty stare in his eyes is what works for JT$. I offered to help JT$ in anyway possible and he replied "Well if you can murder about 30 guys that would help". I'm exaggerating slightly, maybe, well kind of but not really, JT$ is always comedy even while being down on himself. I was disappointed that the fohawk was not on display but it was cold as shit and he was rocking the black Rocky beanie with a 5:00 shadow, I didn't put two and two together with the Rocky reference at first and initially thought it was just a joke, finding out later JT$ was serious about dressing like Rocky made it even funnier. Top Jimmy was hanging out in the truck too so I inspected his new pearly whites they look good but I'm a little concerned about the ever growing trend of riders not brushing there teeth on race day, kind of weird.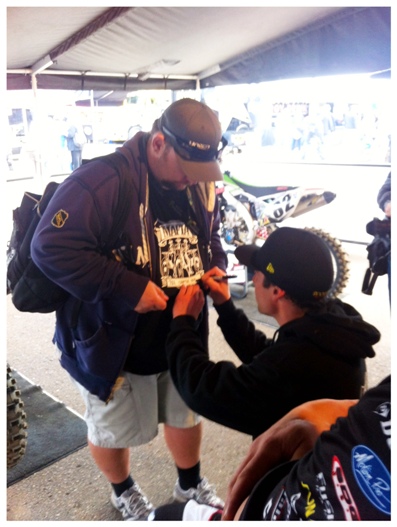 Michigan Mafia custom tagging.
Twitter encounter number two was next as I had the pleasure to meet @elemen0hpee and his lovely wife. Mr. Pee is a medical doctor and it's always good to have a few doctor friends as you never know when you may come down with a suspicious rash that you need consultation on. Mr. Pee is also the man behind making Matthes the golden wrench award that he was robbed of at the Mini O's when he was Ryan Morais's mechanic. It's a crazy world we live in where you can know so much about someone that you have never meet in person, we talked for awhile covering all Shorts of topics, moto, kids, garage sales, music, it was great to meet them and I look forward to feeling Mr. Pee's again this year at Washougal. The 2nd timed practice, or 3rd practice or Final practice was getting ready to start and I didn't want to miss watching Shorty ride so I could give him some tips before the night show. Along the way I had a twitter encounter of the 3rd kind with @vurbcowling the Mr. Kyle Cowling, who's responsible for all Shorts of MX related video content most notably (in my opinion) the "After Hours Featuring Andrew Short" and if you haven't yet seen it you should definitely check it out here http://vimeo.com/27790947
I met up with Pete and Pookie to watch the final practice session of the day. Short was looking smooth, fast and comfortable which is to be expected and the #29 was up on the scoring tower for awhile. I caught the Brayton crash out of the corner of my eye and it was a blur of a Honda and ass over tea kettle flipping through the air, it's obvious when someone looks really hurt and Brayton was for sure done for the night. I huddled up next to Pete the best I could to stay warm as the sun was starting to set and it was getting even colder out. With practice finishing up I shuffled my way through the huge crowd of people surrounding Brayton who was still on a backboard in the Asterisk mule and over to the Supercross.com tent to debrief and breakdown the track with Shorty and Larry.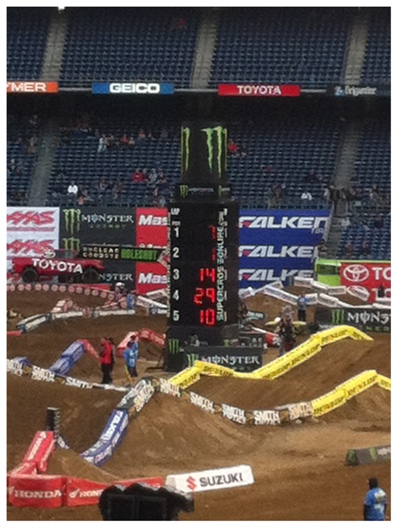 The #29 looks good on the board.
I had intentions of rubbing down Shorty's gear to get it all shined up for the nigh show but Max from Fly Racing had beat me to it and already had everything squared away. Shorty's mechanic Valcor was all finished with bike prep when I offered to clean it with a toothbrush, apparently this team runs flawlessly without me there every weekend. Twitter embrace IV was with Mrs. Short, aka Jacki it didn't appear she was packing a knife or gun so I chanced it and stood within an arms reach. Shorty flashed his smile at me and motioned for me to follow him over to the Honda Racing tent for a little dinner. I wasn't about to argue with him and Pete also came along. There was a plethora of Muscle Milk drinks available under the Honda tent, I know- "shocker" right? I watched Kehoe tell Shorty that Brayton had broken his leg, I was positive that's what he said, I can still vividly see Kehoe mouthing the words "Brayton broke his leg" he was done for the night and near future, stamp it. I was impressed with all the juggling Jacki has to do while at the races, corralling two kids is no easy task and with how busy and crowded the pits and semi are she maneuvered through traffic and ropes like a seasoned pro with a plate of dinner in one hand and pushing the kids in a stroller with the other.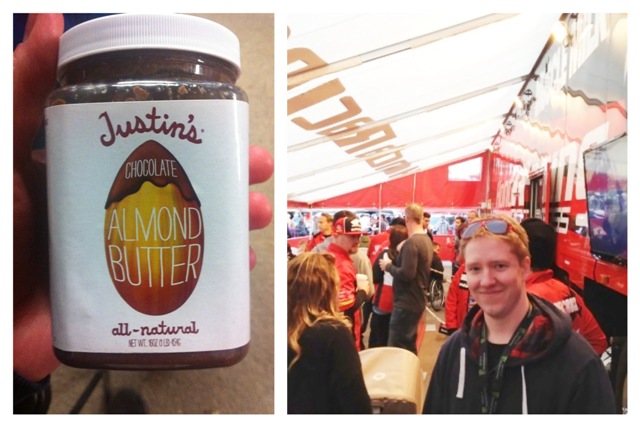 Shorty's nuts in my hands and dinner courtesy of Honda.
I've busted Shorty's balls on Twitter so to speak about an interview he did on DMXS where he said he likes "creamy peanut butter with a little bit of sea salt" and he has since taken a liking to Justins creamy nuts. Shorty bought me a jar to try and I was very eager to walk around telling everyone I had Shorty's creamy nuts in my hands. Ryan and Hannah Morais had came down to watch the race it was nice to meet them and I was very impressed with how well Ryan was getting around as having your mouth wired shut doesn't look very comfortable. I had a long and lovely talk with the man in charge of keeping clothes on Shorty, Max with Fly racing he is a good guy in the sport and it was great to catch up with him. Shorty filmed a bit for the video he posts on www.andrewshort.com and time will tell if asking me about morning wood hits the cutting room floor or not. I was still freezing and I figured if Swizzle has the balls to ask Timmy Ferry if he can borrow a belt it wasn't out of line for me to ask Shorty if I could borrow his pants while he was racing, to bad Shorty and his six pack fit into a size 32" waist and I'm a 34" I also wasn't wearing underwear so I didn't slip my Shorty into Shorty's pants.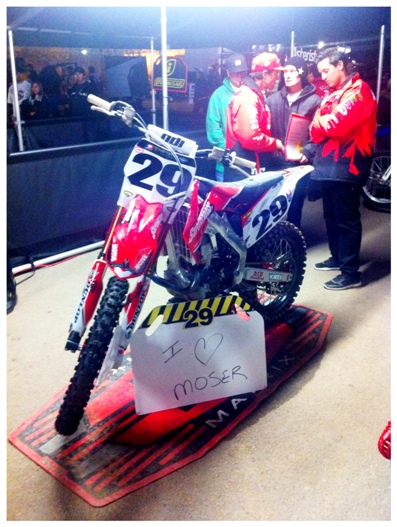 I heart you too Shorty.
Anytime Valcor wasn't watching I would sneak a feel and/or smell of Shorty's bike those race bikes are so cool truly a work or art. The show was getting ready to start so I wished Shorty and the team good luck and started the long walk back to the press box. I don't think I walked 10 miles through-out the day but there is a lot of walking at SX/MX races the stadiums are so bike and nothing is close. By the time the pre-race ceremonies were starting I was completely frozen and was excited to find out that the open air press box had heat under the desks. I sat inbetween a RacerX sandwich with Hansel (he's' so hot right now) and Mr. Robert, cool, funny guys and being the meat between their buns was a good time. Some pre-race bench racing turned into a dick measuring contest over who was going to be the race winners on the night, long story Short I took Deano for the win and Hansel took Tomac for a wager of $10. Robert decided he also wanted in on the action and we placed the same bet. I bet on Deano solely on the fact he was clearly the fastest and most comfortable through the whoops all day, I felt Reed was the strongest through the whoops as well so I Hansel and I bet another $10 I took Reed and he took Stewart. I broke the news to Weege that Brayton had a broken leg he took the news hard, it's always tough to watch a grown man cry.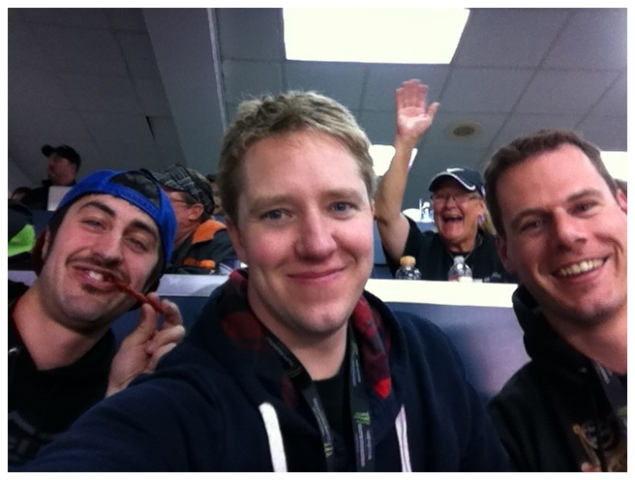 The press box seating arrangement was entertaining in its own right.
I'm not into raves and glow sticks which is kind of the vibe I get from the opening ceremonies but that big ass fire ball they have is impressive, you can feel the heat from 100 yards away which is pretty crazy. Windhams transfer lived up to the hype it's already impressive on TV but is even more so in person it's so dark and sketchy, the dude has huge balls. Windham hesitated on his first run in and stopped Short of the takeoff and I thought maybe it wasn't going to happen tonight. But he quickly flipped a bitch, took another run at it, hucked it and was ohhhh so close to clipping his back wheel on the landing, very impressive. When Weege said Brayton was on the line I said impossible but sure enough there he was, riding with a broken leg, so much for my insider information. Smash cut to the 25 yards in Heat Race #2 when Shorty went down on the start straight and was then promptly pile driven into the ground when Weston Peick rode over him instead of stopping or turning or making any attempt at trying to miss Shorty. Hansel (he's so hot right now) had brought some binoculars that we shared throughout the evening along with some snack packs our wives had packed us. The race was red flagged Shortly there after and so I thought maybe there was a chance Shorty would line back up but as I watched him through the binoculars he wasn't smiling and if Shorty isn't smiling you know there's something wrong. My initial reaction was to run down to the pits and see if Shorty was ok but I didn't want to get in the way and be "that guy".
With a heavy heart the next course of action for the remainder of the evening was pretty obvious I headed to go buy the maximum about of beer they will sell you in a stadium. Pookie came along to get a water for the working man Matthes and while waiting in line for my beer people started running up and asking how much beer the stand had remaining well apparently the stadium had ran out of beer and most of the stands were already sold out, things had just gone from bad to worse for me. Luckliy I got my two beers before they ran out but there would be no refills which threw a hiccup into my plans of getting wasted to try and ease the pain of Shorty getting injured. Pookie and I lost each other (again) during this beer confusion, so much for the buddy system.
The racing was great, the whoops provided a lot of thrills and spills. Deano won me $20, Hansel paid up his $10 but Roberts is a whelcher and said "we didn't shake on it" I'll give you something to "shake" Mr. Roberts, it was all in good fun though and made for some good trash talking. As soon as they lit the candles on the finish line for the 450 conclusion Matthes and Weege once again simultaneously were packed up and on a mission to the pits to get post race interviews, they have a divide and conquer game plan they enforce to get as many interviews as possible before the riders all leave. First stop Supercross.com pits where we found out Shorty had injured his shoulder but it didn't appear anything was broken and he was going to get it checked out further by his doctor the following day. Next stops on the evening in no particular order was podcasts with Wey, JT$, Chizzy, Beaton, Wilson, Reed, RV. This is one of those times it's totally worth being "that guy" following Matthes around like a lost puppy and standing around looking awkward with your hands in your pants playing pocket pool doesn't matter because you feel like an industry guy getting to listen in on everything that's said when the mic is turned off. Chiz gave me a tee shirt that Unit Clothing had made for him, he said he knew I was Shorty's guy but wanted me to have one anyways which I thought was cool, thanks Chiz.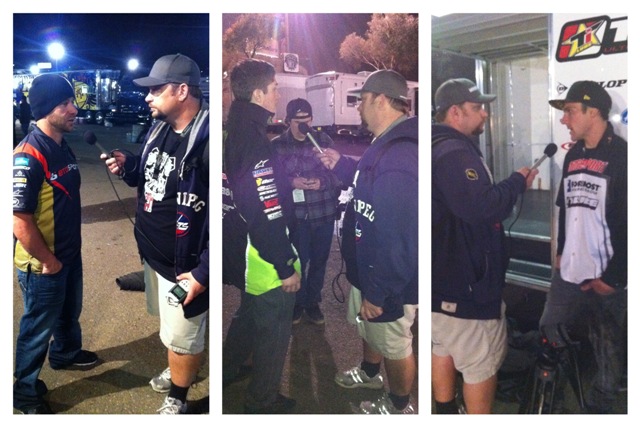 Matthes getting the post-race podcasts for all us jerkies.
A rider's mom offered me an ice cold beer which I was very happy to accept. I don't want to be a name dropper but (yes I do) I got to meet the Dogger, Factory "footlong" Phil, Wey, Strickwerder (of Pulpmx Heineken story fame) Big Nasty, Donk, Alan Brown, James Lissimore, DV934, and the list goes on. I did drop back by the Supercross.com pits one more time to feel out if I was going to be banned or disowned at future races for fear that I was bad luck. For sure all the guys over there think I'm an idiot but they couldn't have been nicer to me. Larry was eating fist fulls of candy so I pulled out the snack pack Mrs. Moser had packed me and offered Larry all of it, he found a few things he wanted, you do whatever it takes to try and stay in Larry's good graces. While Matthes talked to Reed for 15 minutes I bro'd down with JT$ who was in a pretty good mood after his solid race, he's really funny guy. We grabbed some Del Taco on the way back to the hotel and by the time we got back to our rooms it was 1:00am and we had a 7:00am flight to Vegas.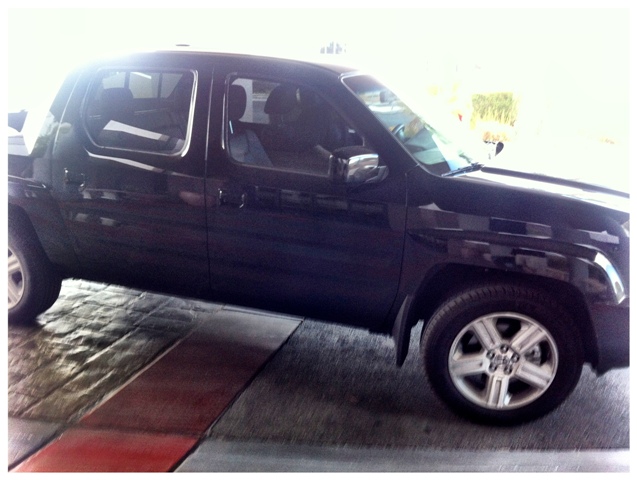 Ding, Ding, Ding, Ding, Ding, Ding, Ding, Ding.
It felt like I had just shut my eyes and the alarm was already going off, I hadn't even been in San Diego for 24hrs and was starting to feel like a gypsy. Airport security took the creamy nuts Shorty had given me which I was bummed about but at least they didn't cavity search me. Matthes was jamming out to 80's rock on the flight which would start a trend for the remainder of the trip where he would ask me if I knew this song, or album or lead singer or band, I like all types of music but I'm no Swizzle and can't name very many songs by name or band. Explaining this to Matthes did not deter him from continuing to ask me anytime a new song came on. His new Ridgeline still has that new car smell and yes the seatbelt dinger goes off repeatedly. At first I thought maybe Matthes wasn't putting on his seatbelt just to be funny but I Shortly realized that was not the case. I asked doesn't the dinger drive you nuts but Matthes shrugged and said "sometimes I win and sometimes it wins" but I never saw him use his seatbelt while I was there. We grabbed some breakfast on our way back to casa de Matthes and then settled into the couch with a cup of some of the legendary fresh brewed Matthes coffee.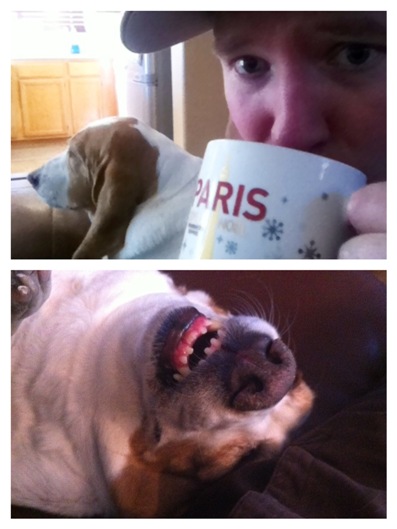 When the Matthes coffee touches your lips it tastes so good, Annie took a liking to me immediately I have that effect on women.
It seems nobody can ever remember the names of the Matthes four Bassets which I've never understood, so I made and extra effort to get their names correct, Annie, Fred, Hogan and #4. They say all dogs go to heaven but if you're a dog you want to go to the Matthes household it's better than doggie heaven. Here's just a few of the perks-
1-Fresh water and not water out of the tap, cold water that is kept in the fridge just for the dogs. I stopped counting how many times I saw the dog water dumped and refilled.
2-Two walks a day, one in the morning and one at night.
3-Foods include but not limited to dry food, wet food, table scraps (sometimes) and they all get a piece of cheese in the morning.
4-Free reign of the house the Bassets hang out anywhere and everywhere but generally like to be near Steve and Pookie.
5-Tummy rubs and head scratches are given out upon request. I didn't witness any dog baths but when I was showering there was more dog related soap in the shower then human soap, but at least I don't have to worry about fleas in the near future.
I have a dog and he is very spoiled but he would be envious about the life a dog lives at the Matthes. To adopt so many dogs and then give them such a good home is very admirable. Annie was my favorite basset I think we had something special at least that's what she told me with her eyes. We watched the race on TV and then took a nap to catch up on a bit of sleep. For dinner we meet up with Pookies BFF @suzeinsincity and Steve's friend JR, his hot wife and son. Dinner was a lot of fun a few cocktails and laughs (the girls and I drank Steve and JR did not) and when JR's son accidently drug Steve's hat in butter the look on Steve's face was priceless.
Upon our return to the Pulpmx studio I drank what beer Matthes had in the fridge (I was on vacation) and touched and admired all the moto memorabilia in the house (helmets, posters, magazines, jerseys). We watched some old SX races from 1996 that I hadn't seen since I was a kid (thanks to TBlaze) and I could still remember the track layouts and the racing action. I could spend days and days watching those old races.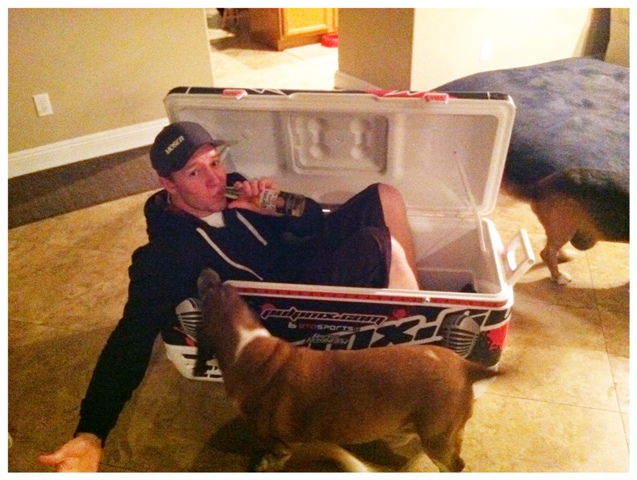 It was even cooler in person than I had imagined (get it, cooler).
Monday morning consisted of two buddies and journalists doing a bit of work and making some show notes for later. I think there was something like 29 voice messages that we listened to picking out the best ones to run on the show, I can't imagine how many voice messages he's going to be getting after this pilot airs. Matthes is a pro at juggling all his different jobs I forgot to ask him exactly how many jobs he has but I can name 5 or 6 of the top of my head, the life of a moto media mogul. I took full advantage of watching the plethora of old SX/MX videos and browsing thorough old magazine. For lunch we hit up Smash Burger another establishment I hadn't tried before, I had the Sin City burger (while in Vegas). Now Smash Burger was outside of the "circle" but only by a few blocks so Matthes made an exception. I don't think I'm telling any Pulpmx trade secrets by saying a lot of the jokes discussed on the show are obviously exaggerated but just like they say, there's a little bit of truth in any joke. We stopped by the grocery store so I could get proper refreshments for the show and when I heard Carey Hart was going to be in studio the beer of choice was clearly PBR. The equipment and cords that make the show possible is best described as organized chaos, Matthes would rattle of what the different equipment did and it was all way over my head.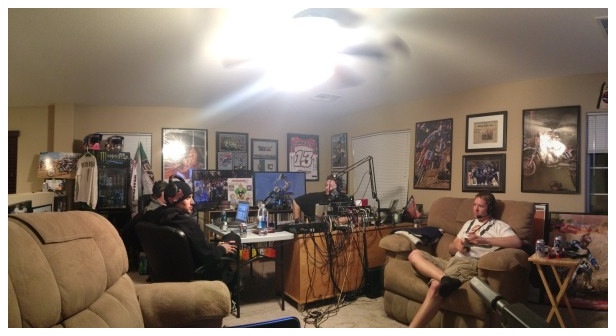 A magical night in the PulpMX studios.
The Moser backlash tweets followed Shorty after the press release for the show was released. The first dozen tweets were funny but as they continued to bombard Matthes I felt a little guilty that he was taking so much heat for having me on the show. Much to my surprise Watson showed up 30 minutes early for the show, maybe it was because Hart was going to be in studio, maybe it was because I was in studio we'll never really know. Peter showed up right on time 10 minutes before showtime, his shoes and shirt once again matching, what a fashonista. We briefly discussed who was going to be on the show that night but there was no minute by minute/play by play which is part of what makes the show so good that it's not over structured. Just before show time I received three separate text messages telling me not to get drunk on the show from Mrs. Moser, my dad and Matt Wallace.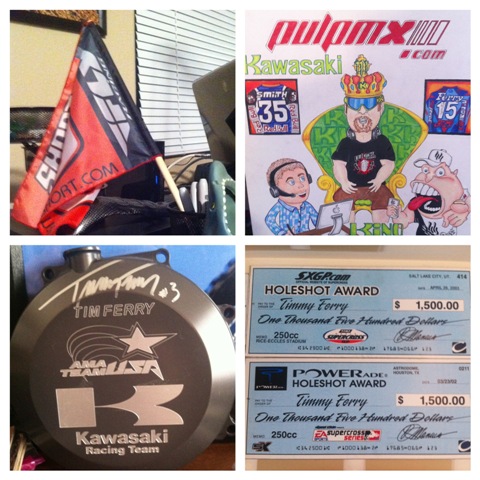 Just a few of the many moto swag displayed in the PulpMX studio.
Predictably sitting in studio is even more entertaining than listening live, there is a lot more going on than I had assumed behind the scenes. Kenny must have gotten up 29 times to answer his phone or wander off, Hart dropped his headset a handful of times, Matthes had technical difficulties at some point and was running around the studio, everyone was constantly on their phones tweeting and bathroom runs are common especially after several beers. Hand gestures are commonly used mostly to flip off one another or in my case to ask Watson to hand me another beer. Maybe this pilot will work because there is some comedy gold going on in studio outside the lions den. Hart is a legend in the industry a self-made man very smart and well spoken, I may not agree with him about how I think the outdoors will support his program but he was very humble and nice it was a pleasure drinking a PBR with him, a very down to earth guy.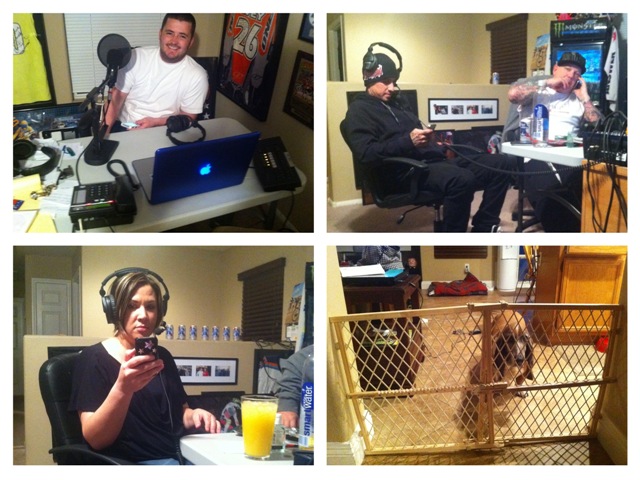 A peek behind the scenes.
When Watson had first announced having a t-shirt design contest 6 months ago I made a "I have a Shorty for pulpmx" shirt. To make it Watson friendly I obviously had to cut the sleeves off and then I mailed it to him for Christmas. The last thing I expected was that Watson had kept the t-shirt and then to wear it and bust it out mid show was shocking and hilarious, it's so true that Watson is such a wildcard you just never know what he's going to do. Sitting in studio was the ultimate bench racing session it was everything I had hoped it would be and more. Watching "classic MX playing on the VCR" was distracting for the show but so worth in for in studio entertainment, Watson, Hart and Matthes would start waving their hands wildly when someone or something they liked popped up on the screen, I must have hit rewind 29 times through-out the night.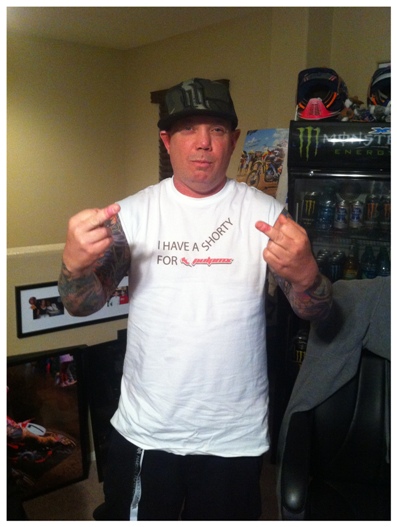 Kdub never ceases to amaze.
The show ran long, I think Watson stuck it out and didn't complain about it because I was there and he could tell how much fun I was having. Pookie "let the dogs out" eventually and Annie jumped into the chair next to Peter, I witnessed a stare off between Annie and Peter, funny how dogs just know when someone is uncomfortable with them (Peter is not a fan of dogs). After the show I embraced Peter for the last time and said our goodbyes, just as sitting in on the show lived up to the hype so did meeting Mr. Legendary it was a real pleasure and I'm glad he also made the drive to the Whales Vagina to hang out. After the show the work continues as Matthes has to edit the beginning and end of the show and upload it. We were pretty hungry we hadn't eaten dinner yet and although Pookie and I had done a good job of quenching our thirst we needed a snack so a Taco Bell run was in order. I think Matthes turned on some hockey but at this point things start to get a little blurry.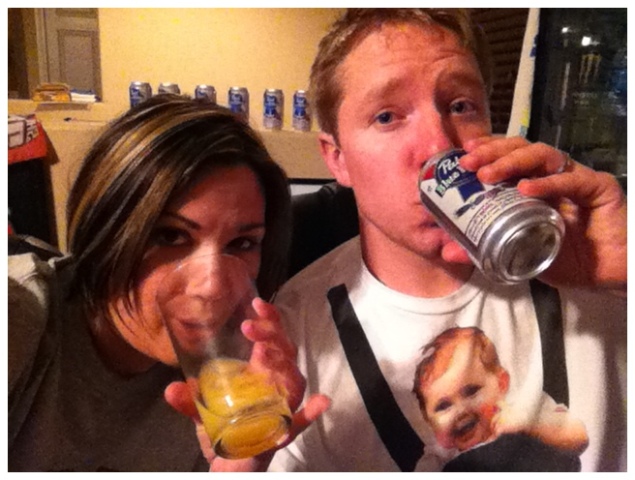 Cheers to a great show and even greater weekend.
The next morning Pookie and I were moving a bit slow after celebrating such a great show. The weekly wrap up podcast with Matthes, Weege and Ping was about to go down and I listened in while eating a Braaap bar and sipping on that days Matthes fresh brewed coffee, both were rather tasty if I don't say so myself. After the podcast it was time to catch my flight and get back to reality, I had only been gone from the wife and kid three days but it felt much longer and I was ready to get back home. Mrs. Moser had planned an epic trip and pulled of an even more epic surprise. I've got to give it up to my team and thank everyone that made this trip possible, Mrs. Moser, Pookie, Matthes, Shorty, Jacki, Weege thank you so much for everything. Pookie and Steve thanks for opening up your home to me, you were both amazing hosts, if you haven't yet noticed what underwear is missing I think I'm in the clear. It's safe to say after hanging out with our wangs out, bench racing, talking politics, religion, environmental awareness… that Matthes and I are no longer just acquaintances we're officially buddies now.