Sometimes it takes a while to set in that you're not fast enough. But if you're lucky enough, you'll figure it that out fast.

Sometimes it takes a while to set in that you're not fast enough. But if you're lucky enough, you'll figure it that out fast.
I don't exactly remember proposing to my wife and I'm not exactly sure where I was or what I was doing when I heard that any of my grandparents had passed away but I can tell you without a doubt where I was and what I was doing when I realized that I was not going to make it as a professional motocross racer.
I was sitting on the bumper of my box van in Perris, California and wondering what in the hell just happened. Up in Manitoba, Canada I was a pretty good racer, I had won a bunch of titles at the local level and in the Loretta Lynn's of Canada (a roving amateur national championship) I had won a title, placed top five in my classes and although I missed my "B" year (1991) with an injury, the guy at the local level I was beating got a third so chances are I'd have done pretty good.
(On another note, I suffered that injury racing down in South Dakota at some cheeseball stadiumcross thing. I went down in the whoops, broke my arm and despite it swelling up like a beach ball, my dad insisted it wasn't broken. We then later on ate at Fuddruckers and even went to a movie while I just sat there supporting my broken arm with my good one. Ever see someone try to eat one of those massive Fuddruckers burgers with one hand? Yeah, it wasn't pretty.)
Along the way, I got some support from Kawasaki Canada when I was on 80's and then from Honda Canada when I went to the big bikes. It wasn't much but it was more than most had ever gotten at my age. I'm not trying to pump myself up or anything like that but the point is, I was decent on a bike and thought that I could parlay my skills into some sort of top Canadian pro rider who could make some money. I'm not claiming I was RJ or anything like that, just that I could ride.
I headed down to Southern California in the winter of '91 with my three bikes and because we had helped him get up to Canada to do schools there, former top pro racer Gary Semics had allowed me to stay with him in Canyon Lake, California which was in the heartland of moto. I was going into my first year as a pro in Canada and although I was a top B rider the year before, I knew that I needed to get better. I saved and scrimped my pennies and planned on a month of riding (I brought down a buddy of mine as well to help with expenses but he wasn't into riding and racing like I was, he just wanted to goof off. This caused some tension between us as I wanted to pound motos and go to the gym-I swear to god-and he wanted to go to Disneyland and such) before the season started back home and I could accelerate this master plan of being the next Ross Pederson. Or at least the next Shane Drew.
Smashcut to that day at Perris Raceway with me on my bumper sitting there by myself as an imaginary anvil just crushed everything right then and there. I had been riding for a solid three weeks working off the winter rust and felt pretty good. Semics was helping me out here and there, telling me where to go, telling me I was riding well and I felt ready to race. You know- to test my new speed out, to see where I stood. After all, I was going pro now.
There was a local GFI race (remember those?) at Perris and I decided to go and check it out. I remember that Johnny O'Mara was there as was World Champion Trampas Parker on a Honda along with his new teammate at the GP's that year Micky Dymond. Now obviously I knew I didn't have anything for guys like that but I saw the pro class list and decided that right then and there, I was going to race B and that was alright because I wasn't technically a pro yet in Canada right? That and the fact that I didn't want to look stupid as Parker and O'Mara lapped me for the fourth time. As I sit here on an airplane going to the Atlanta SX, I swear to you guys that the thought (it was brief, but it was there) crossed my mind that I hoped I didn't win the B class by a huge amount. Someone might do some background on me and find out I was a pro in Canada and my defense would be, "Well not really yet boys!"
I don't remember practice but I know I signed up for all three B classes and I remember looking over on the gate and seeing a Kawasaki rider with "Decker" on the back of his AXO chest protector. I immediately knew that it was Craig Decker and that he was really fast. I was probably not going to win this race but that was still ok.
And that would be the last time I ever saw Craig Decker. In fact, if I had wanted to see Craig Decker, I would have had to go find him in the pits because once the gate dropped, Decker and about ten other guys were gone. I don't remember my placing but I got beat bad. Like really bad. Like back of the pack in the B class at the local GFI series bad.
And that was it. I was working hard, thought I was pretty good and there I sat on my bumper of my box van (which had a sweet cabinet set-up with ATK bike shoes by the way) sweat pouring off me realizing that I was done. My time and money were wasted. There were apparently some VERY fast riders just chilling here at Perris on this Sunday and if I couldn't get into the mix in the B class (B CLASS!) then how in the hell was I going to make it as a pro?
And I still had five more motos to go.
And predictably, I got hammered. I think I got a top five in the 500's but then again, there were probably seven of us out there. Never mind pro class, I wasn't even ready to race the B class down in California and as I sat there with sweat pouring down my face, I had to seriously revaluate pretty much everything.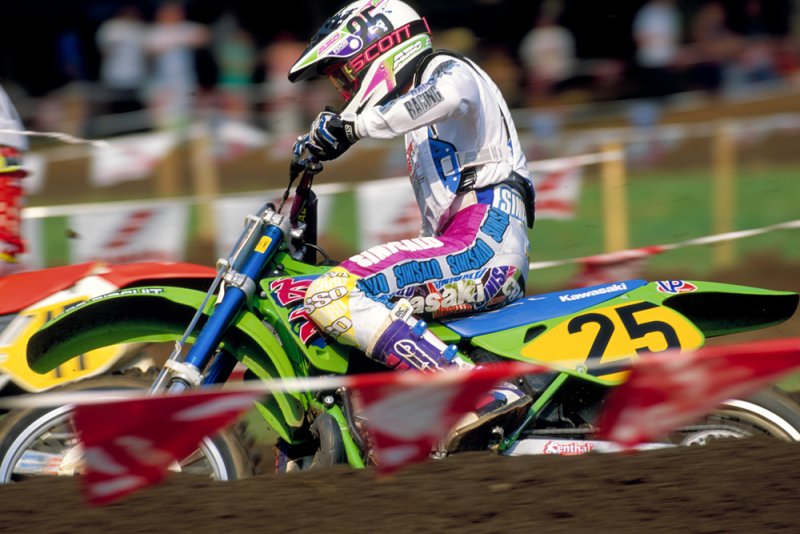 Craig Decker at Loretta Lynn's some nine months after I "raced" him. Photo courtesy of Racer X.
Of course I know now, years later, that Perris had its locals that raced there and nowhere else. I know now that there were top factory riders that got beat at Perris by the locals but at that point, I knew none of this. And to be honest, it didn't matter. I didn't measure up at all.
The drive home was pretty quiet, me thinking about other lines of work (male prostitution?) and wondering just where the master plan had gone wrong? I, like 98.6% of motocross racers in the world, just didn't measure up and wouldn't be making a career out of it.
Anyways, that year (1992) I turned pro up home and never won an overall. Sure, I won a moto one time but the even the local guys were so much better than me most of the time. I think when I won the moto, I had the local fast guy all over me and he fell trying to make the pass. My parents were going through a divorce, my dad wasn't around, I was 18 and had known nothing in my life except motocross and now it seemed, I needed to know the words "post-secondary education" more than "get faster."
I raced the Canadian national when it came to my home state (province) and figured that would be a good test for me. At least these were the top guys in Canada (Rollerball's last year by the way) that I could gauge myself against (although not winning locally is never a good sign for national-level greatness).
And that anvil just came down harder on me this time. I fell in the first turn in the first moto, the handlebar ripped open my jersey (one of those sweet cotton Pro Circuit ones I had gotten on that trip to SoCal months earlier) and cut my chest. I was trying to come up through the pack looking like some sort of slasher victim in a Friday the 13th movie. I didn't score any points and the second moto I crashed (probably trying to ride over my head) while top 15 or so and put a grapefruit sized knot on my thigh.
Later that summer I lined up for the 500cc national at Millville (in those days you could just walk up and buy a one-day license) and didn't qualify for the motos. I don't remember the specifics but I'm sure it was as ugly.
The dream was dead, I wasn't good enough and like so many other guys out there, I had to face the reality. On top of that, my injuries were starting to mount up. Torn ACL, broken arm, broken foot three times, concussions, collarbone- it was all adding up.
So that was it, I was no just going to be a local dude who had to work for a living. The next year, I tore my rotator cuff, suffered a hematoma so bad I couldn't ride for a month when I hit my thigh on the handlebars, broke a finger, had to get my knee drained twice and I was trying to figure out what in the hell I was going to do.
That day sitting on the bumper was when I really knew it but I didn't really accept it you know? Two years after that day at Perris Raceway, I was a shell of what I was that day, body broken up, dreams smashed. A year after that, I was down in the USA starting my new career wrenching.
Yeah, it sucked not making it as a pro motocross hero but to me, I got the next best thing. It just took a little while.
Thank you Craig Decker.