The "Show-Me" State got its good amount of action and interesting things that happened Saturday night.
The "Show-Me" State got its good amount of action and interesting things that happened Saturday night.
By David Vuillemin
Photos by James Lissimore
The track was pretty technical this weekend with a tricky rhythm section after the start. The dirt, like always in St Louis, was primo and the track was challenging with a lot going on. The whoops weren't much of a factor but you could still make a little time in them. The downside of the track were the six 90-degrees turn on it and that's a recipe for a one lined track.
Let's get started and go thru the top 10 in the 450 class…
Nick Wey got his 3rd Top 10 of the season in St Louis. He had his best qualifying of the season with a 9th only 7 tenths from the top 5. We've been working on technique and speed for a while and it's paying off. His 10th place in the main didn't come easy for the Dewitt native. NYK had to go to the LCQ, which he won, after a not so great heat race where he struggled in traffic and was victim of an aggressive move by Windham where he lost 4/5 spots. Second to the last outside gate for the Main wasn't the best spot to holeshot the pack. Nick rode aggressive in the first lap and ended it in 9th. He rode a consistent race on a technical track with the 19th pick on the gate for the Main. With the circumstances, it was a good ride for the "Mafia"…
Newcomer in the class and in 9th in St Louis, no other than the always smiling Frenchie, Marvin Musquin. It's cool to see him on the 350cc on the opposite coast. Marvin is really creative in his riding and fun to watch. Add to the list being super smooth, I thought it was a good idea to have race the 350cc rather than the 450cc. The midsize bike is the closest he's been riding and used to and I think it would have took more than a few weeks to be as competitive on the big bore. But that's my take. Obviously, I was at all the races last year (save two) and Andrew Short's 350cc didn't leave great memories so that's why I was a little concerned. After a few laps in practice, I was actually surprised on how well the 350cc was running in engine and chassis. The bike sounded "torquier" than the '11 version and Marvin looked great on it. He was fast in practice with a 6th fastest time. His start in the main wasn't good and was only 15th on the first lap. He worked his way up to 9th and was 10th fastest in the main. I thought it was a good first race in the big class. Now, I'd like to see him battle closer to the top 5 and battle with his Lites rival Seely which would give him confidence or when the series goes back West.
Seventh and eighth went to Weimer and Metcalfe. It was a lonely main event for those two who only raced each other in the main far behind the top 6 and quite a bit ahead of the following riders. Jake and Brett qualified 11th and 14th which was a little off the pace considering their factory rider status. JW showed us some good rides and great speed in the West coast rounds and in Dallas but his Atlanta and St Louis races weren't what he is looking for I am sure. He proved he could be a top 5, even top 3 with the right circumstances, he will have to get better starts and get his speed back. He was "only" 8th fastest in the main. As far as for Brett, when he starts up front like at a few rounds earlier this year, he can also be a top 5 guy but he still lacks some speed to move thru the pack. He's average finish on the first half of the championship is a 8.5th…
Davi Millsaps ended up 6th in Missouri after holeshoting the main. After his great 4th place in Atlanta, this holeshot was promising for a good finish. Davi didn't capitalize on it and lost positions after positions even with clocking his fast lap time in the main only 1 tenth off Dungey's. The start and the speed were there to get on the podium on Saturday with Bubba crashing on the first lap. The only "plus" of his main was to stay in front of Bubba for 5 laps… Davi missed a big chance to get on the podium this season. He had all the tools but the "eye of the tiger"…
It was again a disappointing finish for Bubba but he showed some good things, just like in Atlanta. He started bad in the Main, well over the top 10, and went for a hopeless move to pass a few riders in a single turn in the first lap. He went too hot in the inside of the flat turn before the triple, clipped Albertson rear wheel and crash. There was other scenario than crashing by doing so. I've thought that since Atlanta, James is riding smoother and not as sketchy. He had a great heat race which he won easily after a great start. His overall heat race time was 2 seconds slower than Villopoto's. After his first lap crash, remounted dead last and could only come back to 5th. He spent five laps behind Millsaps and couldn't get around him. He had spurts of greatness in the whoops and other sections but it wasn't enough to get on the podium. I talked to him before the main and he called me out about last week's Snake Eyes when I said I didn't think he was in the best of shape and him telling me that he outlasted everyone in Oakland. And he might have a point, his 17th and 18th laps times were fast, in the 51's, and faster than RV and RD's on those laps. And that's when RD was catching RV and they were going at it! I really think Bubba has everything to win. His starts can be great, his top speed is there, he was pretty much as fast as RV on the fastest lap in the Main, his speed at the end of the race was good too. It's just a matter of putting everything together in the Main and there is nothing that keep him to do it but himself…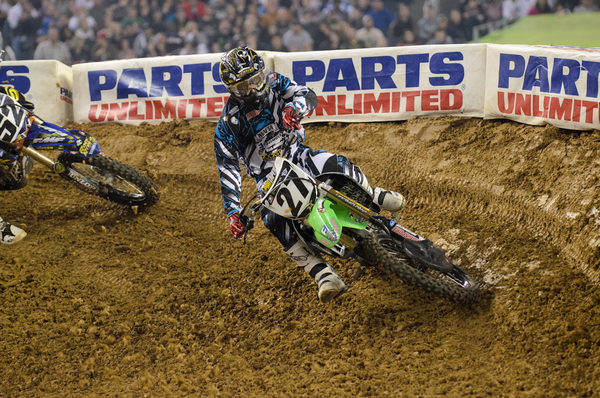 DV is working with Nick Wey and the results have been better lately.
For his 201st SX race, Kevin Windham showed up to do something great. Third fastest in practice, only 4-tenths behind RV and in front of Stewart. Started 4th in the Main, got passed by RD and passed Millsaps. He stayed for 20 laps behind Brayton and I thought he would have got him in a few occasions. He was super close to Justin but didn't find the opening to make a pass. It was a great strong ride for KW who is looking for his 1st podium of the year. When one of the big three have a problem in the main, KW is one of those guys who will be able to be on the podium like Brayton, Weimer and maybe Millspas on a good day. At 34, after a huge career, we should have only respect for Kevin.
It was Justin Brayton first podium since Seattle 2010 on a JGR Yamaha, almost 2 years ago and his second of his career. It's the best, the strongest and the most consistent I've seen him race. I think Justin has a lot of potential and that we didn't see the best of him yet. This race will boost his confidence. Justin might do even better when he realizes he has the abilities to race against the Big 4 which became the Big 3 since Reed is out.
Dungey's second place feels to me like a win. It's by far the best he's rode this year, better than his wins in Phoenix and last week in Atlanta. Saturday, it was the first time of the year he could have won straight up against Villopoto. His last 10 laps are the proof of it. He caught RV and, in my eyes won a mental battle and that will boost his confidence tremendously. He's trailing Villopoto by 13 points in the championship with 8 races to go. That's not much for a confident former Champion. That's 1.625 point a race! Guys, the second half of the championship is going to be interesting !!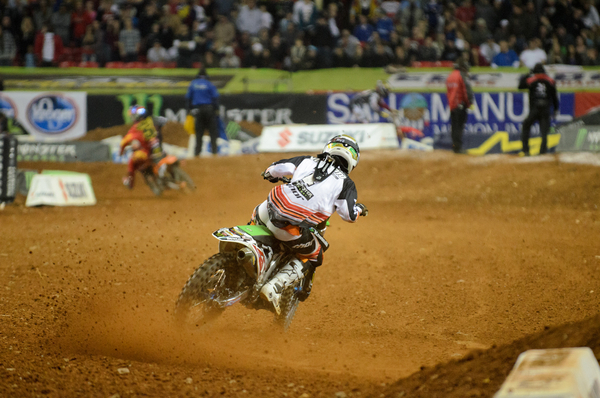 Although it was close at the end, RV won again to open up his points lead to 13.
RV won again, his 5th of the season and that's more than half the race. Putting is that way, it sounds like domination and in a way it is but at the scoreboard, he has only a 13 points lead at the half way mark. RV was the fastest in practice, in the main, won his heat and the main. That was a grand slam on paper in St Louis. BUT, like I said about RD5, RV let Dunge built his confidence in the main in St Louis. RV was gone after 10 laps. I was in this position before and it seems like the laps aren't going fast enough and you can't wait for the white flag. RD was in second and could have settled but didn't. In the other hand, RV started going a little slower while RD didn't give up for the win and went for it. If RV would have still hammered fast lap times and kill the competition again, I wouldn't be here talking about it. By letting RD catch him like that he is giving Dungey hope and some sort of confidence which isn't what you want to do at the halfway mark of a season with that like of a point lead… I might be imagining a scenario and the St Louis might not be what I describe it but if I was Dungey, I'd be pumped up and ready to work twice as hard because this championship isn't over yet. Daytona is next and RV will be the favorite again. He's 20 laps away to put his fist on the table and tell Dungey he is the boss this year and at this point of the game, you want to kill the competition rather to make them hope…
250
I am really impressed by the way Barcia is riding this year. And to tell you the truth, I wasn't really impressed with him last year. He was doing a lot of things on the bike that were useless, his corner speed wasn't great and he was compensating with aggressivity, will and starts. This year, this is a different rider that I see with so much more maturity in his riding, he's way smoother and he keeps his momentum around the track way better. Yes, he still "overrevs" a little much, but if his engine can take it, it isn't a problem. He's perfect so far this year and if he keeps doing what he is doing he will be for a while. I can't wait for him to clinch the title and see him ride on Canard/Seely's bike when the series goes back West. Thumbs up to him in St Louis, it was a flawless ride!
Roczen was back on the podium Saturday after his start/clutch fiasco in Atlanta. Ken, or anyone else, didn't have anything for Barcia this weekend. Ken had a lot on his plate with Bogle in the Main. Justin followed him like his shadow for 14.5 laps when he crashed. Barcia holeshoted ken was 2nd. All of us in the stand were excited about this battle. He didn't happen. Bambam was almost a second faster in the beginning and Ken couldn't do anything about it. Ken stayed in front of Bogle even if we thought JB49 could have passed him. He used his World Champion experience against the rookie to stay in front. Roczen, as a past SX winner and World Champion, shouldn't be racing with Bogle, even if he's doing great lately, and should be with Barcia. After 3 races, he is still far to battle for a win yet. Maybe Daytona will be different. Ken is a great sand rider and it could be his breakthrough race of the year. I am sure he's looking forward to it.
Wharton got his first podium of the year and a $10 to $15k (Suzuki 3rd place bonus) gift from Bogle who crashed half a lap to go. Blake has been pretty fast and consistent this season with a 4-4-3 score so far. He's been lacking consistency in the past and he's doing good in this department this year. He is going to have to gain a tad of speed to be a consistent podium guy.
Durham got 4th this weekend and rode with Wharton the whole main. They were 7-8 after the first lap and finished 4th and 5th less than a second apart. He is tied for 3rd in the championship with Wharton which proves you that they ride pretty much the same. With his new status as factory supported rider in the "best" Lites team, we were expecting a little more from Darryn this year. Since Baggett has been struggling he will have to step up and the first rider for the PC team this year. From what I saw in 3 east races, it will be tough for the PC boys to win a race in this series this year…
Bogle impresses us every weekend. St Louis was no different. Fastest in practice, won his heat and was giving Roczen a run for his money in the main. He raced Ken the whole main and it looked like he was in control to pass him later in the main. He couldn't find a spot to pass and high sided in a rut half a lap before the finish. Justin looked comfortable and super fast. The track might not have helped him to pass, like I described it in the first paragraph with six 90-degrees turns but his time will come. He rides with maturity being a rookie could be the one breaking Barcia's winning streak, who knows. He is refreshing to watch and can't wait for him to show his best mistake free race.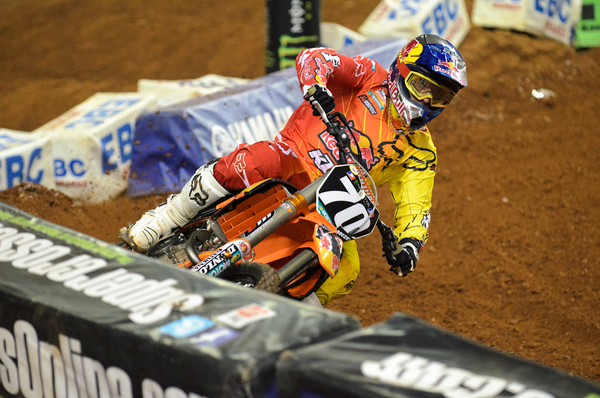 Roczen had a good race in getting second but he wasn't happy afterwards.
Canada got 6th. I mentioned him last week about his good ride in ATL. jake rode a consistent 4th the whole moto but hit the wall a few laps to go. I really like the kid, nice guy and we worked hard last summer. With a better fitness he could have easily beat Durham and Wharton which would have been a good accomplishment. I hope he will keep working and get in the top 5 soon.
As for the "can do better" riders, we have Malcom (11th on lap 1), Baggett (12th on lap 1) and Cunningham (13th on lap1) who finished 7th, 8th and 9th respectively. They shouldn't be where they are even with bad starts or other unfavorable circumstances. They all have huge potential, good bikes and should be, at least, battling with Durham-Wharton and shouldn't be at 30 seconds from the leader at the end of the Main…
Daytona is next week and should be interesting. Even if it's not like it used to be, during the day, hot, rough with 1min 30sec lap times, it seems like a lot of stuff happens at that race.
Talk to you next week
DV
@DavidVuillemin on Twitter