On the weekend of the 2012 Atlanta Supercross I got the chance to live out a dream.
On the weekend of the 2012 Atlanta Supercross I got the chance to live out a dream.
By: Tony Blazier
It is a dream shared by thousands of motocross fans all over the world. For one day I got to go behind the curtain and see what it is really like to be a member of a professional Supercross team. I got to be there for everything from track walk to post race clean up. Along the way I got to meet an amazing group of people and gain a whole new perspective on the sport I love. This is my best day ever.
I have been making the trip to the Atlanta Supercross since the mid 90's. I live in Virginia and there have not been any supercross races close to me since the 83 race at RFK. For a few years in the early 90's I went to the Charlotte Supercross at the old Memorial Stadium and that was a lot of fun. Then they went to the Charlotte Speedway and that race went from intimate and fun to big and gone. After that, Atlanta became THE southeast supercross. Hotlanta is always a big party with a huge turnout and more often than not fantastic racing. Maybe it is the dirt, or maybe it is just the proximity to so many of the top rider's home bases, whatever the reason Atlanta rarely disappoints.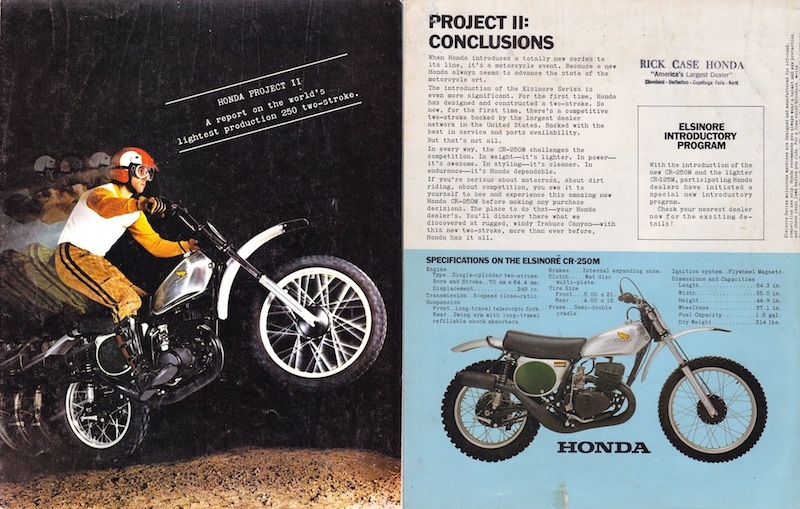 The Georgia Dome is a great place to watch a race.
This year Atlanta was going to be a little different for me however. I had contacted Steve Matthes a few months back about getting me in touch with the Butler Brothers Motocross team. I was interested in writing a story for PulpMX.com about what it would be like for the average fan to be a team member for day and I knew the BBMX team had done some fan experience promotions in the past. A few emails later and I was set to be an official BTO Sports BBMX Team member for the day.
Saturday arrived with sunny skies, a slight breeze and a bit of chill in the air. In short, pretty typical weather for Atlanta in February. As I walked to the stadium it was all I could do to keep my excitement under control. I had been to the Georgia Dome many times before but I knew today was going to be special. After I picked up my credentials from the Will Call desk, I went about the daunting task of finding the correct entrance to the pits. If you have ever been to the Atlanta SX you know that that is no easy task. In Atlanta the teams set up the pits inside the Georgia World Congress Center which is adjacent to the Georgia Dome. The GWCC is an incredibly large facility spanning countless blocks of Atlanta real estate. When you are walking around the place it seems like a small city and it always seems like the pits are in a different location from year to year. This year I was directed to the rear entrance only to arrive there and be told I was in the wrong place. A good twenty minutes and countless flights of stairs later I found my way into the Atlanta supercross pits.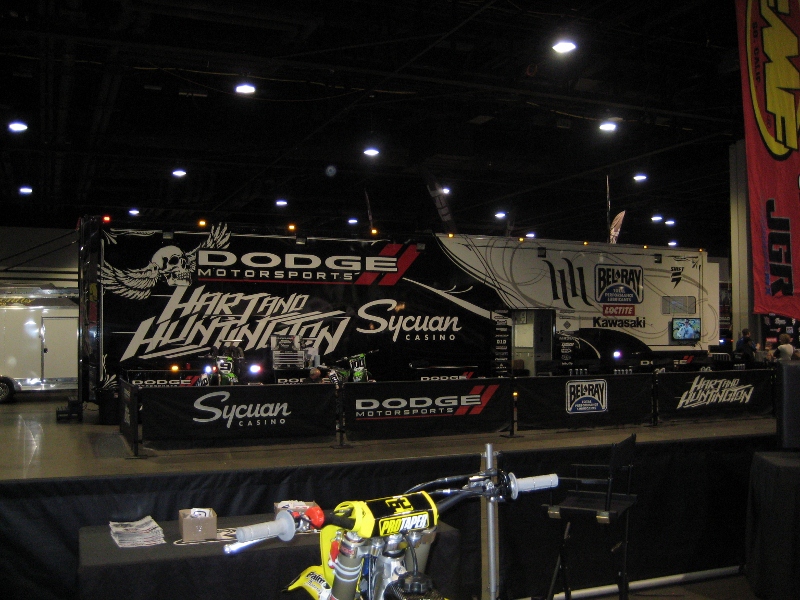 The calm before the storm.
The pits before the crowds arrive are a surreal place. It almost looks like a ghost town full of bright colored displays and speakers blaring out music to no one. You see a few team personnel here and there but for the most part the place looks totally deserted. This is an incredible contrast to the scene that will play out a few hours later as the Pit Party hits full stride. As big as the GWCC is, it is barely sufficient to handle the incredible throng of people who pour into the Georgia Dome pits. By three o'clock the pit area will resemble a street market in Morroco more than a motorcycle race, with people crammed shoulder to should for as far as the eye can see. For now though, all is calm and I make my way to the BTO Sports BBMX trailer that will be my home for the day.
Once I arrived at the team trailer I was given a tour of the semi and introduced to all the riders and team personnel. The BTO Sports BBMX team is a family affair. The team was originally started to support Karsten, Brandon and Forrest Butler as they chased their supercross dreams as professional racers. After the brothers retired from full time racing, Forrest and Karsten decided to continue their race team with the help of sponsors like BTO Sports, JGR and FMF. The team currently employs four riders in Michael Byrne (who is on the mend from a broken neck), Matt Goerke, Jimmy Albertson and Jason Thomas.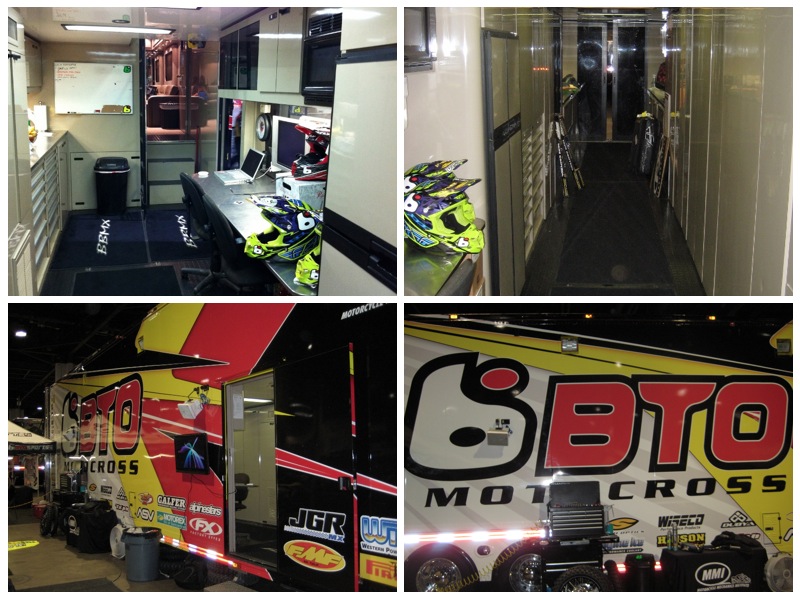 My home for the day.
Karsten and Forrest turned out to be two of the nicest guys you could ever hope to meet. They were both incredibly gracious, allowing me free reign of their rig for the day. It was so cool to be in the semi and behind the scenes as the mechanics and riders prepared for the big day ahead. I especially enjoyed meeting team rider Jason Thomas who has been a mainstay on the supercross circuit for over a decade. JT was rocking his full Mr.T Mohawk for the day and being a man whose hair long ago gave up the ghost; I could not help but be impressed. JT is famous for his race day intensity so I was not sure what to expect upon meeting him. As it turned out JT was extremely nice and approachable, taking the time to stop and talk to me all day. I even got to meet JT's dad Frank who is well known to any regular listener of the PulpMX Show. I thought it best not to mention the whole Burger King incident though.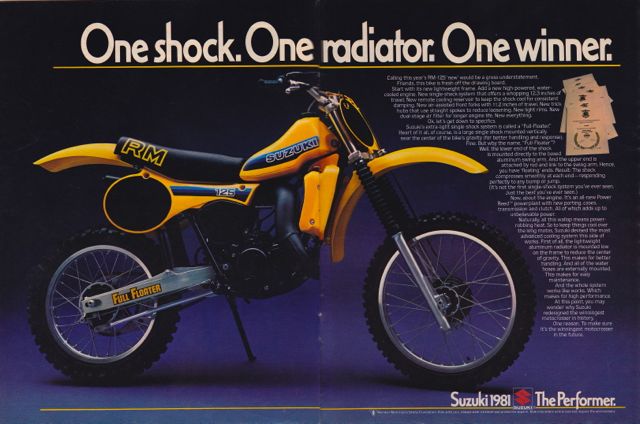 This is the view from the top of the finish line jump. That landing was HUGE.
After all the introductions were over it was time for track walk. If there was one thing that I had been really looking forward to, this was it. I think any fan who has attended a supercross has dreamed of actually getting to go down on the stadium floor to see the track up close. I have spent many an hour in the seats looking at the track trying to imagine what jumps I could actually clear. From twenty rows up most of the jumps don't look completely impossible. Add to that the fact that the pros make the obstacles look so effortless and it is easy to convince yourself that you can maybe clear that tricky double. Well I am here to tell you, one walk around an honest to god supercross track will clear your mind of all those delusions in a hurry. I could not believe how HUGE the jumps are. The triple jumps look like straight up walls as you approach them. Once you make your way to the top of the takeoff, (no easy feat on foot by the way) the landing looks like an only slightly smaller wall about a mile away. Even the finish line jump, which is pretty much an after thought to most of these guys, looked like a death defying leap to me. The "wall jump" leading into the sand section on the Atlanta track was so steep in fact it was impossible to climb up it on foot. It literally was a six foot tall wall of dirt. Needless to say the track walk was a sobering experience. All I can say is that any dude who can negotiate a real supercross track without turning himself into a massive lawn dart has got my respect.
Here is the top of the tricky dragon back section. You had to basically blitz a set of whoops on the face of this jump and then double onto this table. It is just crazy what these guys can do.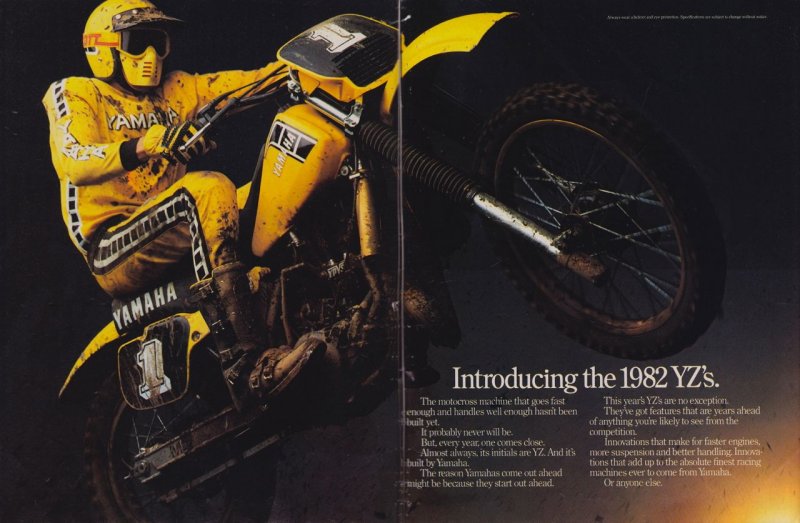 Here is the wall before the sand section. In practice JS7 jumped nearly this whole section in one massive leap.
As I finished my tour of the track, the riders meeting was getting under way so I went over to listen in a bit. This was particularity interesting as I got to hear one of the most bizarre explanations of rough riding ever. Apparently prompted by the takeout/block pass by Malcolm Stewart on Justin Bogle the week before. The AMA/FIM (I have to admit I really don't know who is in charge anymore) decided it was necessary to explain the finer points of a take-out move. As always it was really just a bunch of sabre rattling. As it would show later in the evening the AMA/FIM is reluctant to really penalize any of the sports stars (anyone remember RC and fuel- gate?).The Stewart, Bogle incident was certainly no worse than the torpedo job Chad Reed had done to Malcolm's older brother in Atlanta the year before (I'm a huge Reed fan but it was definitely a pick up pass if there ever was one). In any case there was no talk of "Docking" which is probably a good thing.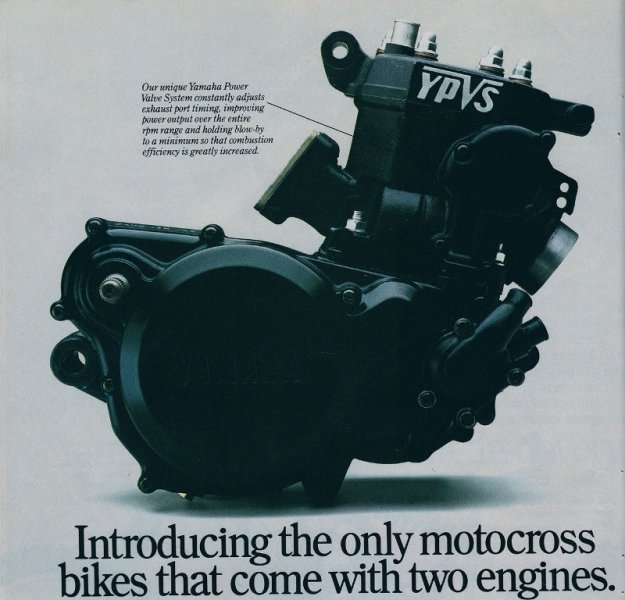 The Dunginator's weapon.
After track walk I made my way back to the pits. I have to tell you one of the coolest things about being a team member for the day is going where you have never been before. Getting to walk past the big dudes in yellow windbreakers and just flash a badge to get into the inner sanctum is an awesome feeling. Standing next to Roger Decoster while he talks about practice to Ryan Dungy two feet away is just a surreal experience. It really is like being Alice after falling through the looking glass. The whole day I had to keep pinching myself. It's good to be the king.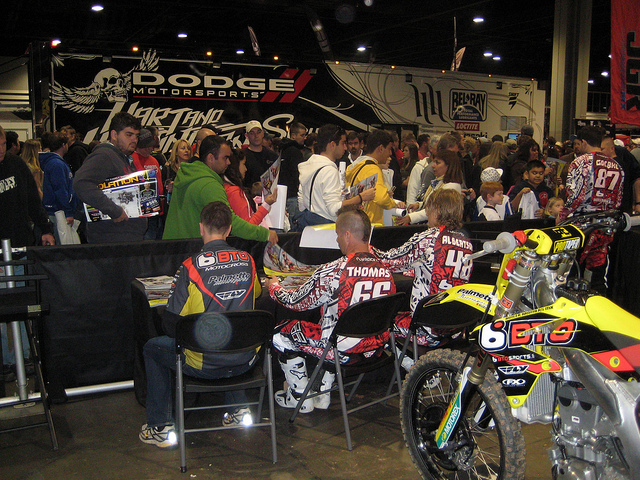 Byrner, JT$ and Top Jimmy greet their adoring fans.
By the time I got back to the truck the pits were really a buzz with activity. Models in shall we say "brief attire" were everywhere promoting this or that. Teams were busy doing final adjustments before practice and riders were getting ready to head out. We were pitted right across from the Hart and Huntington race team and I had an eye out for the game changing Johnny Cash tribute band but no luck today. The wrapped coolers were definitely on point however. I went over and talked to Ivan Tedesco's mechanic Tony Berluti and H&H team manager Kenny Watson for a while. Both guys were super nice and more than happy to chat for a bit (thanks for the H&H hat K-Dub). About that time lunch was arriving so I made my way back to the semi. The BBMX team had ordered Chick-Fil-A to cater our lunch so we all got to eat and drink some of the best sweet tea and chicken around. About this time Matthes came by the truck to talk to JT and I was lucky enough to score a trip to the press box with him to watch practice.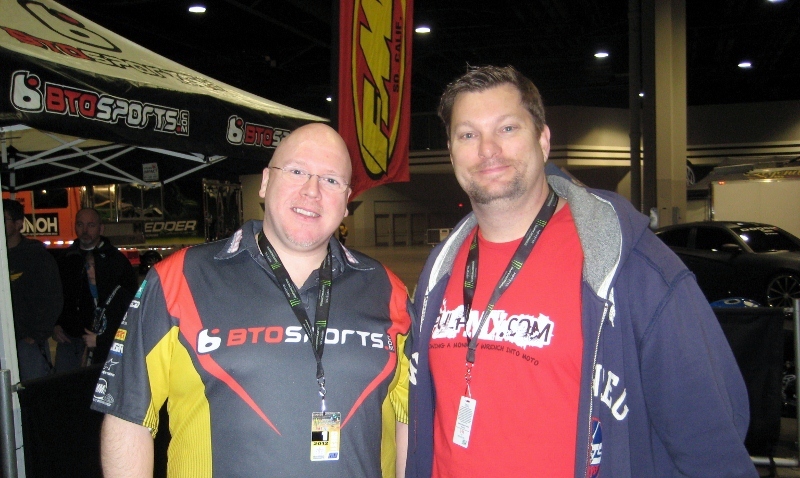 Steve and I broing down in the BBMX pits.
The press box afforded a fantastic view of the whole track. We were right on the 50 yard line and just below the upper deck. From there you could pretty much keep an eye on all the action below. This was another first for me and man was I excited. I was also smack dab in the middle of a bench racing perfect storm. Sitting to my left I had Steve Matthes, former factory mechanic, Tim Ferry super fan and Moto media mogul. To my right was Jason Weigandt of Racer X, Speed Channel, NBC Sports, GNCC, Arenacross and Englishtown Raceway flagging fame. Then directly behind me was David Izer, part time DMXS radio host and full time soldier of fortune. Listening to the three of these guys banter back and forth was a show all to its own. There was of course the requisite Timmy Ferry reference or three by Matthes and lots of awesome bench racing with Weege about just about everything. The cool thing is all of these guys are just as cool in person as they seem on the TV and radio. They are all extremely knowledgeable about the sport and love to talk Moto every bit as much as you do. For a true Moto head like me it just does not get any better than this.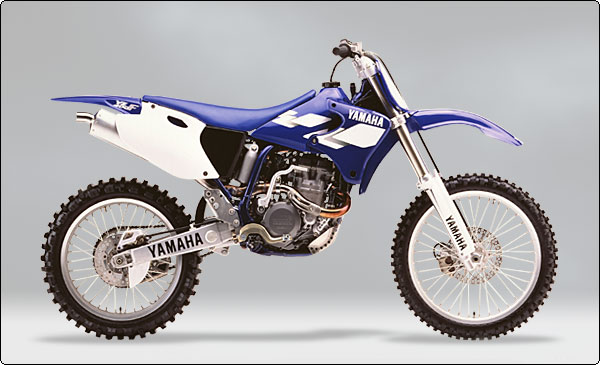 The two hardest working men in show business.
As far as practice goes the usual suspects were all looking fast. The Atlanta track was very technical and was giving a lot of the riders fits. There were a couple of gnarly step on, step off dragon back combos that were giving even the top guys trouble. The aforementioned sand section was really deep this week and looked to be very tricky. At first riders were just rolling over the wall that led to the sand section but before long guys started actually jumping the wall into the sand. The jump was so steep that is sent you straight up so I was not sure how much faster it would be but before long all the top guys were launching into the Pismo beach whoops. Then an old friend made an appearance. Near the end of practice old Crazy Balls came out to play and sent his number seven Yamaha into orbit off the wall jump. Stewart grabbed a handful and launched his YZ450F a good three quarters of the way through the sand section. It was an insane leap and would of course be of no use in the race but man it was cool to see. No matter what you think of old number seven you most certainly have to respect his ability on a motorcycle. The guy can most defiantly ride.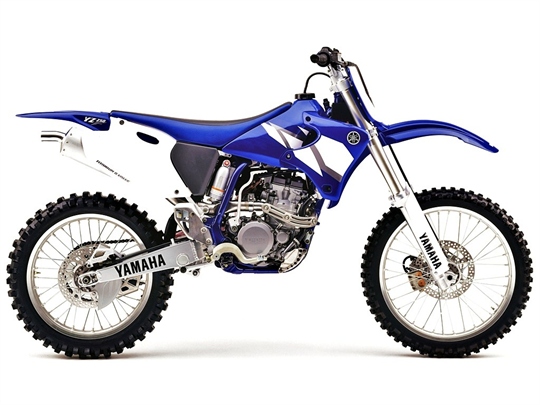 Atlanta is beautiful this time of year.
After practice I made my way back to the pits to check in with the team. By now the pits were really starting to fill up with people. Atlanta is always one of the best-attended rounds of the supercross series and this year was shaping up to be no different. The main area of the pits in between all the team semis can get so packed it is nearly impossible to walk at times. By the time I made my way back thru the throngs of people to the BBMX semi, the mechanics were hard at work going over the bikes and making any necessary changes for the night show. Matt Goerke had taken a pretty good crash in practice and his bike needed some repairs. As I entered the semi Matt's mechanic was heading over to the Jeff Ward racing pits to borrow a set of bars for Matt's bike. Throughout the day in fact I saw various teams helping each other out with spare parts and such. It was pretty cool to see such cooperation among the different teams. Inside the semi JT and Goerke were going over the video of their practice sessions. This is where I first got to see the famous Jason Thomas race face. JT was all business as he studied intervals with his dad Frank. I stood in the corner trying to stay out of everyone's way just taking it all in.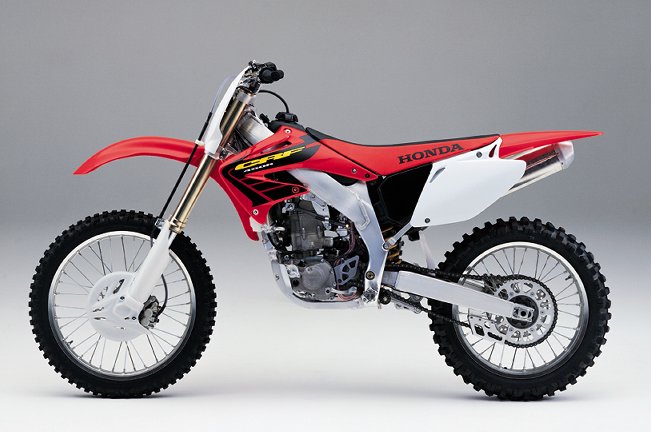 JT$ and Goerke studying times after practice. JT$ was running the full on Mohawk Saturday.
Earlier in the day at track walk I had seen Jeff Emig and RC talking to a bunch of the riders and wanted to say hi but really felt like I would be intruding. I had done a fair amount to talking to Fro on Twitter and wanted to introduce myself in person. I had mentioned this to Karsten during track walk but thought no more of it. Well as I sat in the BBMX lounge resting my quickly tiring feet, Karsten came up and told me there was someone he wanted me to meet. As I climbed down out of the lounge none other than four time National MX champ Jeff Emig was standing there. This totally took me by surprise and I suffered a complete brain lock up at this point. When I had seen him earlier I had worked out what I wanted to say, but this surprise had left me standing there like some idiot. The funny thing is I had met him probably a dozen other times over the years in autograph lines and such but somehow it was so different to have him standing right in front of me one on one in this little lounge. I introduced myself to him and he recognized my name from Twitter which was pretty cool but I just could not bring myself to say anything interesting. We had some light banter about Mad Skills motocross and then he was gone. I was left feeling like Ron Burgundy after he told San Diego to go F*%* itself. Damn, way to go braniac. Oh well, at least I did not faint like a girl at a Justin Bieber concert.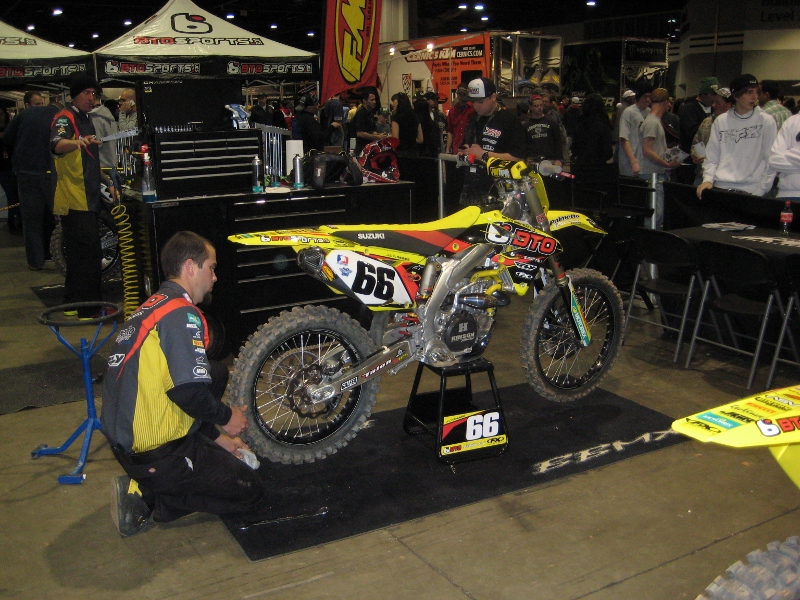 Getting JT$'s steed ready for the night show.
By now the night show was quickly approaching so I decided to make my way back to the press box before all the best seats were snatched up. It was at this point I almost did something that could have been the single biggest A-Hole move ever in the history of motocross. As I was making the trek back to the stadium from the pits for the twentieth time, I missed spitting on THE MAN by mere inches. As I was walking outside to the stadium's rear service entrance I turned to my right and went to spit on the ground. All of a sudden an orange blur appeared in my peripheral vision. I missed spiting on a jogging Roger DeCoster by the thinnest of margins. Roger kept on jogging and did not even acknowledge my swift apology. I had not even known he was there till it was too late. OH MY GOD, I could not believe what I had almost done. I don't think even Bob Hannah who had wanted to break Roger's leg back in 78 would have wanted to spit on him. I had really dodged a bullet there and thought it best to chalk that one up to the Moto gods being kind to me on My Best Day.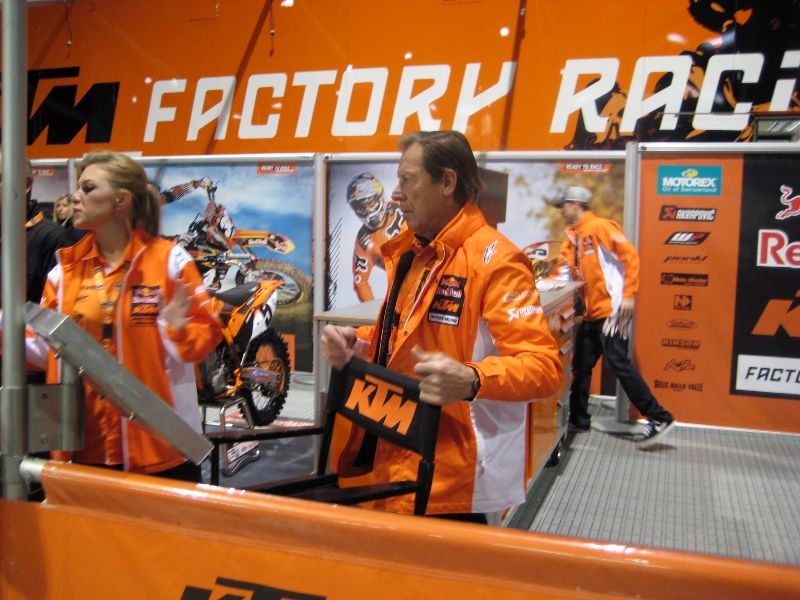 Sorry about that Roger.
Once I made my way back into the stadium I quickly realized I had only the vaguest idea where the press box actually was. Earlier in the day I had been with Matthes and was just following him as we talked Moto. Now I realized maybe I should have been paying more attention to where we were going. Oh well I figured how hard could it be to find right? Well twenty minutes and a lot of walking later I was still in the bowels of the stadium and totally lost. Then I came upon nice older lady who was running Papa John's Pizzas to the suite level. She was nice enough to let me hitch a ride on the freight elevator to the suite level. While we waited for the lift she poured out her soul to me about how this was her day off, and how she was too old for delivering Pizzas, all the kids were lazy etc. etc… Needless to say it was an interesting ride.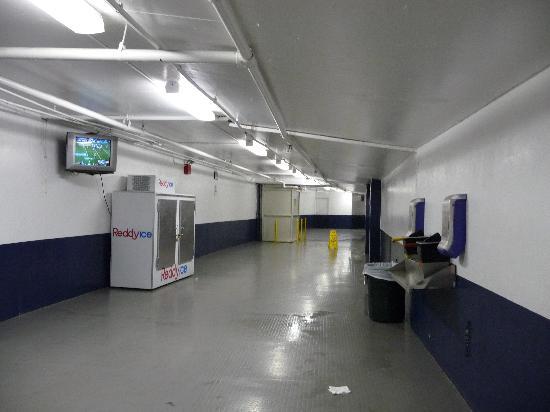 Hmmm I knew I should have taken that right turn at Albuquerque….
The press box was a lot more packed than it had been for practice and I was lucky that my seat from earlier was still available. David Izer was in exactly the same place he had been six hours earlier and I wondered if he had stayed there all day. It was probably like just another stake out to the Colt Seavers of the Moto world. By this time Kevin Kelly, Izer's DMXS partner had made an appearance and I was pumped to finally meet him in person. I had tried to track him down the night before at the DMXS pre supercross party but had failed in the melee of pro hoes and dudes broing each other down.

The view from the press box was fantastic.
Matthes and Weege made their appearance right as the lights were coming down for rider introductions. If you are going to watch a race these are the guys you want to watch it with. I had so much fun bench racing with both of them. We talked about everything from finer points of television announcing to the exploits of Barry "Big Bore" Carsten. I honestly could have just sat and talked motocross all day and night and been happy as a clam. Unfortunately for me though they were actually there to work. Both of them cover the races for Racer X Illustrated and would be busily typing away on their laptops any time something of interest happened. Since the demise of the webcast, Twitter has become the new way to follow the race live with Weege and Matthes tirelessly banging away updates all evening long.
As for the race itself it was an exciting night from start to finish. The action started in the first 250 heat when Barcia, Mookie and Wharton all took soil samples while leading. Mookie's crash was especially ugly and he was real lucky to walk away from it. Something similar happened in the 450 heats as Dungy threw away the lead in the tricky dragon back section. The Atlanta track was living up to its reputation as one of the more tricky ones on the circuit. The LCQ was particularly interesting as two of my adopted team's members, Jason Thomas and Jimmy Albertson were both in it. They both made a valiant effort and at one point were running third and fourth, one place out of qualifying. On the last lap the gnarly sand section gobbled up JT dropping him out of the race. Top Jimmy just missed making the main event with a third place.
In the 250 main the gate was again held for a VERY LONG time after the card went sideways and I think it got the better of German wonder boy Ken Roczen. Roczen's bike lurched forward into the gate and was caught when it finally dropped. Ken is the real deal and did a fantastic job coming through the pack to sixth but he is going to have to start getting better starts or the championship is going to get out of reach. It is true that anything can happen with fast guys like Bogle, Baggett and Wharton in the class, but Barcia is looking like a good bet for the 250 east SX title at this point. I think Roczen's fortunes will be better once the outdoors start.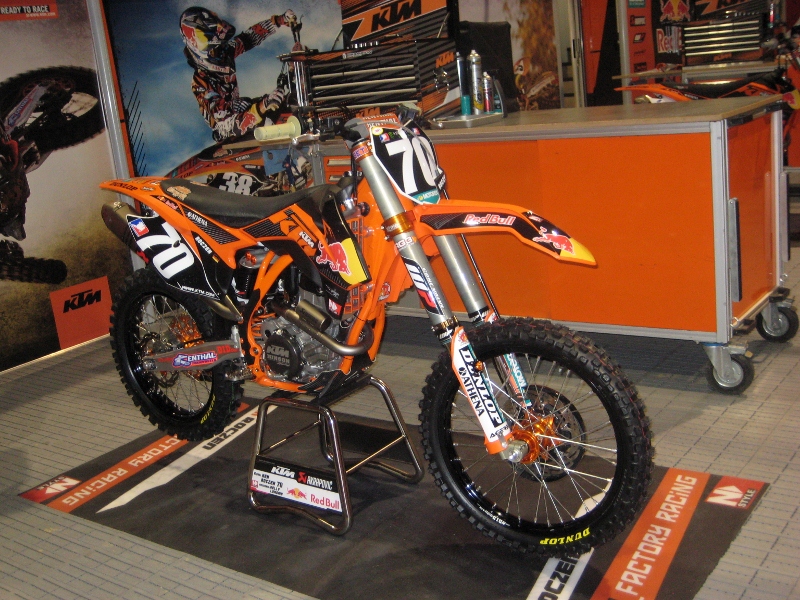 Roczen's bike jumped the gun a bit in the main.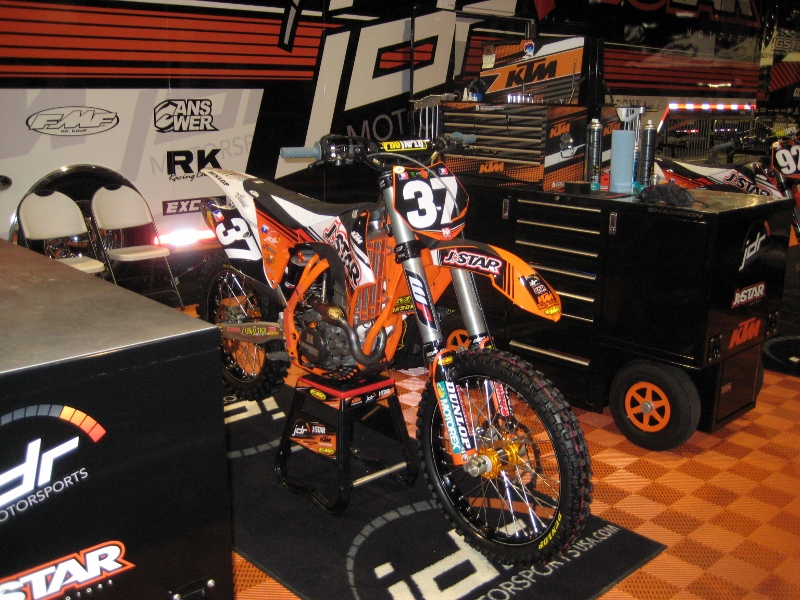 The Roost Boost installed on Mookie's KTM gave the team fits all day.
The 450 race actually turned out to be a lot better than I had expected. I am a big Chad Reed fan and after Reed crashed himself out of the title chase last week I felt like the championship was a forgone conclusion for RV. Well I guess no one told that to Ryan Dungy because he appears to have found the fire he was sorely missing in the Supercross series last year. Ryan has already proven the all new KTM can win and he is proving to be a real threat to regain his Supercross title. Atlanta was a huge win for the Dunginator and I am glad to see him step up and put a little pressure on RV. JS7 is a bit more of a mystery at this point. I think we are all still waiting for the old James Stewart to reappear and rip off a string of victories. I don't know if it is his bike, his confidence, or just his competition, but whatever the reason James is definitely not the same guy he was a few years ago. In Atlanta he did look much better and in the main he was definitely making time on Dungy before being forced to roll a triple by "red light-gate". I do think JS7 will probably snag a few more wins before the season ends but it is looking more and more like the title is probably out of his reach. At this point I still think RV looks like the best bet for the title. He has consistently been the fastest rider but thankfully it does look like we might get another fight to the finish.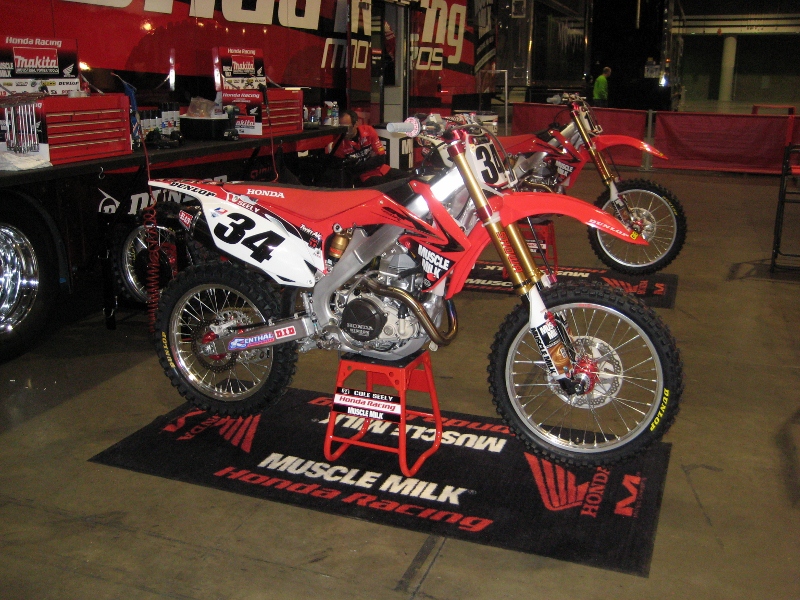 Cole Seely was VERY impressive leading almost half the main event.
After the race was over Matthes and Weege took off for the pits to get interviews leaving me to lament the end of our bromance. All good things do of course come to an end so I could not be too broken up over our parting. As I sat in the press box savoring the moment I reflected on what an incredible day it had been. I had been able to go to places and see things I had never before experienced (holly crap those jumps are big). I got to meet and actually talk and hang out with guys I watch on TV and listen to on the radio every week (sorry for acting like a dork Fro). Even better all of them had turned out to be totally cool and as nice as can be. Nothing is more disappointing than finally meeting your hero only to find out they are a total jerk. I thankfully had nothing but awesome experiences all weekend with everyone from the BBMX team personnel to big name riders. From the top down everyone was great and made me feel right at home. I want to say a special thanks to Karsten and Forrest Butler for allowing me the great honor of being a member of the BTO Sports BBMX team for the day. It really was one of the coolest things I have ever done and one of my best days ever.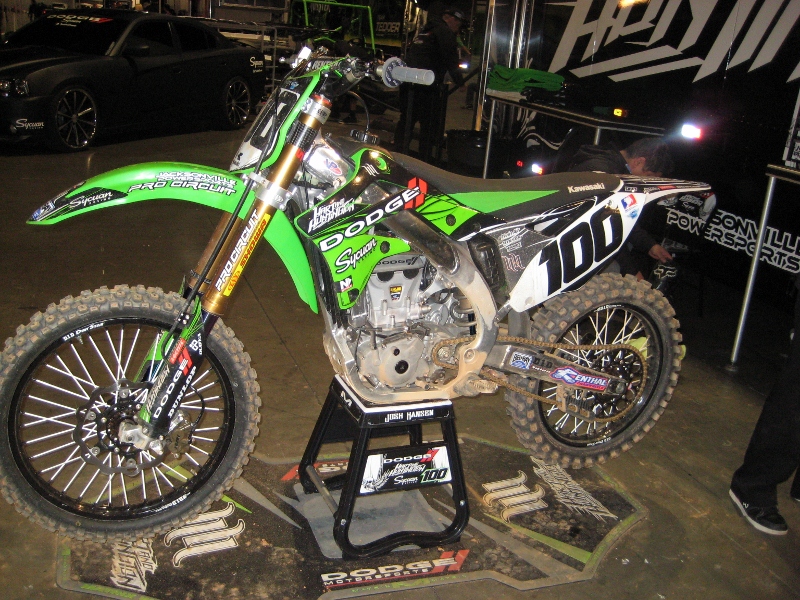 Lil Hanny had a tough night in Hotlanta. The H&H bikes sure do look sweet though.
If you are interested in living the Moto dream for a day and being a member of the BTO Sports BBMX team make sure you contact Karsten Butler at BBMX545@AOL.COM . They take up to four people per supercross and give them the chance to be a member of the team for the day. You get to stay with the team at their hotel and be involved with everything on race day from start to finish. If you are a fan of the sport this is an experience that you should not miss. Trust me, you will not be disappointed.