A well-developed system of rules is clear and unarguable.
A well-developed system of rules is clear and unarguable.
Photos by: James Lissimore
The over-under bridge always opens up options for track-design which is just another reason it's always exciting to see it in the track maps. It was a far more interesting track on paper than the racing it actually provided. I'm not going to blame the track for that though, it was more a case of the injuries which have little by little began to ebb away at the parity we salivated over coming into the season. Add to that a poor start by JS7, a gun-shy Dungey in the beginning of the race(again) and we have the dreaded Snoozer® we feared was inevitable.
What do we need to do to put an end to the concrete showing in the ruts at St.Louis? Is it just that tricky-little nuance of the Saan Lewie race? That can't happen. As we saw in 2010 when RV pulverized his leg and Ivan Tedesco's season ended as well due to this issue, the evidence is there and it needs to be figure out and rectified before it affects someone again.
Speaking of St.Louis 2010, here's a random thought. Remember on the Pulp show following RV's season ending crash when Tony Alessi noted how "sick he felt" over RV crashing out of the because he was actually pulling for RV to win that title? Well, I'm glad to say at least Tony hasn't had that sick feeling for a while now, well, not from RV having troubles anyway. Jeff on the other hand, well lets just say the Pepto-Bismol is never far from reach. What a long time ago St.Louis 2010 seems now.
SX2
For all of the comparisons of how similar Ken Roczen and Barcia were supposed to be coming into the season, they couldn't look more contrasting thus far. Barcia, typically high strung and looking like he's been avoiding ADD med's since birth looks as calm collected and focused as the man coaching him. It's cool to see Justin not only acquire Stanton but also see he clearly has bought into his program and the results cannot be argued with.
How long it will last is anyone's guess. Stanton is an alpha-male himself who isn't afraid to say it's my way or the highway and Justin has always just ripped following the program developed at MTF and later between he and Gary Bailey. It shows a lot of maturity for Justin to relinquish his control in hopes to step it up even further under Stanton's guidance. Does there come a point where Justin feels he has it figured out and no longer needs 6-time? History has shown us with other riders the answer is yes. We shall see.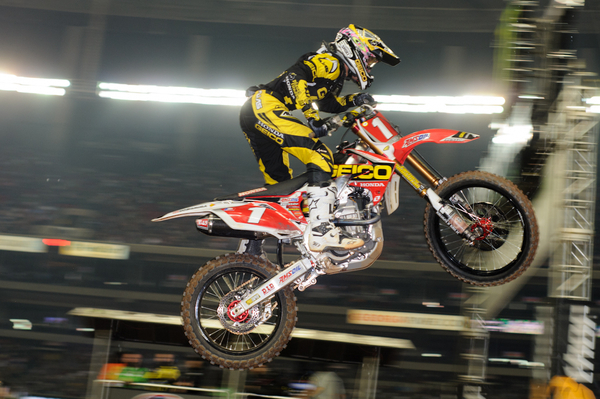 "Stantonized".
Feld is two for two on the criteria they've come up with for what deserves a plaque presentation in Supercross this year. The first KTM win? Absolutely deserving of plaque recognition; Kevin Windham's 200th SX class main event? Of course that's plaque worthy. The next obvious choice for plaque presentation is Justin Barcia's stache'. If Barcia were struggling, or at this point even merely finished second, you better believe, that thing would be shaved. Going 3-0 though, shit, he could wear a pink tutu as long as he's winning and it would just be awesome. Anyone who doesn't think that stache deserves acknowledgement with a plaque is simply wrong.
Barcia. What more can be said? Alpha-dog. Mustache. That is all.
Poor Bogle. I was certain Bogle was going to seal that deal with the pass on Roczen on the last lap, as I'm sure most people did. Typically when you follow someone for 19 laps, it's a foregone conclusion. You know their lines, you know where they pick up or lose time on you and it's a 19-lap process of calculation to when and where you will strike. Unfortunately Justin went down as he was posturing to make his move. A simple case of both tires not being planted in the rut not only stole second place from him, it became the difference between second and fifth. Perhaps without that little follow-up crash when trying to remount a little too eagerly the podium would have been attainable. Liiiiittle goony but whatever, the kid is clearly fast and excitable. I like that excitable part. We need more like him.
Glad to see Blake Wharton benefit from Bogles bobble(ode to Art Eckman). Blake has now gone 4/4/3 and my dark horse is looking solid, maybe not for the title but solid nonetheless.
The other Blake in the east is back to his old ways, little rascal. It's nuts. The kid who was touted as always hitting the practice tracks to run with the big dogs, even as an AM, continues to run into walls on Saturdays. Contrasting Blake's good days with his bad days is an amazing difference and stupefying to try to isolate a common cause. Perhaps it comes down to luck but I believe it's a battle on that 6" track between his ears. It is for so many.
I absolutely love the Bogle/Barica one-footers. It's evidence that these guys are having fun out there and what's wrong with that? Yes this is racing at the most elite level but it's just too serious out there in general. What's wrong with loosening up with some simple aerial exploits? I checked the record books and they show, no one has ever been fired or even crashed out while pulling an 80's era Wardy fist pump or RJ no-footer. Windham had the heel-clicker for a period, MC had the Nac Nac in the 90's; how are the racers of today completely missing out on this obvious method of garnering fan support and standing out from the rest of the drones just circulating the track? Think of how many people love RV for his winning percentage, now add onto that ANYTHING other than a whip past the checkers and he's like a fan magnet for people looking for anything exciting out there.
This isn't just for winners either.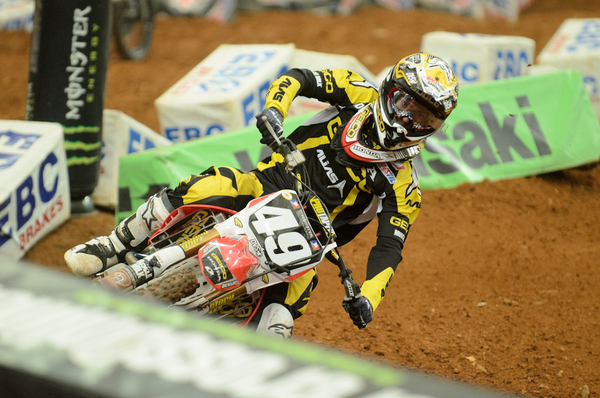 I'm a Bogle supporter for bringing aerial antics back to the races.
I'm challenging every rider out there finishing from 1st to last: Just bring it. Whatever you got. Throw it down over the finish. Goonier equals better. Have fun out there, if you can't finish first then be remembered for your moves over the finish. Only a man totally secure with his masculinity can go "full goon" and not think twice about it. Who's going to step up? We've seen Trey do it and fans love him for it. I want to see some good old fashioned goonage, followed by a podium interview including a decree of "are you not entertained!??!" You know, all Gladiator style. Step up guys.
SX1
It happened. We always fear it but this season it was kept at bay for 8 rounds. The Snoozer®. We've been spoiled for the last year and a half with the overwhelming majority of the main events having compelling battles among the leaders. Remember two weeks ago when Reed hit the deck in Dallas? That industry-wide exhale you all let out was this race personified. With that crash we expected the rest of the series to follow the St.Louis script. RV looking just as fierce as ever, Dungey with a solid start inexplicably settles in for a few laps before mounting a charge forward and James continues to struggle. In the end Dungey had actually worked surprisingly close to RV but that had a lot to do with a few RV cruise-laps. Dungey actually had the best average lap time of the main but that makes perfect sense in that he was chasing while RV was gauging.
Something occurred to me recently with the KTM bikes in general this season; they seem to rebound noticeably slower than their Japanese counterparts. Dungey's bike, specifically, sits down in the stroke further and longer than RV, Stew and (sniff) Reedy's bikes. That's why Dungey looks so huge on that bike, he's racing a low-rider. He also clips the back-wheel more often than the other top guys in the class. I'm interested to see if he sticks with that setup or moves more toward the quicker setup as the new 450 continues to get dialed in.
My pre-season quandary of whether RV would be able to keep his ferocity from 2011 bottled and implement it again in 2012, makes me shake my head now. The guy is mentally unflappable. He doesn't give a shit about anything other than the next lap. That race I just won? Yeah, deposit that check and lets get back to the farm and work toward next weeks laps that count. Most guys say it but RV means it. RV takes shots from many bench racers about how he doesn't care about fans and my response to them is what does RV care about? He cares about having fun, making jokes, his family and winning. Of course he appreciates his fans but he's young and he's not as concerned right now with selling himself as he may be in a few years. His legacy as a racer trumps speculation on his genuineness with fans. All you can ask of RV is that he be himself, and he does that.
Stews red and white gear looked awesome and as they say, when you look good you feel good. That gear looked good enough to win in but it wasn't to be. A crap start punctuated by an early tip over made St. Louis an uphill battle for the Stew. He was ripping until he caught the vapor trail of his team-mate when he went all JMB on Bradshaw circa the Coliseum in 92. Maybe James was catching his breath after his 12 lap sprint? Who knows but his charge forward clearly took a breather from lap 13-16. He then wicked it up for two more then settled in for the last two. The peculiar-ness of his lap times aside, this was a solid ride for James. Yes, a shell of the former (PRE 2010 Yamaha) James Stewart but he's doing his best to deal with a bike that clearly doesn't agree with him and last to 5th is admirable. Maybe that white and red gear will do more for him later this season.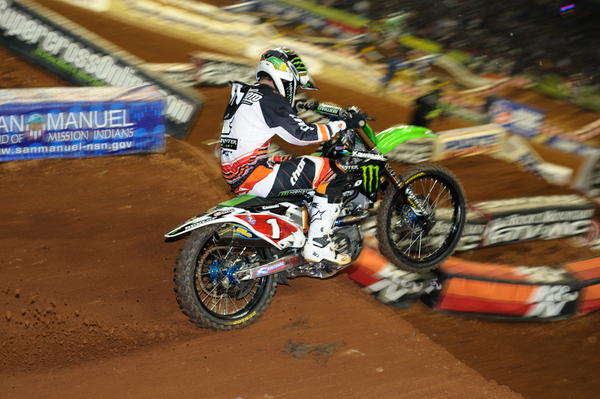 Just one of four impeccable Mike Williamson assembled KX450F's this week.
RC inexplicably defended the AMA call on the RV red-light again this week. My whole point on this deal is, if you have a rule book, adhere to it. Let the rulebook speak comprehensively for itself. Word the rules clear enough so that when an on-track situation brings a rule into question, the book is the final word. As I said before, RV probably didn't see it, not his fault, he's focused as hell but that doesn't mean he's not guilty of breaking the rule. A well-developed system of rules is clear and unarguable. Get it together AMA, take these "official calls" out of your own hands and let the rule-book speak for itself. Like the transponders for instance, why have them if they are open for debate? Let the transponder be the sole determinging factor for position and timing. END OF STORY. Who cares where the line is buried on the track? If everyone knows it going in, then there is no argument to be made. Oh and while your revising the rulebook, throw out the current Lites-eligibility rule.
Really smart of Valli to recruit Peick. They needed someone who can consistently make mains and Weston is a solid choice. I don't know if it's poetic justice or the status quo that losing the front end was the difference between Weston making the main in his blue debut? Regardless, that's how it seems to go. Truthfully though, Weston actually looked great on the Yammie. He now has a score to settle next week in Daytona.
Cole Seely, Feld thanks you for a new clip to use in the show open and commercials to sell tickets in the future. It was a rare get-off but honestly, cross rutting onto the over bridge, seems like it would happen more often.
I'm actually a little disappointed that Jeff Alessi didn't make the main because it would be interesting to see if the threatened black flag from the riders meeting would have been implemented. I doubt it.
End
Next week brings Daytona, the track that separates the men from the boys. You can bet your ass that Stanton is pushing harder for a Barcia win at the speedway than any other race.
In the SX class I'm interested to see if St. Louis becomes the anomaly of the series or the status quo moving forward.
Thanks for reading.