A walk down memory lane by David Vuillemin along with some Daytona thoughts.

A walk down memory lane by David Vuillemin along with some Daytona thoughts.
By David Vuiilemin
In 2000, when I started my first season in 250cc (Yes, 450cc weren't many back then…) in the US, I pretty much knew what to expect in terms of SX tracks and race schedule. I've raced in 125cc in 96, 97 and 98 as well as in the 250cc for several races in 1999. I had all the videos of all the 99 races that I was watching pretty much every night to put myself in this US SX world as a full time 250 rider. One race, I really didn't think what to expect was Daytona…
I was a Factory Yamaha rider and the team schedule a full week of testing in Florida. We are based in DeLand, FL. We rode a few days at this farm we called " Hughes' " in New Smyrna beach. The track was pretty fun. I felt I was in Belgium riding in Olmen at Hondaland. Big sand sections in the woods with some SX obstacles in the front glade. The team semi was there with my mechanic, Monty at the time, the engine guy, Bob Oliver, the suspension guy, Jon Rosenthiel, team supervisor, Steve Butler and our manager Keith McCarty. Jeremy McGrath was testing too since he had a factory bike in the Chaparral team. Add all the Chaparral crew, there was a lot of people for 2 guys testing. I realized that Daytona was going to be very different from what I was used to by the amount of man power dedicated to the testing.
We tried so many things and every parts you can think about on a dirt bike, triple clamps, linkage, suspensions, carburetor, jetting, cylinder, head… I remember riding a lot and actually improving my riding. The place was fun to ride but testing, even if we find some good settings, is always a little frustrating. Seems like we are riding a lot and not prepping a race properly actually. Back then, I was doing a lot of lap times and short motos as well as working on my technique. My parents were with me all the time. My dad was in charge of my motorcycle training, I was doing my physical training always by myself since being a kid and my mom was in charge of lap times. We had this Tag Heuer computer that she was using to take everyones, at least top 10 guys at the races and everyone's times at the practice tracks. Transponders weren't in circulation in MX/SX back then and it was great to have her do that. At the end of the day at the Yamaha track, she would hit a button and I would have all of Jeremy's time as well as 125cc guys in the YoT team. Same this at the races. After a while, even McCarty was coming to see her asking for MC, RC, KW, Lusk times…
After this sand testing, we came up with a bike closer to a MX bike with softer suspensions, bigger offset on the triple clamps to help the stability and an engine less snappy in the bottom and more top power. It was a drastic change to say the least but it worked great for the conditions.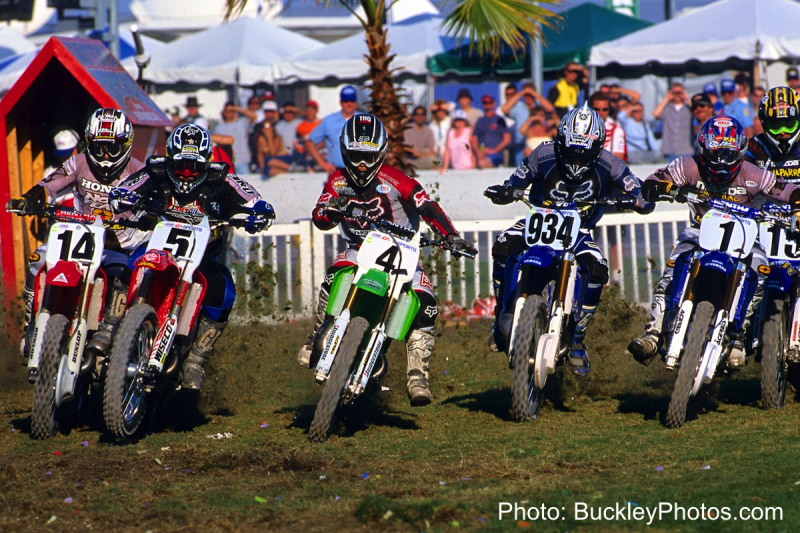 Some heavy hitters roar into the first turn at the "old" Daytona in 2000. Photo courtesy of Paul Buckley
When I got to track walk on Saturday morning, I was really surprised by the Gary Bailey designed track. Dirt Wurx was designing the 15 other SX races like they still do in 2012, but Gary was in charge of Daytona since it's not a Feld race. The promotor of the SX is the same since I started racing here but they used a lot of names, Pace, SFX, Clear Channel etc… All the tracks nowadays are prepped and finished so much better than 12 years ago. They used only dozers back then which didn't help the finish of the track. Now they are more rolled, transitions are smooth. They didn't care as much and the fact they use bobcats now is helping the tracks for sure. Gary's track looked like it was made with a pic axe. The dirt they used to make the jumps was white, super slippery and rocky. The fact Gary wasn't really talented with heavy equipment or the fact he wanted to make a "different" race was actually a plus for the track. It was challenging, technical and with some belgium sand section making Southwick looks hard packed… Gary would make uneven holes everywhere in the grass with a front loader but leaving the grass. The white dirt jumps were steep with bad transition and the more we rode on the track, the transition from sand to dirt made huge square edges at the bottom of the jumps.
In first practice, I was lost out there. The traction was horrible and felt like a beginner around the track. I started questioning my new setup in those steep jumps and HUGE triple with no landing. I made everyone put my SX stuff back on for 2nd practice. We just soften the clickers on both ends of the suspensions to get some comfort and it actually worked pretty good. The track evolved a lot there. There was no track maintenance and there were a lot of riders. The format was different, it was during the day and they had 3 heat races, 3 semis, LCQ and qualified 30 riders in the main event. It was super hot, we had new fox vented gear for the occasion. Lap times were 1'30" at least in dry condition, pretty much what it was this weekend in the mud. It meant it was a 30min+ main event!
I really miss the old Daytona even if it was tough. Now the track is shorter and look like a normal SX with way better added dirt. Also, they bring way more dirt now to make the track which means, since the track is shorter, that there isn't much sand anymore. I remember that crazy triple with the sand take off flu of ruts with the sun in our eyes at the end of the day. When I think about it, it was really sketchy but it was Daytona… And it is what I miss even as a spectator now… Sun, heat, sand, rough, wind blowing the plan trees next to the track are all the images in my head that describe the old Daytona… Nowadays, at night, the lightning is a big issue with the black soil which make a lot of dark spots…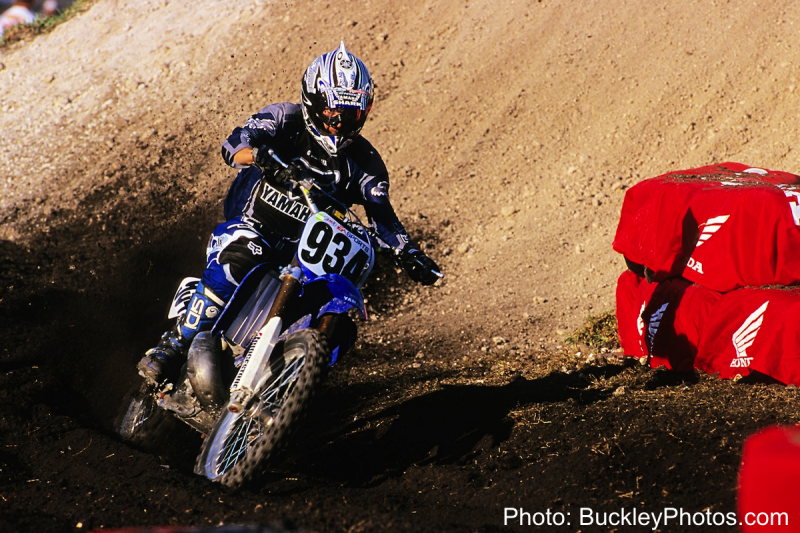 DV did pretty well for his first Daytona. Photo courtesy of Paul Buckley
In 2000, it was RC's first ever SX win, his only one of the season… MC and I weren't far from him for a while but RC was definitely better that day and I podium my first Daytona which I was happy about after a gnarly crash in the main. Even if I was known, wrongly in my opinion, as a rider lacking fitness, I always did ok in the toughest race of the year, finishing 4th in '01, missing 02/03 with injuries, '04, '05 and '08…
As far as the 2012 edition, I wasn't there and it's difficult for me to give an honest and objective analysis from my couch and my TV. What I can say to the people that are comparing the 2008 and 2012 conditions, they aren't in the same league… Yes, it was muddy this year with 3 or 4 puddles but we race in a lake in 2008!!!
I was happy to see Bubba win the race. He rode good and smoothly for a guy that normally show us a lot of mistakes. James rode with a lot of maturity. RV's crash was a bummer but he didn't lose that many points on Stewart who is almost 2 races behind in the Championship. With Dungey out for a while, it should be easy for RV to manage his points lead and be Champion before the last race. He deserves this championship again but I would love to have the title decided in Las Vegas… What about Davi? After a poor showing in St Louis, Davi came out swinging. I thought it was great that he didn't "Let James Bye" and actually race him for a while… It was an entertaining race but there isn't much you can say about this race since nothing really crazy happened. RV lost 9 points but it doesn't matter much even if he has the be bummed out. And for the guys that did good, it doesn't mean they will do good next week in a indoor stadium. It will be a brand new ball park next weekend in Indy for sure and we are monday and I can't wait for it! With Bubba having nothing to lose, which is the case since a while you could tell me, RV managing a points lead and a podium spot opened to pretty much anyone since Dungey (and Reed) is out, we should see some guys stepping up to race for a podium (and big factory bonus money) when they were racing for a top 5…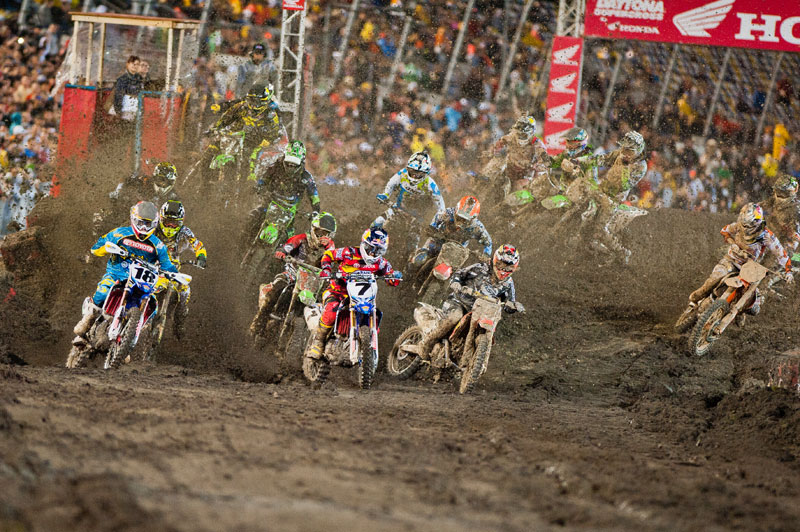 It's like someone photoshopped the two JGR guys into this photo. Nice job to both of those guys. Photo by Steve Cox
As for the Lites, we finally found Baggett back which was good and he could have given Barcia an even bigger run for his money despite a couple mistakes. But you can't really blame him to make mistakes on a track like that… What about Barcia's save on the last lap? When he scrubbed the crap out of a wall not in purpose without crashing. That was great on TV!
The biggest disappointment for me was Roczen in the Lites. Sand, rain, MX look-a-like track, his name should have been all over that! He knows those conditions really well being an ex-GP rider and training in Belgium for year (Sand and Rain, it's all they have there) and it was a great opportunity just like RC did in 2000 to win his first race of the season. But, it didn't happened. He got to 3rd quickly and kept losing time on the 2 Bs in front and even lost the last podium spot by getting passed by Durham in the end…
To end this article, if the AMA reads this, please try to bring back whatever you were doing in Daytona in the 90s… This was and will only be the real Daytona…
DV
twitter.com/DavidVuillemin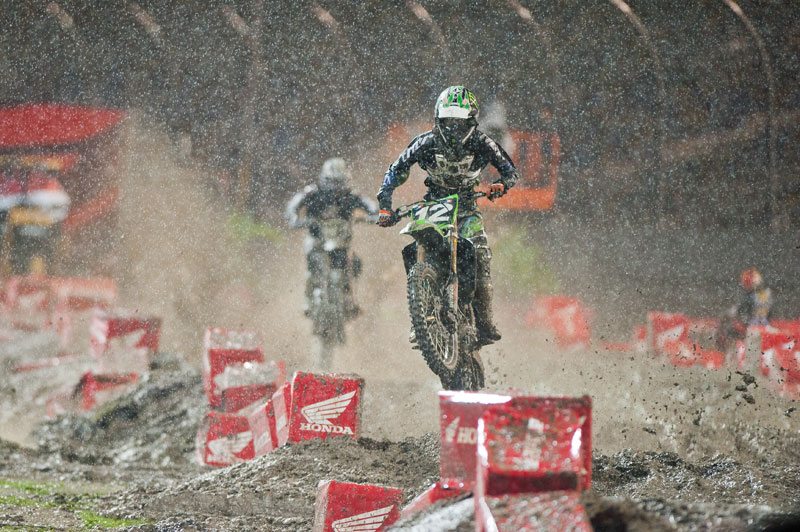 Blake Baggett rode well to a second. Photo by Steve Cox