Stewy sought retribution and conquered with the win which was snatched from him last year, when that wheelie seat-bounce, to spectacular endo, flicked him silly.
Stewy sought retribution and conquered with the win which was snatched from him last year, when that wheelie seat-bounce, to spectacular endo, flicked him silly.
Photos by: CoxMX
The Rundown
This was without question one of those all bets are off races and it couldn't have come at a better time. The series started off with an unprecedented talent pool and week-by-week the number of gladiators in this series has dwindled due to miscalculation in either preparation or race action.
What would become of the series that has quickly morphed from the best ever to blow after blow of front-runner injuries and exits from the series? Following San Diego, Reed's last finished race, Dungey was only 10pts down. A week later in Dallas when the series saw it's first title-contender departure, Dungey left with a 13pt deficit. We all wondered, if this 3-race RV2 winning streak was the writing on the wall for the series.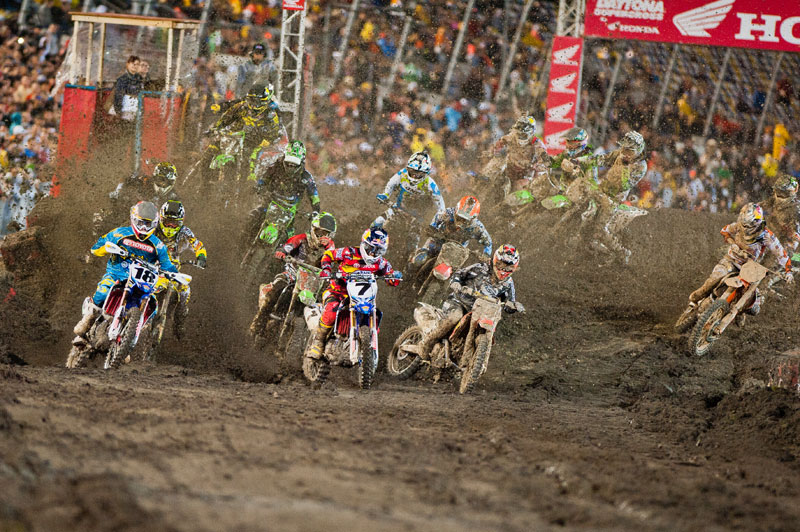 From the beginning of the day, they knew what to expect.
Dungey answered that a week later in Atlanta with a 25pt statement and our fears were delayed for another week. James Stewart had struggled with comfort on his Yamaha, again, thus far into the year with one win but far more struggles than anticipated in pre-season conjecture.
Next came St. Louis where there were mumblings of a mid-week Ryan Dungey crash and subsequent shoulder injury. Dungey looked strong and those rumors appeared to be hushed with a solid runner-up finish. Stew's STL struggles consisted of a terrible start, crash and halted charge but it was about as impressive a 5th place finish as one could have.
Mere hours before the Daytona race day began, KTM announced that Ryan Dungey would not be competing due to the broken collarbone sustained in preparation the week before St. Louis. RD5, has built a stellar reputation for consistency and consecutive race starts, so this news shocked everyone in the sport. The fact that he was only 15pts below point's leader Ryan Villopoto just magnified the dispiriting news.
Enter Mother Nature and another intriguing week of racing, this time dictated by unpredictable weather and the man's-track of the Supercross series. There are tracks with bigger obstacles and more technical sections but it's the lap times and deep terra-firma that make this track Chuck Norris' favorite.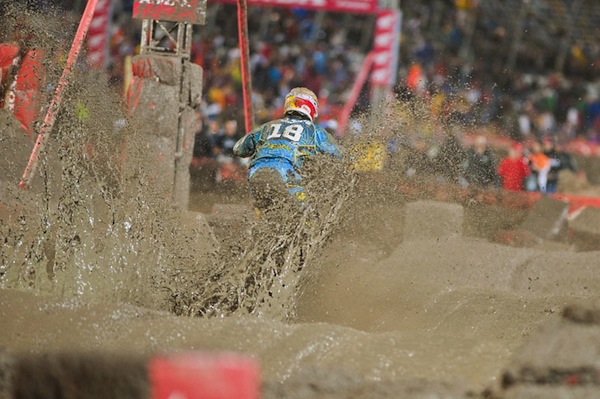 Not quite 2008 but an animal of the same species.
Initially when they decided to cut laps down to 12 and 16 mains I was annoyed. I'm a firm believer in cutting laps only when it's a matter of safety. There was no lightning (that I heard of anyway) and those conditions, though gnarly, were only fractionally as gnarly as the jet-ski race held in 2008. In the end though, I actually ended up agreeing with the call to cut the laps because the race was plenty long enough and when the race ended, I'm pretty sure all the racers were ready to be done and just move on to the next week.
Somehow I think Blake Baggett may argue that last point though.
SX2
Oh Blake Baggett, please, please jump off the consistency tee-totter and pick a side already! It's been a full year since this began and it's still as proof-positive as ever. Lets get one thing straight, Blake Baggett is fast as shit. Bottom-line. He's obviously got "it" but what he doesn't have is the "it" week to week. He's got great timing and rhythm, he won Daytona last year so he's obviously gnarly, he made pretty much everyone in the SX2 class look like a chump a time or two in the Nationals last year… come on! When he's on it like he was last night you ask yourself, how does he ever lose? Well if he knew the answer, we wouldn't be stuck in the middle of this year+ quandary now would we?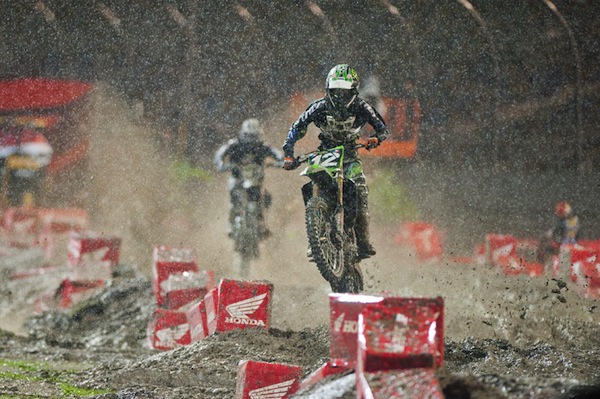 Blake Baggett has once again swayed the pendulum of brilliance.
On a track with the conditions presented last night, history shows that following a holeshot up with error-free riding, even with less effort than those behind you, generally leaves you as the odds on favorite to seal the win. Vision is everything. Those early laps of unobstructed vision and race-line commitment are the trump card. Everyone else is dodging and darting into questionable lines in an attempt to salvage that vision and delay the ill-advised goggle toss. In Daytona the man of the series, Justin Barcia, held that enviable position. In Point/Counter-Point this week I argued that Barcia would win Daytona if by no other reason, having Jeff Stanton in his ear demanding it be so. Do you want to be the one to disappoint Six-Time!? Exactly.
Proof that Barcia does not enjoy riding dirty.
The fact that Barcia holeshot and appeared to checkout makes Blake Baggett's charge forward even more impressive. Of course Barcia wasn't pushing the way Baggett was, he'd be silly to in those conditions but I was very surprised by how much Barcia allowed Blake to close on him even with a crash and it became INTENSE on the last few hundred feet! Great, great ride by Blake Baggett. He has nothing to be ashamed of after that race, it's just that kind of year for Justin Barcia. You know, the undefeated kind. Yes I believe it.
The Darryn Durham "rebirth" continues to be the feel good story of the East coast thus far. It's actually the least discussed story of the coast too I believe but I mean really, what do you want? He hasn't won and Barcia is undefeated. Darryn is second in points though(by a hair) and for someone who doesn't play favorites, I gotta admit, I'm stoked on this story of resurgence. It's an odd predicament to me how Darryn, so free-spirited and loose is buddies and regular riding partners with Broc Tickle, who is really struggling with comfort and tension in his rookie 450 season.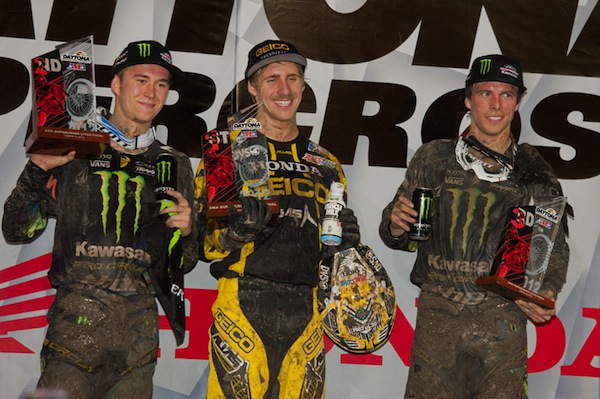 A Monster sandwich covered in hair.
Ken Roczen was not happy with his ride in Daytona as his tweet following the race clearly expressed. This guy's honesty is an example of why even though he's a foreigner joining an American series known for Nationalistic pride, he has found a lot of fan support. He's clearly frustrated with his season and finds himself 25pts behind Barcia with 5 races to go. It's not over yet but we have yet to see even the slightest chink in Barcia's armor.

Roczen's honesty makes him appeal to fans.
Don't sweat that Daytona introduction, Captain891. Only Jeff Gibson had a longer main event lap-time after ejecting and playing a belly-up sea tortoise (that was scary!). It's just one of the freak things that happens in that shit.
Oh and don't worry about those guys who usually rush you when you finish good who were walking in the other direction after a race like Daytona. Yeah, some of them are part of the typical bro-down but a lot of them are also good guys who just assume you'd rather not deal with all the "tough luck, come back stronger" cliché's that would no doubt come up. It's all part of that "surround yourself with good people" concept. You'll figure out who is who with time.
SX1
Speed really dropped the ball in only having Reed in the booth for the SX1 heats. They must've heard of his reputation for honesty and stirring things up, right? So why wouldn't they use him during the main event where his interest would be peaked and commentary even more meaningful? If anyone deserves a straight-to-the-main "booth-provisional" it's clearly Chad Reed.
Good job Speed for getting him in there but you get a C+ for not implementing his insight optimally. Bring him back for at least one more main event. Maybe Feld will right this wrong when they have control? Please?
Who else went "huh!?" when RC said he's never seen anyone hold on to save a crash as long as RV when he got buck wild in the main? Apparently RC has never watched any of his races before because he had a few doozy's, at Daytona even, where he rode that Bronco; holding on until he was facedown in asphalt before he relinquished his throttle grip. Nonetheless, that was quite the display by RV. Hindsight being 20/20 as it always is, he probably would have fared better if he had reeled it in when it began instead of trying to save it for 40 feet, around a corner even! Chances are good if RV sent that in as a resume to the Wildout Wheelie Boys, he's in like Flynn. Dead, dead last to 5th is even more impressive than Stewy's last to 5th a week ago in St. Louis. Considering that last week and this week the two riders reciprocated positions, they are essentially a wash in the title chase and the momentum is clearly still Villopoto's to lose. His points lead is still at 45 and his mental game is, as we all know, unaffected by adversity.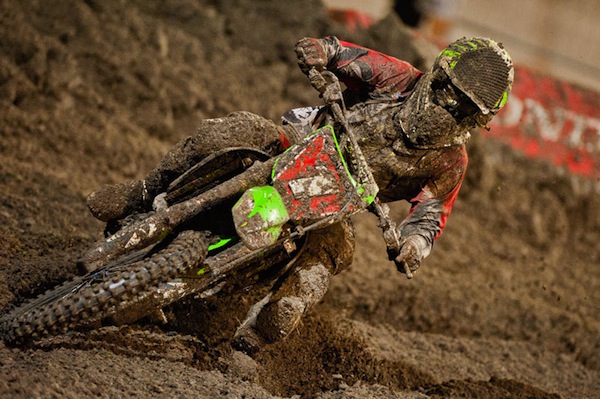 RV had a valiant charge after an interesting crash.
Stewy sought and conquered retribution for the win that was snatched from him last year when that wheelie seat-bounce to spectacular endo flicked him senseless. Millsaps made it interesting for about a lap but James was a man possessed and once past his team-mate continued to push and extend his gap. Great race for the JGR crew, without question the highlight of the teams SX racing effort since it's inception. Fire up the advertising machine, 1st and 2nd in conditions like this is a billboard and magazine-ad gold-mine.
This race was much more about the conditions, RV's falter and James making the most of the opportunity presented than it was about a momentum shift in the series. There are hardcore JS7 fans who will use this win to fuel their "reality distortion field" (Credit Jobs) that James and his bike have made the turn and a series shift has begun. I want to be clear, James is still James Stewart. A bad mofo on a dirt scooter, capable of amazing things but I will continue to defend my opinion from the start. That bike has made him appear human. Argue it anyway you want, he's not riding with the same grip it and rip it mindset he did before 2010. You may point to age or maturity, that's your prerogative but I'm steadfast in my belief that he'd be better on any other color. Yes, the field is closing the gap and getting faster but he has lost a step due to reservations on "the revolution".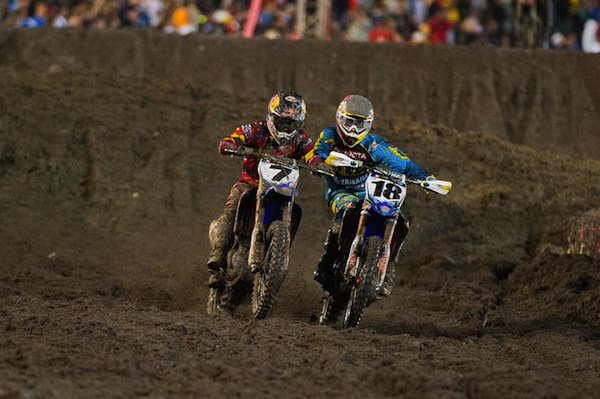 The JGR team-mates raced hard and pulled down 1-2.
It's been a rough three weeks for the rock of the H&H team. Josh Hansen shocked us all with his early, steady results, while the rest of his team faced injury and exit from the truck. Daytona became the race that many will point to as the race where Josh Hanson became "Josh Hansen". I'm not going to lambaste Josh for his boneheaded move though. Yes, of course it was a boner thing to do but look at it from Josh's view. He went from being one of the feel-good surprises of the 450 class this year, to an out-of-his-hands mechanical, then a couple extremely frustrating weeks where you could just feel it all unraveling. A great jump off the gate in his heat was immediately followed by a blown corner and then it happened. Perhaps Josh thought the rule was that you can re-enter the track in the position you occupied 80 feet out of the gate? Yeah right. It was a desperation move he hoped may not be brought to light that could possibly get his season back on track. Alas, it was caught and quickly by just about everyone watching the race. Too bad. So sad.
In the LCQ, Josh again had some trouble before getting around the second corner and that was that. An abysmal Daytona for the H&H team.
Stellar ride by Marvin Musquin to 4th on a 350 in those conditions!
End
Moving on to Indy, the 11th round of this 17 round series, we actually have a lot of excitement and unanswered questions considering the number of casualties in the series.
Will Stew extend his mojo from a gnarly Daytona?
Will RV seize the reigns and prove this week to be a fluke?
Will Dungey make a shocking announcement to return with only a week of down-time?
Will Barcia make it 5 in a row?
It's still an amazing series and that's saying a lot considering how we all felt in Dallas when we saw Chad eject at the pinnacle of his pressure on RV.
Thanks for reading.