I was fearing this day.
I was fearing this day.
Photos by: THE James Lissimore
The day when I sat down to write about a race that didn't have title implications and I had to choose either from peripheral action for the main points or write about something different altogether. It's clearly not just me either, if you look on Twitter, Vital or anywhere else you can get a pulse on racing discussion, the major points of discussion were not the New Orleans race but conjecture relating to silly season, injuries and the outdoors.
It's times like this, when a series or race is decided before it's scheduled end, that longtime writers of the sport really get my respect.
SX1
It's really odd though, although the series is decided and there are MANY racers absent due to injury, for the majority of the class, it's business as usual. Sure, with Reed, Dungey, Stewart, Windham, Canard ( insert name here ) out, the action for us fans is drastically altered but all that means to the pack usually racing behind them, is they are racing closer to the front of the pack. Racing closer to the front doesn't bring with it the accolades in this scenario though. With every respectable finish closer to the top, the positive reinforcement is quantified with the reminder that there are so many riders injured that the finish isn't as impressive.
That brings with it another oddity. The pressure of opportunity knocking can be too great and many of those riders who should be taking advantage of the injuries in the series, just can't do so. It's frustrating to see but just imagine how much more frustrating it has been for so many of the guys who are dealing with being THAT guy. The guy who knows he's better than his results showed when everyone was still racing and still, now, can't find that groove.
There are plenty of them still in the class.
The 2012 New Orleans 450 main results are going to be one of those results sheets people reflect on and go, "Really?!" Josh Grant, the always promising though injury prone rider is one of only 3 riders on the line in NOLA who had won a 450 main ever. Josh has again been battling recovery from injury most of this season but in NOLA, fortune smiled at Josh once again, for the first time in a LONG time and Josh made enough good choices during the 20 lap main to turn that second place start into a second place finish. Even more incredible, this was Josh Grants best finish in Supercross since his 2009 Anaheim 1 win. That is a looong period to be dealing with recovery, rehab, depression and doubt. I don't know if Josh was depressed but I'm depressed just thinking about how long this struggle has lasted for him. Josh's finish in New Orleans garnered 22pts which is almost half of his total earned points between the 2012-2011 seasons. I don't care who was on the line or who wasn't, putting together 20 solid laps like that and having the result to back it up is something to build on.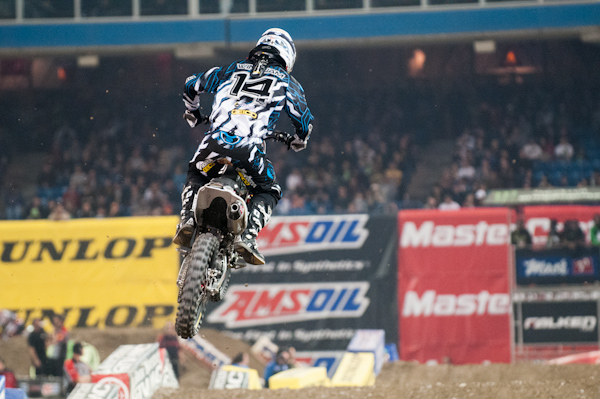 Come on, it's #NOLA, of course I'm gonna throw in a KDub pic.
Andrew Short returned from a long hiatus with a shoulder injury sustained in San Diego, subsequent elbow issue and "team restructuring". Andrew looked like the Andrew of old out there and for a first race back, jitters and all he did very well, although he did pull a "Smiley Faced Assassin" move on my buddy Broc. The move itself wasn't overtly dirty but the contact was tight enough to leave Broc, who was already committed exiting his turn, nowhere to go but to the ground. If I were Broc, I would say it was dirty because from his vantage point, it came out of nowhere but if I were Andrew, I'd argue that I could have squared him up if I wanted to. Like all things, there are two viewpoints and it was standard Smiley-Faced Assassin. Andrew did apologize for it in typical good guy fashion.
Nick Wey returned from his hernia and for a dude who riding with some tenderness in his nether-regions, I'd say one-spot outside of his wheelhouse is an acceptable job.
Top Jimmy got his best finish in Supercross ever but you know what, I think Jimmy can do better. Obviously I'm not basing that feeling off of history but Jimmy just looks like he's got all the physical tools to be doing much better than he has. Confidence? Setup? Until Jimmy tells me otherwise, I'm thinking there is something missing from the puzzle that when pin-pointed, we will really see what Mr. Georgia Lindsay is capable of.
Heartbreaker for Mike Aless, in solid podium position for most of the race only to stall in a corner. I haven't seen anyone take that long to re-fire a bike since Mike Alessi in all his infamy at Glen Helen in 2005 after dragging his bike onto IT9's. There was a mention of possible Alessi motor shenanigans by Mr. Watson a couple weeks back, does that hard starting engine raise an eyebrow?
Speaking of bike starting troubles, Mike's Glen Helen 2005 best buddy, Ivan Tedesco also had an issue starting his bike after stalling in the sand in his heat race. I can't for the life of me figure out why these guys still attempt even one kick before putting the bike in neutral? The chances of a 4-stroke starting in gear are so minimal that the gamble is just silly. Mark my words, in the future, race bikes will have an ECU controlled switch somewhere around the back of the top triple clamp for engaging neutral. Without that switch, the motor will operate in "neutral lock-out" mode. It just makes sense. No more worries of hitting neutral on the track and no more worrying about finding neutral to re-fire a stalled bike.
Jake has had 3 bad races this year, a couple great ones and a bunch of average ones. Watching Jake, he looks like he's got it all figured out, I mean, he podiumed 3 times. You can't luck into 3 podiums, 1 sure, 2 maybe but not 3. The big cliché in this sport is "you make your own luck", if that's true, Jake needs to a new luck maker, his is broken. We've seen Jake look dejected far too many times this year. I like his honesty but perhaps that heart he wears on his sleeve has a little to do with his fickle results? Might be time to try the age-old reality distortion for a bit, it's worked for many before him.
SX2
From the way this East SX2 series started, nobody expected Barcia to win the title with a 4th place finish. Not real sure what the deal was with JB1Ex2 but knowing who is trainer is, I'm betting he was concerned with one thing only, finish where he needed to to wrap the title. The Justin of old would have hung it out anyway but this guy is smarter, maybe not emotionally secure (kidding) but his focus was on one thing and that was the Championship tee's they had already printed and shipped to NOLA. Congrats to Justin, going back to back has only been done 3 times before and that's an impressive crowd to emulate.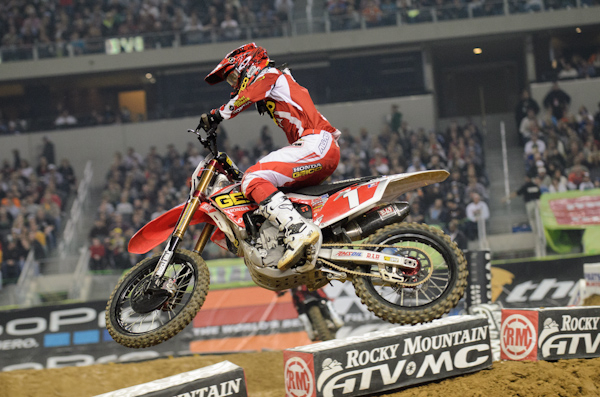 Barcia joined some elite company in #NOLA.
Darryn Durham won his first pro race in his 4th year as a pro. If that's not a billboard for never giving up, then I don't know what is. It's really damn impressive for a guy to enter the pro ranks and win his first race ever (Eli Tomac) but it's equally as impressive in my eyes when a guy like Darryn faces injury and poor results to re-emerge with a new sense of desire and purpose, to achieve that first goal of a race win. Conquering that after 4 yrs breaks down a pretty strong wall. Will it turn into more wins? A title? More nipple tweets?
Don't look now but Blake Baggett went 3-2 in consecutive races. I'm not saying anything else; that may jinx it.
Good to see the other Geico Justin get a podium and not become fodder for the message boards this week. I have always hated when writers in this sport made reference to the message boards yet there I go myself.
Jake Canada's rise toward the podium took a hit this week, Matt Lemoine continues his stretch for most consistent bad luck in the East SX2 class, Blake Wharton had the crashies this week as did an otherwise very impressive effort by Malcolm Stewart. We all knew Malcolm had insane speed coming in but his biggest pitfall in the AM's has followed him to the grand stage; crashes. Really bummed for Alex Martin, to go from LCQ, outside gate pick, to main holeshot to finish last? Just ugh.
End
What to say?
The SX class is wrapped up, the East SX2 class is now wrapped up, but we're heading back to the west folks and you know what that means, Moservations. You see, there is light in the tunnel. Lets just see if he can get this years Seattle edition in while the race is still relevant? The pressure is on my friend. If you don't know what I'm referring to, search "Moservations" on PulpMX and enjoy.
Seriously though, as Seattle approaches, I am interested in all things West SX2 of course as well as a few things in the SX class. Will Grant be able to build off this confidence, will Broc draw confidence from his first win ever in Seattle and get his best finish of the year, Will Jake put this race behind him with another podium, will anyone return from the sidelines? K-Dub, Stewart, Dungey… Will anyone stop RV's streak?